Leche Flan Custard Dessert in Sous Vide
As an Amazon Associate and member of other affiliate programs, I earn from qualifying purchases.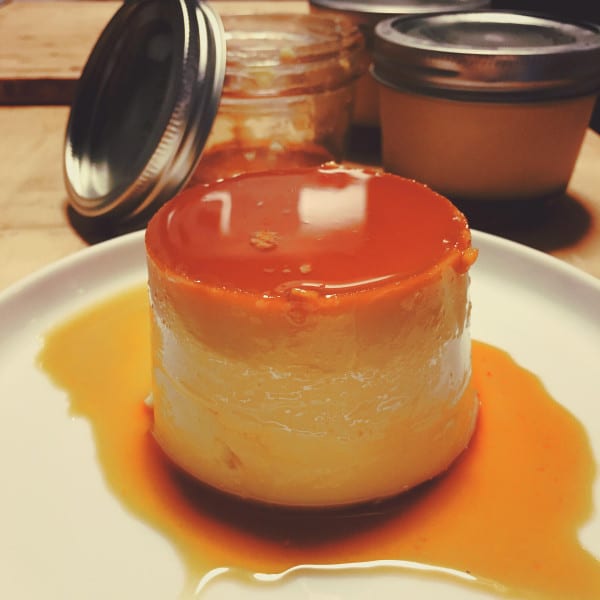 My sons give thoughtful gifts like kitchen appliances which inspired me to make this Leche Flan Custard Dessert in Sous Vide. Ever since they were little, both our boys chose the presents they gave us, their parents, wisely. It was always something we liked and because the boys gave it to us, we loved the gifts even more. Nowadays our sons are young adults, with careers, lives and homes away from home. Their gifts have become even more thoughtful. They both give us gifts that will improve our lives.
Last Christmas, we got a 'sous vide' from our son, Tim. He has been cooking via the sous vide method for a while now. Each time his food comes out superb, he sends me photos with instructions and a recipe.
To the unfamiliar 'sous vide' means cooking food longer at a lower heat. Most times, food is in a vacuum-sealed bag immersed in a water bath at a precisely controlled temperature for a few hours. Sealing the food in a vacuum allows for a lower temperature of cooking. The lower temperature of cooking results in better texture and better quality – for e.g. If it's meat that's cooking, then the results are tender and juicy. In this case, cooking the flan for two hours in a low heat, slower than usual resulted in a creamier, smoother consistency.
One of the favorite Philippine desserts in our home is Leche Flan, the Filipino custard topped with a dark amber caramel. I taught my sons how to cook the classic Leche Flan in the traditional Filipino "llanera" (oval-shaped tin container) in Bain Marie (water bath). This time, Tim took it a step further. He got my Leche Flan recipe from the blog, improved it, put the caramel and custard in mason jars and cooked it in 'sous vide'. He let it cook low and slow for two hours, and then he refrigerated it till the next day. When he turned the flan over on small plates and sent me photos, the dessert looked magnificent. Even from the photos, I could tell the flan was flawless and silky.
"Sous vide is a gentle cooking process, "described cookbook author Kenji Lopez Alt of Serious Eats. A comprehensive description of various sous vide brands was also discussed by cookbook author and food blogger Jaden Hair of Steamy Kitchen. And finally to describe this Filipino leche flan creation by my son, Tim, my friends at the Doreen Gamboa Food Writing Awards said this : "This is an example of taking a family heirloom food, refining it further (in this case for a smooth, creamy texture), and preparing it for easier individual servings."
Cooking has completed the circle at our home. My sons can now take my recipes, improve them, make them better than I did and cause an excited yearning for flan, in this case, among our family and friends. Like a pebble tossed in a pond that caused circles of ripples and extended to others, my sons' recipes have become worth looking forward to, and wonderful blessings to many.
Photos of Leche Flan by: Tim Quirino
Leche Flan Custard Dessert in Sous Vide
My son, Tim Quirino best described this, "Leche Flan is a common dessert for family gatherings in the Philippines. It varies from being a really eggy custard to something resembling creamy vanilla tasting jello. This time around I decided to sous vide small(er) portions in mason jars to see whether the consistency ended up to my liking. The verdict? It came out pretty "flantastic". The photos reveal a really smooth "flandscape". This thing is decadent. It cooks for 2 hours at 180F." This recipe was cooked by my son, Tim Quirino via sous vide inspired by Marvin Gapultos of BurntLumpia.com. Makes four mason jars (4 oz. each).
Equipment
Nomiku Sous vide equipment

Mason glass jars (4 oz.) - about 4
Ingredients
3/4

cup

granulated sugar

for caramel topping

12

whole

egg yolks

from large eggs

1

can (14 oz./397 g.)

sweetened condensed milk

1

can (12 fl. oz/354 ml)

evaporated milk

12 fl. oz/ 354 ml evaporated milk

1

teaspoon

pure vanilla extract
Instructions
Prepare water bath and set your immersion circulator to 180F (we used Nomiku for this recipe).
To make caramel syrup:
Heat sugar in a saucepan over medium heat until liquified completely to a dark caramel brown. This will take about 5 to 6 minutes.

Immediately pour equal portions into each mason jar.

*Note: Caramel hardens quickly. It is important to pour the syrup into jars while still in liquid form.
To make the custard:
In a medium-sized bowl, combine and stir yolks, milk and vanilla extract evenly with a wooden spoon. Avoid beating or whisking. Once blended, strain the liquid with a cheesecloth to get the silkiest texture possible.

Pour equal amounts of the custard into each mason jar. Leave just enough room for to lid to close tightly.
To cook in sous vide:
Place the closed mason jars filled with custard inside the water bath for 2 hours.

After removing with a pair of tongs, leave the jars untouched to cool slowly to room temperature before refrigerating.

Once chilled, the flan is ready to serve.
Notes on the sous vide:
Safety precaution: Don't forget that 180 F is a little under boiling temperature, which means it is very hot and could burn skin. Use tongs to remove jars from the hot liquid.
Cook's comments:
In some Philippine cookbooks, half a teaspoon of dayap zest (lime) is used to flavor the Leche Flan. This will give the custard a fairly sweet citrus flavor. Feel free to use lime zest if that is the flavor preferred.
Disclosure:
The Nomiku Sous Vide equipment I used was a gift from my son, Tim. We were not compensated by the brand to mention or review the product. My opinions are my own. But I will gladly recommend the brand if you're in the market for a quality sous vide device.
Nutrition
Serving:
1
g
|
Calories:
318
kcal
|
Carbohydrates:
76
g
|
Protein:
1
g
|
Fat:
2
g
|
Saturated Fat:
1
g
|
Cholesterol:
65
mg
|
Sodium:
5
mg
|
Sugar:
75
g
|
Vitamin A:
87
IU
|
Calcium:
8
mg
|
Iron:
1
mg
Notes on Nutrition: The nutrition information provided is an estimate and will vary based on cooking methods and specific brands of ingredients used.
Did you like this recipe? I have more classic recipes inspired by my late mother's cooking in my popular cookbook: My Mother's Philippine Recipes. If you're learning how to cook Filipino food or a fan of Philippine cuisine, buy my cookbooks and books on Amazon.com sold worldwide in paperback and Kindle format.
Hello, Friends! Please DO NOT LIFT OR PLAGIARIZE my original recipe, stories, photos or videos. All the images and content on this blog are COPYRIGHT PROTECTED and owned by my media company Besa-Quirino LLC. This means BY LAW you are NOT allowed to copy, scrape, lift, frame, plagiarize or use my photos, essays, stories and recipe content on your websites, books, films, television shows, videos, without my permission. If you wish to republish this recipe or content on media outlets mentioned above, please ASK MY PERMISSION, or re-write it in your own words and link back to my blog AsianInAmericaMag.com to give proper attribution. It is the legal thing to do. Thank you. Email me at [email protected]