Filipino Relyeno- Stuffed Bell Peppers with Pork and Potatoes
As an Amazon Associate and member of other affiliate programs, I earn from qualifying purchases.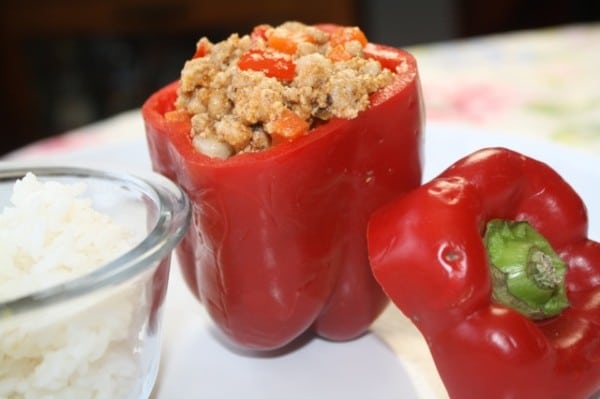 When my sons were little, I worried if they refused to eat. So, I often made these classic Filipino Relyeno- Stuffed Bell Peppers with Pork and Potatoes. An aunt once told me "children get hungry eventually. Just put the food on the table and don't fuss." In time I figured it out. The trick was to find their favorite food and enhance it with vegetables, making sure the veggies were the focus of the dish. I also added fun to the food preparation by inviting the boys to help me cook in the kitchen. They loved to stuff these peppers themselves.
My boys often enjoyed "Giniling" (the Pilipino word for ground meat). 'Giniling' was our version of sloppy joe. If I cooked this, it meant I had just had a busy day. Giniling was a no-brainer to cook. I simply sautéed garlic and onions, ground pork, cubed potatoes, carrots and added tomato sauce. The pork and potatoes simmered as the liquid was reduced to a thick gravy.
The boys liked to pour the whole dish on mounds of boiled rice, till the grains turned crimson from the tomato sauce. They enjoyed smashing the potato and carrot cubes and mixing it up more on their plates.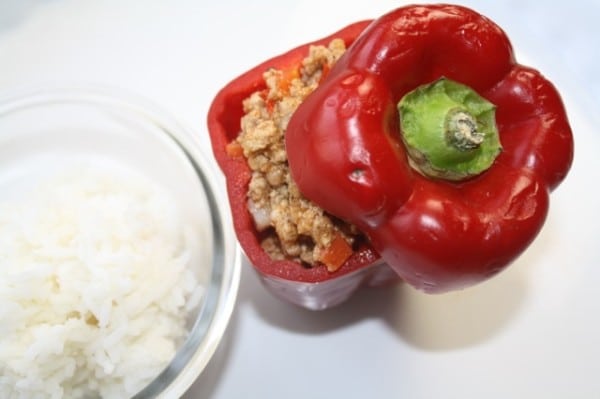 At another meal, I saw my oldest son chomp down slices of the red bell peppers which were condiments to an entree. If he liked the peppers, I saw it as an opportunity to make "Relyeno", or what my mom called Stuffed Bell Peppers. In the summers, the bell peppers are sweeter and come in different colors — dark green, bright red, golden orange and bright yellow. So I stuffed these peppers with the ground pork mixture, poured breadcrumbs, a beaten egg over it and baked the whole thing for a few minutes. The sultry aroma of the fish sauce shyly lingering in the cooked ground meat combined well with the bell peppers once the stuffed entree was sliced.
Feeding my sons properly when they were little meant doing it a step at a time. Over the years, the boys' palates shifted to enjoying vegetables. My sons are grown now. They have good jobs and good lives away from home. They are conscious of good health, practice good nutrition and workout regularly.
"You shouldn't be eating all that" my boys, now grown up, reprimanded me, as I guiltily pushed away the bag of chips and bar of chocolate while I watched TV. My work is done here. My boys have grown up healthy and fit. Now they're the ones reminding us, their parents about the value of good food and eating well. Forgive me for gushing, but my heart is swelling with pride.
Filipino Relyeno - Stuffed Bell Peppers with Pork and Potatoes
This dish of Filipino Relyeno- Stuffed Bell Peppers is an all-in-one meal that has lots of flexibility. You can stuff meat or vegetables or both in colorful, big, sweet peppers. Simply pour half a cup of filling into each pepper and the dish is almost done. I stuffed ours with "Giniling", (say 'geeh-knee-ling') a classic Filipino ground pork saute with potatoes, carrots and tomato sauce. My sons have always enjoyed 'Giniling' and I did, too because it was easy to prepare. Use whatever you have from other meals and make a fabulous makeover meal like this one for any day of the week. This AsianInAmericamag recipe was from a previous blog post. Serves 4.
Ingredients
2

Tablespoons

vegetable oil

2

cloves

garlic

minced

1

whole

onion

chopped

1/2

pound

ground pork

1

whole

large potato

peeled and cubed into 1/4-inch pieces

1

whole

large carrot

peeled and cubed into 1/4-inch pieces

1

Tablespoon

patis (fish sauce)

1/2

cup

beef or chicken broth

1

can (6 oz.)

tomato sauce

1

teaspoon

salt

1

teaspoon

ground black pepper powder

6

whole

large red bell peppers

or use green, orange, yellow

1/2

cup

bread crumbs

plain

2

whole

eggs

beaten

for serving: boiled rice

brown or white
Instructions
To make the ground pork "giniling": In a large skillet, over medium high heat, add the vegetable oil. Saute the garlic and onions. After 1 to 2 minutes when onions are translucent, add the ground pork, cubed potatoes, carrots and fish sauce. Mix well. Pour the broth and tomato sauce. Blend ingredients. Season with salt and black pepper powder. Cover and cook for 25 minutes till tomato sauce is reduced to a thick gravy. Set aside.

To fill the bell peppers: Wash the bell peppers. Slice the red bell peppers from the top. Set aside the stem top till dish is ready to serve. Clean the insides and remove the seeds and white membrane with a sharp knife.

Pour about half a cup of the cooked ground pork mixture into each bell pepper.

Sprinkle bread crumbs over the ground pork mixture. Distribute the beaten eggs evenly over the top of each stuffed pepper.

Place the stuffed peppers, standing upright inside a large roasting pan. Cover the entire pan with foil. Bake at 400 F for 20 minutes.

Before serving, return the stem tops on top of each stuffed bell pepper. Serve with boiled rice. When eating this dish, slice the bell peppers horizontally, pour the filling on cooked rice.

Hello, Friends! All the images and content on this blog are COPYRIGHT PROTECTED and owned by my media company Besa-Quirino LLC. This means BY LAW you are NOT allowed to scrape, lift, frame, plagiarize or use my photos and  recipe content I wrote, on your website  without my permission. If you want to republish this recipe or content on another website or news article, please ASK my permission, re-write it in your own words and simply link back to this blog to give proper attribution. It's the legal thing to do. Thank you. Email me at [email protected]
Nutrition
Serving:
1
g
|
Calories:
266
kcal
|
Carbohydrates:
10
g
|
Protein:
12
g
|
Fat:
20
g
|
Saturated Fat:
10
g
|
Cholesterol:
43
mg
|
Sodium:
714
mg
|
Potassium:
189
mg
|
Fiber:
1
g
|
Sugar:
1
g
|
Vitamin C:
1
mg
|
Calcium:
35
mg
|
Iron:
1
mg
Notes on Nutrition: The nutrition data for this recipe includes the full amount of the marinade ingredients. The actual amount of the marinade consumed will vary. The nutrition information provided is an estimate and will vary based on cooking methods and specific brands of ingredients used.
Did you like this recipe? I have more classic recipes inspired by my late mother's cooking in my popular cookbook: My Mother's Philippine Recipes. If you're learning how to cook Filipino food or a fan of Philippine cuisine, buy my cookbooks and books on Amazon.com sold worldwide in paperback and Kindle format.
Hello, Friends! Please DO NOT LIFT OR PLAGIARIZE my original recipe, stories, photos or videos. All the images and content on this blog are COPYRIGHT PROTECTED and owned by my media company Besa-Quirino LLC. This means BY LAW you are NOT allowed to copy, scrape, lift, frame, plagiarize or use my photos, essays, stories and recipe content on your websites, books, films, television shows, videos, without my permission. If you wish to republish this recipe or content on media outlets mentioned above, please ASK MY PERMISSION, or re-write it in your own words and link back to my blog AsianInAmericaMag.com to give proper attribution. It is the legal thing to do. Thank you. Email me at [email protected]