Lemon Squares
As an Amazon Associate and member of other affiliate programs, I earn from qualifying purchases.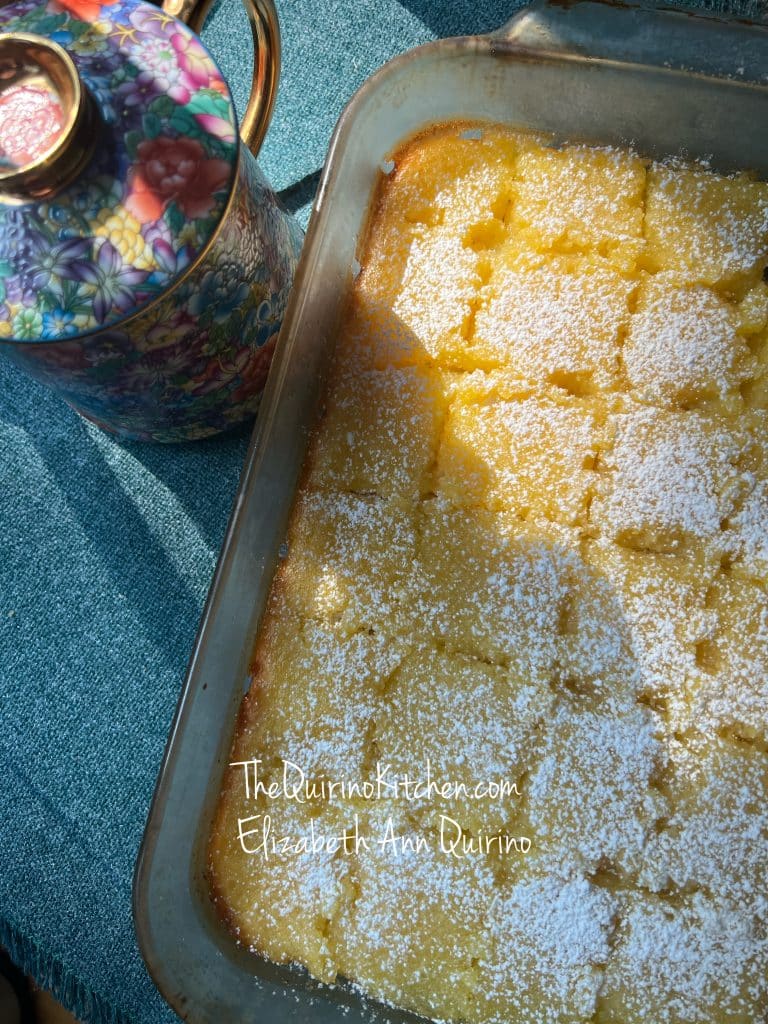 When we're celebrating a special occasion at our home, I always bake Lemon Squares. These luscious baked treats made of fresh lemon juice, flour, sugar, butter are a favorite of my son Tim, and this Pyrex you're seeing was made just for him this week.
June is a month of joyous events at our home: my birthday, my son Tim's birthday, the birthday of this blog (13 years!), Father's Day, and the most wonderful event this year – the publication of my new memoir – Every Ounce of Courage: A Daughter's Reflections On Her Mother's Bravery.
But back to the Lemon Squares. I have been baking this recipe since I was a teenager, when I taught myself to bake, back in my childhood home in Tarlac. We had an abundance of fresh calamansi then, from trees my father grew in our backyard. So, I used the tart-sweet citrusy calamansi combined with fresh lemon juice. When I lived in Manila later on, I had access to lemons (imported from other countries) and I used that. When we moved to America, we had an abundance of fresh lemons year round, so that was a no-brainer.
What my son Tim noticed, was that the Lemon Squares I baked during the summer months of June was the sweetest, compared to the rest of the year. It was an interesting observation and I made it a point to bake more Lemon Squares during June. That it was Tim's favorite was even more of a motivation.
What are Lemon Squares?
Lemon squares are bite-sized baked pastries which have a pie-crust-like bottom, and topped with a lemony custard-like filling that is sweet, tart, silky all at once, with a hint of a piercing fragrance. A sprinkling of confectioners' sugar is added all over the squares.
What do you need to bake Lemon Squares?
The ingredients for Lemon Squares are basic pantry ingredients if you're a frequent baker. But it is helpful to use newly-purchased ingredients for this recipe or any for that matter. A good clue would be – if you don't recall when you last bought the flour, dry and wet ingredients, and fruit, then it's a sign to discard and buy new products. These ingredients are mostly available all year round, too.
Be sure to have the following: all-purpose flour, unsalted butter, confectioners' sugar, cornstarch, salt, eggs, lemons for the juice and zest, baking soda, and baking powder.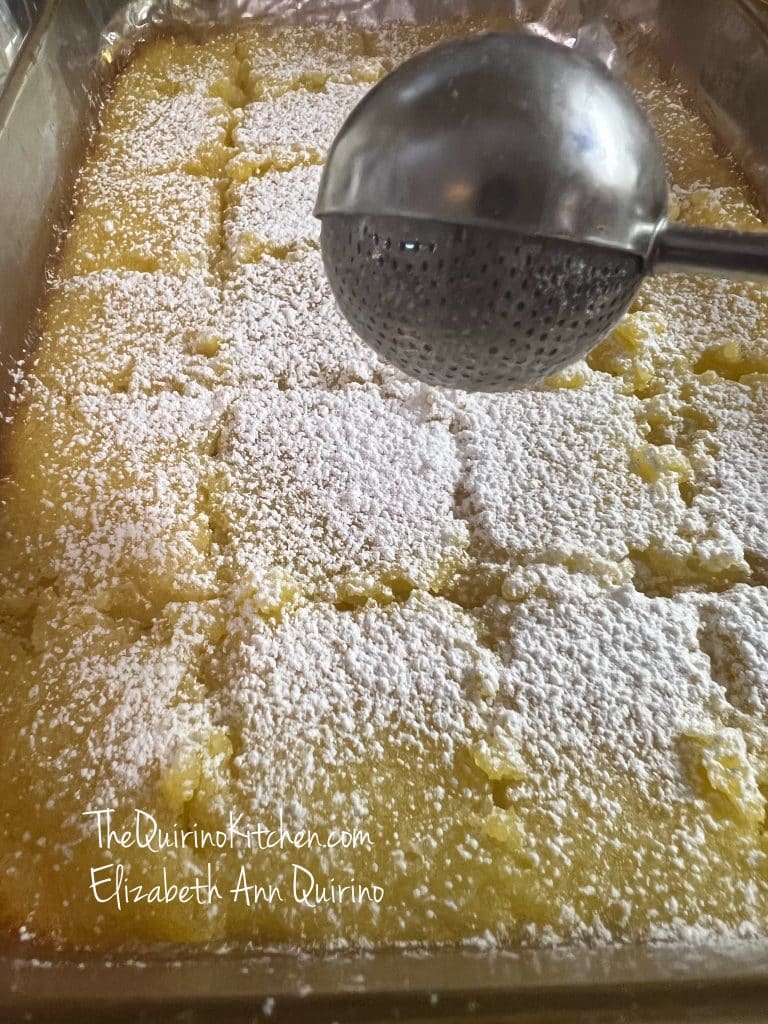 How to bake Lemon Squares
I first made the crust of flour, confectioner's sugar, cornstarch, salt and butter, then after mixing, pressed the bottom of a square or rectangular baking pan. This went into the oven to bake and firm up for less than half an hour. Once baked and cooled down, I poured the mixture of bright yellow-colored lemon filling. And that went into the oven again to bake till firm. The whole process of baking was under an hour.
The hardest part of baking this treat was to wait for the Lemon Squares to cool down, and firm up in the refrigerator for a few hours. It's even more firm if you refrigerate this overnight, but that's sheer torture for those who wait and want to devour it.
How long do Lemon Squares keep?
If you can resist and only eat one Lemon Square a day, then these citrus-flavored treats keep up to 1 week in the refrigerator. If frozen, in a well-covered container, they last up to 1 month in the freezer.
But life is short, and desserts like these superb lemon bars are hard to resist, so no one will judge you if you devour the whole pan in less than a week. Or in less time than that.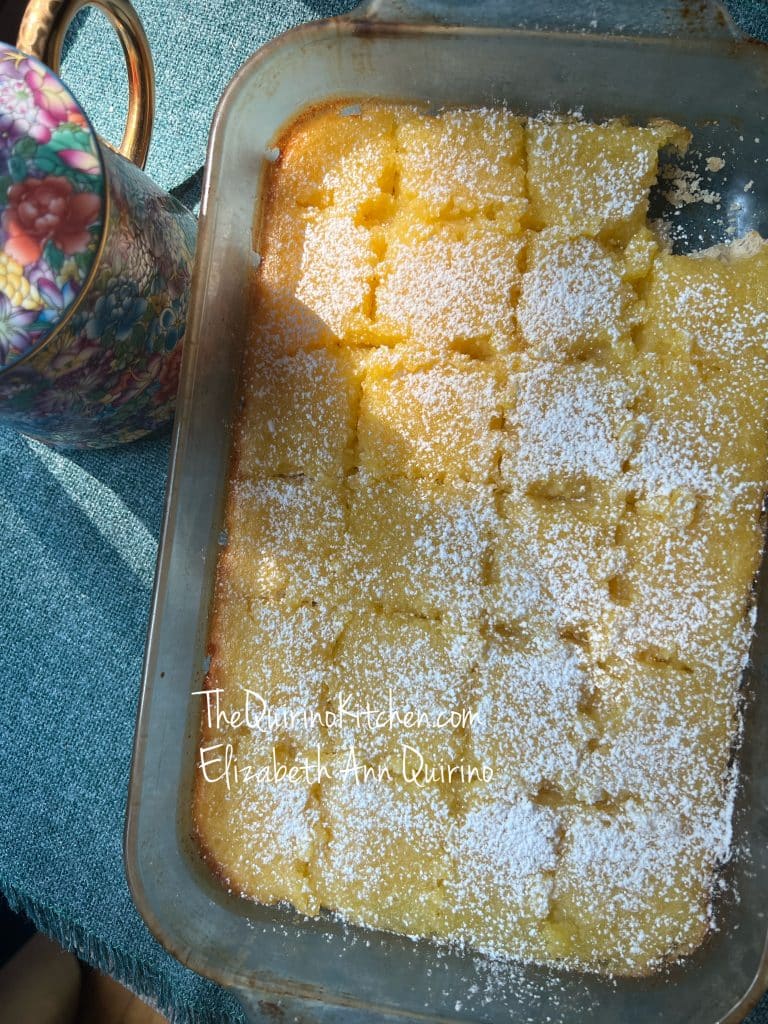 Lemon Squares
Lemon Squares are classic, bite-sized dessert bars made of fresh lemon juice and zest, sugar, flour and other baking ingredients. The silky, citrus, custard-like filling is encased in a buttery crust. This makes a wholesome family sweet treat for any occasion, all year round. This is a recipe of The Quirino Kitchen by Elizabeth Ann Quirino.
Equipment
Baking pan – 8 x 8 or 9 x 13 inches

Lemon zester

Cake Mixer

Mixing bowls

Measuring cups and spoons

cake tester
Ingredients
For the crust:
2

cups

all-purpose flour

1

cup

organic confectioner's sugar

1/2

cup

cornstarch

1/2

teaspoon

salt

1

cup

unsalted butter, chilled, cut in small square pieces
For the lemon filling:
6

whole

eggs

1

cup

freshly-squeezed lemon juice

2

cups

granulated sugar

1/2

cup

all-purpose flour

2

Tablespoons

lemon zest (from the fresh lemons)

1

teaspoon

organic lemon extract

1

teaspoon

baking soda

1

teaspoon

baking powder
For topping:
3

Tablespoons

organic confectioner's sugar
Instructions
To bake the crust:
Preheat the oven at 350 F degrees.

Grease the baking pan with baking spray and set aside.

In a large mixing bowl, combine the 2 cups all-purpose flour, 1 cup confectioner's sugar, cornstarch, salt and the unsalted butter. Mix well till all ingredients are incorporated.

Add the flour mixture to the pre-greased baking pan. Using a large fork, press the crust to the bottom of the pan. Run the fork across so that the flour mixture is even and smooth.

Refrigerate the crust in the pan for 10 minutes, so the mixture firms up.

Then place the pan in the oven, and bake for 20 minutes at 350 F, till the top is light brown and has a slight buttery aroma.

Remove the pan from the oven. Cool on the counter, for about 10 minutes while you prepare the filling.
To prepare the lemon filling:
Adjust the oven to a temperature of 325 F degrees to preheat.

Using a cake mixer, beat the eggs till thick, for about 5 minutes.

Add the granulated sugar, lemon juice and zest. Mix well for about 2 minutes.

To the lemon mixture, add the flour, baking powder and baking soda.

Pour the lemon extract and mix well.

Pour the lemon filling into the cooled crust. Bake for 38 to 40 minutes in 325 F degrees. Use a cake tester to check if done — the tester should come out clean if you prick the middle top portion of the lemon filling.

Take the baking pan out of the oven and cool on the counter for at least 40 minutes.

Cover with foil. Refrigerate for at least 5 hours or up to overnight for the lemon filling to firm up.
To prepare Lemon Squares:
After the lemon filling has firmed up to a solid state, sprinkle the 3 tablespoons of organic confectioner's sugar all over the lemon filling.

Using a sharp knife, cut the lemon squares into 3-inch square pieces. Serve with a favorite beverage.
To keep the Lemon Squares:
Leftover Lemon Squares should be covered and refrigerated. They keep in the refrigerator for 1 week.

If freezing, keep the Lemon Squares in an air-tight plastic container. They last up to 1 month in the freezer.
Cook's comments:
In all these years I have been baking Lemon Squares, I discovered that the organic confectioner's sugar I use for this recipe, is the best-tasting. If conveniently available, I suggest you use the same, too.
Nutrition
Serving:
100
grams
|
Calories:
733
kcal
|
Carbohydrates:
174
g
|
Protein:
8
g
|
Fat:
1
g
|
Saturated Fat:
0.2
g
|
Polyunsaturated Fat:
0.4
g
|
Monounsaturated Fat:
0.1
g
|
Cholesterol:
6
mg
|
Sodium:
571
mg
|
Potassium:
189
mg
|
Fiber:
2
g
|
Sugar:
100
g
|
Vitamin A:
8
IU
|
Calcium:
57
mg
|
Iron:
4
mg
Notes on Nutrition: The nutrition information provided in the recipe links is an estimate and will vary based on cooking methods and specific brands of ingredients used.
Copyright Notice: Hello, Friends! Please DO NOT LIFT OR PLAGIARIZE The Quirino Kitchen recipes on this blog, my original recipes, stories, photos or videos. All the images and content on this blog are COPYRIGHT PROTECTED and owned by my media company Besa-Quirino LLC by Elizabeth Ann Quirino. This means BY LAW you are NOT allowed to copy, scrape, lift, frame, plagiarize or use my photos, essays, stories and recipe content on your websites, books, films, television shows, videos, without my permission. If you wish to republish this recipe or content on media outlets mentioned above, please ASK MY PERMISSION, or re-write it in your own words and link back to my blog TheQuirinoKitchen.com to give proper attribution. It is the legal thing to do. Thank you. Email me at [email protected]