Angel Food Cake with Strawberries and Blueberries
As an Amazon Associate and member of other affiliate programs, I earn from qualifying purchases.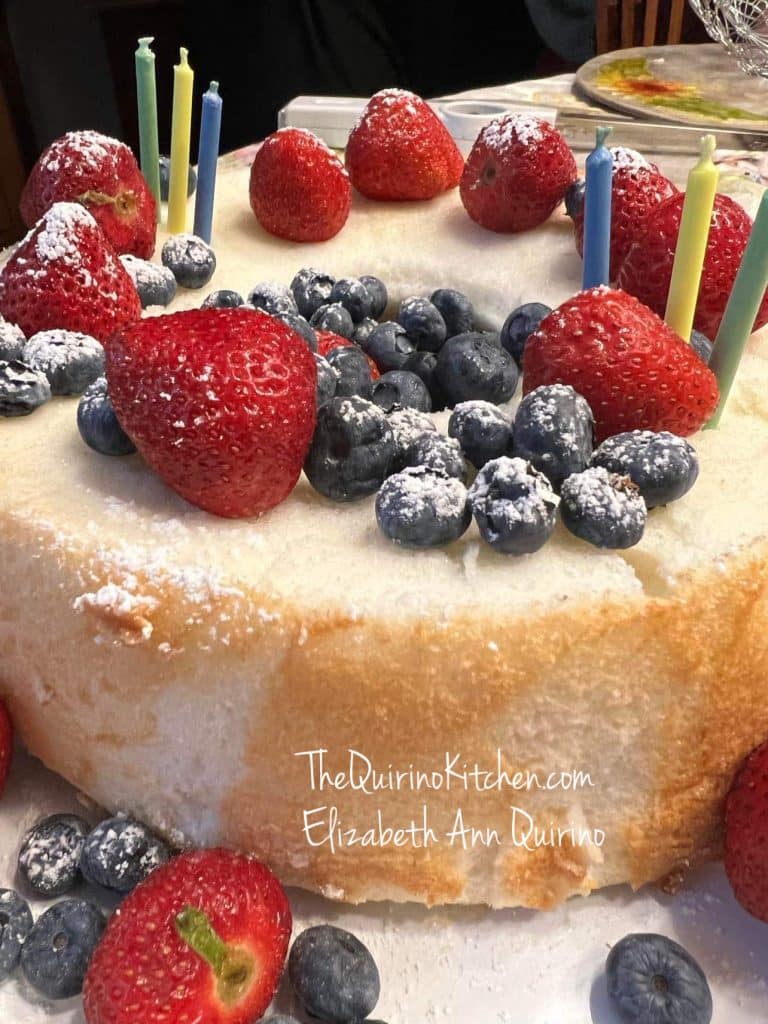 I had recently made some custard desserts like flan, so I had a surplus of 12 egg whites. What to do? Immediately, I thought of Angel Food Cake.
This is the kind of cake dessert that's ideal for a warm, sultry summer day. We are also celebrating a family birthday this week – my husband who was born on the 4th of July. So what better way to display the red-white-and-blue trimmings than on a cake celebrating a birthday?
BAKING TIPS & WHAT'S NEEDED:
Over the years, I have learned some practical tips to baking an Angel Food Cake. First, the outcome of beating the egg whites is one of the most important things in this cake.
Egg whites – make sure you only have egg whites. Not a single drop of yolks should be in them or they won't rise to perfection when you beat them.
Cake mixer – start with a very clean large mixing bowl, the cake mixer and wire whisk beaters. These should be absolutely, squeaky clean. Rinse all these well with soap and cold water. Then dry them with a clean kitchen cloth.
Other ingredients – the cake flour, sugars, cream of tartar, vanilla, and salt, should be new or recently-purchased. This affects the outcome. If your ingredients are stale, the cake will taste stale. A clue for you, if you don't remember when you purchased the ingredient, then it's time to replace them with newly-purchased ones. Always read the expiration dates on the package.
Angel Cake tube pan – this looks like a Bundt cake pan, but with feet on the edges to support the pan when you invert it after baking, while cooling the cake. The cake pan is fairly easy to find in large stores at the baking aisle or online sources.
THE RESULTS:
This was such an easy cake to put together. The Angel Food Cake is one of our family favorites .It is delicate, light and fluffy. Its billowy air-like texture provides a good base for any cake flavor you want to create. In my kitchen, we had an abundance of seasonal strawberries and Jersey blueberries. There was no need to put anything elaborate. The simplicity of the luscious fruits alone crowning the soft, towering Angel Food Cake was enough. I knew the outcome would be a fabulous dessert for a birthday weekend.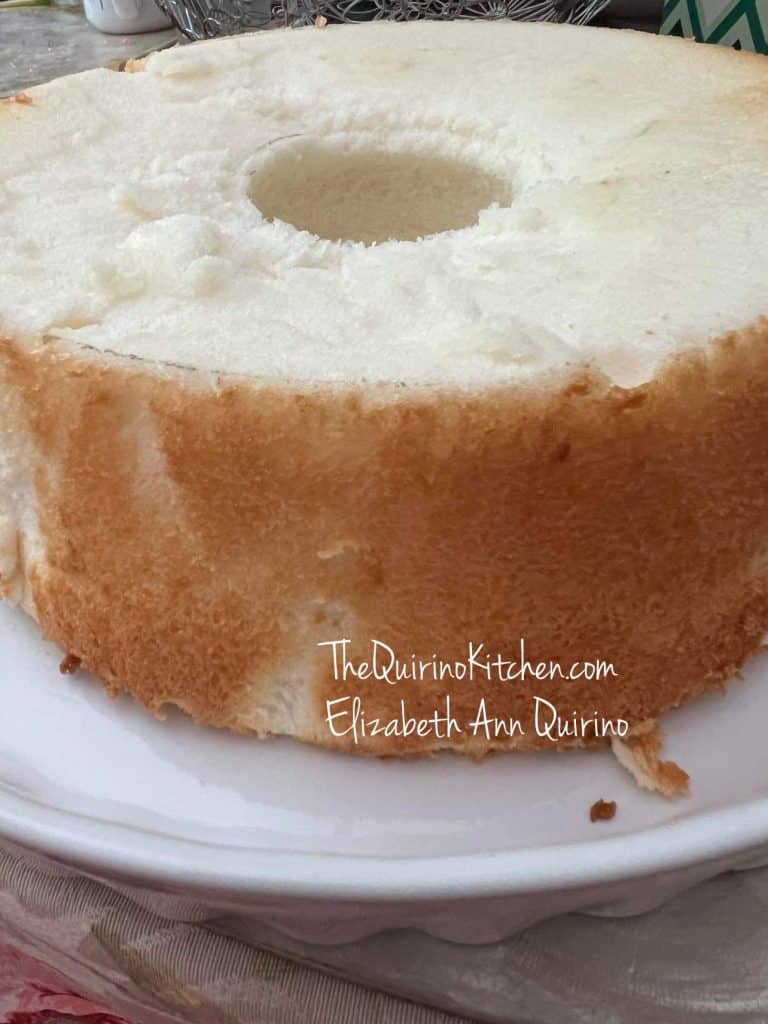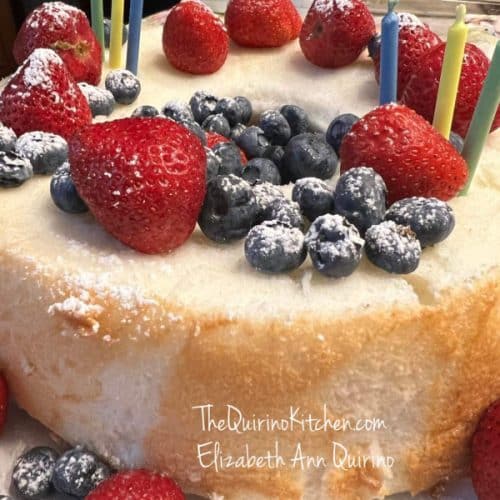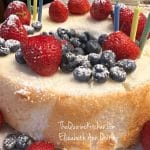 Print Recipe
Angel Food Cake with Strawberries and Blueberries
This light and fluffy Angel Food Cake with Strawberries and Blueberries is a cake recipe made mostly from a large amount of egg whites, cake flour and sugar. Its soft, air-like texture makes it an ideal dessert for warm months, but it is just as superb served all year round. I topped this cake with fresh berries and a sprinkling of powdered sugar to make it even more flavorful. This is a recipe of The Quirino Kitchen by Elizabeth Ann Quirino, adapted from All Recipes.
Equipment
Large mixing bowls

Cake sifter or sieve

Electric cake mixer with wire whisk beaters

spatulas

Angel Cake Tube Cake Pan – 10 x 4 inches

cake rack

cake platter
Ingredients
1 ¼

cups

confectioner's sugar

1 ¼

cups

cake flour

2

cups

egg whites, from 12 eggs

1/4

teaspoon

salt

1 ¼

teaspoons

cream of tartar

1 ¼

cups

granulated sugar

1 ¼

teaspoons

pure vanilla extract
For cake topping:
1/2

cup

fresh strawberries, washed and hulled

1/2

cup

fresh blueberries

1/4

cup

confectioner's sugar
Instructions
Preheat oven to 325 F degrees.

In a large mixing bowl, combine the 1 ¼ cups confectioner's sugar, and cake flour, Sift this mixture 3 times. Use a regular wire sieve. It is important to sift 3 times. Set flour mixture aside.

Pour the egg whites, salt and cream of tartar in a large mixing bowl. Using an electric cake mixer with wire whisk beaters, beat the egg white mixture on high speed. Gradually add the granulated sugar, a few tablespoons at a time.

Beat the egg whites till fluffy, glossy peaks form. There should be no trace of bubbles in the egg white mixture.

Turn off the electric mixer.

Using a wide rubber spatula, gently fold in the flour-confectioner's sugar mixture, a little at a time. Slowly stir in the vanilla extract. Fold very carefully so that the egg whites do not collapse.

Pour the cake batter into the Angel Food Tube Cake Pan, level off the top with a cake spatula.

Bake at 325 F for 1 hour or until cake springs back when touched.

Invert the cake pan on a rack to cool. The Angel Food Tube Pan's feet on the edges should support the cake pan.

TIP: If you don't have an Angel Food Tube Cake Pan with feet, insert the middle tube onto the neck of a bottle that fits. Let the cake in the pan cool completely. This is an important step to follow so that the cake doesn't collapse. It may take up to 50 minutes to cool the cake.

When cake is cool, loosen the sides with a sharp knife. Tap the sides and top of the inverted cake pan, as you slip the cake on a platter.

Decorate the top with strawberries and blueberries.

Sprinkle the top of the berries and the cake with 1/4 cup powdered sugar.
Cook's comments:
1. Cream of tartar is a dry, powder which is an acidic byproduct of fermenting grapes in wine. It is found in the baking aisle or the spice aisle of large supermarkets or food stores.

Adding cream of tartar to egg whites when beating the mixture, speeds up the foam creation and helps stabilize the whites. This ingredient is used for cakes and pastries that require beating egg whites to a fluffy, shiny peak like meringues, cookies or this Angel Food Cake recipe.

2. I use fresh fruits as topping for this recipe most times. If using frozen, there is a chance, the fruits get liquidy and soak the cake, so, I try to avoid that by using fresh. A sprinkling of confectioner's sugar alone makes the cake just as delicious and appealing.
Nutrition
Serving:
100
grams
|
Calories:
375
kcal
|
Carbohydrates:
91
g
|
Protein:
3
g
|
Fat:
1
g
|
Saturated Fat:
0.1
g
|
Polyunsaturated Fat:
0.2
g
|
Monounsaturated Fat:
0.04
g
|
Sodium:
99
mg
|
Potassium:
132
mg
|
Fiber:
1
g
|
Sugar:
71
g
|
Vitamin A:
1
IU
|
Calcium:
5
mg
|
Iron:
0.3
mg
Copyright Notice: Hello, Friends! Please DO NOT LIFT OR PLAGIARIZE The Quirino Kitchen recipes on this blog, my original recipes, stories, photos or videos. All the images and content on this blog are COPYRIGHT PROTECTED and owned by my media company Besa-Quirino LLC by Elizabeth Ann Quirino. This means BY LAW you are NOT allowed to copy, scrape, lift, frame, plagiarize or use my photos, essays, stories and recipe content on your websites, books, films, television shows, videos, without my permission. If you wish to republish this recipe or content on media outlets mentioned above, please ASK MY PERMISSION, or re-write it in your own words and link back to my blog TheQuirinoKitchen.com to give proper attribution. It is the legal thing to do. Thank you. Email me at [email protected]