Pad Thai – Wide Noodles with Pork and Tamarind
As an Amazon Associate and member of other affiliate programs, I earn from qualifying purchases.
A Pad Thai noodle dish is a stir-fried, all-in-one Asian meal which has a bed of wide, flat rice noodles, cooked in a sweet-sour sauce of tamarind concentrate, fish sauce, lemon juice. It is topped with a heady combination of shrimps, chicken, or pork, or else all of it, with cubes of tofu, crushed peanuts, mung bean sprouts, and other vegetables, all together in a wok or skillet.
When we're at Thai or Asian restaurants, this is one of my favorite noodle dishes to order. But we don't eat out as often lately, so I have been cooking it at home, from a recipe shared by cookbook author and cooking teacher Nancie McDermott.
What is in the Pad Thai Sauce?
The sweet-sour, slightly tangy tamarind concentrate defines the flavor of this noodle dish. I use either liquid tamarind concentrate, or several spoonfuls of thick tamarind pulp from a block of paste. These tamarind products are sold at Asian markets or online sources for Asian ingredients. In the Philippines, tamarind or Sampaloc, as Filipinos know it, grows abundantly in the rural provinces, often as trees in the backyard. We had a tamarind tree in our yard when I was a child, and the fruits and leaves were abundant sources of ingredients for different Filipino everyday meals my mother cooked.
Nowadays, in my American kitchen, I use the tamarind concentrate, which is easy to find in Asian stores. There is also tamarind paste from a big solid block and it can be used in cooking, after one has melted a few tablespoons in warm water. For leftovers of the paste or concentrate, I find good use for it in other dishes like sinigang (sour soup stew), as a salad dressing, or can even mix it up as a chilled beverage.
What ingredients do I need?
Aside from the tamarind concentrate, other sauce ingredients needed are patis (fish sauce), broth, fresh lemon juice, sugar, salt and pepper seasonings. Some noodle fans add chili pepper flakes for that zing in the dish.
One of the main ingredients of Pad Thai are the thick, wide noodles. I find them at Asian supermarkets. Or if you don't have time to get in the car for the drive to the market, online sources sell the Thai King Gluten-Free Stir Fry Rice Noodles. You need 8 ounces of the noodles. So, you can keep the rest for another occasion.
How To Serve Pad Thai
Pad Thai noodle dishes are said to be street food in Thailand. This is probably because the ingredients are commonly found and easy to obtain. The meats and shrimps can be bits and pieces available in your ref or freezer. The vegetables of mung beans, and others in season, are either growing in one's backyard or else easy to purchase from neighborhood supermarkets all year round.
Get started by dropping the thick, wide noodles in boiling water. Follow the easy package directions for the correct time to cook on the stovetop.
Chop the ingredients in bite-sized portions and slice the vegetables. Stir fry the tamarind sauce and everything else together in a large wok or skillet. It only takes about 10 to 15 minutes, give or take, depending on the amount of meat and shrimps, or if one chooses to go all-vegetables in this recipe.
Before long, the sweet, tangy aroma of the tamarind-based sauce becomes one with the salty fish sauce, and blends well with the basic noodles, and the different, vivid-colored vegetables, and savory flavors. Twirl your forks into the noodles immediately.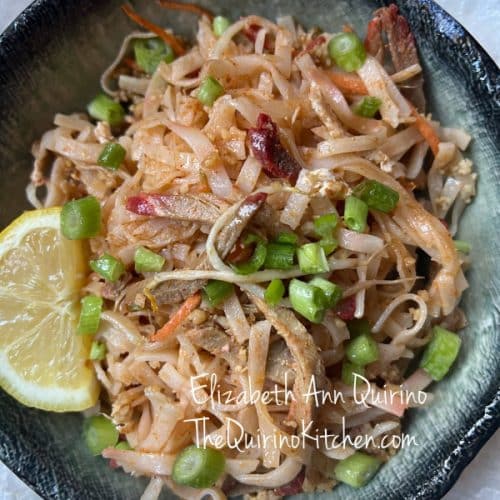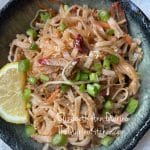 Print Recipe
Pad Thai – Wide Noodles with Pork and Tamarind
Pad Thai is a Thai-influenced dish which uses wide rice noodles and is sauteed in tart tamarind sauce with seasonings. This particular recipe used pork slices, and vegetables added to the noodles and simmering savory sauce. Top the noodle dish with crushed roasted peanuts, tofu cubes, scallions and lemon for sprinkling all over. This recipe on The Quirino Kitchen by Elizabeth Ann Quirino was inspired by a Paht Thai recipe in the cookbook Simply Vegetarian Thai Cooking by Nancie McDermott.
Equipment
Large Skillet or Wok: 12 to 14 inches

Medium-sized Stockpot

chopping board
Ingredients
For the sauce:
2

Tablespoons

vegetable oil

2

cloves

garlic, minced

2

stalks

scallion whites, chopped

1

square inch

tamarind pulp paste;

or use 2 Tablespoons tamarind liquid concentrate

1/2

cup

vegetable or pork broth;

add 1/4 cup more as needed, if the dish dries out

1

Tablespoon

patis (fish sauce)

1

Tablespoon

granulated sugar

1

Tablespoon

soy sauce;

preferably Filipino or Chinese-brands

1/4

pound

pork shoulder or tenderloin, sliced into slim 1/2-inch pieces

1

cup

togue (mung bean sprouts)

2

cups

shredded bok choy;

or use napa cabbage

1/2

teaspoon

sea salt

1/4

teaspoon

ground black pepper
For the pad thai:
8

ounces

wide dried rice noodles;

boiled according to package directions
For the toppings:
1/2

cup

dry roasted peanuts, crushed

1

8 ounce block

extra firm tofu, pan-fried, sliced into 1/2-inch cubes

2

stalks

scallion greens, chopped,

for garnish

2

whole

lemons, sliced;

for garnish; and sprinkling on top
For serving:
1/2

cup

patis (fish sauce), as a side dipping sauce
Instructions
To cook the sauce:
In a large skillet or wok, over medium-high heat, add the oil. When oil is hot enough in about 2 minutes, saute the garlic and scallion whites.

Melt the tamarind pulp paste in 1/4 of a cup of warm water till it dissolves (or if using tamarind liquid concentrate, pour 2 tablespoons instead).

Pour the tamarind and the broth into the skillet.

Add patis (fish sauce), soy sauce, and sugar to the tamarind mixture in the skillet. Mix well.

Add the slices of pork and combine the ingredients. Cook till the meat is done, about 8 minutes.

Follow package instructions of the dried wide noodles for boiling.

Drain the noodles and add these to the tamarind broth mixture in the skillet.

Incorporate ingredients well so that the liquid coats the noodles.

Continue cooking for about 5 minutes more till the noodles have softened.

Add the togue (mung bean sprouts) and the shredded bok choy. Mix vegetables, noodles and the liquid well.

Continue cooking for about 5 minutes more till vegetables have softened.

Season with salt.
To assemble the pad thai:
Plate the cooked pad thai noodles and sauce on a large rimmed platter. Leave some of the sliced meats for the top.

Add the following toppings: crushed peanuts, sliced tofu, chopped scallion greens, and slices of fresh lemon for sprinkling.

Serve warm, with a side dipping sauce of additional patis (fish sauce).
Cook's comments:
Pad Thai is a versatile, easy and forgiving noodle dish. You can substitute the dried wide noodles with fresh ones. Or if preferred, you can use other type of wheat noodles for this recipe.

For an all-vegetable noodle dish, you can skip the pork and simply cook it with vegetables. Add veggies in season if desired.

Leftover Pad Thai can be kept covered and refrigerated for up to 2 days.

This dish does not freeze well, though – the noodles and vegetables get watery if kept in the freezer, so I do not advise it.

If a spicy version of Pad Thai is desired, add half a teaspoon of red pepper flakes in the saute mix.
Nutrition
Serving:
100
grams
|
Calories:
57
kcal
|
Carbohydrates:
13
g
|
Protein:
2
g
|
Fat:
0.1
g
|
Polyunsaturated Fat:
0.01
g
|
Sodium:
2168
mg
|
Potassium:
39
mg
|
Fiber:
0.1
g
|
Sugar:
12
g
|
Calcium:
4
mg
|
Iron:
0.5
mg
Copyright Notice: Hello, Friends! Please DO NOT LIFT OR PLAGIARIZE The Quirino Kitchen recipes on this blog, my original recipes, stories, photos or videos. All the images and content on this blog are COPYRIGHT PROTECTED and owned by my media company Besa-Quirino LLC by Elizabeth Ann Quirino. This means BY LAW you are NOT allowed to copy, scrape, lift, frame, plagiarize or use my photos, essays, stories and recipe content on your websites, books, films, television shows, videos, without my permission. If you wish to republish this recipe or content on media outlets mentioned above, please ASK MY PERMISSION, or re-write it in your own words and link back to my blog TheQuirinoKitchen.com to give proper attribution. It is the legal thing to do. Thank you. Email me at [email protected]