Pinaupong Manok – Chicken On a Bed of Salt
As an Amazon Associate and member of other affiliate programs, I earn from qualifying purchases.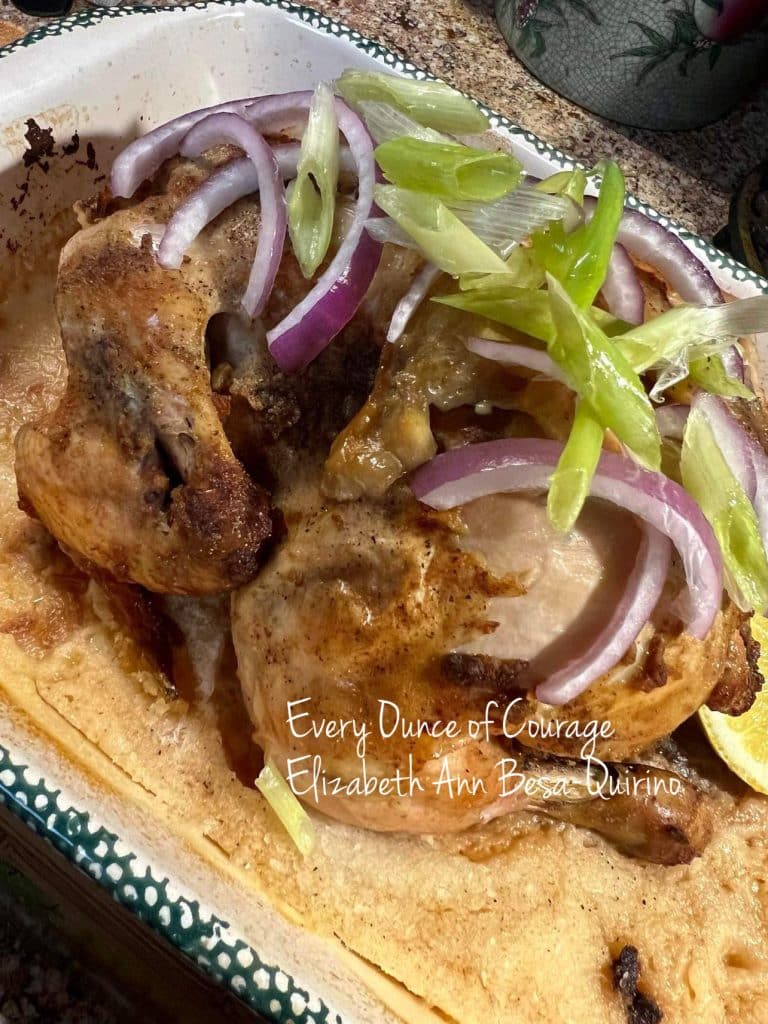 Pinaupong Manok in Tagalog simply means the sitting chicken. And that is how easy it is to cook this classic Filipino dish. It is actually a roast chicken cooked on a bed of salt. Don't let the amount of salt in the bottom of the roasting pan scare you. It is there to flavor the chicken, but it is not salty. In fact, the savory flavors are just enough to make the whole dining experience a pleasant one.
MY MOTHER COOKED THIS RECIPE:
I am giving you a sneak peek of my new book. I'm sharing with you one recipe from the 24 classic ones in my new food and history memoir – Every Ounce of Courage: A Daughter's Reflections On Her Mother's Bravery. This recipe is one of the many divine dishes my mother and my grandmother used to cook and which I talked about in my new book.
As a child, I watched how my late mother Lulu Reyes Besa placed a whole roasting chicken on a deep bed of salt, stuffed the cavity with onions and scallions, seasoned the bird, and roasted it. This is a recipe with chicken and salt as the staple ingredients. I have always admired its simplicity, which to my surprise yields tasty, savory flavors.
Baking with salt has several cooking variations, and to my discovery has had a long history around the world, like in traditional Chinese cooking for instance, in salted duck recipes.
HOW TO COOK:
This recipe involves laying your bed of salt on a roasting pan that will fit the whole chicken. Fill the bottom of the pan with several cups of salt, level it off and let the seasoned chicken sit on it to roast.
Do not be scared by the large amount of salt (about 5 cups) or rock salt used on the bottom layer. This chicken will not be salty.
What happens when cooking? The chicken will turn out moist, and surprisingly there will only be hints of saltiness in the flavor.
The bed of salt renders tenderness to the meat, especially because chicken tends to dry out when roasted. The salt bed absorbs the moisture that leaves the chicken when baking – thus the meat cooks perfectly in dry, hot steam.
INGREDIENTS YOU NEED
After washing the chicken thoroughly in running water, pat dry and season it. Do not forget to remove the pack of frozen giblets stuck within the cavity. Put your fingers inside and grab the pack which many home cooks forget to check. Discard the pack of innards. Or if you want, you can simmer it in water, salt and pepper to make a gravy base – my mother used to do that.
The ingredients of this recipe are basic and probably in your pantry already:
Kosher or rock salt: you need about 5 cups for the salt bed. And 1 teaspoon for the dry rub on the chicken.
Then make sure to have a whole onion, a few stalks of scallions, onion and garlic powders.
Use a heavy duty roasting pan for the long roasting pan. And aluminum foil that is labeled heavy-duty also helps.
That is all you need. Plus the patience to wait for the chicken to cook. This is the kind of recipe ideal for a family weekend meal. So, make it for a Sunday supper. There might be leftovers. You can put them to good use during the week – on Monday, transform the chicken breasts into a chicken salad for those sandwiches during lunch; on Tuesday, use the carcass to boil broth for chicken soup; on Wednesday, slice off the meat and make chicken enchiladas; or any day this week, make the family favorite macaroni salad with chicken and pineapple. The ideas are endless. And to think it all started with a bed of salt and a chicken.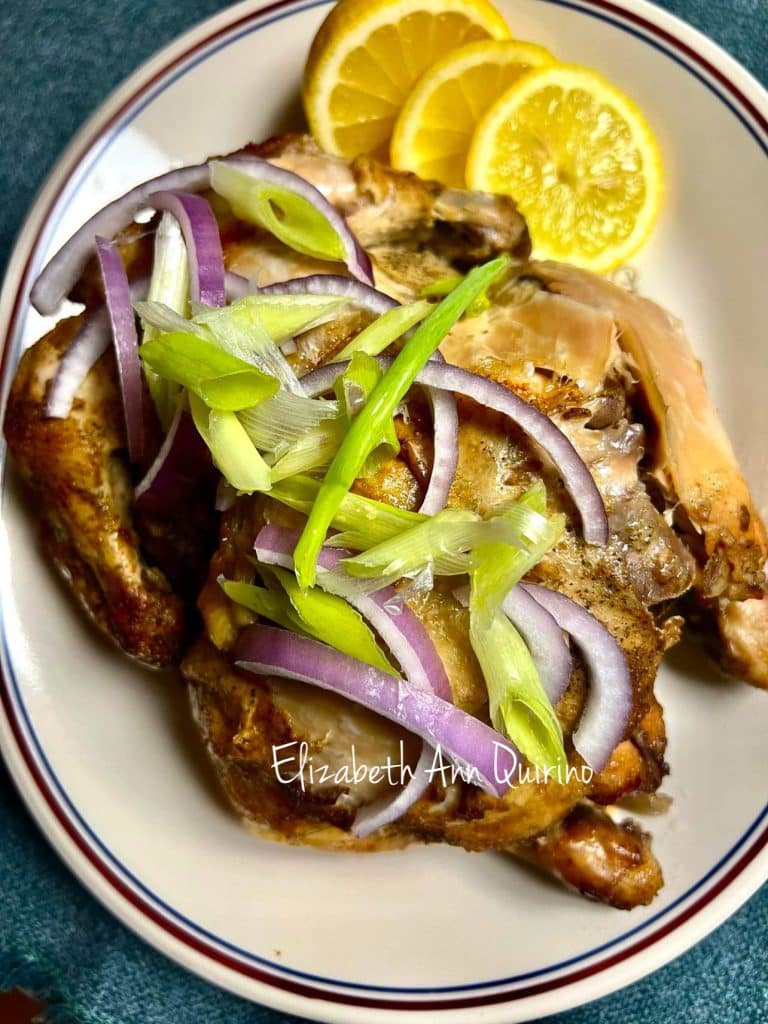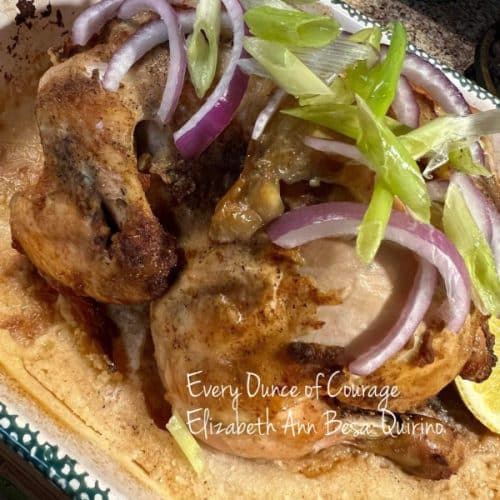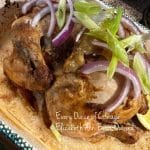 Print Recipe
Pinaupong Manok – Chicken On a Bed of Salt
Pinaupong Manok in Tagalog means the sitting chicken. This is a classic Filipino dish which is a flavorful, fragrant, tender and fabulous-looking whole chicken roasted on a deep bed of rock salt. It is an easy recipe to cook, with basic pantry ingredients. In the time of my grandmother, this was cooked in a clay pot using free-range, organic chickens. I have adjusted the recipe for today's kitchen using a heavy-duty roasting pan and chicken from our nearby market. This is a recipe by The Quirino Kitchen.
*Reprinted and published with permission from the new memoir Every Ounce of Courage: A Daughter's Reflections on Her Mother's Bravery by Elizabeth Ann Besa-Quirino.
Equipment
Large roasting pan to fit chicken – about 9 x 13 inches

Medium-sized mixing bowl

chopping board

heavy-duty aluminum foil

knife set for carving
Ingredients
1

whole (4 to 5 pounds)

chicken for roasting

1

Tablespoon

garlic powder

1

Tablespoon

onion powder

1

teaspoon

ground black pepper

1

teaspoon

salt

5

cups

rock salt or kosher salt

1

whole (5 to 10 ounces)

medium-sized onion, chopped

4

stalks

scallions, white and green parts separated
For serving:
1/4

cup

toyo (soy sauce)

1

Tablespoon

lemon juice

steamed rice
Instructions
Wash the chicken thoroughly outside and inside the cavity. Pat dry with paper towels.

Tip: Remove the frozen pack of giblets and innards inside the cavity.

In a medium-sized bowl, make the seasoning blend: combine the garlic powder, onion powder, pepper, and 1 teaspoon salt. Rub the seasoning blend all over the chicken, outside and inside.

Stuff the chicken with the onions and scallion whites.
To prepare for roasting:
Pour about 5 cups of salt into a 9 x 13-inch roasting pan or other heavy-duty pan large enough to fit the whole chicken.

Level off the salt to make a flat, even bed about 1/2 inch thick.

Place the chicken, breast side up, on top of the bed of salt.

Cover the pan tightly with foil.

Roast the chicken for 2 hours and 40 minutes (for this size of bird).

When the chicken is cooked, remove from the oven. Transfer to a chopping board, rest the bird for 10 minutes, and then carve into serving pieces.

Discard the salt bed.
To serve the chicken:
Combine the soy sauce and lemon juice to make a dipping sauce.

Chop the scallion greens and use to garnish the carved chicken.

Serve warm with steamed rice and the dipping sauce.
Cook's comments:
To check if the chicken is cooked, pierce the thickest part of the thigh. The meat should not be red or pink and the juices should run clear if pierced. If using a thermometer to check if the chicken is cooked, the internal temperature should read at least 167 F. If the meat is still pink or has not reached 167 F, return the chicken to the oven and cover loosely with foil. Continue roasting, checking at 5-minute intervals, until the chicken is cooked.
New book alert!
This is a recipe printed and republished with permission from my new memoir – Every Ounce of Courage: A Daughter's Reflections On Her Mother's Bravery by Elizabeth Ann Besa-Quirino.

It is a story about a Filipina heroine, my late mother, Lulu Reyes Besa, a humanitarian aid worker, civilian recipient of the US Medal of Freedom in 1947 from President Harry Truman, for bringing relief and aid to American and Filipino POWs.

My book has woven memoir, history, and culinary narrative into an engrossing account of my mother's remarkable life.

The book is in paperback and eBook format – sold worldwide on Amazon.It is also available on the website of Barnes & Noble, and other online bookstores.
Nutrition
Serving:
100
grams
|
Calories:
15
kcal
|
Carbohydrates:
3
g
|
Protein:
1
g
|
Fat:
0.1
g
|
Saturated Fat:
0.02
g
|
Polyunsaturated Fat:
0.01
g
|
Monounsaturated Fat:
0.01
g
|
Sodium:
584
mg
|
Potassium:
52
mg
|
Fiber:
1
g
|
Sugar:
0.3
g
|
Vitamin A:
3
IU
|
Vitamin C:
2
mg
|
Calcium:
11
mg
|
Iron:
0.2
mg
Copyright Notice: Hello, Friends! Please DO NOT LIFT OR PLAGIARIZE The Quirino Kitchen recipes on this blog, my original recipes, stories, photos or videos. All the images and content on this blog are COPYRIGHT PROTECTED and owned by my media company Besa-Quirino LLC by Elizabeth Ann Quirino. This means BY LAW you are NOT allowed to copy, scrape, lift, frame, plagiarize or use my photos, essays, stories and recipe content on your websites, books, films, television shows, videos, without my permission. If you wish to republish this recipe or content on media outlets mentioned above, please ASK MY PERMISSION, or re-write it in your own words and link back to my blog TheQuirinoKitchen.com to give proper attribution. It is the legal thing to do. Thank you. Email me at [email protected]