Chicken Noodle Soup with Pork Meatballs
As an Amazon Associate and member of other affiliate programs, I earn from qualifying purchases.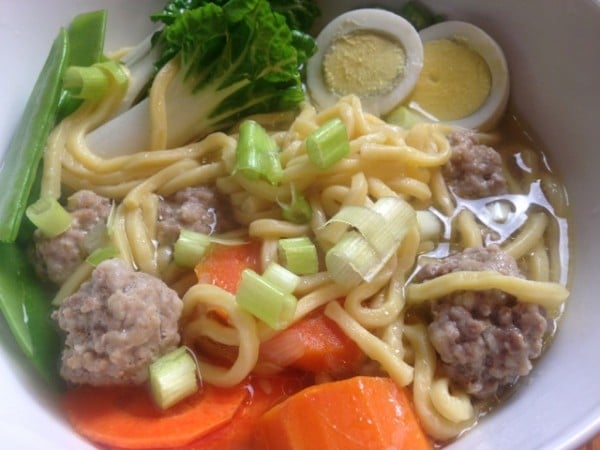 Last week I was at Target and I was reminded of how I used to cook Chicken Soup with Pork Meatballs for my family. I witnessed how young mothers were trying to make their screaming kids behave. I saw mothers buying school supplies while children were having a fit because they wanted to have toys instead. This was a sure sign it was back to school season.
I remember when my sons were growing up and every time it was the first month of school, they would get sick. My boys always caught some bad virus of colds, cough, the flu, just everything contagious – from school. They would bring home the cold virus, I would catch it too. Pretty soon, the whole household was sick.
When this happened, I always cooked soup. Chicken Soup with Pork Meatballs was the easiest to cook. It was also a favorite. Filipinos love to have soup as a meal extender. We love to pour soup broth like this one on a mound of fragrant, boiled rice. If I had leftover roast chicken from another day, I'd boil the entire carcass with some meat left on it. I'd throw in the usual suspects – onions and celery. Or else I would boil an entire chicken breast and add "hugas bigas" (rice wash) to make it more flavorful. 'Hugas bigas', rice wash was obtained from the water used to wash uncooked rice prior to cooking. This is a generations-old Philippine cooking tip I learned from my mother. She taught me how to make use of rice wash to make soup stock more rich and full.
My family enjoyed variety. So I changed things around and added different ingredients. First, I boiled the basic soup stock. If there was time, I cooked an extra batch and froze half for another day. This always came in handy on busy weeknights. It was a comfort to know I could rush home and thaw the soup stock quickly then toss in meat, vegetables and noodles for an instant meal.
Once this chicken soup stock was ready, I added the fresh Chinese egg noodles (pre-boiled, pre-packaged) from the Asian grocery. I tossed in the pork meatballs, or what Filipinos refer to as "bola-bola" in the briskly boiling broth. As the aromas from the garlic-onions-celery combination floated upward with the soup's steam, I added all the vegetables I could put in. The soup meal looked marvelous as I swirled the ingredients around the broth.
This type of soup meal was a mainstay at our dinner table in the fall once school started. If you make this for the family, trust me – you won't have screaming kids having a tantrum at the table. They'll be too busy, heads bowed, slurping all that goodness from their huge soup bowls.
Chicken Noodle Soup with Pork Meatballs
This is a classic Chicken Noodle Soup with Pork Meatballs consists of clear broth, flavored with fish sauce, made hearty with savory pork meatballs, chicken breast,  plump, fresh Chinese egg noodles, and a bounty of vegetables. Make the broth ahead of time and freeze it. Or boil chicken the day you want to serve this. This is an AsianInAmericamag recipe. Serves 4.
Ingredients
1/2

pound

ground pork

for meatballs

1

whole

large onion,

chopped, divided, use 1/2 for meatballs, rest for soup stock

1/4

cup

breadcrumbs,

for meatballs

2

Tablespoons

soy sauce,

for meatballs

1

whole

large egg,

for meatballs

1

teaspoon

sea salt

for meatballs

½

teaspoon

ground black pepper

for meatballs

2

Tablespoons

vegetable oil

for soup stock

2

cloves

garlic,

minced, for soup stock

1

stalk

celery, chopped,

for soup stock

2

Tablespoons

patis (fish sauce)

1/2

pound

chicken breast,

bone in, for soup stock

2

cups

fresh Chinese egg noodles,

pre-boiled (from Asian markets)

1

cup

green beans,

sliced into 1-inch pieces, edges trimmed

1

whole

medium-sized carrot

peeled, sliced

1

cup

fresh snow peas

edges trimmed

3 to 4

bunches

baby bok choy,

chopped, about 2 cups (or use regular sized bok choy

32

ounces

chicken soup broth

4 to 6

cups

water

1/4

teaspoon

sesame oil

½

teaspoon

sea salt

¼

teaspoon

freshly ground black pepper

2

stalks

scallion greens, chopped

for garnish

1

whole

hard-boiled egg,

peeled, sliced, for garnish
Instructions
How to make the pork meatballs: in a medium sized bowl, combine the ground pork, egg, bread crumbs, chopped onion, salt and black pepper. Shape into balls measuring about 1-inch in diameter. If cooking these the same day, arrange on a large platter and refrigerate for at least an hour for the meatballs to firm up. You can also freeze these meatballs. Place them in an air tight plastic container and keep in the freezer. Thaw when ready to use.

To make the soup stock or broth : In a large stock pot, over medium high heat, add the cooking oil. Saute the garlic, onions and celery. Add the fish sauce and chicken breast with bone. Pour the organic soup stock and  water or "hugas bigas" (rice wash). Cover and let the broth come to a boil. Then lower heat to a medium. Cook for about 45 to 50 minutes or till the chicken is thoroughly cooked and there are no pink parts at all.

Add the pork meatballs into the soup stock that is simmering. Cover and let the pork cook for about 20  minutes.

Separately, in a small stockpot filled with boiling water, add the amount of Chinese egg noodles needed for this recipe. Blanch for about 2 to 3 minutes. Drain water. Add the noodles into the soup stock pot with the boiled chicken.

The Chinese noodles will plump up in less than 5 minutes. Add the green beans, carrots, snow peas and bok choy. Cook the vegetables for about 5 minutes. Season with drops of sesame oil, salt and black pepper. Cover and slow simmer for a few minutes more. Garnish with chopped scallions and slices of hard boiled egg. Serve piping hot.

Cook's comments: Feel free to vary the vegetables and add what's in season. You can also substitute with other types of noodles or pasta preferred. If adding dry noodles or pasta, allow for a few minutes longer of cooking time.

Ingredient tip: if you have leftover cooked roast chicken, add this to the soup stock to make the broth instead of using uncooked chicken. This will make cooking time for the soup quicker.

Hello, Friends! All the images and content here are COPYRIGHT PROTECTED. This means BY LAW you are NOT allowed to use my photos or content on your website  without my permission. If you want to republish this recipe, please re-write it in your own words and simply link back to this blog to give proper attribution. It's the legal thing to do. Thank you. Email me at [email protected]
Hello, Friends! All the images and content here are COPYRIGHT PROTECTED. This means BY LAW you are NOT allowed to use my photos or content on your website without my permission. If you want to republish this recipe, please re-write it in your own words and simply link back to this blog to give proper attribution. It's the legal thing to do. Thank you. Email me at [email protected]