Pork-Shrimp Shumai : Siomai Dumplings
As an Amazon Associate and member of other affiliate programs, I earn from qualifying purchases.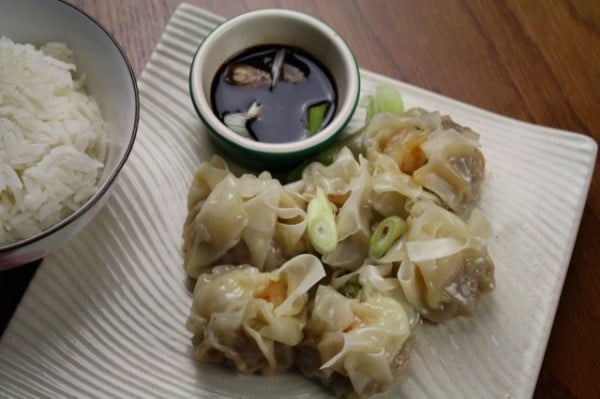 One of the earliest recipes I learned from my mother was how to make Pork-Shrimp Shumai (or 'siomai' to Filipinos). This is a steamed dumpling filled with a pork mixture of scallions, shrimps and flavored with savory sauces and seasonings. Steamed pork shumai have always been considered a part of our culture and Filipino food fare. These days, I make a large batch, freeze some and steam them later. They're perfect for busy days. It's so reassuring to know I have them in the freezer. I can be running late mid week and rush home, thaw them a few seconds in the microwave then steam them quickly stove top. Or if there are impromptu guests this is perfect to pair with a platter of stir fried pancit (noodles). When my sons come home to visit on weekends, well then, a big batch of pork siomai is the centerpiece of the dinner table, served alongside a bowl of chicken noodle soup.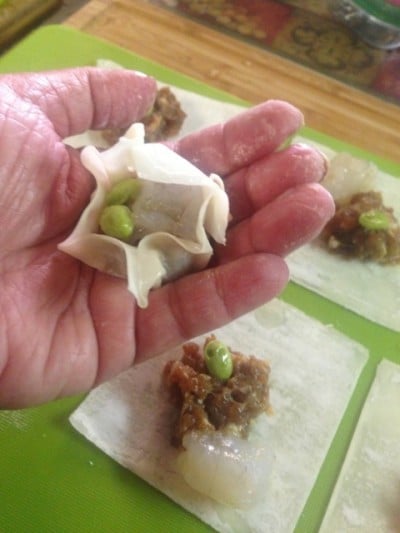 The ingredients are easy to obtain. You can now find won ton wrappers in major groceries — check the produce section by the Asian vegetables. The filling is basic ground pork with seasonings and sauces. Mix it together and stuff the wrappers in one session. When my friends sent this cookbook "Dumplings All Day Wong" by Lee Anne Wong to review, I jumped at the chance. I love dumplings, steamed, silky soft and cuddly little billowy pillows filled with hearty pork or scrumptious fillings.The cookbook has recipes for the classics: potstickers, gyoza, mandu and more. Recipes for basic dumpling and boa dough, pantry basics, folding and wrapping techniques, gadgets and cooking tips.
Filipinos love pork shumai served with rice or noodles. We enjoy a side dipping of soy sauce infused with calamansi (the Filipino lime). This is what we call 'sawsawan' — the spirit of our Filipino dishes are defined by what the 'sawsawan' is. Meals are not complete for us without this side staple. Often side sauces are savory or spicy. Sometimes they are the meal extender in itself. But that's another blog post altogether. Steaming is another way to cook if you like to tone down on the grease. You can do it in a bamboo or stainless steamer on the stove. Fill it with water. Place the pork dumplings and let it cook in the brisk boiling water. Cover it and let the steam work its magic.
Once you open the lid, the steamed vapors of Asian aromas will hit your face and hands fiercely. Best to use a pot holder to make the heat bearable. The wontons will be cooked and they'll be sublime. Dip them into the side dipping sauce. Feel the soft, mushy goodness paired with rice or noodles. When my sons were growing up, I taught them how to make shumai, just like my mom did. We would gather round the dining table, the large bowl of pork filling mixture in the center, wonton wrappers distributed. I taught my boys how to wrap, pleat or fold. Did they learn? Someday, I'll know if they did. But for now, they seem to enjoy coming home to the pork-shrimp shumai I cook regularly.
Pork-Shrimp Shumai- Siomai Dumplings
Pork-Shrimp Shumai-Siomai Dumplings are as an "open-faced-style dumpling shaped like a cup." They are one of the most traditional steamed dumplings, filled with ground pork, shrimps, scallions and flavored with savory Asian seasonings. Make these ahead in a big batch. Divide the amount and freeze some, then steam the rest. Best to serve this with a side of soy sauce and lime. Filipinos enjoy these shumai as appetizers, sides, main dishes or even merienda (afternoon snack). This recipe was adapted from Dumplings All Day Wong by Lee Ann Wong. Makes 35-40 pieces.
Ingredients
1/2

pound (225 g.)

medium-sized fresh shrimps

peeled, deveined, heads and tails removed, chopped

1/2

pound

ground pork

3/4

cup

finely chopped carrots

finely chopped carrots

2

stalks

scallions

chopped; white and green parts

1

teaspoon

finely grated fresh ginger

finely grated fresh ginger

1

teaspoon

finely minced fresh garlic

about 2 cloves, peeled

1

Tablespoon

granulated sugar

1

Tablespoon

cornstarch

2

Tablespoons

Shaoxing rice wine

1/4

cup

soy sauce

1/8

teaspoon

sesame oil

1

teaspoon

salt

1

teaspoon

ground black pepper powder

1/2

cup

green peas (frozen or canned)

for garnish on top of dumpling

1/2

cup

soy sauce

for dipping sauce

2

Tablespoons

calamansi or lemon juice

for dipping sauce

1

whole

egg

for egg wash

1/4

cup

water

for egg wash

35 to 40

pieces

won ton wrapper

about 1 package, square or round shaped (Asian markets or major groceries)
Instructions
Thaw the wonton wrappers at room temperature, but still cold. If they are too warm to the touch, they can disintegrate during prep time. Spread out the wonton wrappers on a dry surface of the counter.

Prepare the filling: Combine the ingredients in a large mixing bowl. Mix together the ground pork, chopped carrots, minced scallions, grated ginger, garlic, sugar, cornstarch, rice wine, soy sauce, sesame oil, salt and black pepper powder.

How to fill the dumpling: Place one won ton wrapper in the palm of your hand. Add one tablespoon of the pork filling in the center. Place a piece of chopped shrimp and edamame (or green peas) on the top.

Brush the sides of the wrapper with egg wash (combine beaten egg and water). Encase the filling by closing your palm around the wrapper and gently squeeze the sides of the won ton to seal together.

This will form the dumpling into a flower shape with an open top. Flatten the bottom of the dumpling so that it can stand alone.

How to steam: Assemble the pork and shrimp shumai pieces in a shallow plate that will fit into a steamer.

Fill the bottom pot of the steamer with water. Cover the water so it will boil over medium high heat. When water is boiling, add the second layer of the steamer (with holes) containing the platter of pork-shrimp shumai.

Cover and steam for 25 to 30 minutes till pork and shrimp are cooked thoroughly.

When dumplings are cooked, transfer each one on a serving platter. Serve with a side of soy sauce and fresh calamansi (or lemon) juice.

Cook's comments: You can use a bamboo steamer for this recipe or an stainless steel one. I use both kinds for steaming dumplings or different dishes. If using the bamboo steamer, line the bottom with parchment paper. If you do not have a regular steamer, improvise by using a deep large pot at the bottom for the boiling water. Then place a smaller, deep dish with the dumplings inside this large pot. Cover and steam according to directions.

Ingredient tip: The original recipe used chopped water chestnuts. I substituted with finely chopped carrots which my family prefers. I also added more ground pork to the recipe than what was indicated in the cookbook.

Hello, Friends! Please DO NOT plagiarize, lift or scrape my original recipes. All the images and content here are owned by Besa-Quirino LLC and COPYRIGHT PROTECTED. This means BY LAW you are NOT allowed to use my photos or content on your websites, videos, books, TV programs, media content  without my permission. If you want to republish this recipe, please re-write it in your own words and simply link back to this blog to give proper attribution. It's the legal thing to do. Thank you. Email me at [email protected]
Nutrition
Serving:
1
g
|
Calories:
223
kcal
|
Carbohydrates:
13
g
|
Protein:
15
g
|
Fat:
12
g
|
Saturated Fat:
5
g
|
Cholesterol:
43
mg
|
Sodium:
3095
mg
|
Potassium:
272
mg
|
Fiber:
1
g
|
Sugar:
4
g
|
Vitamin A:
60
IU
|
Vitamin C:
2
mg
|
Calcium:
25
mg
|
Iron:
2
mg
Notes on Nutrition: The nutrition information provided is an estimate and will vary based on cooking methods and specific brands of ingredients used.
Did you like this recipe? I have more classic recipes inspired by my late mother's cooking in my popular cookbook: My Mother's Philippine Recipes. If you're learning how to cook Filipino food or a fan of Philippine cuisine, buy my cookbooks and books on Amazon.com sold worldwide in paperback and Kindle format.
Hello, Friends! Please DO NOT LIFT OR PLAGIARIZE my original recipe, stories, photos or videos. All the images and content on this blog are COPYRIGHT PROTECTED and owned by my media company Besa-Quirino LLC. This means BY LAW you are NOT allowed to copy, scrape, lift, frame, plagiarize or use my photos, essays, stories and recipe content on your websites, books, films, television shows, videos, without my permission. If you wish to republish this recipe or content on media outlets mentioned above, please ASK MY PERMISSION, or re-write it in your own words and link back to my blog AsianInAmericaMag.com to give proper attribution. It is the legal thing to do. Thank you. Email me at [email protected]