Sikreto ni Maria Dessert
As an Amazon Associate and member of other affiliate programs, I earn from qualifying purchases.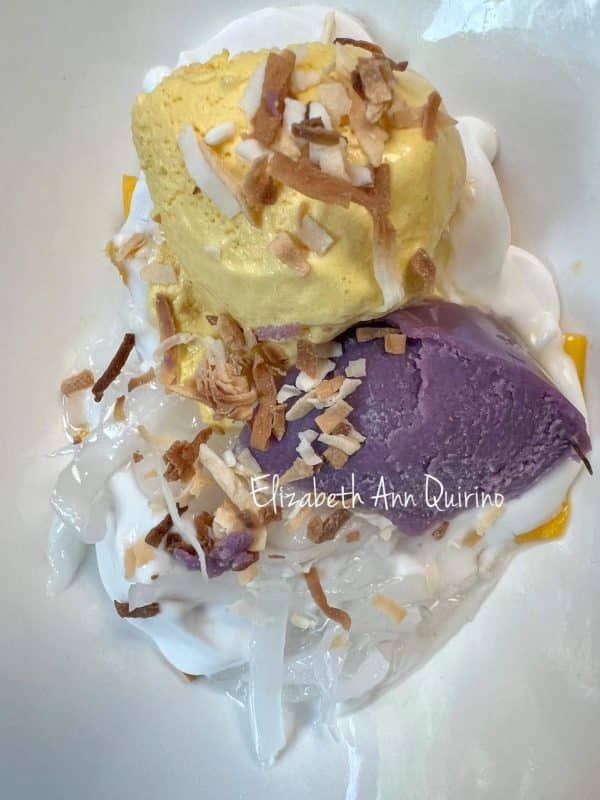 There is no mystery to the Sikreto ni Maria Dessert. I had this superb dessert, on a trip to my home in the Philippines. It was so sublime, yet so simple to make that I vowed I would recreate it for my sons once I returned back to the States.
For reference, the original Sikreto ni Maria on the menu of Philippine restaurants has these basic ingredients: suman, fresh mangoes, macapuno ice cream and a sprinkling of brown sugar on top. This time, I embellished the original and made my own version with ingredients I had in my refrigerator.
"What is the sikreto (secret)?" my son asked.
First, you dip your spoon on the top of the homemade mango ice cream, sprinkled with crisp, toasted coconut flakes mixed with brown sugar. Feel the head rush immediately.
Second, thrust your dessert spoon into the thick, rich ube haleya (purple yam jam) nestled next to the ice cream.
Then, gather the macapuno strings clinging together on the pearly-white, heavy coconut cream.
As you dig deeper, be mesmerized by the lush mango cubes that blanket the suman (sticky rice logs) laying underneath. Yes, you just unearthed the secret to this heavenly dessert.
The Filipino Sikreto ni Maria, sometimes called Lihim ni Maria, in the Philippines consists of thick, dense suman logs at the bottom, topped with slices of ripe mangoes. Then it's smothered in a heavy veil of macapuno ice cream, and sprinkled with muscovado or brown sugar. That's the original sikreto.
I made my own Sikreto ni Maria version, with additional layers of ube haleya, mango ice cream, coconut cream and macapuno strings, because the temptation was too good to pass up.
"Who is Maria?" asked my sons. "That still remains a secret," I whispered.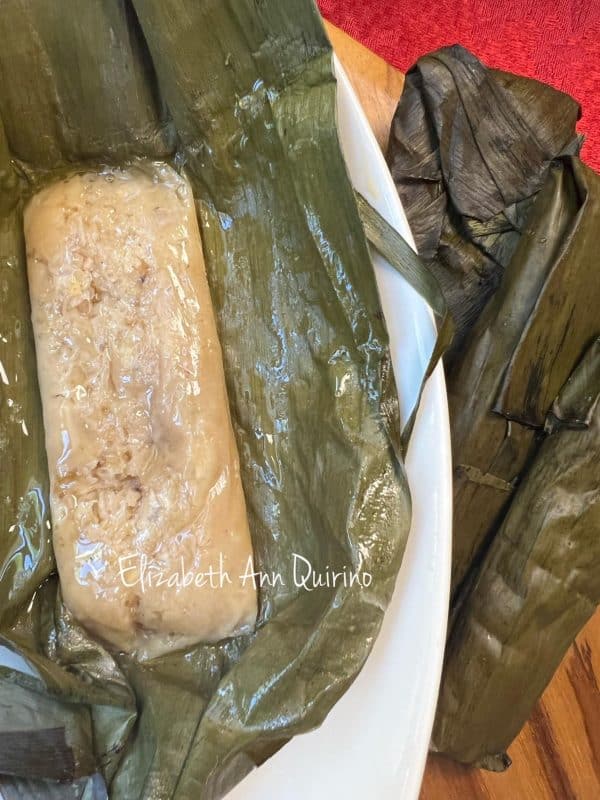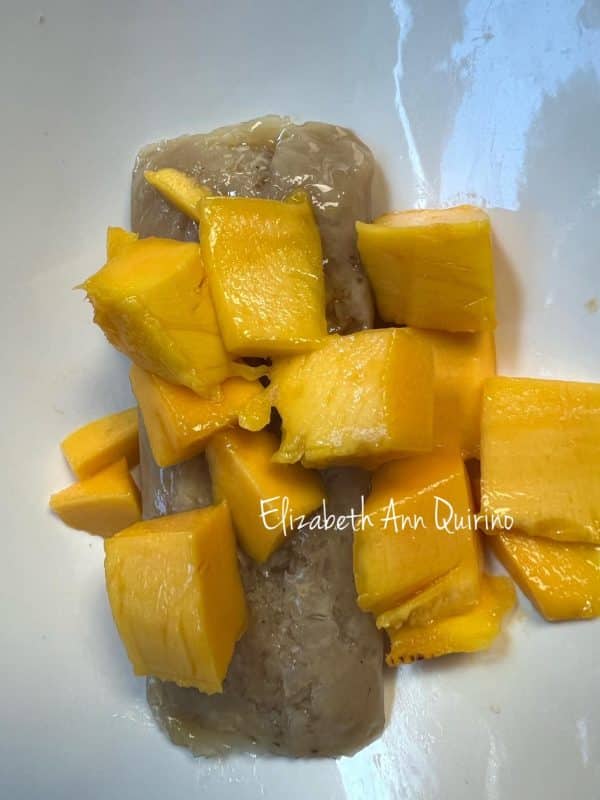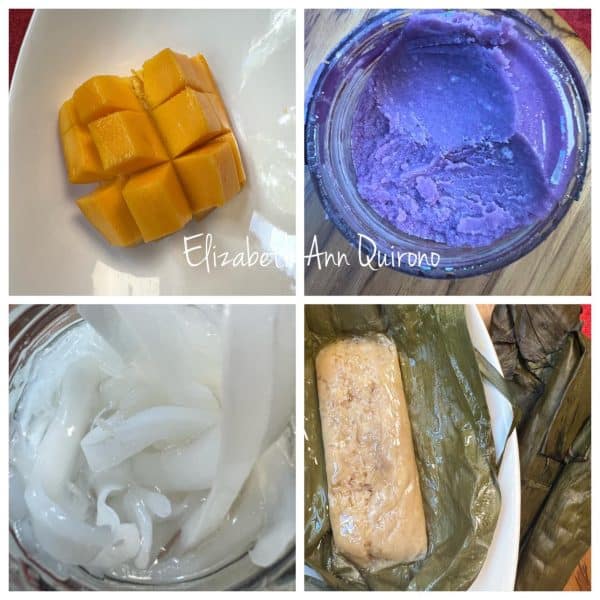 *On a happy note, a big THANK YOU to all you dear readers and friends for putting my blog on this list of Top 30 Asian American Blogs for 2022. See Asian in America on number 7!
Sikreto ni Maria Dessert
The Filipino Sikreto ni Maria Dessert is no longer a highly coveted secret, I discovered. I recreated it from a dessert I tried in the Philippines, and embellished the sublime treat with more layers of my own. Must-have ingredients are suman (sticky rice logs), fresh ripe Ataulfo mangoes, coconut cream, macapuno, mango ice cream, ube haleya and coconut flakes. Arrange them in layers for a heavenly dessert or snack. This is an Asian in America recipe by Elizabeth Ann Quirino.
*I shared how to cook the suman either in the Instant Pot or on the stovetop. Cooking time and prep work take longer on the stovetop.
Equipment
Instant Pot : 6 to 8 quarts

If making suman (sticky rice logs) in the Instant Pot

Large Stockpot

if cooking suman stovetop

Small skillet

for toasting coconut flakes
Ingredients
For Suman
1

cup

sticky or sweet rice;

known as malagkit to Filipinos

water for soaking rice overnight

1 ½

cups

coconut milk;

canned or fresh

2

teaspoons

salt

10 to 12

pieces

banana leaves, washed and cut into 8 x 8 inches;

fresh from the tree or frozen
For Toasted Coconut Flakes
½

cup

dessicated coconut flakes

1

Tablespoon

brown sugar
For the layers of the Sikreto ni Maria Dessert:
1

can (13.5 fl .oz)

coconut cream;

refrigerate overnight

1

cup

macapuno strings (coconut sport); drain syrup

bottled

1

cup

ube haleya (purple yam jam);

homemade or bottled

2 to 4

scoops

mango ice cream;

homemade or store-bought

2 to 3

whole

fresh, ripe Ataulfo mangoes; cut into 1-inch cubes
Instructions
To make the Suman sa Ibus: (option 1)
The night before: Wash the sticky or sweet rice in water. Drain.

In a bowl, soak the rice grains in water, enough to cover the entire amount. Cover the bowl and refrigerate overnight.

The next day:

Prepare the banana leaves by washing them in soap and water. Pat dry with paper towels. Set aside.

Drain the water from the soaked rice.

In a bowl, combine the rice grains with coconut milk and salt. Blend well.

Lay out a piece of the banana leaf on the counter. Place 2 tablespoons of the rice mixture in the center. Arrange the rice in a long log.

Wrap the banana leaf with the rice in the middle, like a burrito, but a thin, long version. The suman log should be about 4 inches wide. Tie the log with butcher's string on each end. Secure tightly, but gently so leaf does not break.

To cook suman stovetop: Place the suman logs in a large deep stockpot, nestled next to each other. You can pile them up on top of one another if needed.

Pour water over the suman logs, enough to cover all of it.

Cover the stockpot, and over medium heat, cook the suman for about 1 ½ hours.

When done, remove suman logs from stockpot and cool on the counter.

Refrigerate for about 4 to 6 hours for suman to firm up. When this is done, unwrap the logs and layer for the Sikreto ni Maria dessert.
To make the Toasted Coconut Flakes:
In a small, non-stick skillet, over medium heat, add the coconut flakes.

Toast the coconut flakes till they turn crisp and light brown. This takes about 2 to 3 minutes.

*Do not leave the coconut flakes unattended or they burn quickly.

When done, mix the toasted flakes in a bowl with brown sugar. Set aside.
To assemble the Sikreto ni Maria Dessert:
Peel and unwrap the suman logs.

Place about 2 logs at the bottom of a rimmed plate.

Add the cubed mangoes on the suman, spreading all over.

Pour the coconut cream on top of the mangoes and suman. Cover the entire bottom layers like a blanket of cream.

Add about 2 tablespoons of macapuno strings for each serving.

Place the scoops of mango ice cream on top, right next to a spoonful of ube haleya.

Sprinkle the toasted coconut flakes and brown sugar on top.

Serve immediately before ice cream melts.
To cook Suman in the Instant Pot (option 2)
To make the Suman in the Instant Pot, follow the steps above for overnight soaking of the rice.

Mix the ingredients listed and wrap the rice mixture in banana leaves as instructed.

Place the wrapped suman logs nestled next to one another in the inside pot. If needed, pile more suman on top of the bottom.

Fill the inside pot of the Instant Pot with water, just enough to cover the logs, about 3 to 4 cups.

Cover the Instant Pot pressure cooker and lock the lid. Set the sealing valve.

Click Manual + High Pressure + 45 minutes.

When timer beeps to signal it is done, do a Natural Release.

Uncover carefully. Use long metal or silicone tongs and pot holders to remove the suman logs. Transfer to a plate and cool in the refrigerator till ready to be unwrapped.
Cook's comments:
1)The basic Philippine version of the Sikreto ni Maria dessert consists of suman at the bottom, topped with fresh mango slices, a blanket of Macapuno Ice Cream, and sprinkled with muscovado (brown) sugar on top. Feel free to do it this way if you prefer. Or add on more layers like I did.

2)If you live nearby a Filipino community or Filipino grocery, you can use store-bought suman sa ibus or suman sa lihiya for this recipe. 3) For the ube haleya and mango ice cream: you can use store-bought ingredients or make them at home. I had made mango ice cream a few weeks ago so , here is the recipe. And ube haleya is a favorite so here's my homemade recipe.

* I have a no-stir ube haleya recipe in my cookbook How To Cook Philippine Desserts, Cakes, and Snacks by Elizabeth Ann Besa-Quirino. My books are sold on Amazon in paperback and Kindle format.
Nutrition
Serving:
100
g
|
Calories:
358
kcal
|
Carbohydrates:
11
g
|
Protein:
3
g
|
Fat:
36
g
|
Saturated Fat:
32
g
|
Polyunsaturated Fat:
0.4
g
|
Monounsaturated Fat:
2
g
|
Sodium:
2349
mg
|
Potassium:
383
mg
|
Fiber:
0.01
g
|
Sugar:
6
g
|
Vitamin C:
2
mg
|
Calcium:
37
mg
|
Iron:
6
mg
Notes on Nutrition: The nutrition information provided in the recipe links is an estimate and will vary based on cooking methods and specific brands of ingredients used.
Copyright Notice: Hello, Friends! Please DO NOT LIFT OR PLAGIARIZE Asian in America recipes on this blog, my original recipes, stories, photos or videos. All the images and content on this blog are COPYRIGHT PROTECTED and owned by my media company Besa-Quirino LLC by Elizabeth Ann Quirino. This means BY LAW you are NOT allowed to copy, scrape, lift, frame, plagiarize or use my photos, essays, stories and recipe content on your websites, books, films, television shows, videos, without my permission. If you wish to republish this recipe or content on media outlets mentioned above, please ASK MY PERMISSION, or re-write it in your own words and link back to my blog AsianInAmericaMag.com to give proper attribution. It is the legal thing to do. Thank you. Email me at [email protected]