Beef Sinigang- Filipino Tamarind Stew with Vegetables
As an Amazon Associate and member of other affiliate programs, I earn from qualifying purchases.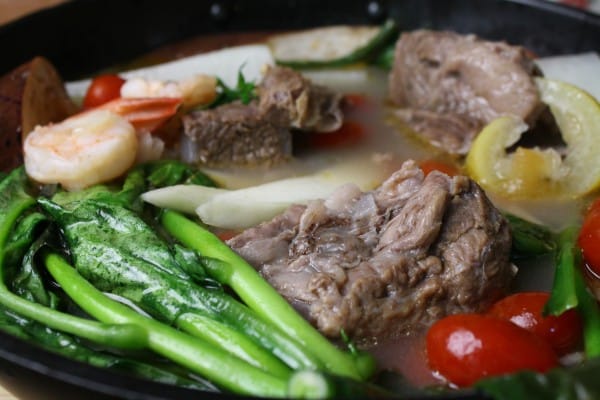 After being on the road a few days, I came home to vegetables in my refrigerator bin which needed my attention. I also was longing for a home cooked meal with lots of rice. A quick peek at what I had before me and I knew instantly that we could have Beef Sinigang (say "see-nee-gangh") a classic Filipino tamarind stew for dinner.
Before I left for my road trip, days ago, I already simmered some tamarind broth and slow cooked chunks of beef ribs in it. Softening beef over low heat was a technique I learned from my mom long ago. From past blog posts, I've mentioned that beef was an expensive ingredient in the small town I grew up in back in the Philippines. So I was not allowed to mess up cooking beef. From the start, I followed mom's cooking instructions carefully and did what she advised, to this day. Also, cooking beef ahead in a slow simmer gave me the chance to save time by cooking in stages.
So late yesterday afternoon, as soon as we drove into our driveway, I jumped out of the car and took out from the refrigerator the large container of sinigang or tamarind broth with the softened beef short ribs. I took out my large soup pot, poured in the beef and sinigang-tamarind broth and started to heat it up. As the translucent soup stock came to life and the bubbles started to jump briskly all over, I felt comforted by the tangy tamarind aromas. Pre-boiling the beef days ahead meant my cooking was nearly done this minute. I tossed in the sliced vegetables at the end giving the crunchy slices just enough time to stew and absorb the citrus-like tangy tamarind and lemon flavors.
When we sat down to dinner, the piping hot slew of sinigang beef and vegetables, flavored with a tinge of 'patis' or fish sauce was served with a bowl of hot steaming jasmine rice. What a meal to come home to.
Beef Sinigang- Filipino Tamarind Stew with Vegetables
Sinigang is the classic Philippine soup meal that is flavored with tamarinds making it tart, sour, savory and salty all at the same time. It is a mélange of meats, vegetables and even seafoods. This is an all-season versatile dish that is best eaten with rice. The souring agents come from backyard fruits and vegetables like tamarinds, kamias or guavas in the Philippines. Here in America, I used a tamarind concentrate and added green mangoes and lemon slices to make the soup broth so tangy and sour, my face puckered up after tasting the soup stew. This recipe was adapted from a
previous post
on this site and serves 4.
Ingredients
8

cups

vegetable or beef broth

(or use plain water) rice wash (hugas bigas)

2

Tablespoons

tamarind concentrate

from a block of tamarind solid pulp (from Asian markets), or use tamarind concentrate

1

whole

onion

chopped

2

whole

large tomatoes

sliced

1

whole

fresh lemon

washed, seeded, sliced, include rind

1

whole

fresh green unripe mango

peeled, pitted, sliced in 2-inch strips

2

pounds

beef short ribs

bone-in

1

whole

daikon or white radish

peeled, sliced (from Asian markets)

2

whole

Asian eggplants

sliced (from Asian markets) or use aubergines, about 2 cups if sliced

2

cups

sliced sitaw (long green beans)

from Asian markets or use regular green beans sitaw, sliced in 2-inch length pieces

3

cups

sliced kangkong (water spinach)

stems trimmed to 2-inch length (water spinach is found in Asian markets) or use fresh baby spinach

2

Tablespoons

patis (fish sauce)

divided, use 1 Tablespoon for broth, rest for dipping sauce on side

1

teaspoon

salt

1

teaspoon

ground black pepper

1/4

pound

fresh shrimps

peeled, deveined, remove tails

1-2

whole

large jalapeno chiles

optional

boiled jasmine white rice for serving
Instructions
In a large stockpot, over medium heat, bring to a boil the water or rice wash ('hugas bigas' as Filipinos call it), onion, tomatoes, patis (fish sauce), lemon slices, green mango and tamarind concentrate pre-softened in hot water. Allow this mixture to come to a boil, then lower the heat to a slow simmer for about 20 minutes. This makes the broth all sour and tangy-flavored.

Add the beef short ribs. Cover and cook over a slow simmer for 60 minutes till the beef softens or falls off the bone.

When the beef chunks  have cooked and are tender enough, add the shrimps, radish, eggplants and sitaw (long green beans) and large jalapeno chiles or 'sili' (optional). Cook for 10 to 12 minutes more till vegetables soften.

Add the kangkong (water spinach or use fresh regular spinach) and cook for 5 minutes more. Season with sea salt and freshly ground black pepper. Cook 5 minutes more.  Serve hot with boiled jasmine white rice and a side dipping of patis or fish sauce.

Cook's comments: Some folks like to add 1 large piece of green jalapeno chili (sili to Filipinos) to their sinigang. It adds a zesty spice to the already sour flavored broth. Feel free to do so if this is your personal preference. When I add chiles, I make sure to remove it the day after so that it does not get too spicy for the family.

Recipe notes: In the Philippines, the original sinigang uses green unripe tamarinds for souring. These are abundant in trees grown in backyards or commonly found in markets. The unripe, firm tamarinds are boiled in water to soften, then mashed so the pulp can be added to the soup broth.

Update: For cooking Filipino Instant Pot Sinigang, check out my cookbook "Instant Filipino Recipes" by Elizabeth Ann Besa-Quirino. My books are sold worldwide on Amazon in paperback and Kindle format.

Hello, Friends! All the images and content here are COPYRIGHT PROTECTED. This means BY LAW you are NOT allowed to use my photos or content on your website  without my permission. If you want to republish this recipe, please re-write it in your own words and simply link back to this blog to give proper attribution. It's the legal thing to do. Thank you.
Nutrition
Serving:
1
g
|
Calories:
307
kcal
|
Carbohydrates:
5
g
|
Protein:
32
g
|
Fat:
17
g
|
Saturated Fat:
7
g
|
Cholesterol:
98
mg
|
Sodium:
691
mg
|
Potassium:
641
mg
|
Fiber:
1
g
|
Sugar:
5
g
|
Vitamin C:
0.2
mg
|
Calcium:
19
mg
|
Iron:
3.9
mg
Notes on Nutrition: The nutrition information provided is an estimate and will vary based on cooking methods and specific brands of ingredients used.
Did you like this recipe?I have more Filipino Instant Pot recipes in my newest cookbook Instant Filipino Recipes: My Mother's Traditional Philippine Cooking in A Multicooker Pot by Elizabeth Ann Besa-Quirino. I also have more classic recipes inspired by my mother's cooking in my popular cookbook: My Mother's Philippine Recipes. If you're learning how to cook Filipino food or a fan of Philippine cuisine, buy my cookbooks and books on Amazon.com sold worldwide in paperback and Kindle format.
Copyright Notice: Hello, Friends! Please DO NOT LIFT OR PLAGIARIZE my original recipe, stories, photos or videos. All the images and content on this blog are COPYRIGHT PROTECTED and owned by my media company Besa-Quirino LLC. This means BY LAW you are NOT allowed to copy, scrape, lift, frame, plagiarize or use my photos, essays, stories and recipe content on your websites, books, films, television shows, videos, without my permission. If you wish to republish this recipe or content on media outlets mentioned above, please ASK MY PERMISSION, or re-write it in your own words and link back to my blog AsianInAmericaMag.com to give proper attribution. It is the legal thing to do. Thank you. Email me at [email protected]