Shrimps on Couscous
As an Amazon Associate and member of other affiliate programs, I earn from qualifying purchases.
One of my most favorite ingredients to add whether cooking or baking is calamansi. This is why I enjoyed cooking these Shrimps on Couscous for our Sunday Supper event. The calamansi is the Filipino lime. We had trees growing in the backyard of my childhood home back in the day. I have a photo of the Filipino calamansi here on this post. These calamansi sliced pieces with a dark green outer skin were from a family lunch my sister hosted for us when I went to the Philippines last year, on a home visit. My sister had sliced a plateful of these adorable little citrus fruit and put it alongside a pancit noodle dish as a flavor enhancer to the dish. Like most citrus, the calamansi is versatile and used in both cooking and baking.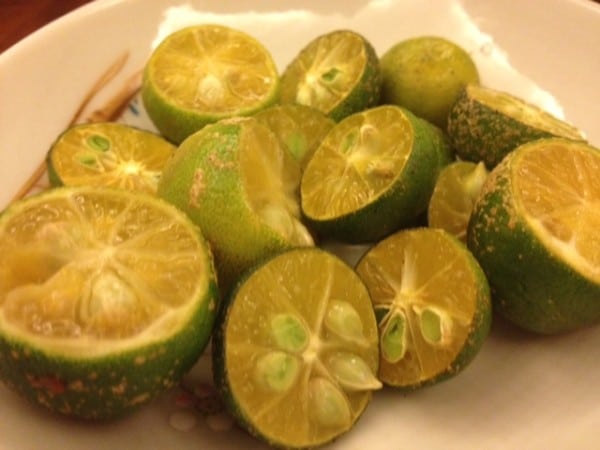 Calamansi, the Philippine lime are small round citrus fruits, with a green or yellow outer skin, measuring about quarter of an inch in diameter. In Pilipino, they are referred to as "kalamansi or calamondin". The calamansi tree is a hybrid and unknown in the wild. The small orange or dark green fruit looks like round key lime. The citrus juice has a fresh, floral aroma. They have the tart flavors of a mandarin orange, but are sour as much as they're sweet.
The calamansi is abundant in tropical Philippines and Asia. It thrives in warmer states here in America. This is why our cousin Susan Agana-Sembrano sent us a huge package of fresh orange-skinned calamansi harvested from her orchard in San Francisco, California. But for me here on the east coast, it is easier to obtain and more affordable for me to use the frozen "calamansi" concentrate, found in Asian markets.
I cooked this calamansi-flavored shrimp and placed it on a bed of Israeli couscous, also known as pearl couscous. Basically, couscous is pasta. They are teeny tiny balls made of semolina flour. They are shiny and round. In Israel, these are known as 'ptitim' and are a staple in many Mediterrenean-type dishes. Israeli couscous is less chewy in texture than larger-sized pasta. It feels almost like you're eating rice. This is why I knew it would go great with a citrus shrimp for a Mediterrenean-Asian fusion meal.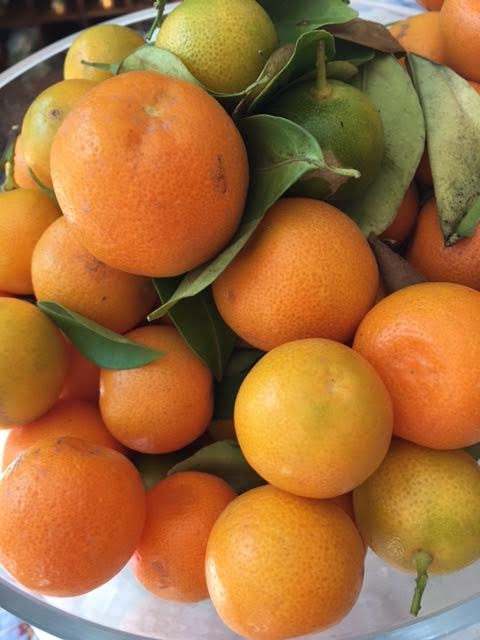 Now that I live in America, I don't have easy, quick access to calamansi like I did growing up. My lunchbox to school back then always had a Tupperware tumbler of freshly-made calamansi juice made by my dad for me everyday.
Often, I miss the calamansi when I'm cooking, baking or just reminiscing. The simple lure of a tall, chilled glass of calamansi juice sweetened with sugar, filled with ice cubes just captivates me. There is nothing like the piercingly sweet scent of this citrus that brings me and every Filipino back to the memory of our home roots.
Shrimps on Couscous
The Filipino calamansi was a light, refreshing flavor for these Shrimps on Couscous. The citrus-seasoned shrimps were divine on a bed of Israeli couscous, a pasta variety that looks like teeny tiny balls that resemble rice in texture. Both shrimps and couscous are easy, quick and a delight to prepare for this dish that works any day or occasion. This is an Asian In America recipe. Serves 2 to 4.
Equipment
Medium-sized Stock pot: 8 quarts

Large Skillet: 12 inches in diameter
Ingredients
2 1/2

Tablespoons

unsalted butter

divided

1 1/2

cups

Israeli couscous

2

cups

water

1

teaspoon

salt

1

teaspoon

ground black pepper powder

1/4

cup

calamansi juice

from fresh fruit or frozen concentrate (Filipino lime)

1/4

cup

extra virgin olive oil

2

cloves

garlic

minced

1/2

cup

grated Parmigiano-Reggiano cheese

1

pound.

fresh shrimps

peeled, deveined, tails removed

1

Tablespoon

chopped fresh parsley

for garnish
Instructions
      In a medium stockpot over medium-high heat, melt 1 tablespoon butter. Add the couscous, stirring to coat with butter.

  Add the water to the couscous and season with salt and pepper. Bring the liquid to a boil, then cover the pot. Reduce the heat to very low and cook until the couscous is tender, 10 to 12 minutes. When couscous is cooked, turn off heat. Remove couscous from stove-top, cover and set aside

   Meanwhile, in a small bowl, combine the calamansi juice, extra virgin olive oil and cheese. Set aside.

   In a large skillet over medium heat, melt the remaining 1 and ½ tablespoons butter.  Add the minced garlic and the shrimp.

Sauté until shrimps turn to pink, in about 5 to 6 minutes.

When shrimps are completely cooked, remove from the heat and add the calamansi-cheese sauce.

Pour the shrimp and citrus-cheese sauce over the couscous, stirring to combine. Serve warm with a side of salad greens or steamed vegetables.

Cook's Comments : Make sure to keep the heat for the couscous very low and stir the pasta every now and then. I had to be attentive to it because mine almost stuck to the pan and was in danger of burning, so I adjusted the stove-top heat to very low.

Ingredient Substitute: If calamansi is not available, use lemons instead. The closest in taste to calamansi are Meyer Lemons.

Hello, Friends! All the images and content on this blog are COPYRIGHT PROTECTED and owned by my media company Besa-Quirino LLC. This means BY LAW you are NOT allowed to copy, scrape, lift, frame, plagiarize or use my photos and  recipe content I wrote, on your website, films or videos  without my permission. If you want to republish this recipe or content on another website, video or news article, please ASK my permission, re-write it in your own words and simply link back to this blog to give proper attribution. It's the legal thing to do. Thank you. Email me at [email protected]
Nutrition
Serving:
1
g
|
Calories:
877
kcal
|
Carbohydrates:
112
g
|
Protein:
27
g
|
Fat:
35
g
|
Saturated Fat:
8
g
|
Cholesterol:
17
mg
|
Sodium:
1931
mg
|
Potassium:
662
mg
|
Fiber:
9
g
|
Sugar:
8
g
|
Vitamin A:
460
IU
|
Vitamin C:
21.1
mg
|
Calcium:
412
mg
|
Iron:
3.9
mg
Nutrition Notes: The nutrition information provided is an estimate and will vary based on cooking methods and brands of ingredients used.
Did you like this recipe? I have more classic recipes inspired by my late mother's cooking in my popular cookbook: My Mother's Philippine Recipes. If you're learning how to cook Filipino food or a fan of Philippine cuisine, buy my cookbooks and books on Amazon.com sold worldwide in paperback and Kindle format.
Hello, Friends! Please DO NOT LIFT OR PLAGIARIZE my original recipe, stories, photos or videos. All the images and content on this blog are COPYRIGHT PROTECTED and owned by my media company Besa-Quirino LLC. This means BY LAW you are NOT allowed to copy, scrape, lift, frame, plagiarize or use my photos, essays, stories and recipe content on your websites, books, films, television shows, videos, without my permission. If you wish to republish this recipe or content on media outlets mentioned above, please ASK MY PERMISSION, or re-write it in your own words and link back to my blog AsianInAmericaMag.com to give proper attribution. It is the legal thing to do. Thank you. Email me at [email protected]