Homemade Spanish Chorizos with Filipino Chicken Pastel
As an Amazon Associate and member of other affiliate programs, I earn from qualifying purchases.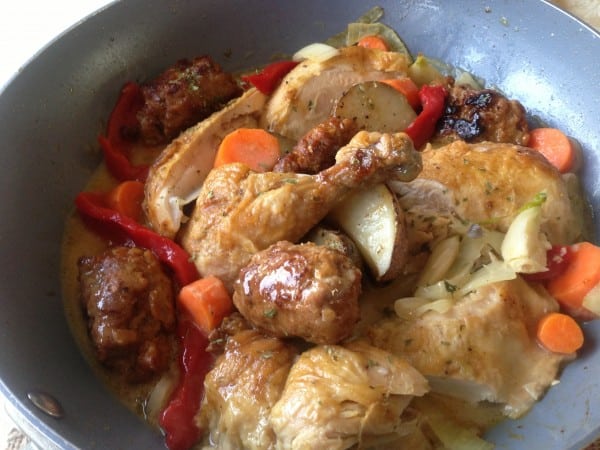 I have always wanted to make Homemade Spanish Chorizos for the classic Filipino Chicken Pastel. So when I got a sneak peek at the forthcoming cookbook Charcuteria: The Soul of Spain I got excited when I saw a recipe for 'Chorizo Fresco'.
The Spanish chorizo is often used in Filipino party dishes. I've mentioned before that Spain's 300-year colonial rule in the Philippines left an indelible imprint in our cuisine. When we have fiestas the party dishes, usually Spanish-influenced, are rolled out. Each region in the Philippines has their own specialties for the holidays. Filipinos are familiar with the sweeter-tasting Spanish chorizos which add another layer of flavor to the already rich main course.
This Chorizo Fresco recipe which the cookbook author, Jeffrey Weiss called the "most basic form of a Spanish-style chorizo sausage" is more savory and does not have the sweetness Filipinos are used to. After mixing the ground pork with the ingredients, I sensed a garlicky punch predominant in this sausage. I knew it would be a good contrast to the sweetness of a traditional Chicken Pastel, something my mom cooked for special occasions.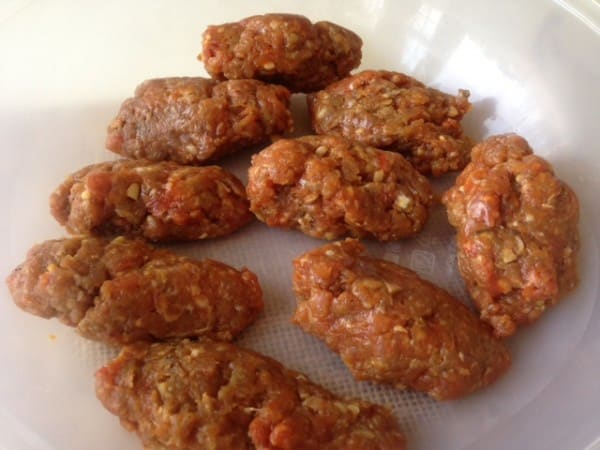 The Filipino Chicken Pastel is a casserole dish made with cutlets, potatoes, carrots, onions simmered in a creamy white sauce base. To make the dish more interesting, Spanish chorizos are added. The type of sausages defined how special the occasion was. For a more elaborate dish, a pastry crust is added to the top, sealed and baked with the chicken, sausages, vegetables and creamy sauce in it. It's a chicken pot pie, Filipino version, with Spanish chorizos in it.
My mom taught me how to plan ahead when cooking.So, last week, I made the Chorizo Fresco, shaped them into plump small-sized sausages and froze them for a few days. After a week, I checked on the Chorizos and they looked reddish in color, firm and ready to be cooked into a Chicken Pastel dish.
I pre-cooked the Chorizo Fresco in a skillet. It only took a few minutes. There were garlicky-fragrant drippings from cooking the chorizos right there in the skillet. The slightly reddish cooking oil rendered from the Chorizos looked attractive and aromatic so I cooked the rest of the chicken pastel in the same large pan. When the crushed garlic cloves sizzled in the hot skillet, I knew this was going to be good. It all came together in no time. There was enough creamy sauce so I spooned some over the savory, salty Chorizo Frescos.
The Chicken Pastel looked so pretty as I plated it next to a bowl of rice. Images of mom came to me and how she fussed over this dish, which meant the guests coming to dinner were pretty special as well. I never got the chance to cook this meal for mom, much less make her homemade Chorizos. I wish I could have had that chance. It would have made mom so happy that I did everything from scratch. She would have liked that very much.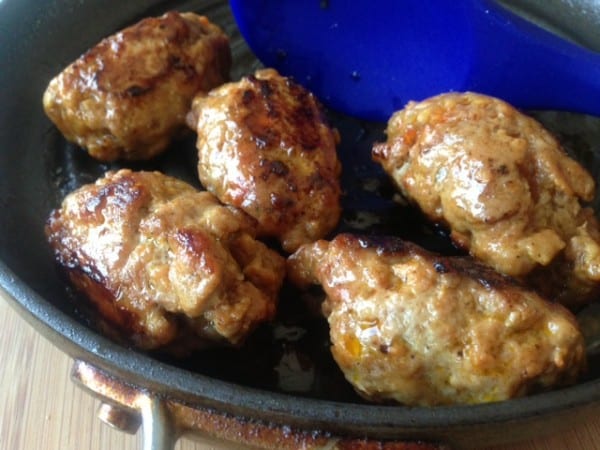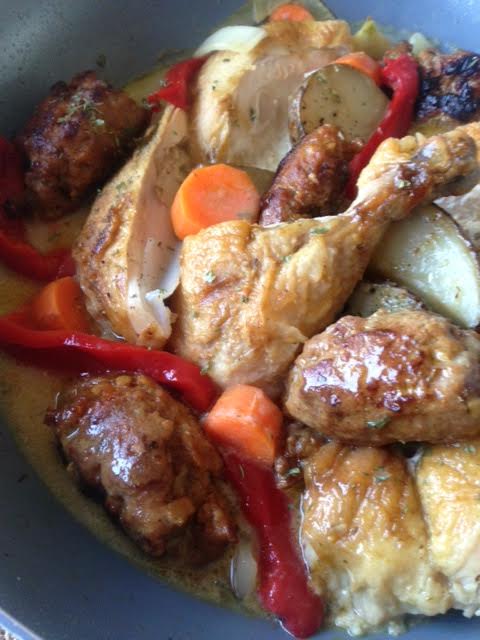 Homemade Spanish Chorizos with Filipino Chicken Pastel
These Homemade Spanish Chorizos or Chorizo Fresco, a basic Spanish-style sausage was what made this Chicken Pastel dish special. I cooked homemade Spanish chorizos in stages. Once the pork sausages with the seasonings cured, I pan fried them, then added the sausages to the Filipino classic Chicken Pastel. The Philippine Chicken Pastel has chicken, potatoes, carrots cooked in a creamy white sauce base. The recipe for Chorizo Fresco was from Charcuteria: The Soul of Spain by Jeffrey Weiss and makes 12 to 14 skinless sausages, about 2-inches each. The Chicken Pastel recipe is an Asian in America recipe. This party dish or family meal serves 4 or up to 6 if rice is served.
There are 2 recipes in the procedure: Homemade Spanish Chorizos and Filipino Chicken Pastel.
Spanish Chorizos need 2 or more days to cure in the freezer. Cooking time indicated is for both recipes.
Equipment
Food processor

Large skillet - 12 inches; Or a Dutch oven

Mortar and pestle
Ingredients
For the Spanish Chorizos:
2.2

pounds

ground pork belly

1

Tablespoon

pink salt

(or use Kosher salt)

6

cloves

garlic

peeled, minced fine

1/4

cup

white wine

1

teaspoon

paprika

1/2

teaspoon

dried oregano

1

Tablespoon

water

1

Tablespoon

extra virgin olive oil

for pan-fry
For the Chicken Pastel:
2

cloves

garlic

peeled, minced

1

whole

white or yellow onion

chopped

1

whole

red bell pepper

seeded, white membrane removed, sliced in strips

1

cup

chicken broth

or water

2

whole

potatoes

peeled, quartered

1

whole

carrot

peeled, sliced

6 to 8

pieces

chicken cutlets, bone-in, skin-on

1

cup

heavy cream

1

cup

sour cream

1

teaspoon

salt

1

teaspoon

ground black pepper

2

Tablespoons

extra virgin olive oil

for saute
Instructions
How to make Chorizo Fresco:
Place the ground pork belly in the freezer for 30 minutes to prepare before mixing.

Crush together the garlic and salt to form an "ajosal" (Spanish word translates to garlic-salt) by using  a food processor or else by hand with a mortar and pestle. Combine this with the ground pork. Set aside.

Using a small mixing bowl, combine the wine, water, paprika and oregano to make a slurry.  Cover and keep refrigerated till ready to combine in the ground pork.

Place the ground pork which has the 'ajosal' in a food processor. Cover and pulse for 1 minute. While the meat is pulsing, slowly pour the wine slurry into the food processor.

Continue to process for 1 to 2 minutes more till the wine slurry is mixed in well. Cover the ground pork chorizo mixture and refrigerate to keep it cold and easy to handle. Refrigerate for 1 to 2 hours.

If you do not have sausage casings like I did, make skinless chorizos. Have a clean, large plastic container ready. Shape the ground pork into 2-inch long plump chorizos. Arrange in rows inside the plastic container. Leave a space of an inch between each uncooked chorizo. Cover the layer of chorizos with plastic wrap. Cover the entire container.

Seal tightly and freeze till ready to cook.
How to cook the Chorizo Fresco for the Chicken Pastel:
On the day of cooking, thaw  6 pieces of the Chorizo Frescos at slightly colder than room temperature (but not frozen).

In a large skillet, over medium heat, add 1 tablespoon extra virgin olive oil. Pan fry the Chorizo Frescos for about 10 to 12 minutes till thoroughly cooked.

Remove Chorizos from skillet and set aside.

To cook the Chicken Pastel:

In a large skillet, or else a Dutch oven, over medium-high heat, add the 2 tablespoons olive oil. After 1 to 2 minutes when oil is hot enough, saute the garlic and onions. Add the red bell pepper strips.

Add the chicken pieces and braise till brown, for about 5 to 6 minutes. Pour the broth.

Add the potatoes and carrots. Cover and simmer over medium heat for 45 to 50 minutes till meats and vegetables are cooked.

In a separate medium bowl, combine the heavy cream and sour cream. Add this creamy mixture to the cooked chicken in the skillet.

Add the cooked chorizos. Spoon some of the creamy sauce over the chicken and chorizos. Lower heat to a slow simmer. Cover and cook 5 to 6 minutes more. Make sure the creamy sauce does not curdle so keep heat low. Stir a few times so sauces do not stick to the bottom of pot.

Season with salt and black pepper. Serve warm with rice.

Cook's comments: I only cooked 6 Spanish chorizo pieces for this recipe of Chicken Pastel. The rest were kept in the freezer for other entrees.

*In the original cookbook recipe, the author used a meat grinder to make the Spanish Chorizo Fresco. I don't own a meat grinder so I used a food processor instead which worked out well.

Cookbook Information: Charcuteria: The Soul of Spain by Jeffrey Weiss is an authentic cookbook of Spanish butchering and meat-curing techniques. There are 100 traditional Spanish recipes, with easy to follow directions. This is a good resource for new cooks and those experienced in the kitchen. Available where most books are sold and online.

Disclosure: I was not paid to review this cookbook. My views are my own. But I was interested in the topic because Spanish food and culture are closely linked to Philippine cuisine and history.

Copyright Information:Hello, Friends! All the images and content here are COPYRIGHT PROTECTED. This means BY LAW you are NOT allowed to use my photos or content on your website  without my permission. If you want to republish this recipe, please re-write it in your own words and simply link back to this blog to give proper attribution. It's the legal thing to do. Thank you. Email me at [email protected].
Nutrition
Serving:
1
g
|
Calories:
436
kcal
|
Carbohydrates:
7
g
|
Protein:
3
g
|
Fat:
44
g
|
Saturated Fat:
22
g
|
Cholesterol:
111
mg
|
Sodium:
2612
mg
|
Potassium:
213
mg
|
Fiber:
1
g
|
Sugar:
2
g
|
Vitamin A:
1521
IU
|
Vitamin C:
7
mg
|
Calcium:
116
mg
|
Iron:
1
mg
Notes on Nutrition: The nutrition information provided is an estimate and will vary based on cooking methods and specific brands of ingredients used.
Did you like this recipe? I have more Filipino Instant Pot recipes in my newest cookbook Instant Filipino Recipes: My Mother's Traditional Philippine Cooking in A Multicooker Pot by Elizabeth Ann Besa-Quirino. Buy my cookbooks My Mother's Philippine Recipes and How to Cook Philippine Desserts, Cakes and Snacks and my other books on Amazon.com sold worldwide in paperback and Kindle format.
Copyright Notice: Hello, Friends! Please DO NOT LIFT OR PLAGIARIZE my original recipe, stories, photos or videos. All the images and content on this blog are COPYRIGHT PROTECTED and owned by my media company Besa-Quirino LLC. This means BY LAW you are NOT allowed to copy, scrape, lift, frame, plagiarize or use my photos, essays, stories and recipe content on your websites, books, films, television shows, videos, without my permission. If you wish to republish this recipe or content on media outlets mentioned above, please ASK MY PERMISSION, or re-write it in your own words and link back to my blog AsianInAmericaMag.com to give proper attribution. It is the legal thing to do. Thank you. Email me at [email protected]
Disclosure: Instant Pot is the brand name of a multi-cooker that cooks in high and low pressure. I was not paid by the Instant Pot company to mention the product or brand nor endorse it. This is not an ad. My views and opinions are my own.