Filipino Chicken Adobo in Coconut Milk
As an Amazon Associate and member of other affiliate programs, I earn from qualifying purchases.
[amazon_link asins='B005DG8ND2,B000VDZ3VW,B004XESQ32,B01M58PUQV' template='ProductCarousel' store='queensnotcom-20′ marketplace='US' link_id='f378d2d8-7465-11e7-b1db-3d1bea37535a']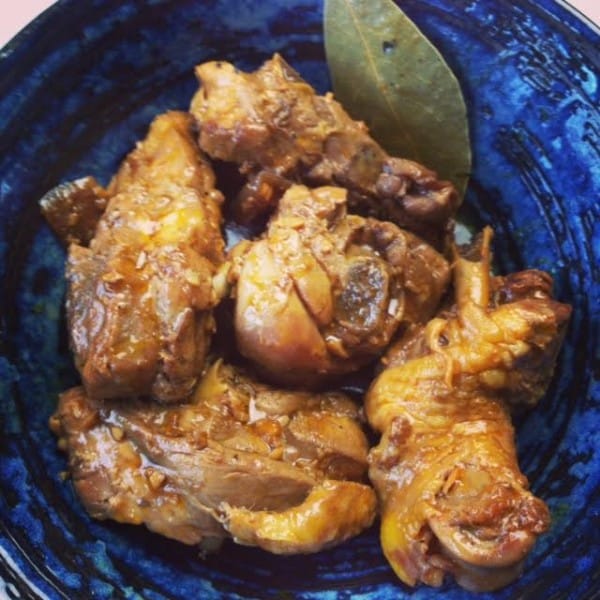 "The chicken adobo you made for my lunchboxes were so good, I sold it to my classmates, when I was in grade school," my grown up son laughingly confessed to me recently.
And he just spilled it out, Tim's "tales of the lunchbox barter". As young adults, my sons now freely tell me stories of what they did when they were little kids. They openly admitted that the lunches I prepared – adobo, embutido, lumpia, menudo, roast chicken, and the sandwiches on pan de sal, the Filipino bun – these were all fair game for their classmates. Once word got around of how delicious Tim's "baon" was (say "bah-on"), the Tagalog term for the meal brought to school or work – my boys realized they had good currency on their hands. Of course, Tim ate half of his lunch, then sold the other half for a good amount of money. I could only shake my head in disbelief, hearing the lunchboxes I prepared commanded a high price in the grade school circle.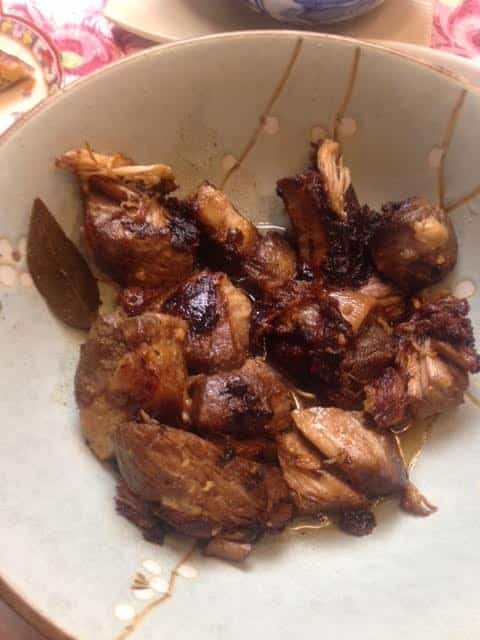 I grew up on lunches sent with us to school, or "baon" which were homemade. In high school, my mom prepared me a lunchbox filled with fried chicken, rice and a tall tumbler of dayap juice, made from dayap that grew in our yard back in the Philippines (the equivalent of American limes). Later in my college years, mom sent me adobo during my dorm days. It was so highly coveted, too, that mom's adobo, sent from home got stolen in my college dorm's refrigerator. (See previous post). Who knew that the Filipino homemade adobo could fetch a king's ransom from highly vulnerable, extremely hungry college kids?
We had adobo every week during my childhood. Without fail, a huge cauldron simmered in my mom's kitchen, filled with chicken pieces, its garlic- vinegar broth deep and bottomless.
School lunches? Adobo was our favorite. If we went on a picnic, adobo was popular. Dinner any night ? Adobo was on the menu. If mom brought food on a long trip, she made adobo . Even for breakfast at home, my dad enjoyed it with eggs, sinangag (say "see-na-ngag") which was garlic fried rice and adobo.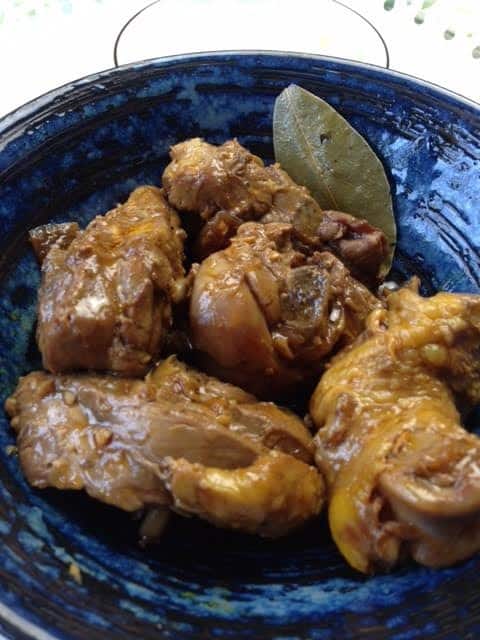 I just cooked chicken adobo tonight. There is a reason why it is the Filipino national dish. No matter where you are in the world, if you can find meat, vinegar, soy sauce, garlic and black peppers, then you'll have an amazing adobo. It's so easy to make, there's no room to mess up.
Tonight's version had soy sauce, vinegar, coconut milk, garlic, bay leaves, black pepper which all came together on a huge saucepan simmered stove top. The garlic- vinegar broth defied all confines of the rooms in our house with its hynoptic aromas.
" When did you last cook adobo?" I asked my sons over the phone. Toby replied " I just did". I told him I made adobo with coconut milk and he said "Oh that makes it really good!".
Filipino Chicken Adobo in Coconut Milk
Our classic Filipino chicken adobo is a simple stew. I marinated it first, then simmered it low and slow in coconut milk, vinegar, soy sauce, garlic, bay leaf, black pepper. The chicken cooked till it was tender, tasted tangy, salty and garlicky. Our senses soared with the vinegary aroma all over the house. I scooped a thick thigh while its dark creamy broth descended on the mound of fragrant jasmine rice. It was sheer comfort food, Filipino style. This chicken adobo recipe was adapted from "Memories of Philippine Kitchens" by Amy Besa & Romy Dorotan. This recipe serves 4.
Ingredients
1 1/2

cup

rice vinegar

1

cup

coconut milk (canned)

1/4

cup

soy sauce

12

pieces

garlic cloves

peeled, crushed

3

pieces

bay leaves

1 1/2

teaspoons

ground black pepper

1

3 to 4 pounds

whole chicken

quartered, cut into serving pieces

1

cup

organic chicken broth

for serving: boiled rice
Instructions
In a large nonreactive bowl, combine the marinade ingredients : rice vinegar, coconut milk, soy sauce, garlic cloves, bay leaves, ground black pepper. Add the chicken and coat the pieces with the marinade. Refrigerate for 2 hours or overnight.

In a large saucepan, over high heat place the chicken, the marinade and broth. Bring to a boil, then reduce the heat and simmer, stirring now and then, to make sure the chicken is covered in the liquid, until the chicken is cooked till tender. This will cook for 40 to 45 minutes, over a slow simmer.

Then transfer the chicken pieces to a large bowl and set aside for a few minutes. Meanwhile, raise the heat to medium  and continue cooking the sauce, until it is reduced to the consistency of heavy cream. This should take 5 minutes.

Return the chicken pieces to the sauce and cook a few minutes more, about 8 to 10 minutes or till chicken is warmed through.

RECIPE NOTES: In the cookbook, the authors used 3 whole birds eye chilies in the recipe. I omitted it this time. Feel free to add if chilies are your preference.

Copyright Notice: Hello, Friends! All the images and content on this blog are COPYRIGHT PROTECTED and owned by my media company Besa-Quirino LLC. This means BY LAW you are NOT allowed to copy, scrape, lift, frame, plagiarize or use my photos and  recipe content I wrote, on your website, films or videos  without my permission. If you want to republish this recipe or content on another website, video or news article, please ASK my permission, re-write it in your own words and simply link back to this blog to give proper attribution. It's the legal thing to do. Thank you. Email me at [email protected]
Nutrition
Serving:
1
g
|
Calories:
35
kcal
|
Carbohydrates:
3
g
|
Protein:
2
g
|
Fat:
1
g
|
Saturated Fat:
1
g
|
Cholesterol:
1
mg
|
Sodium:
813
mg
|
Potassium:
53
mg
|
Fiber:
1
g
|
Sugar:
1
g
|
Vitamin A:
46
IU
|
Vitamin C:
1
mg
|
Calcium:
24
mg
|
Iron:
1
mg
Nutrition Notes: The nutrition information provided is an estimate and will vary based on brands of ingredients and cooking methods used.