Cheese Pimiento – Pineapple Sandwich Spread
As an Amazon Associate and member of other affiliate programs, I earn from qualifying purchases.
"Do you have the recipe for Cheese Pimiento Sandwich Spread?" asked my cousin, Jan, in a text message. "It's expensive in the Filipino stores!" I quickly gave her this one and added the pineapple as a twist to this favorite Filipino sandwich spread. It was also a great "back to school" lunchbox sandwich idea, I thought to myself.
Small sizzling bits of red pepper were hot in the skillet, cradled in a little extra virgin olive oil and melted butter. I scooped up the red pimiento bits and threw it atop the grated sharp cheddar cheese. I mixed in the sweet crushed pineapple, tossed in the mayonnaise. Before long, the light yellow mix transformed to a light orange blend of cheese pimiento-pineapple.
Before I came to live in America, I never knew that pimiento spreads were, as NPR.org said, "a Southern thing. It's ingrained in the lives of Southerners" (people who live in the southern states). Paula Deen has made this spread a lot on her Food Network TV show. Who knew the Southerners already put a stamp to this spread as their own?
No matter, here it is. I remember growing up on this cheese pimiento spread with pineapple when we lived in the Philippines. Its ingredients are easy to grab – grated cheese, red peppers, crushed pineapple, mayonnaise. This is probably why it's one of the most affordable sandwich spreads.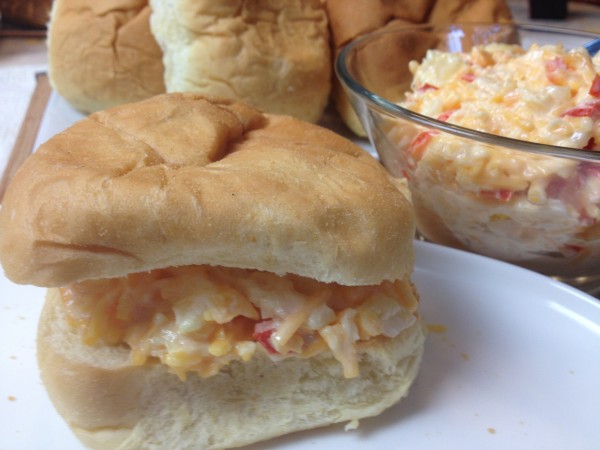 This cheese pimiento pineapple sandwich spread is great on a batch of freshly baked Filipino pan de sal, on regular toast as a grilled cheese sandwich, or even as a vegetable dip. So once those back to school lunch boxes need something light, refreshing, budget-friendly and marvelous, then you can spread some cheese pimiento pineapple love !
Cheese Pimiento-Pineapple Sandwich Spread
Just in time for back to school season, here's the favorite Filipino Cheese Pimiento with Pineapple sandwich spread made of sharp grated cheese, finely chopped red peppers, crushed pineapple and mayonnaise. Mix it all together and make the best cheese sandwich ever. Pile it within a freshly baked
Filipino pan de sal
, or some regular slices of toast, or even serve it as a dip with crackers and vegetables. Serve it hot in a grilled cheese sandwich or as a cold spread. Either way, you'll forever love this cheese - pineapple spread. This is an Asian in America recipe. Serves 2 to 4.
Ingredients
2

cups

grated sharp cheddar cheese

1

cup

crushed pineapple

canned, drained

3/4

cup

finely chopped red bell peppers

seeded, white membrane removed

3/4

cup

mayonnaise

1

Tablespoon

extra virgin olive oil

1

Tablespoon

melted butter

8 to 10

whole

Filipino Pan de Sal or use dinner rolls
Instructions
In a small skillet, over medium heat, saute the chopped red bell peppers in the extra virgin olive oil and butter for 3 minutes.

Meanwhile, drain the canned crushed pineapple.

Mix all the ingredients in a bowl : grated cheese, pineapple, sautéed red peppers and mayonnaise.

Place in a clean glass jar or container. Keep refrigerated till ready to use as spread. Spread on freshly baked Filipino pan de sal or any bread desired.

COOK'S COMMENTS: This spread keeps in the refrigerator up to 3 days. Without pineapple, the cheese pimiento spread keeps up to 5 days, refrigerated.

This spread can also be used as a dip for vegetables, or as a sandwich filling for grilled cheese sandwiches.

Availability: the

Filipino pan de sal

is available from Asian groceries or Filipino bakeries. When we first moved to the USA years ago, we lived far from any Filipino bakeries, so I used to bake my own

pan de sal.

Today, I still bake my

own Filipino bread buns

, especially in colder months.

Hello, Friends! All the images and content on this blog are COPYRIGHT PROTECTED and owned by my media company Besa-Quirino LLC. This means BY LAW you are NOT allowed to copy, scrape, lift, frame, plagiarize or use my photos and  recipe content I wrote, on your website, films or videos  without my permission. If you want to republish this recipe or content on another website, video or news article, please ASK my permission, re-write it in your own words and simply link back to this blog to give proper attribution. It's the legal thing to do. Thank you. Email me at [email protected]
Nutrition
Serving:
1
g
|
Calories:
401
kcal
|
Carbohydrates:
22
g
|
Protein:
1
g
|
Fat:
35
g
|
Saturated Fat:
5
g
|
Cholesterol:
18
mg
|
Sodium:
268
mg
|
Potassium:
175
mg
|
Fiber:
2
g
|
Sugar:
21
g
|
Vitamin A:
100
IU
|
Vitamin C:
13.3
mg
|
Calcium:
26
mg
|
Iron:
0.5
mg
Notes on Nutrition: The nutrition information provided is an estimate and will vary based on cooking methods and specific brands of ingredients used.
Did you like this recipe? I have more classic recipes inspired by my late mother's cooking in my popular cookbook: My Mother's Philippine Recipes. If you're learning how to cook Filipino food or a fan of Philippine cuisine, buy my cookbooks and books on Amazon.com sold worldwide in paperback and Kindle format.
Hello, Friends! Please DO NOT LIFT OR PLAGIARIZE my original recipe, stories, photos or videos. All the images and content on this blog are COPYRIGHT PROTECTED and owned by my media company Besa-Quirino LLC. This means BY LAW you are NOT allowed to copy, scrape, lift, frame, plagiarize or use my photos, essays, stories and recipe content on your websites, books, films, television shows, videos, without my permission. If you wish to republish this recipe or content on media outlets mentioned above, please ASK MY PERMISSION, or re-write it in your own words and link back to my blog AsianInAmericaMag.com to give proper attribution. It is the legal thing to do. Thank you. Email me at [email protected]