Instant Pot Pork Adobo with Kangkong – Water Spinach
As an Amazon Associate and member of other affiliate programs, I earn from qualifying purchases.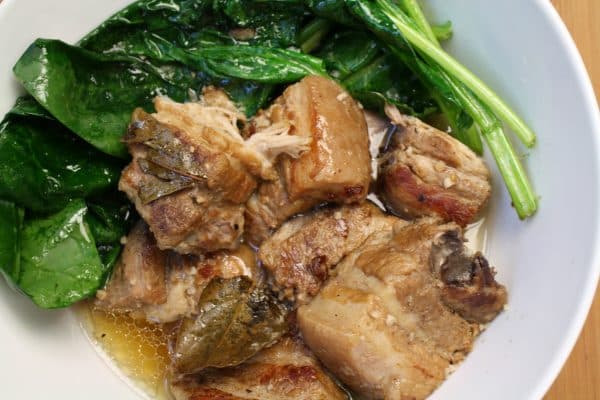 After a long day of work, writing, and meetings I often get into my kitchen with less than an hour left to cook dinner. So, I make all-in-one meals like an Instant Pot Pork Adobo with Kangkong-Water Spinach. Don't get discouraged if you don't own an Instant Pot multicooker. I offer both the Instant Pot way and the stove-top recipe in the procedure below.
There is a reason why adobo is regarded as the Philippines' unofficial national dish. Its appeal lies in the ease of the recipe, the availability of ingredients anywhere one lives in the world, and the robust, tangy garlic-vinegar flavor combinations.
Adobo is more the description of the dish's cooking method. The word 'adobo' came from the Mexican phrase 'adobar', meaning to marinate or to pickle. Using the basic ingredients of garlic and vinegar, different regions and provinces in the Philippines have their own version of the classic adobo, with every town claiming bragging rights that theirs is the best. Even in our own family, there are a variety of adobo recipes passed around, and cooked for dinner.
But one thing is certain – all adobos, once cooked, possess that tempestuous garlicky flavor and aroma that is hard to resist. At times, the tart vinegary flavors blend better a day or two after so you can imagine how scrumptious the leftovers are especially if you pan fry the remaining bits and pieces. No matter how many versions of the Filipino adobo recipes you find in cookbooks, blogs or the internet, this dish brings friends and families together. And nearly everyone loves a good, home-cooked adobo served with a mound of steaming rice.
Instant Pot Pork Adobo with Kangkong - Water Spinach
The classic favorite Filipino dish is made easy in this recipe for Instant Pot Pork Adobo with Kangkong-Water Spinach. Cubes of pork shoulder are cooked in the Instant Pot in the traditional flavors of tangy garlic, vinegar, soy sauce, peppercorns, bay leaves and seasonings. I added crisp kangkong (water spinach) at the end of cooking for an all-in-one meal combination of pork and vegetables. I offer two ways to cook this dish in the procedure: In the popular Instant Pot multicooker or on the stove-top. This was inspired by a recipe from the Slow Food Adobo Cookbook by Lyn B. Gamboa and Mara Pardo de Tavera (Anvil Publishing). Serves 2 to 4.
Ingredients
2

Tablespoons

vegetable oil

8

cloves

garlic

peeled, minced

1

pound

pork shoulder

cut in 2-inch sized cubes, boneless

1/4

cup

Heinz cider vinegar

1/4

cup

soy sauce

2

cups

organic chicken broth

low sodium

1

teaspoon

black peppercorns

2

pieces

bay leaves

1

teaspoon

salt

1

teaspoon

ground black pepper

2

cups

fresh kangkong (water spinach) or use baby spinach

stems and stalks cut into 2-inch length slices

for serving boiled rice
Instructions
To cook in the Instant Pot
Click on Saute on the keypad. Add vegetable oil to the inside pot. When oil is hot in 1 to 2 minutes, saute the garlic. Add the pork cubes and braise for 5 minutes till meat is slightly brown.

Click Cancel to turn off Saute.

Pour the vinegar, soy sauce and broth into the pork in the inside pot.

Add the peppercorns, and bay leaves. Season with salt and black pepper.

Close and lock the lid. Set the steam release handle to a Sealing position.

Click Manual and Meat/Stew and cook on High Pressure for 35 minutes.

When buzzer sounds to announce cook time is done, do a quick release.

Carefully unlock the lid. Add the spinach and stir with the rest of the ingredients.

Cover and lock the lid. Press Keep Warm and leave spinach to cook in the heat for 2 minutes. Click Cancel to turn off.
Notes on the Instant Pot
After the initial Saute, it takes about 17 minutes for the Instant Pot to preheat to High Pressure and for cooking time to begin. For other multi-cooker pressure cooker brands, please consult the product manual.

Use accessories recommended for the Instant Pot like those made of silicone or metal. Do not use glassware.
Quick Release for the Instant Pot
This is when you release the pressure instantly. Press Cancel on the Instant Pot and turn the Steam release handle on the lid to a Venting position. Allow the steam to release in 3 to 5 minutes. (From "Instant Filipino Recipes: My Mother's Traditional Philippine Food in a Multicooker Pot" by Elizabeth Ann Quirino).
To cook on the stove-top:
In a large, heavy stockpot, over medium-high heat, add the vegetable oil. Saute the garlic. Braise the pork for 5 minutes till brown. Pour the vinegar, soy sauce and broth. Add the peppercorns, bay leaves, salt and black pepper. Cover and bring to a boil. After liquid boils, lower heat to medium and continue cooking for 55 to 60 minutes till meat is completely cooked. Add the spinach and when leaves wilt in 2 minutes, turn off heat.
Cook's comments:
I have used the Filipino vinegar "Sukang Paombong" (white palm vinegar) for this recipe and the results are just as good.

Kangkong (water spinach) have longer, stiff stalks and large green leaves. I find them at Asian markets nearly year round. If not available, use baby spinach which is easy to find in American markets.
Did you like this recipe? I have more Filipino Instant Pot recipes in my newest cookbook Instant Filipino Recipes: My Mother's Traditional Philippine Cooking in A Multicooker Pot. Buy my cookbooks and books on Amazon.com – sold worldwide in paperback and Kindle format.
Hello, Friends! Please DO NOT LIFT OR PLAGIARIZE my original recipe, stories, photos or videos. All the images and content on this blog are COPYRIGHT PROTECTED and owned by my media company Besa-Quirino LLC. This means BY LAW you are NOT allowed to copy, scrape, lift, frame, plagiarize or use my photos, essays, stories and recipe content on your websites, books, films, television shows, videos, without my permission. If you wish to republish this recipe or content on media outlets mentioned above, please ASK MY PERMISSION, or re-write it in your own words and link back to my blog AsianInAmericaMag.com to give proper attribution. It is the legal thing to do. Thank you. Email me at [email protected]
Disclosure: Instant Pot is the brand name of a multi-cooker that cooks in high and low pressure. I was not paid by the Instant Pot company to mention the product or brand nor endorse it. This is not an ad. My views and opinions are my own.