Dan Dan Noodles
As an Amazon Associate and member of other affiliate programs, I earn from qualifying purchases.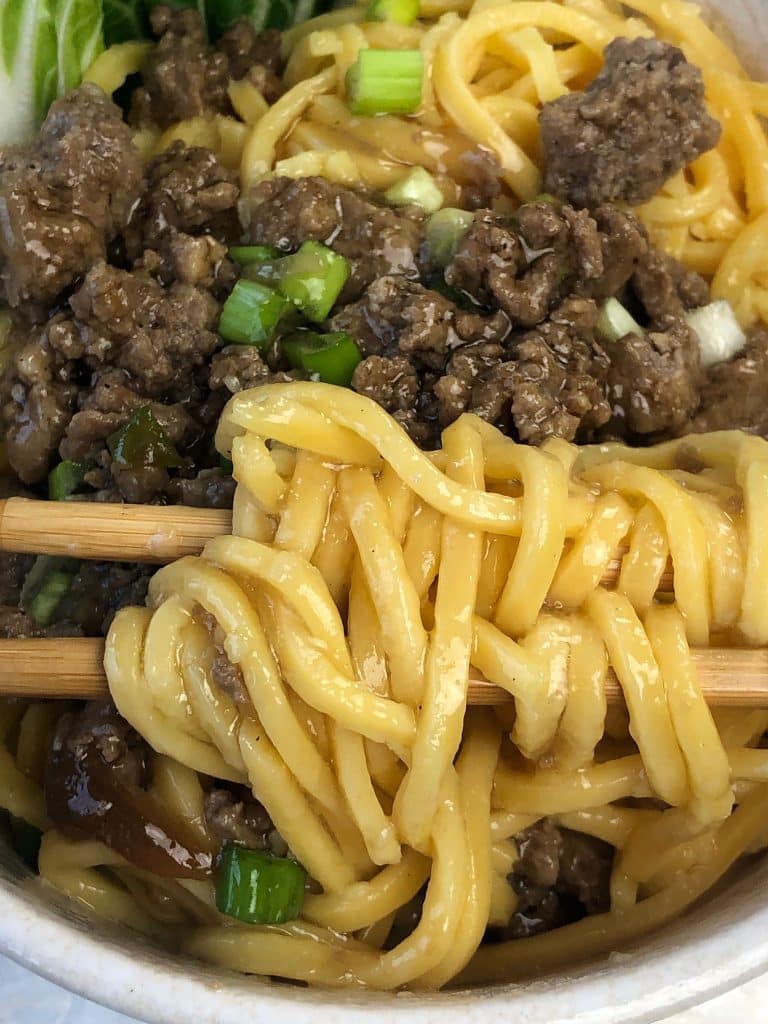 To celebrate the Chinese Lunar New Year, I cooked Dan Dan Noodles to herald in good luck and prosperity in our home. This noodle dish is often served as an appetizer, a side or an entrée in most Chinese restaurants. When our family eats out, these noodles are a favorite of my son, so at the restaurant where it's offered as an appetizer, we place two orders – one solely for my son, the other to be shared by the rest of us at the table.
As with all favorites of my family, I recreated this one at home. It was one of the easiest noodle dishes to make. There are many similarities to Filipino dishes in flavor, texture and aroma. And when I searched for recipes in all the Asian cookbooks on my shelves, I realized I had the ingredients needed in my pantry. I got cooking.
If you haven't had this yet, a bowl consists of thick, egg or wheat noodles, topped with a hefty serving of ground meat – pork or beef. The entire entrée is mixed in a numbingly-spicy sauce which has hints of sweetness. The good thing about this recipe is that you can adjust the spice level and tone it down or rev it up depending on your taste.
And if you're wondering where its name came from, cooking teacher and author Diana Kuan mentioned in her cookbook that "the name dan dan noodles refers to the way noodles were once sold back in Sichuan province. Peddlers would hoist street poles and called out "dan dan" across their shoulders to balance the baskets as they walked through town."
As you twirl your forks or chopsticks through these slinky, thick noodles, let me wish you good fortune, abundance and happiness in the Lunar Year of the Pig.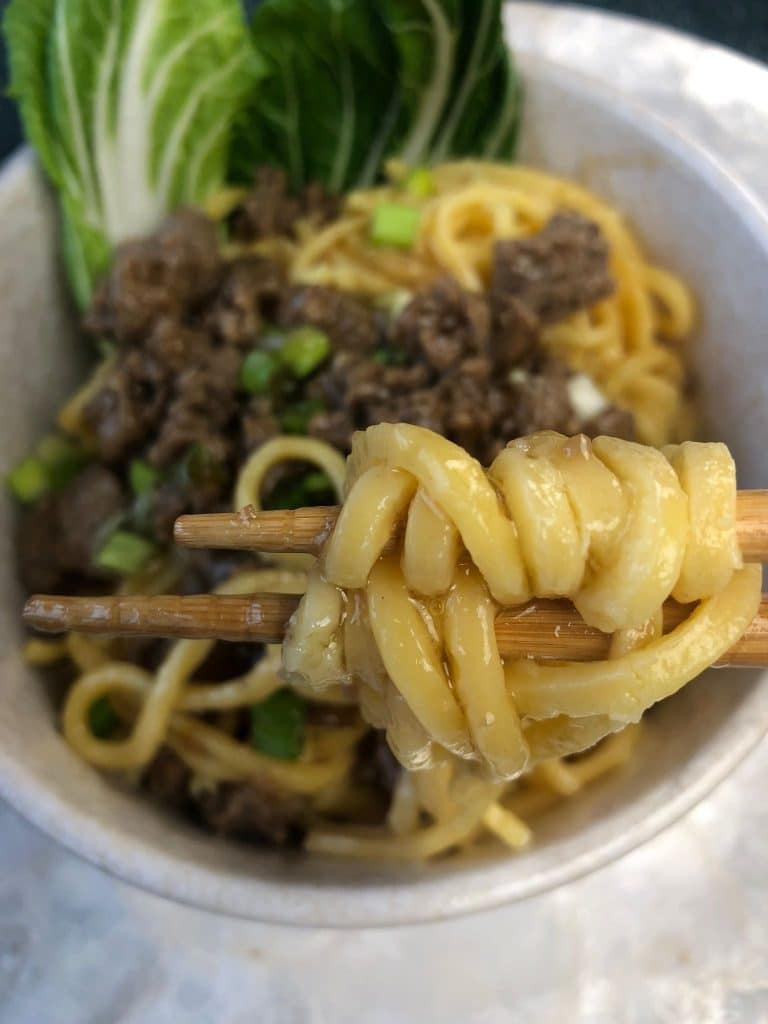 Dan Dan Noodles
Dan Dan Noodles is a popular Chinese dish which has thick, egg and wheat noodles topped with ground pork or beef cooked in an extra spicy-sweet sauce. To finish off the dish, sprinkle a topping of salty peanuts and sliced scallions. Serve this with steamed vegetable greens on the side. Great as an appetizer, side dish or entree. This was inspired by Dan Dan Noodles and Homemade Chili Oil recipes from The Chinese Takeout Cookbook by Diana Kuan (Ballantine Books NY). Serves 4.
Ingredients
12

ounces

fresh Chinese egg noodles

2

Tablespoons

soy sauce

2

Tablespoons

Chinese rice wine or dry sherry

1 1/2

teaspoons

Chinese sesame paste or tahini

1

Tablespoon

Chinese black vinegar or use balsamic vinegar

1

Tablespoon

homemade recipe follows in the procedure chili oil

1

teaspoon

sesame oil

1

teaspoon

granulated sugar

1/4

teaspoon

red pepper flakes

crushed

1/4

cup

water

2

Tablespoons

vegetable oil

2

cloves

minced garlic

1/2

teaspoon

minced fresh ginger

2

stalks

white and green parts separated, sliced scallions or green onions

1/2

pound

ground pork or beef

1

teaspoon

salt

1/2

cup

finely chopped (optional) dry roasted peanuts

3/4

cup

for chili oil vegetable oil (or peanut oil)

1/4

cup

for chili oil sesame oil

1/3

cup

for chili oil crushed red pepper flakes
Instructions
In a medium-sized pot of boiling water, blanche the fresh noodles for 1 minute. Remove the noodles from the hot water and using a colander, rinse in cold, running water for a few seconds. Set the noodles aside.

How to prepare the sauce:  In a medium-sized bowl, mix together the soy sauce, rice wine, sesame paste, black vinegar, chili oil, sesame oil, sugar, red pepper flakes and water. Whisk ingredients well. 

Pour half of the sauce over the noodles. Blend and coat the noodles well. Reserve the other half of the sauce for cooking the pork.

In a large skillet or wok, over medium-high heat, add the vegetable oil. When oil is hot enough in 1 to 2 minutes, saute the garlic, ginger, scallion whites. Stir around and cook for about 30 seconds.

Add the pork to the skillet. Stir fry for 5 minutes till pork becomes slightly crispy and turns brown.

Pour the reserved other half of the sauce over the pork. Continue cooking for 10 minutes more till meat is completely done. Season with salt.

Plate the noodles on a serving platter. Place the pork mixture over the noodles. 

If desired, top the noodle dish with crushed peanuts. Garnish with sliced scallion greens all over.

How to make Homemade Chili Oil:  In a small heavy stockpot, heat the vegetable oil until an instant-read oil thermometer shows a temperature between 225 F and 250 F. Add the red pepper flakes and stir. Turn off the heat. Remove the stockpot from the stove top and let it cool on the counter till it is at room temperature for at least 2 hours or overnight. Using a strainer, pour the chili oil into a small, clean glass jar. Store in a cool, dark area. Keeps for 1 to 2 months.

Cook's comments:  I used fresh Chinese noodles which are made of egg and wheat, are thick and yellow-colored. These are pre-boiled and can be purchased in Asian markets (refrigerated section). The author used dried egg noodles in her original recipe. Feel free to use dried if more convenient. To cook noodles, follow the package directions. When cooked, mix into the rest of the ingredients according to the procedure above.

Hello, Friends! All the images and content on this blog are COPYRIGHT PROTECTED and owned by my media company Besa-Quirino LLC. This means BY LAW you are NOT allowed to copy, scrape, lift, frame, plagiarize or use my photos and  recipe content I wrote, on your website,books, films, television shows or videos  without my permission. If you want to republish this recipe or content on another website, video, news article,or media outlets mentioned above please ASK my permission, re-write it in your own words and simply link back to this blog to give proper attribution. It's the legal thing to do. Thank you. Email me at [email protected]

Disclosure: As a participant in the Amazon Affiliate program, some blog posts contain links to products used in the recipe and sold on Amazon. The price stays the same for the readers who wish to purchase these products on my links. I earn a small commission from Amazon which helps maintain the blog expenses. Thanks in advance for your support.