Thai Iced Tea
As an Amazon Associate and member of other affiliate programs, I earn from qualifying purchases.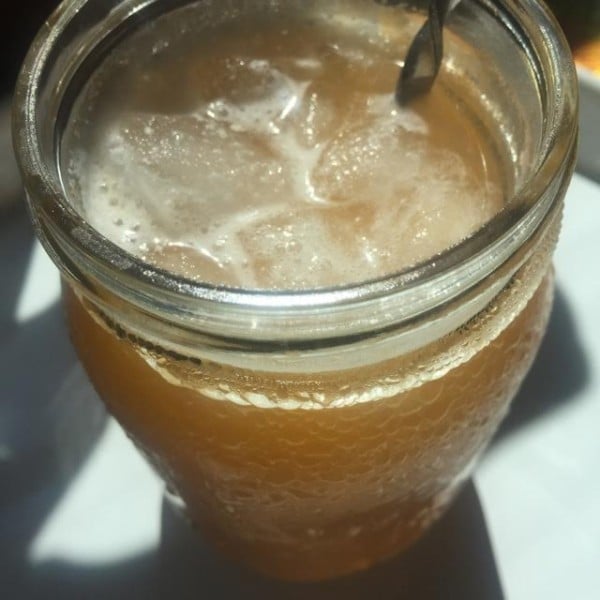 My good friend, cookbook author Nancie Mc Dermott described it best "There is nothing in the world quite like Thai iced tea."
Every time we go out to my favorite Thai restaurant I always order my favorite drink : a Thai Iced Tea. On hot, sticky summer months there is nothing else I like than a tall, chilled glass of this creamy tea drink. I look forward to grasping the glass, with beads of coldness on the outside sticking to my fingers– a sure sign the beverage is as chilly as the North Pole and that is exactly what I want.
The tall tea drink looks magnificent in the ombré shades that go from light mocha to dark amber. Then I dunk my long spoon into the crushed ice on top, penetrating through the hues of milky brown that float like clouds in the glass as I stir the drink. The process of stirring alone makes me drool so I waste no time sipping the cool, sweet herbal-like nectar to soothe me from the summer heat.
Thai Iced Tea is a favorite at many Filipino and Asian restaurants and their menus. Like I mentioned before, the Philippines has many things in common with our Asian neighbor, Thailand. Our beverages and cuisine are on top of that list. Both the Philippines and Thailand are geographically in a part of Southeast Asia that experience warm, tropical weather all year round, even during the rainy season (the last 6 months of the year). So chilled, easy-to-mix beverages like this Thai Iced Tea are a welcome respite from the year round nearly 100 F heat index and humidity in both these countries.
The process of making Thai Iced Tea is as easy as making a regular cup of tea and adding milk. The generous Nancie McDermott shared a reliable recipe on her cookbook "Simply Vegetarian Thai Cooking". So here is my version of this favorite beverage inspired by Nancie. Make this often. You'll love it so much you will find yourself mixing it up all year round just like I do.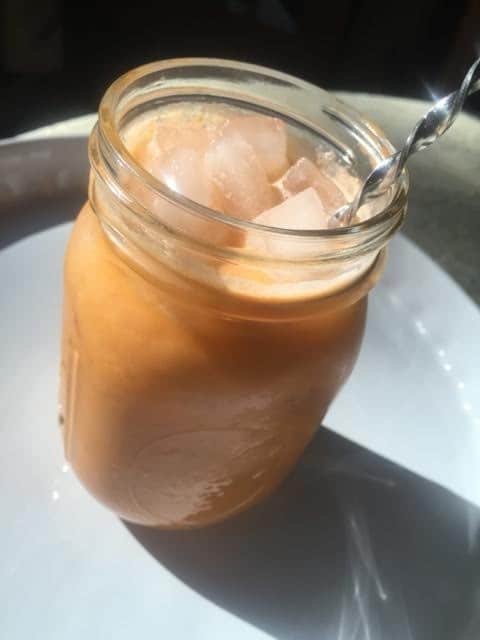 Thai Iced Tea
Often served at Asian restaurants, Thai Iced Tea is one of the most refreshing versions of iced tea I have ever enjoyed. This easy recipe calls for the tea to be made ahead with time devoted to let the amber-colored brew steep and soak in the sugar added to it. The evaporated milk or Half-and-Half is added with the crushed iced just before serving. Simply stir it and enjoy. This recipe was inspired by the cookbook "Simply Vegetarian Thai cooking" by
Nancie McDermott
(Robert Rose Publishing). Serves 2.
Ingredients
1/2

cup

Black tea leaves or Thai tea leaves

4

cups

water

3/4

cup

granulated sugar

12

oz.

crushed ice

1 1/2

cups

evaporated milk or Half-and-Half
Instructions
Over medium high heat, in a medium stock pot add 4 cups water and let it boil. Add the tea leaves. Stir so the tea mixes well with the boiling water. Lower the heat and simmer the brew or 1 minute more.

Remove the tea and water from the heat. Add the sugar and mix well. Cover and let the tea mixture cool to room temperature. This kind of tea will brew to a bright, dark orange.

Pour the tea mixture in a large pitcher while straining through a sieve. Discard the tea leaves. Cover the pitcher and refrigerate. This keeps for at least one week.

To prepare Thai Iced Tea: fill each tall glass with crushed ice, up to 3/4 of the glass. Add the iced tea to fill the brim of the glass. Slowly pour about 1/4 cup (60 ml) of evaporated milk (or Half-and-Half) into the glass. Serve immediately while beverage is cold.

Cook's Comments: I used my supply of Tazo black tea variety "orange chiffon" which is a mix of Earl Grey, orange peel, vanilla and buttercream flavor. In her cookbook recipe, Nancie McDermott shares this tip --- " Thai tea can be ordered by mail or online sources if you do not live near an Asian market. The powdery leaves keep for months so buy a good supply and you can keep a pitcher of tea on hand at all times."

Hello, Friends! All the images and content on this blog are COPYRIGHT PROTECTED and owned by my media company Besa-Quirino LLC. This means BY LAW you are NOT allowed to copy, scrape, lift, frame, plagiarize or use my photos and recipe content I wrote, on your website without my permission. If you want to republish this recipe or content on another website or news article, please ASK my permission, re-write it in your own words and simply link back to this blog to give proper attribution. It's the legal thing to do. Thank you. Email me at [email protected]
Notes on Nutrition: The nutrition information provided in the recipe links is an estimate and will vary based on cooking methods and specific brands of ingredients used.
Copyright Notice: Hello, Friends! Please DO NOT LIFT OR PLAGIARIZE Asian in America recipes on this blog, my original recipes, stories, photos or videos. All the images and content on this blog are COPYRIGHT PROTECTED and owned by my media company Besa-Quirino LLC by Elizabeth Ann Quirino. This means BY LAW you are NOT allowed to copy, scrape, lift, frame, plagiarize or use my photos, essays, stories and recipe content on your websites, books, films, television shows, videos, without my permission. If you wish to republish this recipe or content on media outlets mentioned above, please ASK MY PERMISSION, or re-write it in your own words and link back to my blog AsianInAmericaMag.com to give proper attribution. It is the legal thing to do. Thank you. Email me at [email protected]