How to make Asian Beef Burgers with Hoisin Glaze
As an Amazon Associate and member of other affiliate programs, I earn from qualifying purchases.
[amazon_link asins='B009XXO2AE,B0051ONSPE,B01K3AJ9XK,B01HIFRCPA' template='ProductCarousel' store='queensnotcom-20′ marketplace='US' link_id='143c0d1e-5a9b-11e7-a55e-755fde389835′]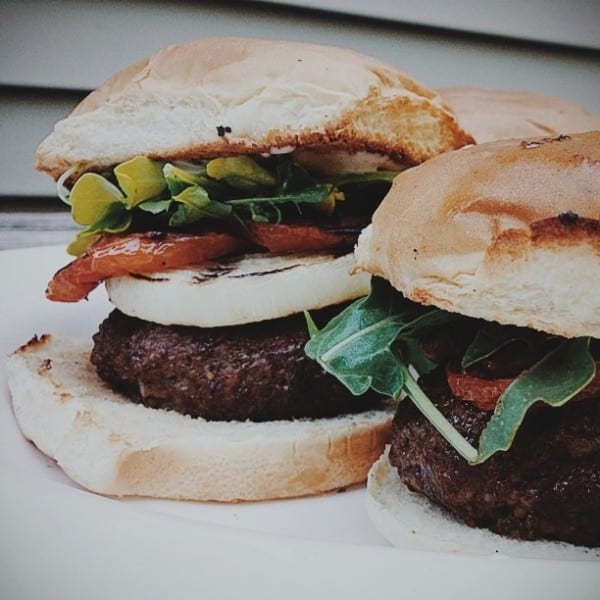 "Was this for 'merienda' or lunch?" asked my sister when I served Asian beef burgers with a hoisin glaze to her a few years ago on her visit to the States from the Philippines.
Hoisin glazed hamburgers with a big salad were on the menu for a late lunch. It was a warm and we sat on our outdoor patio, enjoying the soft breeze and family time. I had not fed my Filipino family guests since breakfast. They assumed this was just merienda, and a bigger meal was to follow. So my sister asked when was I going to cook the rice. I looked at her, perplexed that she misunderstood and mistakenly thought I was feeding her a snack, when I was actually serving lunch. Then it hit me. I had forgotten how important 'merienda' is to Filipinos.
Merienda (say 'merry- yen-dah') is the snack served between meals. Usually this refers to an afternoon snack between lunch and dinner. Or one can also have a morning 'merienda', between breakfast and lunch. That said, it is not unusual for Filipinos to enjoy six meals a day – the 3 big ones, and a little merienda in between or after.
As you can see, Filipinos relish and treat food with reverence and great importance. The merienda is not to be ignored. Our parents taught us that it is good social graces to invite guests in for 'merienda, especially those who arrive unannounced. "Kaunting merienda lang …" (just a small merienda snack) is usually uttered by the host in mock modesty, while serving a buffet of 'merienda' dishes fit for a royalty. One will find for 'merienda fare' a noodle dish like pancit or even pasta, a rice cake, fresh fruits in season with a pitcher of freshly-squeezed citrus juice. To not serve any merienda at all, even just a cup of tea would be considered outrightly bad mannered. "Hindi man nagpa-merienda" (they didn't even bother to serve us merienda) would be muttered to others to describe this.
So when my Philippine-based sister came to visit me in the States a few years ago, it was an oversight on my part to forget serving her merienda. Thankfully, burgers served like these hoisin-glazed beauties could ease any awkward situation – and could double up as 'merienda-cena' (heavy afternoon snack meant to also be an early dinner).
The sweet thick hoisin sauce, blended with ginger and seasonings, mixed into burly beef patties then tossed on the outdoor grill sent a savory scent around the table. We quickly put them in between warmed buns which were flavored with a mayo sauce. What a delicious combo it was. Lunch or merienda, I'll take a couple anytime!
[purerecipe]
We were grilling burgers this weekend and the family wanted something fast, with Asian flavors. My son, Tim always likes to take over the grill and so he whipped up these hoisin-glazed burgers with ingredients I had in my pantry. I had to write down quick what he was mixing to keep up with his frantic pace. It didn't take long to mix the ground beef with all the condiments. In a few minutes, we stacked up the grilled burgers, vegetables and spicy mayo on the bun. This is an AsianInAmericamag recipe by Tim Quirino. Serves 4.
Ingredients
1

pound

lean, organic ground beef

2

stalks

white parts only, chopped, about 1/2 cup green onions or scallions

2

cloves

minced garlic

1

teaspoon

minced fresh ginger

2

Tablespoons

from the Asian markets or major supermarkets hoisin sauce

1

Tablespoon

soy sauce

2

drops sesame oil

1

whole egg

1/2

cup

from Asian markets or major supermarkets Panko bread crumbs

1

teaspoon

freshly ground black pepper

1/2

cup

for spreading on bun mayonnaise

1

Tablespoon

for mixing with mayonnaise sriracha sauce

8-10

pieces

hamburger buns

8-10

pieces

optional, if cheeseburgers are desired cheese slices

8-10

pieces

for stacking on burgers tomato slices

8-10

slices

white or red, for stacking on burgers fresh onion slices

about a cup or more

for stacking on burgers fresh arugula or lettuce greens

for serving or garnish

with burgers sweet pickle slices
Instructions
In a large bowl, combine the ingredients for the beef burger patty : ground beef, green onions, garlic, fresh ginger, hoisin sauce, soy sauce, egg, panko bread crumbs, sesame seed oil, black pepper. Blend well and form into round patties, about 3 to 4 inches in diameter.

Chill the beef patties for about 30 minutes to firm up and for easier handling.

Preheat the outdoor grill to a medium high. Grill on the middle racks at these cooking times that my son Tim recommended :  Rare - 2 to 3 minutes per side; medium 3 to 4 minutes per side; well done 7 to 8 minutes per side. Note: these instructions vary depending on the grill and the person grilling.

Separately, mix the spicy mayonnaise by mixing in a small bowl the following ingredients : mayonnaise and sriracha. Blend well and refrigerate till ready to assemble the burger bun.

Heat or toast the burger buns on the outdoor grill at the last 2 minutes before the burgers are done. Top a slice of cheese on the inside part of the bun (bottom side on grill) for 1 minute, if cheeseburgers are desired.

To assemble : spread the spicy mayonnaise on the inside of the heated burger bun. Stack the filling in this order : burgers, tomatoes, sliced onions, arugula or lettuce greens, top off with bread. Garnish with pickles on the side.

Cook's comments : My son Tim suggested - place the patty on the preheated grill. When it feels right, flip it ONCE and try not to touch the patties too much or they may crumble. Take off the grill when cooked according to your preference.

Ingredient notes : hoisin sauce is a versatile sweetened soybean paste mixed with flavorings like garlic and vinegar. Use it as a marinade for pork or to cook with stir-fries. (as defined in The Chinese Takeout Cookbook by Diana Kuan).
Hello, Friends! All the images and content here are COPYRIGHT PROTECTED. This means BY LAW you are NOT allowed to use my photos or content on your site  without my permission. If you want to republish this recipe, please re-write it in your own words and simply link back to this blog to give proper attribution. It's the legal thing to do. Thank you.