Sotanghon Guisado : Cellophane Noodles Sauteed with Snow Peas
As an Amazon Associate and member of other affiliate programs, I earn from qualifying purchases.
This Sotanghon Guisado – Cellophane Noodles with Snow Peas noodle dish was cooked one weeknight when I absolutely had no time to cook. But we still needed to eat. It was one of those days. I was running late. I was swamped with work. When I looked at the clock, I panicked. It was almost 5 o'clock. This only meant supper was an hour away. I had nothing. The kitchen fires were cold. The kitchen was dark and the light was still turned off.
Quickly I scanned the contents of my refrigerator's vegetable bin. I had a big bag of snow peas, just in from the Asian market. I had some leftover pork pieces from the barbecue skewers the other day. From my pantry, I had my staple 'sotanghon noodles' (say 'soh-tang-hon'). These are light noodles, if uncooked look thin and translucent. When soaked then mixed into the stir fry dish, they become as transparent as glass. They are also called 'cellophane noodles' and made from mung bean starch, according to author, Pat Tanumihardja in"The Asian Grandmothers Cookbook."
I have always loved these type of shiny noodles in Filipino recipes. Years ago, my mom made sotanghon-based noodle dishes often for parties or big events. Back then, I thought it was because sotanghon was expensive. On the contrary. These cellophane noodles are very affordable and can be found in Asian markets. Once cooked, they expand and the amount increases, thus extending serving sizes even more. The more noodles, the better for everyone around the table.
What are snow peas? Snow peas are also called 'sitsaro' (say 'seet-sah-roh') in the Philippines and usually available all year long. I find them all the time. These are flat, about 2 inches long, and have pointed tips which contain those fibrous string-like stems. You want to pull on those strings at the end with your fingers. It's a cinch to do. You can even do this routine of taking out the fibrous thread while the 'sotanghon noodles' are soaking in water, which only needs a 20 minute soak.
Prep time to get all your ingredients in order is only a few fast minutes. The best part of cooking for me is to hear the sizzle of the saute and inhale the Asian aromas of fish sauce from this activity. Like I've always said if you can saute garlic and onions, then it's easy going from there on. Throw in the chopped celery, the pork bits and pour the rest of the ingredients. If you can manage to toss in some of that achuete oil, the noodles will turn a bright, blazing orange color. The flavors in the saute skillet suddenly come alive. Achuete oil (from annatto seeds cooked in oil and garlic) emits a nutty, roasty flavor which coats itself all round the clear noodles.
As you twirl the fork or chopsticks around the slippery, slinky noodles, catch a few pieces of the crisp snow peas along the way. Gather it all in a bundle, grasp it, chomp on it and just wallow in how deliciously easy it was to save supper tonight.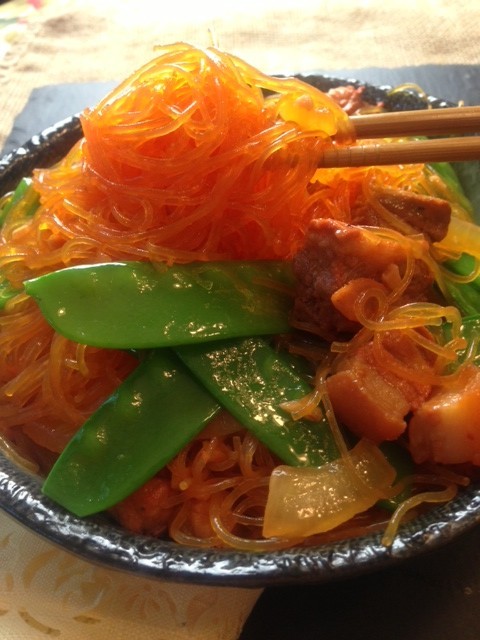 Sotanghon Guisado- Cellophane Noodles Sauteed with Snow Peas
Sotanghon Guisado - Cellophane Noodles Sauteed with Snow Peas is one of the most basic and versatile Filipino noodle dishes. It starts with an easy saute of the basic ingredients garlic, onions and celery. The transparent-looking sotanghon noodles cook in a minute as soon as it's added to the skillet with the sautéed meat and vegetables. Toss and turn the noodles all around and dinner is done. Serve this for a weeknight family meal or increase the amount and have it for a big party anytime. This recipe is an AsianInAmericamag.com recipe and serves 2 to 4.
Ingredients
16

ounces

cellophane noodles

pre-soaked in water, 2 cups uncooked (from Asian markets)

1/4

pound

boiled pork belly

cut in 1 inch cube pieces

2

Tablespoons

vegetable

4

Tablespoons

achuete oil

annatto seeds cooked in garlic and vegetable oil

1

whole

onion

chopped

4

cloves

garlic

minced

1

stalk

celery

chopped (about 3/4 cup)

2

Tablespoons

patis (fish sauce)

1

cup

vegetable or chicken broth

2

cups

snow peas

edges trimmed; 'sitsaro' in Pilipino

1

whole

fresh lemon

to get about 1 Tablespoon lemon juice

1-2

stalks

scallions

chopped, for garnish
Instructions
In a medium sized bowl filled with water at room temperature, soak the noodles for 20 minutes. Then drain noodles in a colander. Set aside till ready to use.

In a large skillet, over medium high heat, add both the vegetable and achuete oil. Once oil is hot after 1 minute, add the onions, garlic and celery. Add the pre-boiled pork belly cubes. Saute for 2 to 3 minutes till vegetables are soft.

Add the patis or fish sauce. Then add the broth. Let the liquid come to a boil in about 2 minutes, then lower heat to a simmer.

Add the snow peas and cook for 1 to 2 minutes. Do not overcook the snow peas or they will not be crisp. Mix in the drained cellophane noodles to the simmering saute. Toss all the ingredients together. The noodles will cook and soften in 1 to 2 minutes within adding to the skillet. Sprinkle with the juice of a lemon all over. Garnish with green onions. Serve hot.

ACHUETE OIL RECIPE

 :  I often use 

achuete oil

 in many dishes. It is something I make ahead and store in the refrigerator.Find the complete 

Achuete oil

 recipe is in a previous post.  Annato or 

achuete

 provides the appetizing orange glossy colors of the dish, as well as a nutty, salty flavor. If preferred, you may omit the use of the annato oil and add more vegetable oil to the saute.

Cook's Comments: Thanks to a reader's comment, I corrected the error and added the pork belly cubes in the instructions during the sauté. For this recipe, I pre-boiled the pork belly ahead in water for 20 minutes (for this amount) to pre-cook and soften the meat.
Hello, Friends! All the images and content here are COPYRIGHT PROTECTED. This means BY LAW you are NOT allowed to use my photos or content on your site  without my permission. If you want to republish this recipe, please re-write it in your own words and simply link back to this blog to give proper attribution. It's the LEGAL thing to do. Thanks for your cooperation.Email me at [email protected]
Nutrition
Serving:
1
g
|
Calories:
430.47
kcal
|
Carbohydrates:
103.85
g
|
Protein:
2.12
g
|
Fat:
0.24
g
|
Saturated Fat:
0.05
g
|
Sodium:
25.78
mg
|
Potassium:
163.05
mg
|
Fiber:
2.44
g
|
Sugar:
2.25
g
|
Vitamin A:
982.88
IU
|
Vitamin C:
31.98
mg
|
Calcium:
58.85
mg
|
Iron:
3.6
mg
Notes on Nutrition: The nutrition information provided is an estimate and will vary based on cooking methods and specific brands of ingredients used.
Did you like this recipe?I have more Filipino Instant Pot recipes in my newest cookbook Instant Filipino Recipes: My Mother's Traditional Philippine Cooking in A Multicooker Pot by Elizabeth Ann Besa-Quirino. I also have more classic recipes inspired by my mother's cooking in my popular cookbook: My Mother's Philippine Recipes. If you're learning how to cook Filipino food or a fan of Philippine cuisine, buy my cookbooks and books on Amazon.com sold worldwide in paperback and Kindle format.
Copyright Notice: Hello, Friends! Please DO NOT LIFT OR PLAGIARIZE my original recipe, stories, photos or videos. All the images and content on this blog are COPYRIGHT PROTECTED and owned by my media company Besa-Quirino LLC. This means BY LAW you are NOT allowed to copy, scrape, lift, frame, plagiarize or use my photos, essays, stories and recipe content on your websites, books, films, television shows, videos, without my permission. If you wish to republish this recipe or content on media outlets mentioned above, please ASK MY PERMISSION, or re-write it in your own words and link back to my blog AsianInAmericaMag.com to give proper attribution. It is the legal thing to do. Thank you. Email me at [email protected]