Longanisang Hubad – Skinless Cured Pork Sausages
As an Amazon Associate and member of other affiliate programs, I earn from qualifying purchases.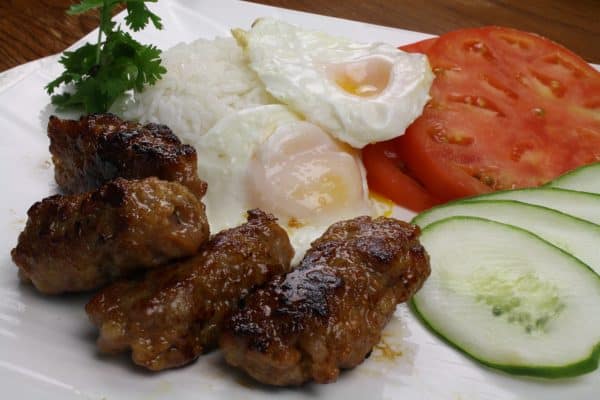 When we arrived home tonight, it was too late to cook a big meal. So I cooked Longanisang Hubad-Skinless Cured Pork Sausages. Longanisas are the Philippine native sausage. It is also spelled as longganisa in some Filipino cookbooks. Every province or region in the Philippines lays claim to their own luscious versions of longanisa and though these cured sausages range in flavors from sweet to sour, salty to tangy depending on the region, there is one thing they all have in common – longanisas are a popular breakfast or brunch fare, especially when served with sinangag, the Filipino garlic fried rice.
If you travel around the Philippines, you can discover the different varieties of longanisas like longanisa de hamon, de recado, hamonado, hubad, Lukban, San Pablo, Sulipan, Tuguegarao, Vigan plus there are probably a few more I am missing.
The recipe I am sharing with you here is like my mother's Kapampangan version which was on the sweet side. Other regional longanisa varieties from around the Philippines can range from tangy, vinegar-y, garlicky. Since I am a home cook I make skinless longanisas or longanisang hubad (no casings) because I don't have a sausage maker and it is not easy to find sausage casings at the market. And this was a similar approach my mother taught me. She often said that even if I don't have sausage casings, I should not be discouraged from making homemade longanisas.
So for dinner we had longsilog. What is longsilog? In Filipino restaurants, you are likely to find the term 'longsilog' (say "long-seeh-log") which is a combined word of longanisa-sinangag (garlic rice)- itlog (eggs). This is a heartwarming breakfast meal most Filipinos enjoy. And it is one of the easiest, to make ahead and to cook. Since we were away the whole weekend, I didn't get a chance to cook these Pork Longanisas for breakfast or brunch. But I did the next best thing, I cooked breakfast for dinner. The meal cooked in under thirty minutes. The bright reddish hue of the sausages glistened invitingly from the skillet. And the sweet-garlicky aromas lingered around us even as we ate. Longanisas for breakfast. Or longanisas for dinner. Both ways it is simply divine.
For an additional treat, I've filled my homemade Ube Pan de Sal with these Longanisang Hubad and it was superb. Recipe for Ube Pan de Sal is here.
Longanisang Hubad-Skinless Cured Pork Sausages
Here's a great Filipino classic for a family brunch or dinner: Longanisang Hubad-  Skinless Cured Pork Sausages which are often served for breakfast paired with 'sinangag' (garlic fried rice) and eggs. For our family brunch, I make ahead a large batch of homemade, skinless longanisa and freeze it for 2 to 3 days. It is an easy, make-ahead process which involves storing the sausages in the freezer to firm up for a few days and for the flavors to set in. On the day of the meal, pan fry the pork longanisas and serve with eggs and rice. This is an Asian in America recipe. Serves 2 to 4.
Servings:
16
to 18 pieces
Ingredients
1

pound

ground pork

1

cup

brown sugar

2

teaspoons

salt

1

teaspoon

annatto

achuete powder

1

Tablespoon

finely minced garlic

1

teaspoon

ground black pepper

1

Tablespoon

vinegar

2

Tablespoons

vegetable oil

for serving:garlic fried rice

2 to 4

whole

eggs, cooked sunny side up

for serving, or scrambled if preferred

1

whole

large tomato

sliced, for serving

1

whole

medium-sized cucumber

sliced, for serving

for serving achara or sweet green papaya pickles
Instructions
How to make homemade skinless longanisa: In a medium-sized bowl, mix together ground pork, brown sugar,  salt, annatto (achuete) powder, minced garlic, ground black pepper, vinegar. When blended, shape the longanisas into 2-inch in length sausages. Arrange them in a plastic container, lined up, leaving 2-inch spaces in between. Cover and seal the plastic container well. Freeze longanisas for at least 12 hours or up to 3 days for flavors to set and sausages to firm up.

How to cook longanisas: Have longanisas ready thawed at room temperature. Do not thaw in the microwave. In a medium-sized skillet, over medium heat, add vegetable oil. After 1 to 2 minutes, when oil is hot enough, add the longanisas. Pan fry for about 15  minutes till cooked completely. Remove sausages from skillet and drain on parchment paper to remove excess oil.

Serve longanisas warm with garlic fried rice, fried eggs, sliced fresh tomatoes, cucumbers and

achara

(green papaya pickle relish).

Hello, Friends! All the images and content on this blog are COPYRIGHT PROTECTED and owned by my media company Besa-Quirino LLC. This means BY LAW you are NOT allowed to copy, scrape, lift, frame, plagiarize or use my photos and  recipe content I wrote, on your website,books, films, television shows or videos  without my permission. If you want to republish this recipe or content on another website, video, news article,or media outlets mentioned above please ASK my permission, re-write it in your own words and simply link back to this blog to give proper attribution. It's the legal thing to do. Thank you. Email me at [email protected]
Nutrition
Serving:
1
g
|
Calories:
142
kcal
|
Carbohydrates:
14
g
|
Protein:
5
g
|
Fat:
8
g
|
Saturated Fat:
4
g
|
Cholesterol:
20
mg
|
Sodium:
310
mg
|
Potassium:
100
mg
|
Fiber:
1
g
|
Sugar:
13
g
|
Vitamin C:
1
mg
|
Calcium:
15
mg
|
Iron:
1
mg
Notes on Nutrition: The nutrition information provided is an estimate and will vary based on cooking methods and specific brands of ingredients used.
Did you like this recipe? I have more classic recipes inspired by my late mother's cooking in my popular cookbook: My Mother's Philippine Recipes. If you're learning how to cook Filipino food or a fan of Philippine cuisine, buy my cookbooks and books on Amazon.com sold worldwide in paperback and Kindle format.
Hello, Friends! Please DO NOT LIFT OR PLAGIARIZE my original recipe, stories, photos or videos. All the images and content on this blog are COPYRIGHT PROTECTED and owned by my media company Besa-Quirino LLC. This means BY LAW you are NOT allowed to copy, scrape, lift, frame, plagiarize or use my photos, essays, stories and recipe content on your websites, books, films, television shows, videos, without my permission. If you wish to republish this recipe or content on media outlets mentioned above, please ASK MY PERMISSION, or re-write it in your own words and link back to my blog AsianInAmericaMag.com to give proper attribution. It is the legal thing to do. Thank you. Email me at [email protected]