Beef Teriyaki on Rice Bowls
As an Amazon Associate and member of other affiliate programs, I earn from qualifying purchases.
[amazon_link asins='B01L801WT8,B002VNQSAA,B00BCFS26G,B002AQSWMU,B003LJ94OA,B016Y8JS4K' template='ProductCarousel' store='queensnotcom-20′ marketplace='US' link_id='46454efd-35cb-11e7-a9ed-fd4225800d27′]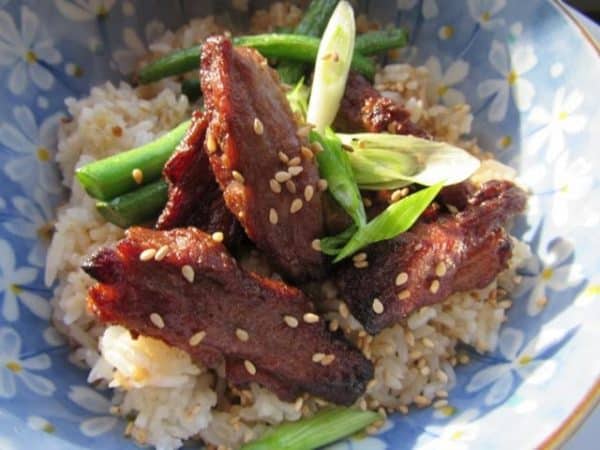 I have seen the resurgence of "food in a bowl" lately. There are cookbooks and blog posts devoted to it. There are even those quick 'Tasty' videos on social media showing food cooked, arranged and eaten in bowls — like this Beef Teriyaki on Rice Bowls.
Mothers have been using bowls as food containers for centuries. In fact internet sources revealed that in the history of China, "long before the Neolithic Age" people used bowls to hold food. China bowls were used in the Shang Dynasty (1600-1100 B.C.) and even earlier in 475 B.C. China bowls ranged from primitive celadon chinaware to earthen clay bowls.
To this day, the use of bowls for food has remained diverse, versatile and useful. Generations before us have been using it for eating and drinking ever since China used bowls for rice, soup and tea.
Back in the Philippines, when my mom used to feed my little sister who was such a picky eater as a toddler, I saw food mom prepared: soups, noodles and rice in bowls. Then she would sprinkle cut-up or shredded meat and vegetables on top of the rice or noodles. This was how my baby sister slowly started to eat without throwing a fit or a tantrum at the dinner table.
When I became a mother, I remembered what mom used to do. So I fed my little boys then, food in bowls. The variety changed daily depending on what meals I cooked. But rice has always been a staple in Filipino food so, that was at the base of the bowl. My youngest son liked boiled chicken on rice, made soft and mushy with chicken broth. My older son preferred stronger flavors of beef, so I had a base of mashed sweet potatoes, topped with burger beef which he enjoyed so much as a toddler, he would toss his empty bowl with glee once he was done eating.
Today, there are more adults at our family table and no more toddlers. But I still serve "rice, vegetables and meat" in bowls often. This is what I did when I cooked this Beef Teriyaki on Rice. Serving food in a bowl has so many advantages: it is spill proof, you have portion control right there, it is a versatile receptacle for just about anything – from appetizers, sides, entrees to desserts. And sometimes, if we eat meals at different times of the day, then the food-in-a-bowl serving works, too. What's your favorite food in a bowl? Do share. I'd love to hear bowlfuls of food stories!
Beef Teriyaki on Rice Bowls
Teriyaki means broiling or grilling in a soy sauce. Some stores carry bottled teriyaki sauces which have a sweet-savory flavor. I have shared a teriyaki sauce recipe below for these beef strips. Though the recipe is not grilled or broiled, I stir fried the beef in a grill pan (with ridges inside the pan) and the results were nearly the same as though the beef was grilled outdoors. The rice at the base of the bowl was cooked in my trusted rice cooker. If you do not own one, I shared how to cook rice stove top in the recipe procedure. This Beef Teriyaki on Rice Bowls is an AsianInAmericaMag recipe. Serves 2 to 4.
Ingredients
4

cups

boiled rice

white or brown,or enough to fill 4 bowls of 6 oz. each

1/2

pound

beef tenderloin, sirloin or skirt steak

sliced in 2-inch long strips

2

Tablespoons

cornstarch

to coat beef

1/2

cup

roasted sesame seeds

optional (from Asian markets)

2

Tablespoons

vegetable oil

2

cloves

garlic

peeled, minced

1

knob, a Tablespoon

fresh ginger

peeled, sliced in thin strips

1

medium-sized

white onion

sliced

1/3

cup

soy sauce

for teriyaki sauce

2

Tablespoons

organic honey

for sauce

1/2

cup

ginger ale

for sauce

1

Tablespoon

brown sugar

1/2

teaspoon

sea salt

1

teaspoon

freshly ground black pepper

1/8

teaspoon

sesame oil

optional

2

stalks

scallions or green onions

chopped, for garnish (optional)
Instructions
Cook rice in a rice cooker  and put aside. Or if preferred, cook rice stove top. Recipe follows.

How to cook rice stove top: wash 2 cups uncooked white rice grains twice. Drain water. In a medium stock pot, combine 2 cups rice grains with 3 1/2 cups water. Bring to a boil over high heat, covered. Then lower heat to a low simmer. Cover and continue cooking for 20 minutes more till water evaporates and rice grains are soft and fluffy. Turn off heat and set aside. This yields 4 cups of cooked rice. (Note: cooking time for brown rice is longer than for white rice.)

How to cook the beef: Coat beef slices with cornstarch. Set aside.In a large wok or skillet, over medium high heat, add oil. When oil is hot enough in one minute, stir fry garlic, ginger, onions for 1 to 2 minutes.Add beef slices to skillet. Mix ingredients together. Beef strips will cook in about 8 to 10 minutes and will turn from pink to brown, with a shiny glaze. Remove beef from skillet and set aside in a covered platter.Mix in a medium bowl the teriyaki sauce ingredients: soy sauce, honey, ginger ale, sugar, salt and black pepper.

Pour this sauce mixture into the same skillet used for beef. Over medium high heat bring the sauce to a boil. Lower heat to a simmer and continue cooking sauce till it reduces to a thick liquid in about 5 minutes.Return the cooked beef strips to the sauce in the skillet. Add the sesame oil and blend well.  Pour the roasted sesame seeds and mix well so they spread evenly.To assemble in bowls: in each bowl place about one cup of cooked rice. Over the mound of rice, pour 1/2 cup of cooked beef with sauce, enough to make rice have a golden brown hue. Garnish with a tablespoon of scallions. Repeat for the other bowls the same amount of beef and rice. Serve warm.Cook's comments: serving this dish in individual bowls is convenient. There is less clean up and there will be portion control for all. If there are leftovers, cover bowl and refrigerate. Microwave bowl with beef and rice for one minute when ready to eat again.

Recipe notes: some bottled sesame seeds are sold roasted. If not, place this amount of sesame seeds in a small non-stick skillet. Over medium high heat, roast sesame seeds for 2 to 4 minutes till a fragrant aroma is emitted. Turn off heat and remove sesame seeds. Set aside till ready to mix in the beef and sauce.

Hello, Friends! All the images and content on this blog are COPYRIGHT PROTECTED and owned by my media company Besa-Quirino LLC. This means BY LAW you are NOT allowed to copy, scrape, lift, frame, plagiarize or use my photos and recipe content I wrote, on your website without my permission. If you want to republish this recipe or content on another website or news article, please ASK my permission, re-write it in your own words and simply link back to this blog to give proper attribution. It's the legal thing to do. Thank you. Email me at [email protected]
Nutrition
Serving:
1
g
|
Calories:
134
kcal
|
Carbohydrates:
16
g
|
Protein:
2
g
|
Fat:
7
g
|
Saturated Fat:
6
g
|
Sodium:
1378
mg
|
Potassium:
81
mg
|
Fiber:
1
g
|
Sugar:
10
g
|
Vitamin C:
2.5
mg
|
Calcium:
13
mg
|
Iron:
0.6
mg
Notes on Nutrition: The nutrition information is an estimate and will vary based on cooking methods and brands of ingredients used.
Did you like this recipe? I have more classic recipes inspired by my late mother's cooking in my popular cookbook: My Mother's Philippine Recipes. If you're learning how to cook Filipino food or a fan of Philippine cuisine, buy my cookbooks and books on Amazon.com sold worldwide in paperback and Kindle format.