Chocolate Cake with Mango-Coconut Frosting
As an Amazon Associate and member of other affiliate programs, I earn from qualifying purchases.
[amazon_link asins='B003OXNBYC,B0786CKC5J,B009GKNVTW,B077TX6VCR,B00VSVYH2C,B01LAX4V32,B0002UN7PI,B011J5MKPC,B0000B28RB' template='ProductCarousel' store='queensnotcom-20′ marketplace='US' link_id='fb2ecb91-e537-11e8-bc07-671948e31ae3′]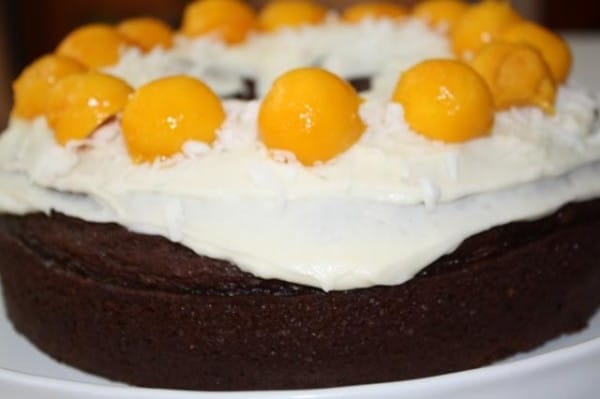 When the calendar on my phone beeped to remind me of a friend's birthday, I panicked. The electronic reminder was too late in the day for me to stop what I was doing and bake a cake from scratch. So I baked this Chocolate Cake with Mango-Coconut Frosting. When my family or friends are celebrating a birthday, I often bake goodies to give as gifts. I have posted on this blog chocolate cake recipes I've made from scratch for friends in the past.
But today was different. It was midday and I didn't have time to spare. Yet it was also important to give this gift today. I quickly did an inventory of what I had on hand. I had an organic cake mix and I had fresh sweet mangoes which were ripening fast by the second. I knew I had the perfect, fast formula for a birthday cake gift.
The organic cake mix was from Whole Foods so I knew it was a brand I could trust. The process was simply dropping everything in the mixing bowl then baking it. Once the round Bundt cake was out of the oven, I waited a while for it to cool before spreading the frosting.
The creamy, white, radiant vanilla-flavored frosting was like silk as I spread it lavishly on the moist chocolate cake. I am not an expert at cake decorating, but slathering the frosting has always been my favorite ritual of baking. The most important part was delicately placing the round mango balls on top of the cake. The golden yellow sweet spheres looked like a glorious crown amidst the backdrop of the pristine white icing.
When I brought the cake to my dear friend to greet her 'Happy Birthday', she immediately sliced the cake and poured some tea to go with the luscious chocolate cake. We both 'ohh'd' and 'ahh'd' over the combination of flavors in a slice — rich chocolate, flavored with a vanilla creamy frosting, made special by tropical-sweet mango balls.
Too often our daily lives are underrated. But really, nothing is too minuscule or too magnificent. Everything we do — big or small is important. Whether we decide to bake a cake from a box or do it from scratch — it is still an important act, both ways. That we took the time — for that matter, what little time we had in a day — to haul out the stand mixer, the cake pan, the baking rack — these are all indications that we care enough for someone else.
Our daily lives are measured by the things we do to make a difference. When we give happiness, bring a smile to someone's face by a simple act of kindness– be it from a boxed cake, a store-bought cake or one we made from scratch — what counts is we made someone feel good that day. And that is all that matters.
Chocolate Cake with Mango-Coconut Frosting
You can either bake this chocolate cake from scratch like I have done before on a
past blog post
. Or you can bake this luscious chocolate cake from an organic cake mix if you're pressed for time like I was in this instance. Sometimes you need a little help in the kitchen. I made the vanilla frosting and the rich creaminess had the right flavor to complement the chocolate flavor. I made mango balls with a scooper and decorated the top of the cake to make it look like a crown. The entire process to make the cake was so quick that I had time to bring this cake to a friend and enjoy it with her family. This cake recipe was from the Arrowhead Mills Organic Chocolate Cake Mix and the vanilla frosting was from a previous AsianInAmericamag.com blog post. Serves 6 to 8.
Ingredients
1

box (18.6 oz.)

Arrowhead Mills Organic Chocolate Cake Mix

1 1/4

cups

milk

for cake mix

1/2

cup

vegetable oil

2

whole

large eggs

1/2

cup (1 stick)

unsalted, melted butter

for frosting

1/3

cup

milk

for frosting

2 1/2

cups

organic confectioners' sugar

1

teaspoon

pure vanilla extract

1/2

cup

desiccated coconut flakes

2

whole

large, fresh, ripe mangoes

fully ripened, sliced, flesh shaped into round balls
Instructions
 Follow instructions from the cake mix box. Preheat the oven to 350 F.

In a medium mixing bowl, combine the wet ingredients: milk, canola oil, eggs. Use a stand or hand mixer and mix this for about 2 minutes.

To the same mixing bowl, add the cake mix. Beat well for 3 minutes till all ingredients are blended.

Pre-grease a round Bundt cake pan.  Pour the cake batter into the cake pan. Bake at 350 F for 35 to 40 minutes. Use the tip of a knife to check if cake is done. When knife comes out clean, cake is ready.

Remove the cake from the oven. Loosen the sides of the cake with a knife. Turn over on a baking rack and allow cake to cool.

After about one hour, start icing the cake with vanilla frosting (recipe follows). Spread well with a cake spatula. Sprinkle the coconut flakes.

Scoop out mango balls from a fresh, fully ripened mango. Place the mango balls on top of the cake in a decorative circle.

*How to make vanilla frosting

Melt the butter in the microwave for about 35 seconds on high. Place the melted butter in a clean mixing bowl of the mixer.

Gradually add the confectioner's sugar and milk alternately in small batches ending with the sugar.

Add the vanilla extract together with the last batch of sugar. Mix well till frosting has a smooth, stiff consistency that is spreadable.

Refrigerate frosting for about 30 minutes to firm up.

How to assemble and frost cake:

Place the cooled cake on a large round platter.

Using a small cake spatula (for frosting), take about 2-3 tablespoons at a time and spread on the top of the cake. Smoothen out frosting if necessary.

Sprinkle the coconut. Place the round mango balls on the top, in the shape of a circle. Chill cake before serving.

Disclosure: I was not paid to mention this cake mix brand or the grocery where I purchased it.

Thanks for reading  my entry to this month's "Let's Lunch"  a virtual potluck event of food writers and bloggers from around the world. This month our theme was 'recipe gems' or making use of prepared food products with recipes. For more recipes check out  Twitter using the hashtag #LetsLunch or pin with us on our Pinterest boards. A recipe round up of the other "Let's Lunch" food writers with links to their blogs will be posted here soon.

Hello, Friends! All the images and content on this blog are COPYRIGHT PROTECTED and owned by my media company Besa-Quirino LLC. This means BY LAW you are NOT allowed to copy, scrape, lift, frame, plagiarize or use my photos and  recipe content I wrote, on your website  without my permission. If you want to republish this recipe or content on another website or news article, please ASK my permission, re-write it in your own words and simply link back to this blog to give proper attribution. It's the legal thing to do. Thank you. Email me at [email protected]
Nutrition
Serving:
1
g
|
Calories:
198
kcal
|
Carbohydrates:
3
g
|
Protein:
2
g
|
Fat:
20
g
|
Saturated Fat:
16
g
|
Cholesterol:
6
mg
|
Sodium:
28
mg
|
Potassium:
85
mg
|
Sugar:
3
g
|
Vitamin A:
104
IU
|
Calcium:
73
mg
Nutrition Notes: The nutrition information provided is an estimate and will vary based on cooking methods and brands used.