Thai Sticky Rice with Mangoes
As an Amazon Associate and member of other affiliate programs, I earn from qualifying purchases.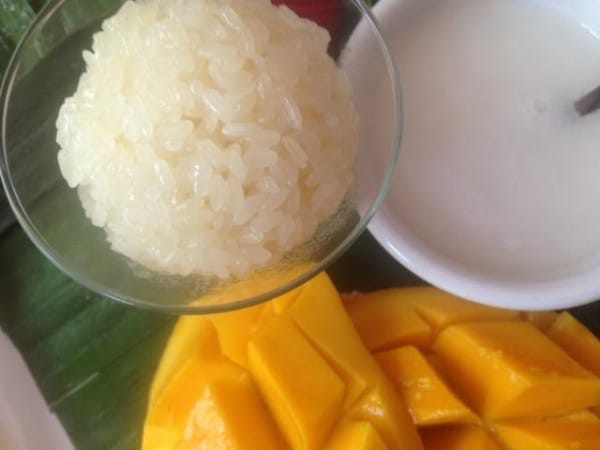 There are many things the Philippines has in common with neighboring Thailand. Like our love for Thai Sticky Rice with Mangoes. Travel from Manila, Philippines to Bangkok, Thailand only takes 3 ½ hours by plane. The Philippines and Thailand have many things in common aside from being in the same continent. Geography, climate, topography, cultural nuances are just a start. Our beautiful people even look alike – we bear the same resemblance in skin, hair, eye colors. But the commonalities in food are the most endearing between our two countries.
Thai food is predominantly spicy, with touches of the savory, sweet, sour and tangy. Filipino food has the same flavors and textures, but with strong Spanish and American influences from our colonizers.
So this is why it was easy for me to embrace and enjoy the cookbook "Nong's Thai Kitchen" by Chef Nongkran Daks and Alexandra Greeley. My good friend, Nancie McDermott, cookbook author urged Chef Nong to send me a copy of this new cookbook. I'm grateful they did. This new Thai cookbook is the source for anyone who loves Thai cooking and will appeal to both beginners and experts in the kitchen. There are 84 doable recipes for everyday cooking. I have cooked several recipes since I got this cookbook. It truly felt like I was cooking Filipino food.
But I was quickly drawn to the Sticky Rice with Mangoes in the dessert section. As you know, I love desserts and if life would allow it, I would have desserts every day. But let's go back to Thai cooking. I love this dessert because it is paired with my favorite fruit, mangoes. Once again, just like we have an abundance of mangoes in the Philippines, so does Thailand. Now that we live here in America, we enjoy the plentiful supply of mangoes from spring to mid-summer. Some groceries sell it even in the fall.
Another reason why I enjoy Sticky Rice is because it is so similar to the Filipino Suman (sticky rice logs) which I have blogged about in the past. Click here for the recipe link.
The best thing about this dessert is that you only need a few ingredients, you don't need to bake it and it is so filling and hearty. Don't be discouraged by the process of soaking the sweet rice (or "malagkit" in the Philippines). I cut down the recipe from the cookbook in half for us. After soaking a few hours, the rice grains plump up. Once the rice is steamed, the soft, granules grow larger and look like glistening oval pearls clinging to each other. It is easy to shape them into any form you fancy. The simple, pure flavor of the chewy rice goes well with the sweet, succulent mangoes. And if you want to make this dessert decadent, then pour the rich, thick, fragrant coconut milk over the sticky rice grains. It is sheer dessert nirvana.
Thai Sticky Rice with Mangoes
If you've always wanted to make the classic Thai Sticky Rice with Mangoes dessert here's the easy, no-bake recipe which you can make at home. The process involves soaking the sweet rice or "malagkit" (Pilipino for 'sticky') for a few hours till the grains plump up. From then, just steam, mix, pour and serve with the sweet, fully ripened mangoes in season. This recipe was from "Nong's Thai Kitchen" by
Nongkran Daks
and Alexandra Greeley (Tuttle Publishing), foreword by
Nancie McDermott
. The recipe I made serves 2 to 4.
Ingredients
1 1/2

cups

uncooked sweet or sticky rice (malagkit)

2

cups

water. for soaking rice

1

can (375 ml)

canned coconut milk

11/4

cups

granulated sugar

1

teaspoon

sea salt

2 to 3

large

ripe mangoes

ataulfo variety (or use any fully ripe mangoes available)

2

Tablespoons

coconut oil

for greasing parchment paper
Instructions
Place the sweet rice grains in a medium-sized bowl. Pour the water. Cover and soak rice for 6 hours.

After 6 hours of soaking, drain the water. The rice grains will have plumped up. Prepare a steamer. Line a medium sized bamboo steamer (from Asian markets or online sources) with parchment paper. Brush coconut oil around the paper. Place the pre-soaked rice grains on the paper, inside the steamer. Spread the grains in a flat, single layer to cook well.

Place the bamboo steamer over a large stockpot or wok that fits. Fill the wok with water, about half full. Boil the water over high heat. The steam from this boiling water will cook the rice grains.

Cover the bamboo steamer with the rice. Steam for about 25-30 minutes till rice grains are soft and cooked.

Separately, in a small stockpot, over medium-low heat, cook the coconut milk, sugar and salt. Stir the ingredients to blend. When the liquid comes to a boil, lower heat to a simmer. Cook for about 5 minutes. Remove from stove top so coconut milk cools.

Meanwhile, gather the cooked sticky rice from the steamer. Shape into rounds by using a measuring cup (1/2 cup). When coconut milk has cooled, pour some over the sticky rice that has been shaped into rounds. Serve the rest of the coconut milk on the side, together with fully ripe sweet mangoes.

Cook's comments: I used ataulfo variety mangoes for this recipe. In the cookbook, Chef Nong suggests other mango varieties that go well with this recipe.

Cooking tip: It's important to allow the coconut milk mixture to cool down first after simmering it. Do not pour on the sticky rice right away. If the coconut milk is too hot, the rice melts and you'll have porridge instead.

Hello, Friends! All the images and content on this blog are COPYRIGHT PROTECTED and owned by my media company Besa-Quirino LLC. This means BY LAW you are NOT allowed to copy, scrape, lift, frame, plagiarize or use my photos and  recipe content I wrote, on your website  without my permission. If you want to republish this recipe or content on another website or news article, please ASK my permission, re-write it in your own words and simply link back to this blog to give proper attribution. It's the legal thing to do. Thank you. Email me at [email protected]
About the Authors: Nongkran Daks is the executive chef and owner of the Thai Basil Restaurant (thaibasilchantilly.com) in Chantilly, VA. She has taught Thai, Vietnamese and Chinese cooking in Asia and the USA; is the author of several Asian cookbooks. Alexandra Greeley is a food writer, cookbook author, editor, reporter, food critic, staff writer and freelance writer in the USA and in Asia. She's a member of Les Dames d'Escoffier and is co-founder of the Washington DC chapter of Slow Food USA.
Notes on Nutrition: The nutrition information provided in the recipe links is an estimate and will vary based on cooking methods and specific brands of ingredients used.
Copyright Notice: Hello, Friends! Please DO NOT LIFT OR PLAGIARIZE Asian in America recipes on this blog, my original recipes, stories, photos or videos. All the images and content on this blog are COPYRIGHT PROTECTED and owned by my media company Besa-Quirino LLC by Elizabeth Ann Quirino. This means BY LAW you are NOT allowed to copy, scrape, lift, frame, plagiarize or use my photos, essays, stories and recipe content on your websites, books, films, television shows, videos, without my permission. If you wish to republish this recipe or content on media outlets mentioned above, please ASK MY PERMISSION, or re-write it in your own words and link back to my blog AsianInAmericaMag.com to give proper attribution. It is the legal thing to do. Thank you. Email me at [email protected]