Spicy Udon Noodles Vegetable Salad
As an Amazon Associate and member of other affiliate programs, I earn from qualifying purchases.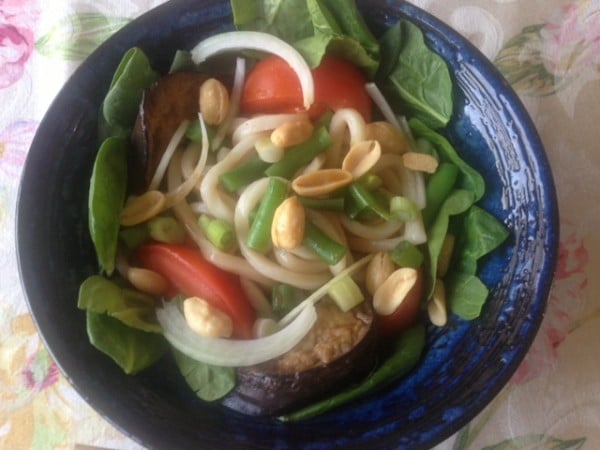 "Eat your carrots, they're good for your eyes," was what I heard my parents sternly tell me at meal times when I was a kid. It was not for me to question. I obeyed and ate my carrots and vegetables. This Spicy Udon Noodles Vegetable Salad brought back these childhood memories.
Thanks to my parents, I had good eye sight most of my life. For as long as we can see clearly, taking care of our eyesight is one of those things we often take for granted.
But then I received "Eat Right for Your Sight" a new cookbook and I began to look at things in a different light. This was a cookbook project put together by the American Macular Degeneration Foundation (AMD). Today, AMD affects ten million Americans, according to this book, an invaluable resource for good vision.
Macular degeneration is defined by the book as damage or breakdown of the central retina called 'macula'. This is the part of the eye that allows us to see clearly.
The cookbook explains clearly in simple terms what can happen and how our lives will be affected if we experienced vision loss. The book is a marvelous reference to help take care of our eyesight and offers delightful recipes which are packed with the right nutrients.
According to the cookbook, research shows that a diet rich in key nutrients for eye health may delay the onset and progression of age-related macular degeneration (AMD).
This cookbook shares 85 good recipes that contain the nutrition recommended for good eyesight. Every recipe comes with an individual 'nutritional profile'. The simple, healthy recipes have all the right foods our eyes need most. The recipes offer options for all meals– small sides, soups, salads, main courses, beverages and desserts. The fabulous food photos make the recipes seem easy and doable.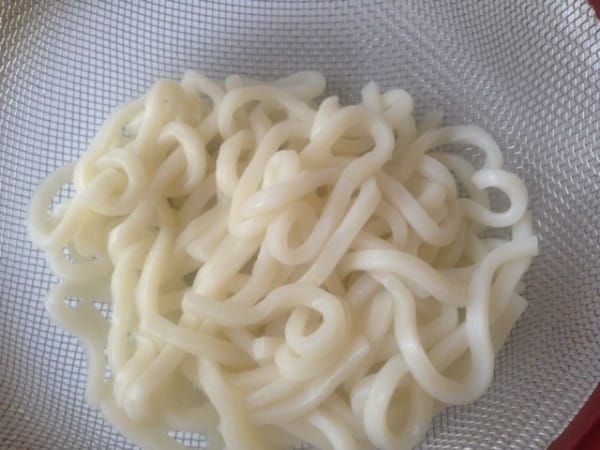 I chose to make the recipe for Spicy Udon Noodles because I had most of the sauces, noodles and vegetables in my pantry.
The thick, pristine white udon noodles were plump, long and silky. They were filling and a good base for the spicy, sweet and savory Asian-flavored dressing. I enjoyed the crunch from the crisp vegetables and salty peanuts I sprinkled all over. This was such a satisfying meal in itself that I never once thought of it as preventive medicine or a health option. It was sheer spicy noodle goodness and all I wanted was to dig deep with my chopsticks into the big bowl.
Take care of yourself and your eye sight. You only get one chance to do it right.
Spicy Udon Noodles Vegetable Salad
This recipe for Spicy Udon Noodles Vegetable Salad is a hearty meal that's easy to put together and simply enjoyable. Udon noodles are white-colored and thick. They can be purchased in packs at Asian markets or large, major supermarkets. The fresh noodles in the package I purchased where already pre-boiled so I blanched them for a few minutes. Toss in the vegetables; mix in the dressing just before serving. This recipe was adapted from "Eat Right for Your Sight" Cookbook by award-winning ophthalmologist Johanna M. Seddon, MD, ScM and Jennifer Trainer Thompson, cookbook author. Serves 2.
Ingredients
1/2

cup

fresh orange juice

2

Tablespoons

hoisin sauce

1

Tablespoon

Tamari sauce, or low sodium soy sauce

1

Tablespoon

Asian chili sauce (bottled)

1 1/2

Tablespoons

granulated white sugar

1 1/2

Tablespoons

rice wine vinegar

2

teaspoons

sesame oil

1

Tablespoon

vegetable oil

2

cloves

garlic

minced fine

1

teaspoon

minced fresh ginger

2

whole

large tomatoes

quartered

1

cup

green beans

edges trimmed, cut in 2- inch pieces

1

cup

frozen green peas

2

cups

fresh spinach

edges trimmed

1

whole

medium-sized onion

sliced thinly

1

whole

red bell pepper

seeded, white membrane removed, sliced in strips

1

cup

sliced carrots

12

ounces

fresh udon noodles

pre-boiled, 2 cups (from Asian markets)

3

stalks

scallions

chopped for garnish

2

Tablespoons

unsalted dry roasted peanuts

1

whole

large roasted Asian eggplant

sliced in rounds (from Asian markets or use aubergines, about 1 cup sliced)
Instructions
To make the salad dressing : Mix the orange zest and juice, hoisin sauce, tamari sauce (or use soy sauce), chili paste, sugar and vinegar. Cover and set aside in the refrigerator.

To prepare the udon noodles: Add water to fill a medium stock pot. Cover and boil the water over high heat. Add the fresh udon noodles and blanch for 1 minute (not longer or noodles will clump together). With a cooking spoon, separate the noodles from each other. Remove from stock pot and drain excess liquid. Set noodles aside.

To cook the vegetables: Separately mix the sesame oil and canola oil in another small bowl.

Over high heat, in a medium-sized skillet, add the combined oil mixture.

To the skillet, add the garlic and ginger. Stir fry for about two minutes.

Add all the vegetables. Stir fry for two to four minutes or till all are cooked.

Lastly, add the pre-boiled udon noodles. Mix well.

Pour the sauce previously mixed. Cook for a minute more. Toss all the ingredients together.

Garnish with chopped scallions and peanuts. Season with salt and black pepper. Serve hot or cold.

Cook's comments: Tamari sauce is a low sodium, gluten-free (no wheat) soy sauce. I use this in most dishes for cooking. If preferred, use regular soy sauce.

About the cookbook: Recipes from Eat Right For Your Sight: Simple Tasty Recipes That Help Reduce the Risk of Vision Loss from Macular Degeneration, copyright © American Macular Degeneration Foundation, 2014. Reprinted by permission of the publisher, The Experiment. Available wherever books are sold. www.

theexperimentpublishing.com

Shop for It

: for my readers' convenience I have an

Amazon affiliate

page on this blog where you can purchase this cookbook. The retail price stays the same for my readers, but the small percentage I get from the purchase helps sustain the blog's recipes and ingredients. Thanks in advance for your support.

Click here for the Shop For It link

.

Disclosure: I was not paid for this cookbook review but I will be glad to recommend it for good healthy recipe options in relation to vision loss.

Hello, Friends! All the images and content on this blog are COPYRIGHT PROTECTED and owned by my media company Besa-Quirino LLC. This means BY LAW you are NOT allowed to scrape, lift, frame, plagiarize or use my photos and  recipe content I wrote, on your website  without my permission. If you want to republish this recipe or content on another website or news article, please ASK my permission, re-write it in your own words and simply link back to this blog to give proper attribution. It's the legal thing to do. Thank you. Email me at [email protected]
Nutrition
Serving:
1
g
|
Calories:
195
kcal
|
Carbohydrates:
22
g
|
Protein:
2
g
|
Fat:
12
g
|
Saturated Fat:
6
g
|
Cholesterol:
1
mg
|
Sodium:
265
mg
|
Potassium:
185
mg
|
Fiber:
2
g
|
Sugar:
16
g
|
Vitamin A:
559
IU
|
Vitamin C:
12
mg
|
Calcium:
44
mg
|
Iron:
1
mg
Notes on Nutrition: The nutrition information provided is an estimate and will vary based on cooking methods and specific brands of ingredients used.
Did you like this recipe?I have more Filipino Instant Pot recipes in my newest cookbook Instant Filipino Recipes: My Mother's Traditional Philippine Cooking in A Multicooker Pot by Elizabeth Ann Besa-Quirino. I also have more classic recipes inspired by my mother's cooking in my popular cookbook: My Mother's Philippine Recipes. If you're learning how to cook Filipino food or a fan of Philippine cuisine, buy my cookbooks and books on Amazon.com sold worldwide in paperback and Kindle format.
Copyright Notice: Hello, Friends! Please DO NOT LIFT OR PLAGIARIZE my original recipe, stories, photos or videos. All the images and content on this blog are COPYRIGHT PROTECTED and owned by my media company Besa-Quirino LLC. This means BY LAW you are NOT allowed to copy, scrape, lift, frame, plagiarize or use my photos, essays, stories and recipe content on your websites, books, films, television shows, videos, without my permission. If you wish to republish this recipe or content on media outlets mentioned above, please ASK MY PERMISSION, or re-write it in your own words and link back to my blog AsianInAmericaMag.com to give proper attribution. It is the legal thing to do. Thank you. Email me at [email protected]