How to make Chicken Afritada – Braised in Tomato Sauce
As an Amazon Associate and member of other affiliate programs, I earn from qualifying purchases.
[amazon_link asins='B000EM9PTQ,B071R6LLR3,B005J8DT0Q,B00K8ANG12,B00MNFUVUE,B073Q1CC97′ template='ProductCarousel' store='queensnotcom-20′ marketplace='US' link_id='9200bbbb-26f3-11e8-ac12-374576e4fa2a']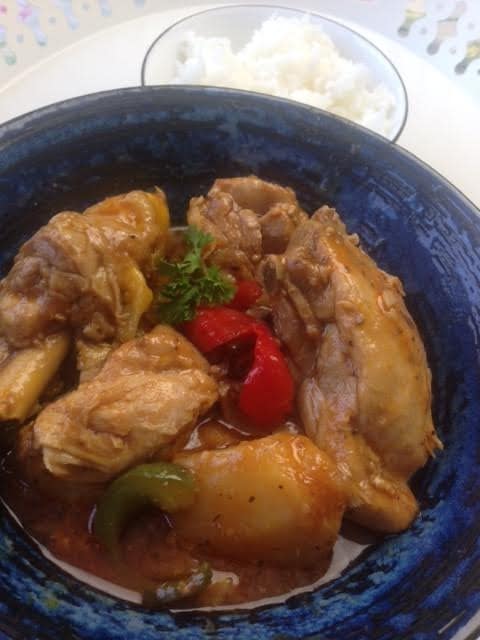 When I was newly-married I needed fast and easy Filipino recipes to cook for our suppers. I was a working wife then with a highly stressful job as a copywriter in an ad agency. My days were filled with trying hard to craft creative copy for ad campaigns. I could only think of dinner once I was in the car on the way home. Even so I had very little time left once I got to my kitchen. I was raised on good home cooked meals by my mom, so I wanted to do the same for my family. But times changed from mom's era to mine. Life got busier and I had less time to putter around the kitchen.
A Chicken Afritada dish was a mainstay on our dinner table when we lived in the Philippines. It was an easy meal for me to put together so till today, in my American kitchen it is a favorite dish I cook often. It is a complete meal on its own with the addition of potatoes and the slices of bell pepper which gives the dish a rich, savory aroma. I could either cook it ahead or make it an hour before we ate.
Afritada sounds Spanish just like other Filipino entrees strongly influenced by Spain's colonization of the Philippines for more than three centuries. Just like other Spanish-sounding dishes: menudo, mechado, morcon, paella and others, this afritada made with either chicken or pork (or both) is braised then stewed in tomato sauce. Afritada is best eaten with rice. Its heavy, thick gravy, made of tomato sauce is enjoyed best when poured on a bed of boiled white rice, the sweet-smelling steam floating gleefully above the plate.
It was always important in our household for a dish to have plenty of gravy or sauce. My mom made sure of that and so I followed what she did when I cooked this afritada. I made sure there was plenty of its rich, red tomato gravy to go around. "To extend serving sizes, many Kapampangan dishes were made soupy, so in case the meat gets eaten, there is still soup (or gravy) to pour on rice." (Alex Castro in his article "Mekeni's Meals" from Pinoy Umami, the heart of Philippine Cuisine).
Today, decades after I was a young, newly married wife, I still cook Chicken Afritada when I have no time to think and have very few ingredients left in the refrigerator. I have cooked this dish in different ways: stove-top, in the oven or in a slow cooker. Each method of cooking brings me to one single destination in the end: dinner is done.
Chicken Afritada
Afritada is a Filipino dish cooked with chicken or pork, or both that is braised then simmered in tomato sauce combined with broth. Hefty quartered potatoes and slices of bell peppers are added while the meat is cooking in the rich stew, thickened with bread crumbs. Sometimes I cook this dish a day or so ahead. After it is reheated the day after, the tomato sauce blend has set and the dish tastes even more superb. Or else, cook it an hour before supper and it is just as sublime. This is an AsianInAmericamag recipe. Serves 2 to 4.
Ingredients
4

Tablespoons

vegetable oil

1

whole

chopped onion

2

cloves

peeled, minced garlic

1.5 to 2

pounds

bone-in, about 6 pieces chicken

1

Tablespoon

from Asian markets fish sauce (or Filipino 'patis')

1

8 ounce can tomato sauce

1 1/2

cups

organic chicken broth

2

medium pieces

peeled, quartered potatoes

1

large

seeded, white membrane removed, sliced bell pepper, red or green

1/2

teaspoon

sea salt

1

teaspoon

freshly ground black pepper

1/2

cup

bread crumbs

plain

2

small sprigs

coarsely chopped, about 2 teaspoons, for garnish fresh parsley

for serving boiled rice

white or brown
Instructions
In a large skillet, over medium high heat, add the vegetable oil. When oil is hot enough, after 1 to 2 minutes, add the onions and garlic. Sauté for around 2 minutes till onions are translucent.

To the same skillet, add the chicken pieces and brown each one on all sides for about 8 minutes. Pour the fish sauce, tomato sauce, organic chicken broth. Blend liquid ingredients well, making sure some sauce encases the chicken pieces.

Add the potatoes and bell pepper slices. Season with sea salt and black pepper. Add bread crumbs to thicken the tomato sauce. Lower heat to a medium low. Cover and simmer for about 55 to 60 minutes or till chicken is thoroughly cooked. Potatoes should be soft by the end of cooking, as well.

Garnish with a few sprigs of fresh parsley. Serve with boiled rice, white or brown.

Cook's comments: pork shoulder cubes (same size as the quartered potatoes) or a combination of pork and chicken totalling the same amount may be used for this afritada recipe.

Ingredient tip: bread crumbs were always added by my mom and aunts to thicken sauces or gravy. I have followed what generations before me did and also add plain, unflavored bread crumbs for a natural way to thicken the sauce.

Hello, Friends! All the images and content on this blog are COPYRIGHT PROTECTED and owned by my media company Besa-Quirino LLC. This means BY LAW you are NOT allowed to scrape, lift, frame, plagiarize or use my photos and  recipe content I wrote, on your website, videos, cookbooks or media content  without my permission. If you want to republish this recipe or content on another website or news article, please ASK my permission, re-write it in your own words and simply link back to this blog to give proper attribution. It's the legal thing to do. Thank you. Email me at [email protected]