Chicken-Pork Adobo Sandwiches on Pan de Sal – Instant Pot + Stove-top
As an Amazon Associate and member of other affiliate programs, I earn from qualifying purchases.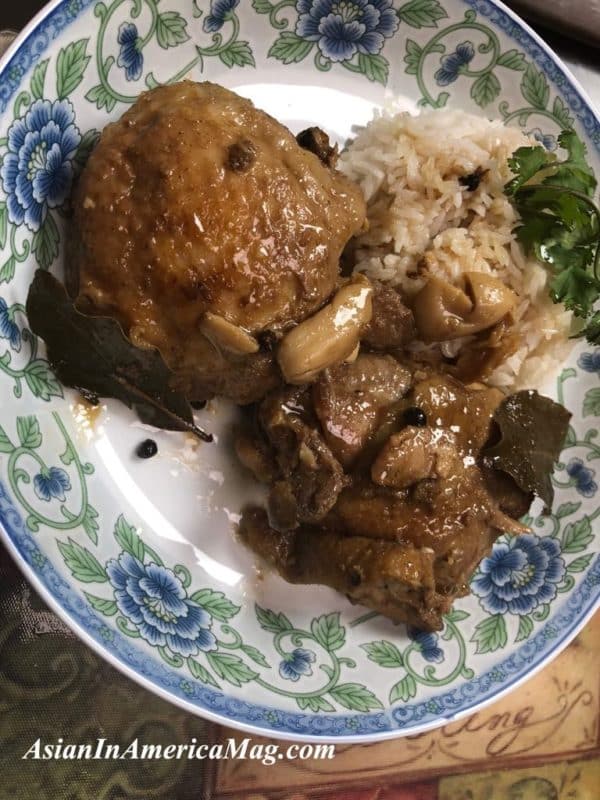 In remembrance of the September 11th tragedy, I am reposting this recipe for Chicken-Pork Adobo in Pan de Sal, because that is what I cooked for dinner that week.
I was at my desk, at work on September 11, 2001 at 9:15 AM. I was thinking of cooking the Filipino classic Chicken-Pork Adobo for dinner like I'm doing now. The difference is now I'm cooking the Adobo in the Instant Pot and will transform them to Adobo Sandwiches in Pan de Sal later. Where were you on 9/11?
I remember it was a bright, sunny day. The sky was bluer than any day here on the east coast. The wind was cool, and the sun warmly kissed my cheeks as I stepped out of my car to walk into the office. I was looking forward to a great day and the start of a wonderful week. None of us knew that in a few minutes our world would change swiftly as the Twin Towers in New York City came tumbling down, destroyed by hijacked planes. Friends in the Philippines called to ask if we were okay — they had seen the TV news coverage. Thousands died that day. There was sadness all over – our town, our country and the world. There was also terror and fear of the unknown. We didn't know what would happen next. Now that I think of it, it's okay to feel fear. Terror needs to be accepted as something to work through. Fear should not stop us from going on with our lives. Dinner must be cooked. We need to eat, to breathe and to live.
I cooked adobo the day after. I already had the meat pieces marinating in the refrigerator, in a plastic resealable bag with the vinegar, soy sauce, garlic, peppers and bay leaves. Chicken and Pork Adobo is my go-to dish when I don't have time, or when I don't want to overthink dinner. It is also our comfort meal. Today, I cooked Adobo in my Instant Pot because it was the easiest thing to do. Like a sous chef, my Instant Pot works fast and efficiently as I type this post. In a few minutes, I will quickly release the valve and the steam will spew and puff up in the air spreading the adobo aroma of garlic and vinegar around the kitchen. The chicken and pork pieces will be tender, succulent and savory. We will have some for dinner tonight with steamed jasmine rice. And the rest, I shall transform to Chicken and Pork Adobo Sandwiches in Pan de Sal, the Filipino bun for lunch tomorrow. It's a meal that will be a balm for the sad memories 9/11 always elicits. Where were you on September 11 and how did you heal your heart?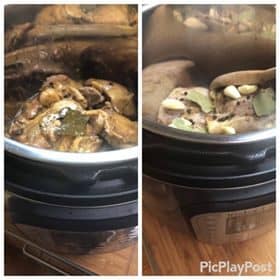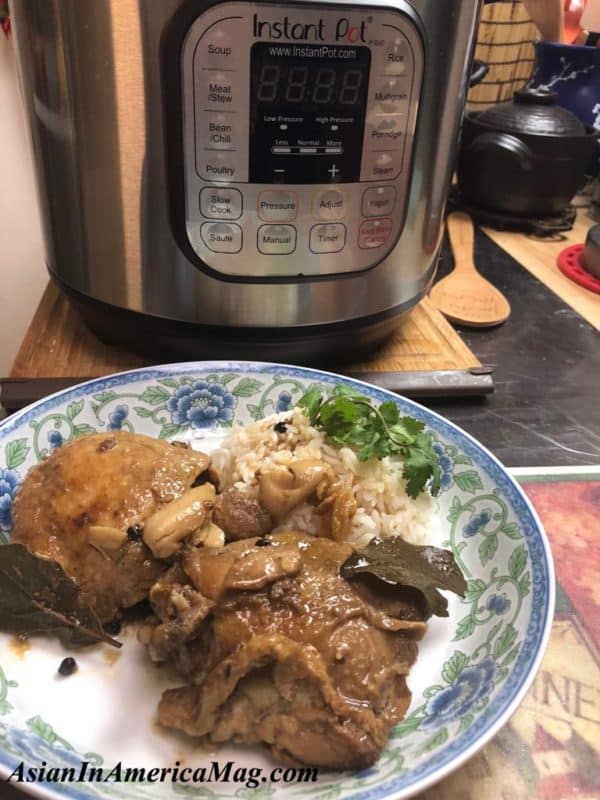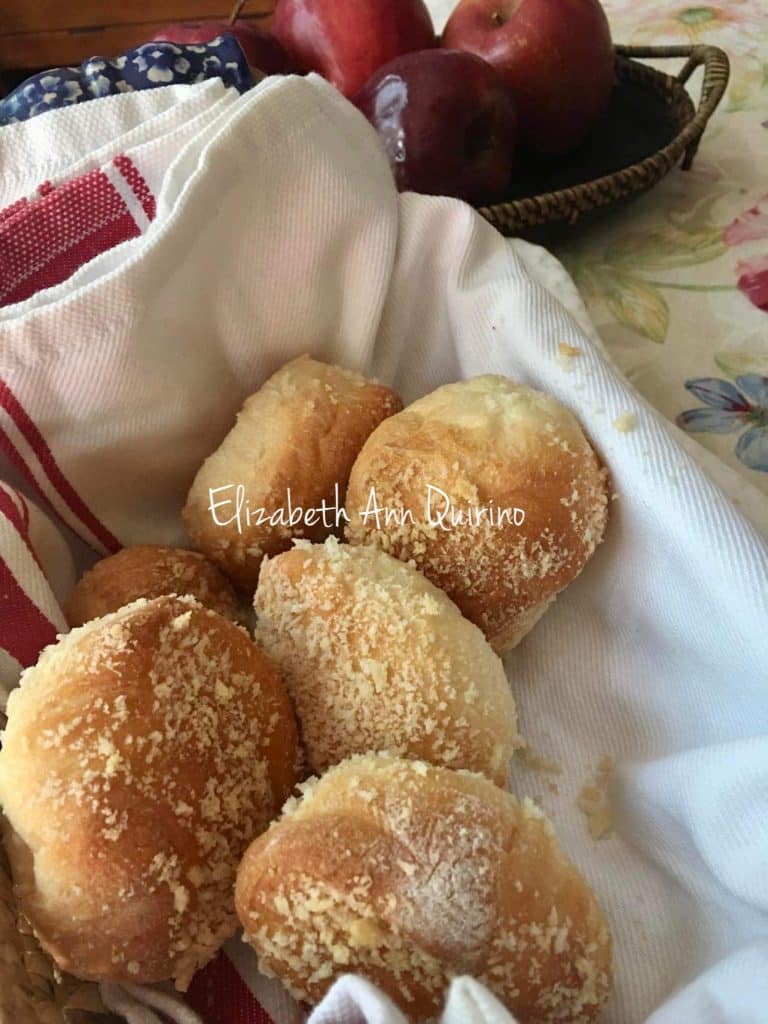 Chicken-Pork Adobo Sandwich on Pan de Sal – Instant Pot + Stove-top
The classic Filipino dish Chicken-Pork Adobo can be cooked in the Instant Pot or any type of similar multicooker. The Instant Pot's High Pressure settings can cook this chicken-pork stew in minutes. The results are tender, juicy and succulent meat pieces flavored with a tangy broth of garlic, vinegar and soy sauce. Transform this classic meal further into hefty adobo-filled Pan de Sal sandwiches for the lunch boxes or a meal in itself.
*My recipe below shares two ways to cook the classic adobo: In the Instant Pot or stove-top. This is recipe by Elizabeth Ann Quirino. Serves 4.
Equipment
Instant Pot or any brand multicooker: 6 quarts or 8 quarts

Large Stock pot – if cooking stove-top
Ingredients
2

Tablespoons

vegetable oil

2

pounds

chicken thighs

bone-in,skin on, about 4 pieces

1

pound

pork belly or pork shoulder

cut into 2-inch cubes

1/2

cup

cider vinegar

1/2

cup

soy sauce

4

cups

organic chicken broth

1

teaspoon

black peppercorns

6 to 8,

cloves

peeled garlic

2

pieces

bay leaves

1

teaspoon

salt

1

teaspoon

ground black pepper

6 to 8

whole

Pan de Sal buns (Filipino bun)

or sourdough buns; for sandwiches

6 to 8

pieces

lettuce leaves

for sandwiches

1

whole

cucumber

peeled, sliced ; for sandwiches

6 to 8

pieces

cherry tomatoes

for sandwich garnish
Instructions
To cook in the Instant Pot:

Pre-heat the Instant Pot or multicooker by selecting the Saute button.Add the vegetable oil to the inside pot. As soon as the oil is hot after 1 to 2 minutes, add the chicken and pork pieces to braise.

Brown the meat pieces for 3 to 5 minutes.

Press Cancel to turn off the Saute function.

Pour the rest of the ingredients into the inside pot with the meats: cider vinegar, soy sauce, and organic broth. Add the black peppercorns, garlic cloves, bay leaves. Season with salt and ground black pepper. No need to stir.

Secure the lid of the Instant Pot. Check that the cooking pressure is on High and the release valve is set to Sealing.

Select Meats/Stews at High Pressure for 45 minutes.

When the buzzer sounds to signal cooking is complete use a quick release before opening the lid. Allow the steam to release.

Open the lid carefully. Transfer the cooked chicken and pork adobo into a large bowl. Ladle the sauce over it. Set aside to cool for about 10 to 15 minutes.

*At this point, you can serve the adobo as a meal with rice if you prefer. Any adobo leftovers can be transformed to sandwiches.

When chicken and pork have cooled, shred the meat on a large cutting board. Set aside the shredded meats to make into sandwiches.

To assemble Chicken-Pork Adobo Sandwiches: Slice open Pan de Sal or sourdough buns. Line the bottom of the bun with a lettuce leaf and a cucumber slice. Fill the sandwich with shredded chicken and pork adobo. Seal the sandwich with a cocktail pick garnished with cherry tomatoes. Serve warm or pack in lunchboxes.

To cook Chicken-Pork Adobo on the stove-top: With the same amount of ingredients, use a large stockpot to cook the chicken-pork adobo. Follow the above procedure starting with braising the meats in hot oil. Add all the ingredients for the broth. Season with salt and black pepper. Cover and cook on the stove-top, over medium-high heat for 55 to 60 minutes or till chicken and pork are cooked completely. When meat has cooled, shred the meat and fill the sandwiches.
Notes on the Instant Pot:
It takes about 17 to 20 minutes for the Instant Pot to pre-heat before the High Pressure cooking time begins. For other multicookers, check the product manual.

For safety: Use accessories recommended for the Instant Pot or most multicookers like silicone or metal. Do not use glassware. Read the manual for complete information.
Pan de Sal recipe:
I often bake my own homemade Pan de Sal, the Filipino bread bun, when I have time. Here's a recipe for Pan de Sal. Click here.
Nutrition
Serving:
1
g
|
Calories:
587
kcal
|
Carbohydrates:
4
g
|
Protein:
40
g
|
Fat:
45
g
|
Saturated Fat:
16
g
|
Cholesterol:
222
mg
|
Sodium:
2378
mg
|
Potassium:
563
mg
|
Fiber:
1
g
|
Sugar:
1
g
|
Vitamin A:
319
IU
|
Vitamin C:
1
mg
|
Calcium:
33
mg
|
Iron:
3
mg
Notes on Nutrition: The nutrition information provided is an estimate and will vary based on cooking methods and specific brands of ingredients used.
Did you like this recipe? I have more Filipino Instant Pot recipes in my newest cookbook Instant Filipino Recipes: My Mother's Traditional Philippine Cooking in A Multicooker Pot by Elizabeth Ann Besa-Quirino. Buy my cookbooks and books on Amazon.com sold worldwide in paperback and Kindle format.
Hello, Friends! Please DO NOT LIFT OR PLAGIARIZE my original recipe, stories, photos or videos. All the images and content on this blog are COPYRIGHT PROTECTED and owned by my media company Besa-Quirino LLC. This means BY LAW you are NOT allowed to copy, scrape, lift, frame, plagiarize or use my photos, essays, stories and recipe content on your websites, books, films, television shows, videos, without my permission. If you wish to republish this recipe or content on media outlets mentioned above, please ASK MY PERMISSION, or re-write it in your own words and link back to my blog AsianInAmericaMag.com to give proper attribution. It is the legal thing to do. Thank you. Email me at [email protected]
Disclosure: Instant Pot is the brand name of a multi-cooker that cooks in high and low pressure. I was not paid by the Instant Pot company to mention the product or brand nor endorse it. This is not an ad. My views and opinions are my own.