Churros with Filipino Tsokolate- Cocoa Tablea Drink
As an Amazon Associate and member of other affiliate programs, I earn from qualifying purchases.
[amazon_link asins='B004UD8D6G,B01FQP23VC,B01MTNHJDY,B00OAYL0PQ,B004K6771U,B00CPCEYGW' template='ProductCarousel' store='queensnotcom-20′ marketplace='US' link_id='c751a4b2-fd5a-11e7-bc40-bb20d1121af9′]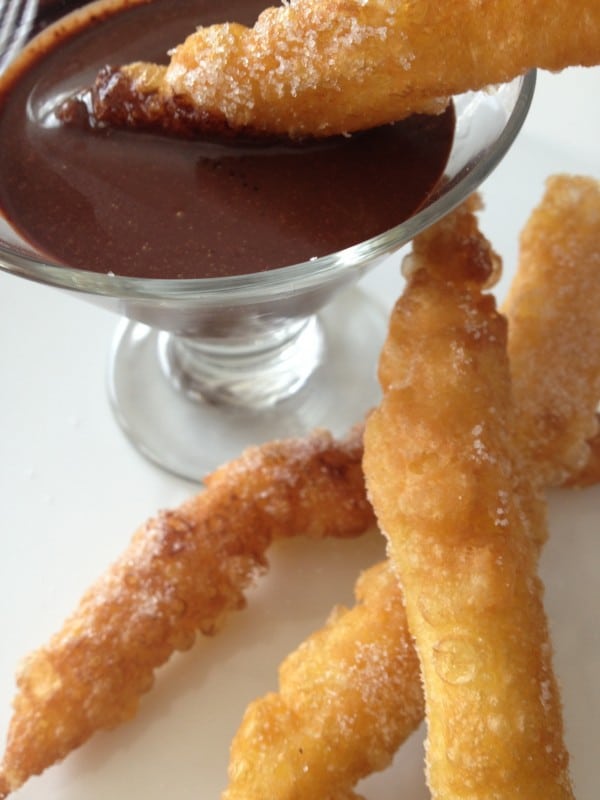 This Filipino snack Churros con Tsokolate is dizzingly decadent. Grab some crisp, crunchy churros. Hold it upright, then quickly dunk it into the mug of Filipino chocolate known as 'tsokolate'. Expect nothing else but a potion of thick, rich, heavy, indulgent, dark-tasting chocolate. Swirl the churros around the hefty chocolate drink, then lift it up, and before the syrupy dark brown shiny liquid cocoa can escape, plunge it into your mouth and savor the nirvana of the whole experience.
I grew up sipping thick 'tsokolate' while playing with Mr. Pueo's children, Dennis and Pinky almost every day. Yes, the same family of the Antonio Pueo Chocolates in the Philippines. They lived next to my grandmother's house in Malate, Manila. We played 'hide and seek' and Dennis Pueo teased the heck out of me after he found my hiding place. I have photos from my 5th birthday party, and there's cute little Pinky Pueo next to me. Their sweet mom always invited me to play every afternoon at their home. We were given hot chocolate drinks all the time. I never realized they were the family that manufactured those chocolate tablets called 'tablea' in the Philippines. To me, they were my next door neighbors, the kids I grew up with.
Eventually they moved away, we all grew up and I lost touch. Through my parents' stories, I assumed the Pueo family moved back to Spain, where their roots were from. I was lonely my playmates were gone. The backyard was quiet. But what didn't stop was I was always given a mug of hot chocolate for my afternoon 'merienda'. Merienda is the delightful Filipino snack between lunch and dinner. It's supposed to tide you over till the next big meal. A cup of warm chocolate was a treat I looked forward to every day. It had to be Pueo's tsokolate, or else I knew the difference when it was not – yes, even as a child, I could discern the true chocolate flavors well.
But let's get to the present day in America, to today's merienda and what I gave my family for brunch –Churros con Tsokolate. There has never been enough time to teach my sons how to pronounce 'churros con tsokolate' because they eat this treat so fast, before all is said and done, they've left the table. Yes, these churros vanish pretty quickly.
The 'tsokolate' is made from Philippine-made tablea (say 'tab-le-yah'). The concentrated chocolate is a solid round cacao tablet measuring about 2 inches in diameter, half an inch thick for each one. This whole merienda or brunch is quick and easy to put together. Clearly, there is the Spanish influence in this Filipino snack. Historians recount that the family's son, Jose Maria Pueo, came from Spain and settled in the Philippines in the early 20th century to establish his chocolate manufacturing business.
The 'tablea' chocolates are made from cacao. Years ago, its original ingredients contained crushed peanuts for an even nuttier, richer flavor. Today's Filipino tablea products almost always do not have peanuts anymore. But the rich flavors and the quality in processing has continued. In addition to the Pueo tablea I grew up with, there are now other premium brands. One of them is "Nana Meng's", owned by food writer Margaux Salcedo's family. I enjoyed a heavenly mug of this during my visit to Manila last year. These artisan tableas are now widely available in Manila or globally via online groceries specializing in Filipino or Asian ingredients.
No matter where I get my tablea from, these Churros con Tsokolate are perfect to bring my family together for brunch, for merienda or any munchies in between.
Churros with Filipino Tsokolate - Cocoa Tablea Drink
The Filipino snack favorite 'Churros with Tsokolate' is a crisp flour-based fritter, slathered with sugar, then dunked deep in a large cup of Filipino chocolate made from the 'tablea', cacao filled solid tablets of chocolate.

First, boil in water the tablets of tsokolate (say 'cho-ko-lah-te'), add milk and then put it aside. Warm it again if needed just before serving. It is good served piping hot.

Second, make the churros. This is the exciting part. The recipe is almost the same as that of profiteroles or gougeres. But the difference is that you deep fry the strips. On a hot deep fryer, stove top, these churros will cook in just 2 to 3 minutes. This is an AsianInAmericamag recipe and yielded 30 pieces of churros and 4 small cups of tsokolate.
Ingredients
1

cup

water

for churros

1/2

cup

unsalted butter

softened at room temperature

1/2

teaspoon

salt

1

cup

all purpose flour

4

whole

large eggs

4

tablets

Filipino tablea (chocolate tablets

from Asian markets, or online sources for Filipino groceries

1

cup

water

for tsokolate drink

1

cup

heavy cream

1

cup

granulated sugar

1/4

cup

vegetable oil

for pan frying churros
Instructions
How to make the churros : In a medium pot, over high heat, add the water, salt, butter and bring to a rolling boil. Add the flour and blend well into the mixture. Lower heat to medium high. Mix all ingredients till it is a solid, smooth blend and the sides leave the pan, and coat the spoon.

Remove from stove top fire. Keep mixing well so temperature of batter cools slightly. Add the eggs one at a time. Make sure temperature of batter has cooled so eggs don't get cooked before they're supposed to. Blend all ingredients by hand with a cooking spoon well. Return to the stove top, over medium heat, keep mixing till it looks glossy and smooth – for about 5 minutes more.

Remove from heat. Allow mixture to cool for 8 to 10 minutes. When mix is not too hot, place the thick batter into a large resealable Ziploc bag. Cut the tip so you can squeeze out the batter to form into long strips. Or if preferred, put the batter in a pastry bag, add decorator tip # 21 and squeeze out the long strips.

Meanwhile, prepare a large skillet. Over medium high heat, add the cooking oil. After 2 to 3 minutes the oil will be hot enough to deep fry the churros. Slowly squeeze out the churros batter from the Ziploc bag into long strips measuring 4 inches long, straight into the deep fry skillet. Squeeze out several pieces, but do not overcrowd them or the cooking oil temperature will go down and will not result in crisp churros.

Let the churros fry and cook for 1 to 2 minutes on each side, turning with a turner or tongs. The churros will puff up and become golden brown. Drain on paper towels or parchment paper to remove excess oil. When churros have cooled after 5 minutes, sprinkle granulated sugar on them. Serve hot together with the tsokolate.

To make the tsokolate: In a small 4-quart stockpot, place the tableas, and water. Over medium high heat, whisk well as the tableas start to melt, and the solid tablets turn to liquid in about 8 to 10 minutes. Mix and incorporate the melted chocolate with the water. Add the heavy cream and sugar.

To serve: Pour the hot tsokolate in a small demitasse cup, that can contain about ½ cup. Serve together with the freshly made deep fried churros. Dunk churros into the tskolate one at a time as you eat and drink along.

Cook's comments: When whisking the tsokolate drink, Filipinos  use a handheld wooden 'batirol' (say 'bah-ti-rol') or the Spanish-sounding 'batidor', which is a short, slim rolling-pin look-alike. This is a heirloom kitchen gadget specifically used to mix the tsokolate. There are now wooden replicas sold in Manila, right next to where the tableas are sold. However, for faster results, I used a wire whisk in this recipe. The churros were already cooked and my family wanted to eat their merienda right away.

Recipe Notes: The Filipino tablea package I bought from the Asian market contained a pack of 10 cacao tablets, with a total net weight of 7.05 ounces or 200 g. You can find these at Asian markets, in the Philippine aisle. Online groceries selling ethnic or Asian products may also have them. In the Philippines, they are widely available in supermarkets, neighborhood groceries, major department stores, artisan food bazaars.
Hello, Friends! All the images and content here are COPYRIGHT PROTECTED. This means BY LAW you are NOT allowed to use my photos or content on your publications, website, videos or film without my permission. If you want to republish this recipe, please re-write it in your own words and simply link back to this blog to give proper attribution. It's the legal thing to do. Thank you. Email me at [email protected]
Nutrition
Serving:
1
g
|
Calories:
556
kcal
|
Carbohydrates:
50
g
|
Protein:
3
g
|
Fat:
39
g
|
Saturated Fat:
26
g
|
Cholesterol:
95
mg
|
Sodium:
216
mg
|
Potassium:
52
mg
|
Fiber:
1
g
|
Sugar:
33
g
|
Vitamin A:
1056
IU
|
Vitamin C:
1
mg
|
Calcium:
33
mg
|
Iron:
1
mg
Notes on Nutrition: The nutrition information provided is an estimate and will vary based on cooking methods and specific brands of ingredients used.
Did you like this recipe? I have more classic recipes inspired by my late mother's cooking in my popular cookbook: My Mother's Philippine Recipes. If you're learning how to cook Filipino food or a fan of Philippine cuisine, buy my cookbooks and books on Amazon.com sold worldwide in paperback and Kindle format.
Hello, Friends! Please DO NOT LIFT OR PLAGIARIZE my original recipe, stories, photos or videos. All the images and content on this blog are COPYRIGHT PROTECTED and owned by my media company Besa-Quirino LLC. This means BY LAW you are NOT allowed to copy, scrape, lift, frame, plagiarize or use my photos, essays, stories and recipe content on your websites, books, films, television shows, videos, without my permission. If you wish to republish this recipe or content on media outlets mentioned above, please ASK MY PERMISSION, or re-write it in your own words and link back to my blog AsianInAmericaMag.com to give proper attribution. It is the legal thing to do. Thank you. Email me at [email protected]