Baked Tilapia and What the "Pabasa" Lenten-Holy Week Tradition is like
As an Amazon Associate and member of other affiliate programs, I earn from qualifying purchases.
[amazon_link asins='B009NFAI82,B01LWBZP4L,B00WUDQ61W' template='ProductCarousel' store='queensnotcom-20′ marketplace='US' link_id='9ca1fedb-0e89-11e7-a1ef-8bfc2e2debca'][amazon_link asins='B01K3XCU2E,B000RADQL8,B000R7V30M,B008VUCNSS' template='ProductCarousel' store='queensnotcom-20′ marketplace='US' link_id='d5300da0-06db-11e7-8351-cf51a1febae6′]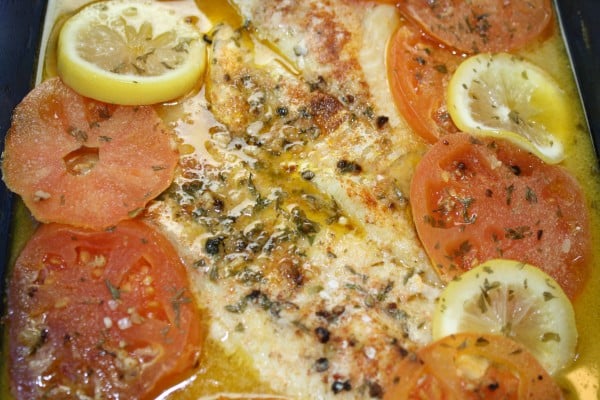 The hunger was unbearable. I kept imagining the freshly grilled huge tilapia, which had been char-grilled outdoors in our backyard, adding to the sweet aroma of burnt banana leaves from the 'ihawan' (grill). I closed my eyes and could savor the sides – a succulent plate of the vine-ripened tomatoes that grew in our yard, slathered in salty homemade 'begucan' (the Capampangan 'bagoong' or shrimp paste) mixed with chopped, tart green mangoes, also from trees in the back of the house.
I could visualize digging into this whole slew with my fork and spoon, mixing it all up with the white rice, which had been cooked in the clay pot over kindled fire wood. The fragrant aroma of the rice was tinged with the almond-like scent of the pandan (screw pine) leaves my mom loved to add. This was our Good Friday meatless meal during Lent and as a child I enjoyed it with relish.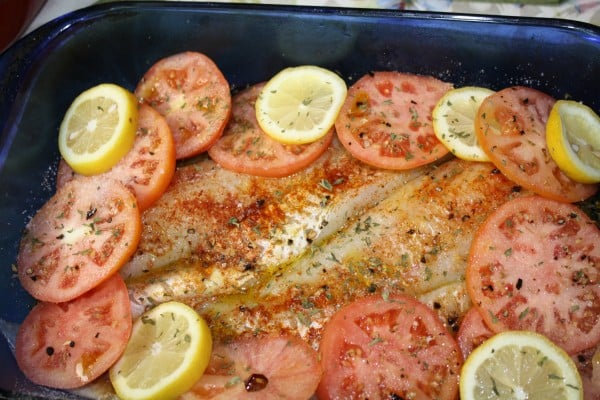 But before we sat down to this meal, my parents made me dutifully go with them to the annual "pabasa" (say 'pah-bah-sa') in our neighborhood. Translated in Tagalog, pabasa means 'to read'. What is this Philippine ritual? It is a traditional community event held during Holy Week. Let me describe it to you.
Imagine this. Piercing high-pitched soprano voices of elderly women are heard throughout the neighborhood via loudspeakers. From several feet away, the music is intrusive and reaches a reverberating crescendo every few hours. The melody is familiar, from old Filipino kundimans ( original old love songs) or else from present day Broadway and pop hits. But the lyrics are oddly different. The music accompaniments are local bands with native string instruments like the 'banduria' (small round guitar-looking piece ) or else an acoustic guitar.
The 'pabasa' is a chanting ritual, a time-honored tradition in the Philippines during the Holy Week. It is also called "pasyon" translated means 'passion', referring to the passion of Jesus. The ritual starts after Palm Sunday (seven days before Easter) and ends on Good Friday. This is a story-telling event where the passion of Christ is retold via songs sung by a community choir. It lasts for several days. I remember going with my parents to this open-air little hut in a barrio near our house. We walked under the hot sun, a few yards away. Inside, we saw a small religious altar set up. There were women in the front, facing the altar chanting the songs while telling the story of how Christ died on the cross. They were reading from a large book that looked like a bible to me. Later my dad told me the passages they were reading from were written by older generations before us.
In the Tarlac where I grew up in, the verses were sung in Capampangan – the dialect in the half of the Tarlac province and the neighboring Pampanga region. I heard today, the 'pabasa' and the book are translated in several dialects known around the Philippines – Tagalog, Ilocano, Waray, Pangasinense.
My parents and I sat behind this choir, in rows of chairs set up like a small chapel. We prayed alongside. I did not sing along. I did not know the tune and the old-fashioned verses were too deep for me to comprehend. I could barely focus, no matter how my parents tried to compel me. My stomach was growling. It was Good Friday and we practiced meatless Fridays for six weeks in Lent. My parents and the adults also ate only one full meal on Fridays of Lent, as a form of penitence. As a child, this was unbearable for me. I kept glancing at a large buffet table on the side. There was food! It was a big spread of pancit (noodles) and puto, kuchinta and kakanin – native steamed rice cakes topped with sweet coconut. I wanted to grab one piece, but I knew it would be wrong. The stillness of the heat was oppressive. I felt the sweat trickle down the back of my cotton dress. I wiped perspiration off my brow and furtively glanced at the table laden with food. I pretended to bow my head in prayer. But my thoughts raced to the meal back at the house. I knew my mom had prepared a large platter of fish, vegetables and rice. I could hardly wait.
This was a scene from many years ago and how the Lenten Holy Week was celebrated in the Philippines. I regret not paying more attention to the rituals then. They are beautiful, time honored traditions that are still being practiced to this day in small towns and barrios. It is a community effort. It is based on our deep faith and religion. It brings families and friends together. At the center of it all, there is food. No matter how tough the economy is, food is prepared for the choir and the prayer devotees. I remember my dad handing a white envelope with his humble donation, to the community organizer. It must have been to help sustain the efforts.
As I prepared my family's baked fish dinner for Good Friday today, I looked back to those times. I keep wishing I could turn back the clock, grasp it all again, perhaps take photos this time and lock the memory close to my heart, with my head bowed in real prayer. I also remembered the large, sweet-flavored tilapia my mom used to prepare for our Good Friday dinners. They were char-grilled to perfection and were the hallmark of our fasting and abstaining from meat that day.
Fast forward to present day. I couldn't find the same size of tilapia at our nearby grocery, but I did find some good fillets. I gathered some fresh Jersey tomatoes, big ripe organic lemons and put them together for a great baked fish dish. Thanks to my parents, I have learned to love the simplicity of a good seafood dish any day and lovingly make it for my family, too. Some things just stay with you forever.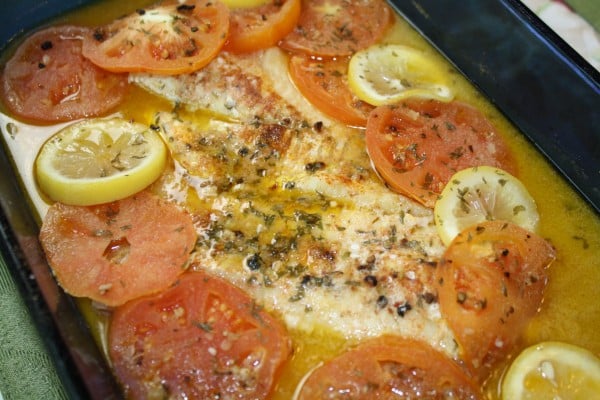 Baked Tilapia
This Baked Tilapia dish is an adaptation from something my mom used to prepare years ago. In contrast to the large whole tilapia she used to cook, complete with the head, tails and fish bones all intact, I made do with the fillets I had from the grocery. They were large and fresh so I knew it would make a good meal. I added sliced onions, tomatoes, lemons, fish sauce and seasonings. Baking time was only a few minutes. Soon, the fresh fish was baked into a wholesome, flavorful casserole filled with citrus flavors. This is an AsianInAmericaMag recipe and serves 2 or up to 4 if accompanied by rice.
Ingredients
2 to 3

pounds

boneless Tilapia fish fillets

6

Tablespoons

divided, use 3 Tablespoons to marinate fish vegetable or corn oil

1

whole sliced lemon

1

Tablespoon

juice from a lemon

2

large

sliced tomatoes

1

whole

sliced white onion

1

Tablespoon

fish sauce or Filipino 'patis

1/2

teaspoon

salt

1

teaspoon

freshly ground black pepper powder

1/2

cup

for garnish fresh chopped parsley

1/2

cup

vegetable broth

for serving boiled jasmine white rice

1/2

teaspoon

for marinating the fish paprika powder

1

teaspoon

for marinating the fish whole black pepper corns
Instructions
Pre-marinate the fish fillets for 20-25 minutes before cooking. Pierce the fillets with a fork. Add the 3 tablespoons cooking oil, lemon juice, fish sauce or 'patis', chopped onions, paprika, salt, black pepper powder and black pepper corns. Cover with plastic wrap and refrigerate.

Preheat oven to 350 F degrees. Prepare an oven-safe deep pan, about 9 x 13 inches or  any casserole container where the fish fillets will fit. Brush the pan  with the remaining 3 tablespoons of oil.

Arrange the fish fillets next to each other on the pan. Do not overlap the fillets or the bottom part that's hidden will not cook well. Place the sliced tomatoes and lemon pieces on the side of the fish. Pour the broth on the fish. Cover with foil. Bake at a preheated oven 350 F degrees for 25 minutes. When done, remove from oven and uncover. Garnish with chopped  parsley. Serve hot with boiled white rice. Sprinkle juice of a lemon all over the fish just before serving.

Cook's comments: if tilapia is not available, feel free to use any other white fish fillet for this recipe. Here in the States, I use regular parsley, but in the Philippines, we use what is called "wan soy", chopped, for garnish.

Acknowledgement: For my references on the "pabasa" or "pasyon" rituals, book, hymns and regional differences, many thanks to food writer

Karen Shih

of the blog

The Pilgrim's Pots and Pans

. Go see her interesting articles on

regional cooking in Pampanga

, the culinary capital of the Philippines.                                  

Hello, Friends! All the images and content here are COPYRIGHT PROTECTED. This means BY LAW you are NOT allowed to use my photos or content without prior permission. If you want to republish this recipe, please re-write it in your own words and simply link back to this blog to give proper attribution. It's the LEGAL thing to do. Thanks for your cooperation.