How I baked Green Tea Cookies for Pediatric Cancer Awareness Month
As an Amazon Associate and member of other affiliate programs, I earn from qualifying purchases.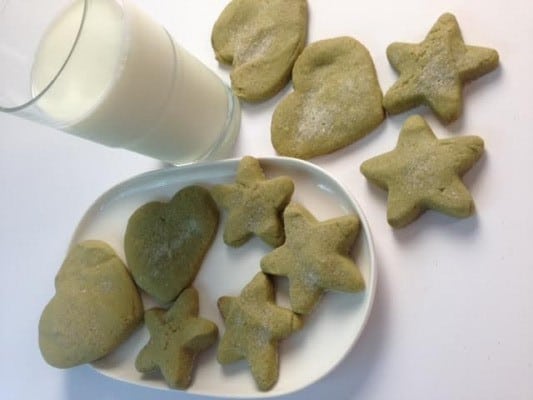 Last month I watched a famous pop culture movie about two teenagers who had cancer. I had read the book so I knew what to expect inside the theatre. What I didn't expect was that my tears would be unstoppable, spilling down my cheeks. Same with the others in the audience. It is the sight of someone so very young afflicted with cancer that grips you and doesn't leave you.
We all think cancer will never touch us or our family. But the reality is that it does. The news is always unexpected. It hits you when it's not convenient. Like when you're in the middle of life, day to day events swirling around you, people walking past you oblivious of the shock, pain and fear you're feeling.
What hurts most is when cancer touches the most vulnerable ones in the family — the children. Sweet, innocent babies, not even knowing what pain is. It is heartbreaking to see the littlest one go through what was once perceived as an old person's illness.
Fortunately, OXO reached out to me and generously sent me a huge box of baking tools. I got busy baking. It was the least I could do to support pediatric cancer research.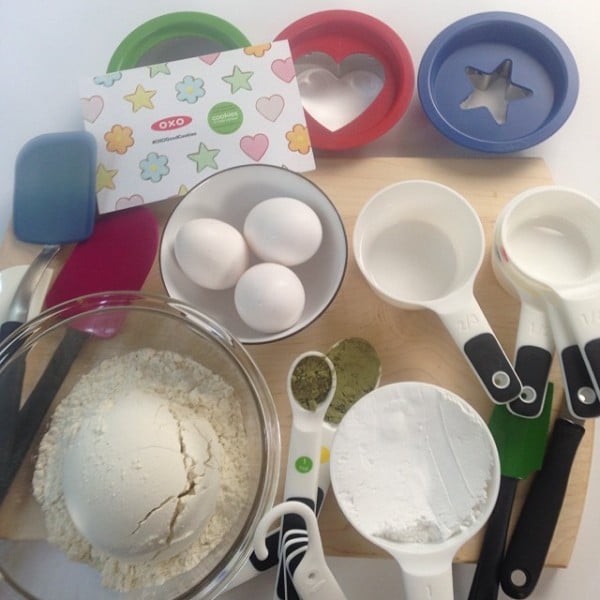 I'd like to quote Jill Dahan, cookbook author and chef from North Carolina, whose family has been personally affected by pediatric cancer. Here are the alarming facts that are unknown to many:
FACTS that perhaps you didn't know about childhood cancer:
"*September is childhood cancer awareness month and the awareness ribbon for childhood cancer is Gold.
*Childhood cancer is the #1 disease related cause of death for children
*Childhood cancers receive less than 4% of our national research funding; adult cancers receive 96%
*Because funding is SO limited, researchers must choose which childhood cancers will be funded year to year and often the more rare childhood cancers go left unfunded for years at a time.
*1 in 285 kids will be diagnosed with a childhood cancer each year (this number used to be 1 in 330 until the statistic was changed this year).
*There has only been 1 cancer drug approved by the FDA in the last 20 years for use in children; last year there were 20 approved drugs for adult cancers! The drugs our kids are taking for treatment are meant for use in adults!
We as a country are FAILING our most precious citizens, our children! And our kids cannot fight alone – they need our help!
Over the next month and beyond make yourself aware and get involved! Our kids are worth SO much more than they are currently getting and we can't and we won't stop talking about it and fighting back until changes are made! Don't wait until someone close to you or you yourself are affected — help us and help our nations kids by getting involved now."
Jill Dahan added " Betty Ann, it would also be great to see some money go towards prevention too. That is a big thing as it includes diet and chemical exposures (like pesticides, bpa,fire retardants, the list goes on and on) and for the small people having the same exposure as an adult is so much more concentrated for them. "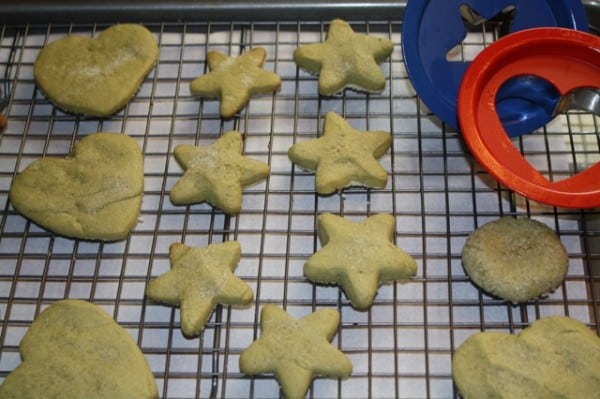 My own family has been personally affected by pediatric cancer. It has touched us deeply and painfully. At first it was hard to watch helplessly from the sidelines. But I found a way to help in my own little way.
I have participated in several events to benefit "Cookies For Kids Cancer" whose proceeds go to pediatric cancer research. This September, I am back to help spread the word about a cause very dear to my heart. With help from the baking tools OXO generously sent me, I baked Green Tea Cookies and will share the recipe below. OXO has partnered with Cookies For Kids Cancer in this event by matching a percentage of the proceeds earned. You can help us by participating, too. First, you can help spread the word that September is Pediatric Cancer Awareness Month. Second, if you're in the USA, here's what you can do:
Consider being a good cookie like me. Support pediatric cancer research by purchasing specially marked OXO baking tools. Find the green sticker like the one below from participating retail stores this September.
Let's take care of our children, our children's children and the coming generations. Let's help prevent this deadly disease. Let's protect the little ones.To help support pediatric cancer research — see details below.
** This promo event was held in 2014 and is now closed.
For every stickered item sold, OXO will donate 25 cents in support of pediatric cancer research as part of its $100,000* pledge to Cookies for Kids' Cancer. Look for specially marked OXO products at participating retailers in September.
* In 2014, OXO will donate up to $100,000 to Cookies for Kids' Cancer through specially marked baking tools, bake sale matches and other fundraising efforts. Cookies for Kids' Cancer is a recognized 501c(3) public charity duly incorporated under the laws of the state of New Jersey. Your donations are tax deductible to the fullest extent allowable by law. 100% of proceeds raised by Cookies for Kids' Cancer fund pediatric cancer research.
Where can you find OXO & Cookies for Kids' Cancer on social media?
Twitter: @OXO / @Cookies4Kids
Instagram: @OXO / @Cookies4Kids
Facebook: facebook.com/OXO / facebook.com/CookiesForKidsCancer
Pinterest: pinterest.com/OXO / pinterest.com/Cookies4Kids
** This 2014 event is now closed. *
Green Tea Cookies
To support the event to raise awareness for pediatric cancer research, I baked these Green Tea Cookies using the baking tools OXO sent me. This cookie recipe makes pretty special green tea treats. Once baked, they had the texture of spritz cookies, but infused with the delicate, herbal flavors from matcha green tea. The cookies had a buttery aroma tinged with a touch of sheer green tea scents. This was slightly adapted from The Cookiepedia by Stacy Adimando. Using the OXO cookie cutters, I baked 12 hearts and 16 stars from the recipe.
Ingredients
3/4

cup

powdered sugar

1

Tablespoon

from Asian markets or major groceries pure matcha powder

1/2

cup

1 stick plus 2 Tablespoons, at room temperature butter, unsalted

3

egg yolks

1

and 3/4 cups all purpose flour

1/8

teaspoon

salt

1/8

cup

for sprinkling on cookie (optional) granulated sugar
Instructions
 In the bowl of the cake mixer, blend the powdered sugar and matcha powder. Add the butter. Using the mixer at low speed, beat ingredients together till mixture is smooth and light green. Add the egg yolks, beat until incorporated.

Add the flour and salt. Pour in half at a time, and beat the mixture for 2 to 3 minutes to combine everything.  Pour the second half of the flour and blend well till dough is smooth and shiny.

 Place the ball on a piece of plastic wrap, seal it up and form the ball into a flattened disk. Chill it till firm, about 30 minutes to 1 hour.   Before you bake, roll out the dough to about ½ inch thick. Pre-grease the bottom of the cookie cutter desired. Place over the cookie dough and cut according to shape preferred. Sprinkle the cookies with the granulated sugar and making sure to coat both sides.

Place cookies on a parchment paper lined cookie sheet and bake at 350 F degrees for 12 to 14 minutes.  When cookies are done, cool on wire racks.

COOK'S COMMENTS :  Matcha powder is made with finely ground green tea leaves. It can be found in most grocery stores. I bought mine at the Asian market. A large can contains matcha powder which is highly concentrated. Use only a teaspoon or tablespoon at a time or as the recipe directs.

Disclosure: I was not paid to mention the brands or organizations in this post. I wrote about these products and cause as a voluntary gesture on my part because my family has been deeply affected by pediatric cancer.

Hello, Friends! All the images and content here are COPYRIGHT PROTECTED. This means BY LAW you are NOT allowed to use my photos or content on your website  without my permission. If you want to republish this recipe, please re-write it in your own words and simply link back to this blog to give proper attribution. It's the legal thing to do. Thank you.