How to Cook Asado de Carajay : Pork Stew in Tomatoes and Vegetables
As an Amazon Associate and member of other affiliate programs, I earn from qualifying purchases.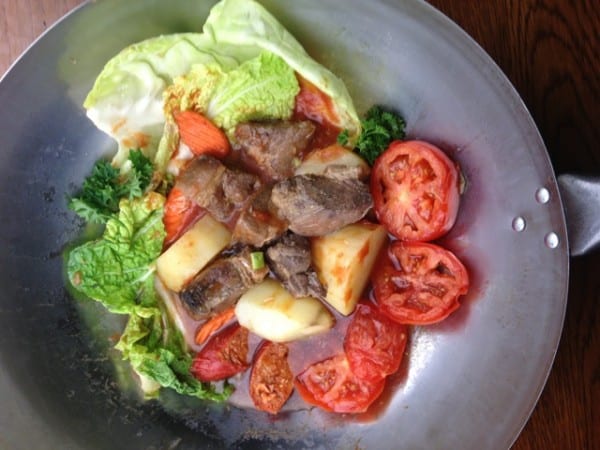 We had one of the busiest weeks the past few days. I am sure you've had one of those. The days just blended into nights and today merged with tomorrow without warning. I had writing deadlines, appointments, and unending errands. But like always, I depend on old favorites like Asado de Carajay to help me put dinner on the table. It is the classic Filipino dishes that I learned to cook early on which are the easiest for me. I can do them from memory, without checking a cookbook or searching online.
This Asado de Carajay (say 'kah-rah-hay') was a perfect example. It's something my mom used to make often in the Philippines. Her asado consisted of chicken. I chose to cook mine with pork cubes because that was what I had available. But one thing was common with mom's dish and mine : fresh tomatoes.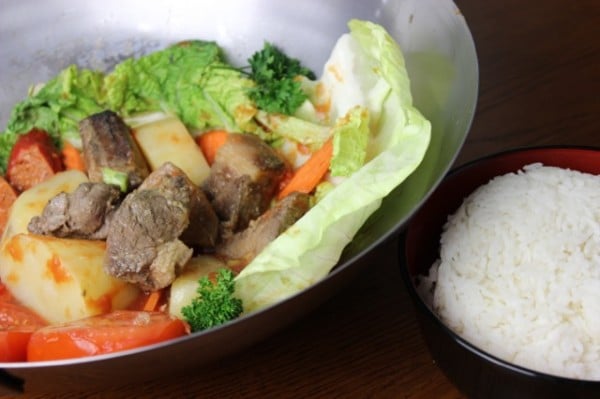 As summer ended here in the east coast, I took advantage of the abundance of fresh tomatoes. I particularly love the sweet vine-ripened organic Jersey tomatoes I can buy near my home. They are fresh, plump, juicy and as sweet as fruit. Wait, tomatoes are fruits. But that's another blog post for next time.
I embellished this recipe by adding Spanish chorizo slices and shreds of napa cabbage to the simmering 'carajay' filled with succulent tomatoes and robust pork shoulder cubes.
I used to think the word 'carajay' meant one of the ingredients in the dish. Later I found out the Spanish word 'carajay' meant the large skillet where the all-in-one meal could be cooked. A carajay is shaped like the Asian wok. During frequent trips to the Philippines, I have tried a couple of times to pack a carajay into my suitcase. Each time, my suitcase would be overweight and bulged at the sides. When this happened, my husband convinced me to leave the carajay behind, assuring me there would be skillets I could buy in America which were comparable, and probably even better, he said.
I did find something similar, but it was a Chinese wok. It was from the Asian grocery where I buy most of my Filipino ingredients. I seasoned the wok accordingly and started cooking right away. The asado cooked quickly and the aromas from the simmering tomatoes transformed from tart to sweet. If you're going to try this recipe, do not worry if you don't own a 'carajay' or a wok. A large skillet will do just fine.
As for me, I vow someday, I shall get to fit an honest to goodness carajay into my suitcase and bring it back with me. When I do, I'll be cooking a lot of old Philippine favorite dishes on that dependable skillet. They shall be the kind of entrees that will get me through any busy day I will ever encounter.
Asado de Carajay
Asado de Carajay is a classic Filipino meat and vegetables stew cooked in tomatoes and tomato sauce. I used pork shoulder cubes for this recipe. In the original one mom used to cook, chicken was the main ingredient.  A "carajay" is actually the cooking vessel used for this dish. It is a large skillet made of aluminum, cast iron or stainless steel and has a similar shape as a wok. If more convenient, use a regular large skillet for cooking this dish. This is an AsianInAmericamag recipe. Serves 2 when served with rice.
Equipment
Large wok or skillet (12 to 14 inches diameter)
Ingredients
2.5

pounds

fat trimmed, cut in 2-inch cubes pork shoulder

2

Tablespoons

cooking oil or vegetable oil

4

cloves

garlic

1

medium

cut in cubes onion

1

can

8 ounces tomato sauce

1

cup

soup stock or broth

1 to 2

pieces

peeled, quartered potatoes

1

medium

peeled, sliced in rounds carrot

2

large pieces

sliced fresh tomatoes

1

piece

bay leaf

1/2

teaspoon

paprika

1

teaspoon

sea salt

1

teaspoon

freshly ground black pepper

1

cup

shredded in strips napa cabbage

1

large piece

sliced (optional) Spanish chorizo

1/3

cup

slices or long strips

seeded (optional for garnish) red or green bell pepper

for serving boiled rice
Instructions
In a large skillet, over medium high heat, add the cooking oil. Saute the garlic and onions for 1 to 2 minutes till the latter is translucent.

Add the pork cubes. Braise pork for 1 to 2 minutes in the skillet till pieces turn slightly brown. Add the tomato, potato and carrot slices. If desired, add chorizo slices.

Pour the tomato sauce, bay leaf and soup stock or broth. Season with paprika powder, salt and black pepper powder. Blend ingredients well.

Cover and cook till the pork cubes are cooked and the vegetables are soft, for about 45 minutes.

Add the napa cabbage at the last 2 minutes of cooking. Garnish with green or red bell pepper strips if desired. Serve with boiled white rice.

Cook's comments: other versions and recipes of 'Asado de Carajay' use chicken or beef for the main ingredient. I used pork cubes because it was what I had in my kitchen. Feel free to use the meat more convenient for you.

Hello, Friends! Please do not plagiarize my photos, recipes and articles. All the images and content here are COPYRIGHT PROTECTED. This means BY LAW you are NOT allowed to use my photos or content on your website, videos, cookbooks, TV programs, media content  without my permission. If you want to republish this recipe, please re-write it in your own words and simply link back to this blog to give proper attribution. It's the legal thing to do. Thank you. Email me at [email protected]