Crispy Shrimps
As an Amazon Associate and member of other affiliate programs, I earn from qualifying purchases.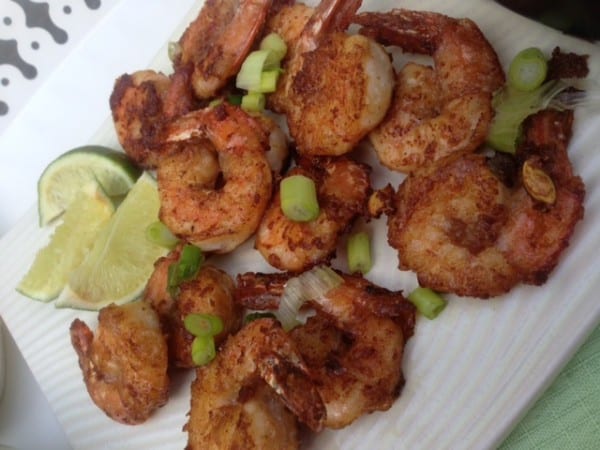 My sister used to cook a Crispy Shrimps dish at our house in Tarlac, that was so memorable for her guests who were visiting from America. Then when her guests returned to the States, they called me up to ask for the recipe. The funny thing was that my sister lived in the Philippines and yet I was the one folks would ask for the recipe. So I resorted to calling her up overseas to ask 'What was the crispy shrimp your guests were raving about?"
After a few descriptions of the dish, I recreated her recipe. I have cooked this over and over again since. It is one of the easiest dishes to put together.
The secret to making the shrimps taste good and crisp is to first make sure the seafood is fresh. Cook it the day you purchased the shrimps and you will have fantastic results. Then after peeling and washing the shrimps, pat them dry with paper towels and let them 'rest' a few minutes before dredging in the cornstarch. The best thing you can do for this dish is to make sure the cooking oil is hot enough. If you put the shrimps in the oil while it is still lukewarm, you won't have the crispy outcome. If you put the shrimps in too late when the oil is nearly burning, then you'll have burnt shrimps. I don't use a thermometer, but if you do a good cooking oil temperature would be 350 F.
The simplest method for me is putting a wooden chopstick into the oil, vertically with the widest part of the tip immersed into the hot cooking oil. If tiny bubbles burst forth from the sides of the chopstick then the oil is ready.
The shrimps pan fry swiftly in minutes. Once cooked, drain the shrimps on parchment paper and sprinkle sea salt all over. Squeeze lime juice on the shrimps. Serve it quickly with a cold tomato salad and some boiled rice. The crisp, crunchy yet feather light shrimps will be such a delight on any day all year long. And after just one attempt, you'll have mastered this scrumptious crispy shrimp recipe. You won't have to call me to ask how my sister cooked this one.
Crispy Shrimps
My recipe for Crispy Shrimps is a simple dish that can either be an appetizer or entree. The fresh shrimps are dipped in cornstarch then pan fried in hot oil. Once cooked, the savory -citrusy seasonings are sprinkled and the shrimps are delightfully crunchy. This is an AsianinAmericamag recipe. Serves 2 to 4 as an appetizer, side or main dish.
Ingredients
1

pound

large fresh shrimps

washed, peeled, heads removed

1

Tablespoon

fresh lemon juice

2

teaspoons

salt

divided, use 1 teaspoon for marinade, rest for sprinkling on cooked shrimps

1

teaspoon

ground black pepper

divided, use 1/2 teaspoon for marinade, rest for sprinkling on cooked shrimps

1/2

cup

cornstarch

2

cloves

garlic

finely minced

1/4

cup

vegetable oil

for pan frying

1

Tablespoon

lime juice

for serving: steamed rice

for serving: tomato-cucumber salad

1

stalk

scallions

chopped, for garnish
Instructions
Peel, devein and remove heads of fresh shrimps. In a medium sized non reactive bowl, marinate uncooked shrimps with lemon juice, salt and black pepper powder for no longer than 30 minutes.

Drain marinade. Pat the shrimps dry with paper towels.

In a small bowl, combine the cornstarch and garlic.  Coat the shrimps all over with the cornstarch and garlic mixture. Set aside.

Over medium high heat, in a large skillet, add the cooking oil. When oil is hot enough, after about 3 minutes, add the shrimps a few batches at a time. The cooking oil temperature must be hot enough (about 350 F) so that the cooked shrimps will be crunchy.

Cook the shrimps for about 5 minutes on each side, turning them around to cook evenly.

When cooked, drain shrimps on parchment paper to remove excess oil. Sprinkle with fresh lime juice, salt and freshly ground black pepper powder. Serve with boiled rice and a chilled vegetable salad.

Cook's comments: the shrimps turn out crisp if pan-fried a few at a time. The cooking oil's temperature drops and gets colder if there are too many shrimps cooking all at once. Use fresh, uncooked shrimps for this recipe.

* Spicy variation: for a spicy version, sprinkle some chili powder or Schiracha over the cooked shrimps (optional).

Hello, Friends! All the images and content here are COPYRIGHT PROTECTED. This means BY LAW you are NOT allowed to use my photos or content on your website, books, films, videos  without my permission. If you want to republish this recipe, please re-write it in your own words and simply link back to this blog to give proper attribution. Or request my permission at [email protected] It's the legal thing to do. Thank you.
Nutrition
Serving:
1
g
|
Calories:
368
kcal
|
Carbohydrates:
32
g
|
Protein:
1
g
|
Fat:
27
g
|
Saturated Fat:
22
g
|
Sodium:
2330
mg
|
Fiber:
1
g
|
Sugar:
1
g
|
Vitamin A:
60
IU
|
Vitamin C:
4
mg
|
Calcium:
5
mg
|
Iron:
1
mg
Notes on Nutrition: The nutrition information provided is an estimate and will vary based on cooking methods and specific brands of ingredients used.
Did you like this recipe? I have more classic recipes inspired by my late mother's cooking in my popular cookbook: My Mother's Philippine Recipes. If you're learning how to cook Filipino food or a fan of Philippine cuisine, buy my cookbooks and books on Amazon.com sold worldwide in paperback and Kindle format.
Hello, Friends! Please DO NOT LIFT OR PLAGIARIZE my original recipe, stories, photos or videos. All the images and content on this blog are COPYRIGHT PROTECTED and owned by my media company Besa-Quirino LLC. This means BY LAW you are NOT allowed to copy, scrape, lift, frame, plagiarize or use my photos, essays, stories and recipe content on your websites, books, films, television shows, videos, without my permission. If you wish to republish this recipe or content on media outlets mentioned above, please ASK MY PERMISSION, or re-write it in your own words and link back to my blog AsianInAmericaMag.com to give proper attribution. It is the legal thing to do. Thank you. Email me at [email protected]