Salmon Sinigang: Tamarind Soup Stew with Vegetables
As an Amazon Associate and member of other affiliate programs, I earn from qualifying purchases.
]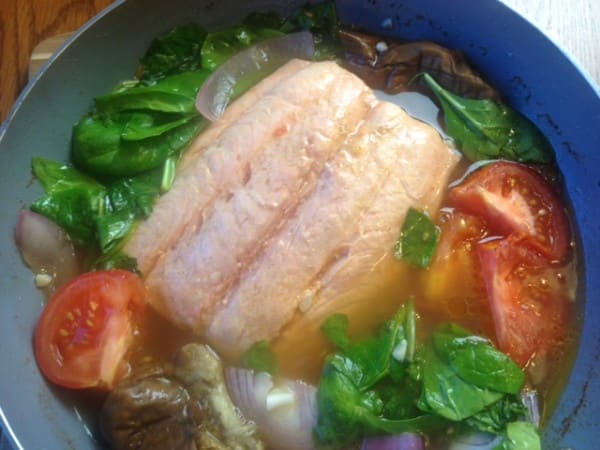 When my husband gets home from work he yells out "Anong ulam?" (What's for dinner?) . "I can smell your cooking from the driveway," he adds as he walks in. "It smells so good!"
Today when he got home, the tangy-savory aroma of Salmon in Sinigang was simmering slowly on the stove. My husband couldn't wait and peeked into the broth.
I was battling bronchitis this week, a relapse after the busy holidays. We needed to have
piping hot soup but I didn't have the energy to stand over the stove. A Sinigang salmon soup was perfect. It was the kind of soup meal where you just drop everything into the stock pot and it cooks by itself in no time. While the fish fillet and vegetables simmered, I had time to rest a bit.
Sinigang is a sour soup that is flavored with tamarind. I have featured different types of Sinigang (say "see-knee-gangh") on this blog. In the Philippines, we used fresh green, unripe tamarind, boiled then mashed. The mashed pulp is added to the soup broth. Since I don't have a tamarind tree growing in my American suburban backyard, I use tamarind concentrate as a souring ingredient. Sometimes I add other souring agents like lemon slices, rhubarb or even green mango pickles (which I make during summer).
Sinigang is as iconic as adobo in Philippine cuisine. I cook Sinigang as often as I do adobo for our everyday meals. Sinigang originated from a Filipino way of life that used backyard produce and the day's fresh catch for a stew full of flavors. The strong citrus-like sour flavors are meant to be a sharp contrast to the simplicity of boiled white rice, a staple at Filipino meals.
When cooking, we were taught that nothing goes to waste. To a simmering tamarind broth, Filipinos add root crops, stems, stalks and leaves of vegetables. And for a hefty broth, rice wash is tossed in. The rice wash or 'hugas bigas' (obtained from the second washing of rice) adds a unique opaque thickness and silkiness to the soup.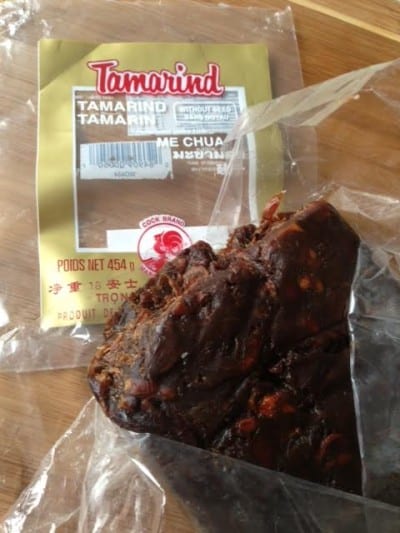 As for the tangy, sour, savory and slightly sweet flavors, I was once told "When cooking Sinigang, start with the sour flavor, build it as a base. There has to be a correct balance of sour and salty," advised Glenda Barretto, Philippine culinary icon, cookbook author and restaurant owner of 'Via Mare' at a lunch with her in Manila one time.
As I stirred the clear broth I cooked, I gave my husband a spoonful to sample. His face puckered up in a tight grimace. No, it did not mean he didn't like it. In fact, when your face crinkles up if you taste the tangy sour broth; it means it's going to be a great meal. The soup is sour enough. It's a clear sign the tamarind flavor was done right.
The best thing about Sinigang? It tastes even better days after. The more you reheat Sinigang, the tangy sour savory at times spicy flavors kick in strongly later on. This is why I often cook a large batch so we can relish enjoyable leftovers over rice the rest of the week.
Salmon Sinigang: Tamarind Stew with Vegetables
Salmon Sinigang is a soup stew with fish and vegetables flavored in tamarind broth and fish sauce or 'patis'. Fresh vegetable greens and root crops are added to the broth, too. Simply start boiling the tamarind soup base then toss in the fish and vegetables for a slow simmer. This Sinigang recipe first published
on this blog
a few years ago. Serves 2 or up to 4, if served with boiled rice.
Ingredients
1.5

pounds

Salmon fillet

1/2

cup

calamansi or lemon juice

divided, use 1/4 to marinate salmon, rest for broth

4 to 5

cups

water (or rice wash)

for broth

4

cups

vegetable broth

2

Tablespoons

tamarind concentrate

solid, from the block of concentrate or use liquid concentrate

2 to 3

whole

tomatoes

sliced in quarters organic

1 to 2

whole

Asian eggplants

sliced (from Asian markets; or use aubergines), about 1 1/2 cups

2 to 3

cups

fresh spinach

2

Tablespoons

fish sauce or 'patis'

1

teaspoon

salt

1

teaspoon

ground black pepper powder

boiled rice for serving
Instructions
Prepare and marinate salmon fillet : Marinate with calamansi or lemon juice. Cover and set aside in the refrigerator for about 20-25 minutes till ready to add to broth. (Note: do not marinate longer than 25 to 30 minutes or fish will cook in the citrus juice).

In a large stockpot, over medium high heat, combine the water or rice wash ('hugas bigas'), vegetable broth, lemon or calamansi juice, onions, tomatoes and tamarind concentrate. Bring this mixture to a boil then lower heat to a slow simmer for about 15 minutes.

Add the salmon and patis (fish sauce). The salmon will turn from bright orange to a light pale color which means it is cooked. This should take about 12 minutes.

Add the spinach, eggplants and cook for  5 minutes more. Season with salt and black pepper powder. Serve piping hot with boiled white rice and a dipping sauce of 'patis' (fish sauce) on the side.

Cook's comments: other vegetables may be added to this Sinigang like sitaw (long green beans), radish, gabi (taro), kangkong (water spinach). Feel free to use a white fillet of fish for this if preferred. Add more soup stock or water if needed. And if you want a zing to the dish, add 1 or 2 bird's eye chilies or what Filipinos call 'siling labuyo' and boil it with the sinigang broth.

Thanks for reading  my entry to this month's "Let's Lunch"  a virtual potluck event of food writers and bloggers from around the world. This month's theme is 'stews.' For more recipes check out  Twitter using the hashtag #LetsLunch or pin with us on our Pinterest boards. A round up of the other "Let's Lunch" food writers with links to their blogs will be available here soon.

Hello, Friends! All the images and content here are COPYRIGHT PROTECTED and owned by my media company Besa-Quirino LLC. This means BY LAW you are NOT allowed to use my photos or content on your website  without my permission. If you want to republish this recipe or content, please ask my permission, re-write it in your own words and simply link back to this blog to give proper attribution. It's the legal thing to do. Thank you.
Nutrition
Serving:
1
g
|
Calories:
627
kcal
|
Carbohydrates:
34
g
|
Protein:
72
g
|
Fat:
23
g
|
Saturated Fat:
4
g
|
Cholesterol:
187
mg
|
Sodium:
3220
mg
|
Potassium:
2846
mg
|
Fiber:
6
g
|
Sugar:
25
g
|
Vitamin A:
4925
IU
|
Vitamin C:
62.9
mg
|
Calcium:
98
mg
|
Iron:
4.4
mg
Notes on Nutrition: The nutrition information provided is an estimate and will vary based on cooking methods and specific brands of ingredients used.
Did you like this recipe?I have more Filipino Instant Pot recipes in my newest cookbook Instant Filipino Recipes: My Mother's Traditional Philippine Cooking in A Multicooker Pot by Elizabeth Ann Besa-Quirino. I also have more classic recipes inspired by my mother's cooking in my popular cookbook: My Mother's Philippine Recipes. If you're learning how to cook Filipino food or a fan of Philippine cuisine, buy my cookbooks and books on Amazon.com sold worldwide in paperback and Kindle format.
Copyright Notice: Hello, Friends! Please DO NOT LIFT OR PLAGIARIZE my original recipe, stories, photos or videos. All the images and content on this blog are COPYRIGHT PROTECTED and owned by my media company Besa-Quirino LLC. This means BY LAW you are NOT allowed to copy, scrape, lift, frame, plagiarize or use my photos, essays, stories and recipe content on your websites, books, films, television shows, videos, without my permission. If you wish to republish this recipe or content on media outlets mentioned above, please ASK MY PERMISSION, or re-write it in your own words and link back to my blog AsianInAmericaMag.com to give proper attribution. It is the legal thing to do. Thank you. Email me at [email protected]