Chicken Noodle Egg Drop Soup with Pork and Vegetables
As an Amazon Associate and member of other affiliate programs, I earn from qualifying purchases.
]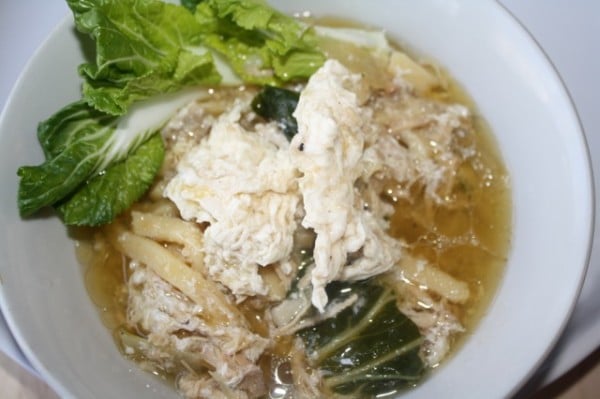 If you have leftovers from the weekends and holidays like I did, then you can easily make a huge stockpot of Chicken Noodle Egg Drop Soup with Pork and Vegetables. From the past weekend, I had a ton of leftover chicken, pork, vegetables and even egg whites from the desserts I baked. The cold blast of winds and chilly nights guided me to make soup. We needed the warmth, too. The sky was overcast with dark clouds and the temperature dived – a clear indication we were about to get snow.
Making the soup stock was easy. It was also the most important part of the soup and affected the flavors later on. I did a quick braising of the chicken breasts in the stockpot and flavored it with onions, garlic and "patis" (Filipino fish sauce). My usual way of thickening the broth was to add rice wash or 'hugas bigas', a Filipino cooking tip I learned as a child. I've explained this method in previous blog posts. All you have to do is collect the water from washing the rice a second time. A cup or two of rice wash adds a certain body to the broth, giving it a silky feel.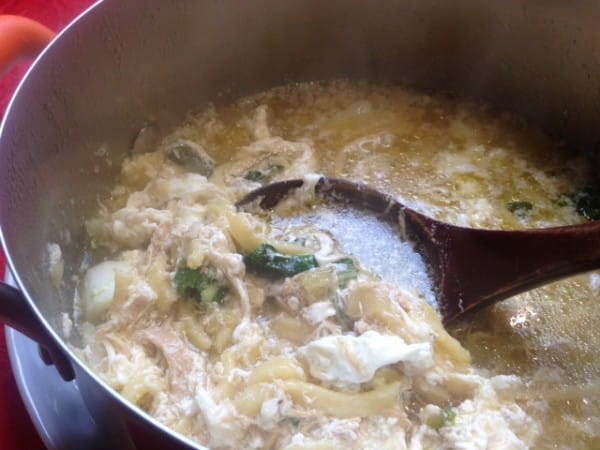 I did all these in no time and while the soup was simmering slowly on the stove, with the savory aromas of chicken and onions floating around, I started to put away the trimmings from the tree. By the time I got to storing the holiday trim away, my sons had left, having gone back to the far away cities they live and work in. There is no substitute for the tinge of loneliness after seeing my sons drive away, watching their car get smaller and smaller down the road from our house. But such is life. It is a continuous cycle of beginning and ending, with interesting middle parts in between. We take the happy with the sad and hope that another event or occasion will soon bring the family together again to share warm bowls of soup like these and feast on a scrumptious home cooked meal.
Chicken Noodle Egg Drop Soup with Pork and Vegetables
This Chicken Noodle Egg Drop Soup with Pork and Vegetables came together from leftovers. The result was an amazing cauldron of thick, yellow Chinese noodles, slivers of chicken, tiny ground pork meatballs, shreds of bok choy and vegetables swirling in clear broth thickened with strands of egg whites. The savory flavors came from the soup base of onions, garlic and patis or fish sauce. This is an AsianInAmericamag recipe by Elizabeth Ann Quirino.
Ingredients
4

Tablespoons

vegetable cooking oil

2

cloves

garlic

minced

1

whole

large onion

chopped

1

stalk

celery

chopped

2

Tablespoons

patis ( fish sauce)

1.5

pounds

boneless chicken breast, skin-on,

sliced in strips

32

ounces

broth (chicken or vegetable)

4 to 6

cups

water

250

grams

ground pork,

shaped into small meatballs, about 1/4-inch sizes

1

cup

fresh Chinese noodles

before blanching (expands to 2 cups after boiling with broth

¼

teaspoon

sesame oil

½

teaspoon

sea salt

½

teaspoon

freshly ground black pepper powder

4

whole

eggs

slightly beaten or use egg whites only if preferred

2

cups

shredded slices bok choy or napa cabbage
Instructions
To make the soup stock

: in a large stock pot, over medium high heat, add the cooking oil. Saute the garlic, onions and celery. Add the patis or fish sauce and boneless chicken breast. Pour the organic soup stock and  water or "hugas bigas" (rice wash). Cover and let the broth come to a boil. Then lower heat to a medium. Cook for about 45 to 50 minutes or till the chicken is thoroughly cooked and there are no pink parts at all.

Add the pork meatballs into the soup stock that is simmering. Cover and let the pork cook for about 20  minutes.

Separately, in a small stockpot filled with boiling water, add the amount of fresh Chinese egg noodles needed for this recipe. Blanch for 2 minutes. Remove noodles and drain water. Add the noodles into the soup stock pot with the boiled chicken.

The Chinese noodles will plump up in less than 5 minutes.  Add sesame oil. Pour beaten egg whites into the soup mixture. Mix well so that egg white strands coat the noodles and swirl around the broth.

Season with salt and black pepper powder. Cover and continue simmering over low heat for 8 to 10 minutes more.

Lastly, add the bok choy or napa cabbage shredded slices. Cook for 1 to 2 minutes till greens soften. Serve the soup piping hot.

Hello, Friends! All the images and content here are COPYRIGHT PROTECTED and owned by my media company Besa-Quirino LLC. This means BY LAW you are NOT allowed to use my photos or content on your website  without my permission. If you want to republish this recipe or content, please ask my permission, re-write it in your own words and simply link back to this blog to give proper attribution. It's the legal thing to do. Thank you. Email me at [email protected]
Nutrition
Serving:
100
grams
|
Calories:
292
kcal
|
Carbohydrates:
1
g
|
Protein:
11
g
|
Fat:
27
g
|
Saturated Fat:
7
g
|
Polyunsaturated Fat:
9
g
|
Monounsaturated Fat:
9
g
|
Trans Fat:
0.1
g
|
Cholesterol:
49
mg
|
Sodium:
347
mg
|
Potassium:
213
mg
|
Fiber:
0.2
g
|
Sugar:
0.2
g
|
Vitamin A:
55
IU
|
Vitamin C:
1
mg
|
Calcium:
23
mg
|
Iron:
1
mg