Bibingkang Galapong – Rice Cake
As an Amazon Associate and member of other affiliate programs, I earn from qualifying purchases.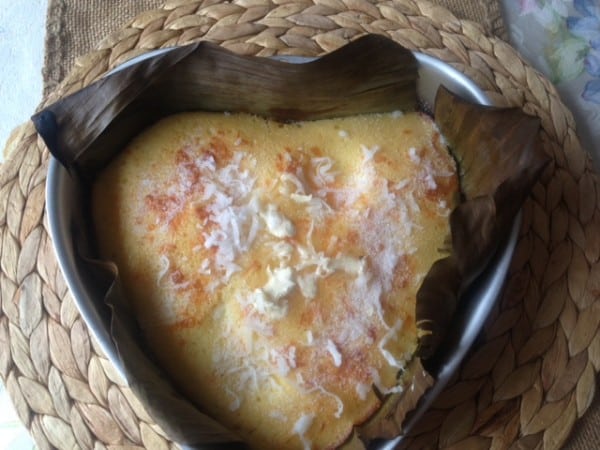 I see hearts everywhere and this is why I baked this heart-shaped Bibingkang Galapong, the Filipino Rice Cake for Valentine's. I see heart-shaped cakes, with chocolate frosting cascading down luring us to take a slice. I love hearts. I love the shape of it on anything be it food, paper, fabric, jewelry, art – whether perfect or imperfectly formed.
In kindergarten, one of my first favorite activities was to draw a heart for Valentine's Day. My teacher taught me to fold a piece of paper and with a pencil I traced half of the heart shape from the cardboard template teacher provided. Then I cut out the folded heart, unfolded it and voila – I had a perfect heart. I pasted that paper heart on a red cardboard and wrote out 'I love you Daddy and Mommy' which I copied from the blackboard. My parents were delighted with my creation. I was elated at how much joy I gave them. From then on, I always equated a heart with love and happiness.
A heart shape looks like an inverted triangle with the sides rounded and a pointed bottom that if measured is approximately a 45 degree angle. This shape is patterned after our body part, the heart. It is that part of us that makes us live. For as long as our heart beats, pulsates, throbs and palpitates we are alive.
The shape of our real heart has the semblance of imperfection and does not look anything like the perfect ones we see on art, food or ads around us. And that seems to be what life is about. We try to find perfection in our everyday imperfect lives. Somehow, we just have to make sense of how we can make that work in our life, in our heart.
Bibingkang Galapong - Rice Cake
Bibingkang Galapong is the Filipino classic recipe for rice cakes, made with ground sweet rice, cheese and butter on cake pans lined with banana leaves. This recipe used 'galapong' or ground sweet rice, prepared a day earlier. You can also bake this bibingka ahead and freeze it. Then when ready to eat, reheat it in a toaster oven and it's just as good. This recipe was adapted from the cookbook Memories of Philippine Kitchens by Amy Besa and Romy Dorotan. This recipe makes two heart-shaped (or round) cake pans, each 8 inches in diameter.
Equipment
Heart-shaped Cake Pans - 8 or 9 inches in diameter

Round-shaped Cake Pans - 8-inches or 9-inches (diameter)
Ingredients
1 3/4

cups

malagkit (sweet rice)

soaked in water overnight

1 1/2

cups

galapong (rice batter)

obtained from soaking sweet rice - see procedure

1 1/4

cups

all purpose flour

1

Tablespoon

baking powder

1/2

teaspoon

salt

4

whole

large eggs

yolks and whites separated

3/4

cup

coconut milk

canned or fresh

1/4

cup

whole milk

1

whole

salted egg

boiled, peeled, sliced for topping

1/2

cup

grated Gouda cheese

1/2

cup

crumbled Feta cheese

4

Tablespoons

melted unsalted butter

for brushing on cake

2

whole large pieces

banana leaves

cut to fit the pan (frozen or fresh)

1/2

cup

softened unsalted butter

to spread on banana leaves

1/4

cup

fresh coconut meat slivers

or use dessicated coconut if not available

1/4

cup

granulated sugar

divided, use 2 Tablespoons to sprinkle on cake
Instructions
The day before: Prepare the "galapong" or ground rice batter: Rinse the sweet rice under cold running water, drain and place in a medium bowl with cold water to cover. Refrigerate overnight.The next day: Drain and rinse rice again. Then drain in a colander. Transfer to a food processor.  Process until the mixture is finely grounded about 1 minute. Then work again to press the galapong through the sieve. You should have about 1 and 1/2 cups galapong. Discard any extra.

To cook the bibingka: Preheat the oven to 425 F degrees. Prepare two heart-shaped cake pans (or use round ones), about 8-inches in diameter.  Line each pan with cut-up banana leaves to fit the shape of the pans. Grease the banana leaves with softened butter.

In a large bowl, combine the flour, 1/4 cup sugar, baking powder and salt. Add the galapong (ground rice batter) and mix till no more lumps remain. Stir in with a cooking spoon the egg yolks, coconut milk and regular milk.

Separately, in the clean large bowl of an electric mixer fitted with a whisk attachment, beat the egg whites till stiff. Beat for about 5 minutes. Fold the whites into the galapong mixture.

 Divide the mixture between the lined pans. Nestle a slice of salted egg into the middle of each cake pan. Sprinkle each pan  with a half of the amount of Gouda, and half of the feta cheese. Put the remaining cheeses on the second cake pan. Lastly, sprinkle the tops with the sugar.

Set the bibingka pans on the top rack of the oven and bake at 425 F degrees until firm, for about 15 to 20 minutes. It should be lightly browned on top. If the bibingkas are firm but not browned, preheat the broiler and broil them 5 to 6 inches from the heat source. Keep an eye on the bibingkas till  light brown, in 3 minutes.

Take bibingkas out of the oven. Brush the top with the melted butter while still warm. Let cool slightly and serve straight from the banana-leaf lined pans.

Sprinkle coconut meat slivers (or dessicated coconut) on top of each bibingka.

Cook's comments: A regular banana leaf is about 24 to 30 inches in length, and about 8 to 10 inches wide. Whether using frozen or fresh off the tree, wash leaves thoroughly with soap and water, then rinse well before using.

Ingredient notes: Salted eggs are available in Asian or Filipino supermarkets. In Filipino stores, the egg shells are dyed a magenta red hue to differentiate it from regular eggs. In the Philippines, the cheese used for topping is called 'kesong puti', which has a soft texture and very salty flavor. The closest substitutes for the cheeses in this recipe are Gouda and Feta cheese. Or if feta is not available, I use goat cheese. For butter, I only use premium brands,

How to freeze bibingka: When baking is done, cool bibingka. Remove the bibingka from the cake pan, strip off the banana leaves at the bottom. Wrap cake in plastic cling wrap then put it inside a ziploc bag. Freeze. To reheat: Thaw at room temperature and heat in a toaster oven at 325 F for about 6 minutes or till warm. Spread additional butter if desired.

Hello, Friends! All the images and content on this blog are COPYRIGHT PROTECTED and owned by my media company Besa-Quirino LLC. This means BY LAW you are NOT allowed to scrape, lift, frame, plagiarize or use my photos and  recipe content I wrote, on your website  without my permission. If you want to republish this recipe or content on another website or news article, please ASK my permission, re-write it in your own words and simply link back to this blog to give proper attribution. It's the legal thing to do. Thank you. Email me at [email protected]
Nutrition
Serving:
1
g
|
Calories:
286
kcal
|
Carbohydrates:
46
g
|
Protein:
5
g
|
Fat:
10
g
|
Saturated Fat:
8
g
|
Cholesterol:
2
mg
|
Sodium:
306
mg
|
Potassium:
458
mg
|
Fiber:
1
g
|
Sugar:
13
g
|
Vitamin A:
25
IU
|
Vitamin C:
1
mg
|
Calcium:
161
mg
|
Iron:
3
mg
Nutrition Notes: The nutrition information provided is an estimate and will vary based on cooking or baking methods and brands of ingredients used.
Did you love this recipe? I have more Philippine dessert recipes in my popular cookbook How to Cook Philippine Desserts, Cakes and Snacks.
If you need Filipino Instant Pot recipes, find more in my newest cookbook Instant Filipino Recipes: My Mother's Traditional Philippine Cooking in A Multicooker Pot. Buy my cookbooks and books on Amazon.com sold worldwide in paperback and Kindle format.
Copyright Notice: Hello, Friends! Please DO NOT LIFT OR PLAGIARIZE my original recipe, stories, photos or videos. All the images and content on this blog are COPYRIGHT PROTECTED and owned by my media company Besa-Quirino LLC. This means BY LAW you are NOT allowed to copy, scrape, lift, frame, plagiarize or use my photos, essays, stories and recipe content on your websites, books, films, television shows, videos, without my permission. If you wish to republish this recipe or content on media outlets mentioned above, please ASK MY PERMISSION, or re-write it in your own words and link back to my blog AsianInAmericaMag.com to give proper attribution. It is the legal thing to do. Thank you. Email me at [email protected].