Pancit Canton, Chinese Noodles Stir Fried with Shrimps and Vegetables
As an Amazon Associate and member of other affiliate programs, I earn from qualifying purchases.
']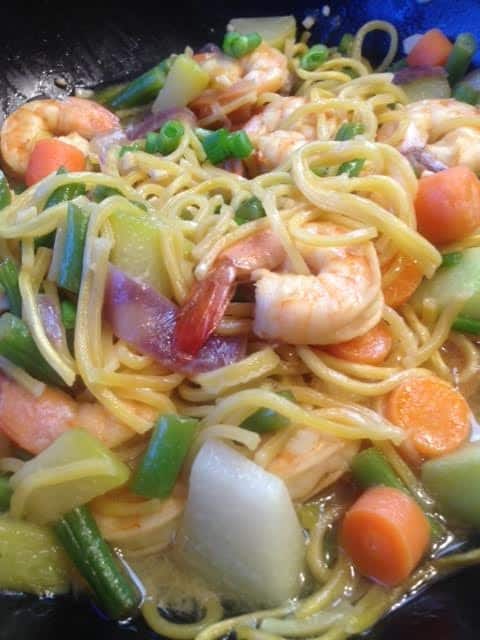 We always celebrate birthdays in our family and so I cooked Pancit Canton- Chinese Noodles Stir-fried with Shrimps and Vegetables. And I make sure we have noodles to symbolize long life and prosperity. Every Filipino birthday celebration has pancit (say "pahn-seet") or at the very least a noodle or pasta dish. So in keeping with tradition, I made pancit.
When our adult sons come home to visit, I make a conscious effort to make the meal healthy. The tables have turned. My sons, all grown up with their own lives and careers, are now mindful of nutrition and good health. They look for it in the dishes I cook when they're home. I relish their recipes and photos of food they cook which they share with me. The thought that good health and regular exercise are priorities in my sons' lives leave me reassured they'll be fine.
If you've never cooked this dish yet, you should give it a quick whirl in the kitchen. Pancit Canton noodles are available in Asian markets here in the USA. Look for it in the Philippine aisle or where all the noodles are found. Since these are classified as dry noodles, you can also find Pancit Canton noodles online like Amazon or Asian supermarket websites.
"The word 'pancit' (or 'pansit' in some cookbooks) comes from the Hokkien words 'pian-e-sit', which means something that is conveniently cooked, and originally did not mean noodles. The noodle dish eventually was adapted to local ingredients, tastes and occasions." [Doreen G. Fernandez, "The Noodles of Our Lives" from the book 'Tikim']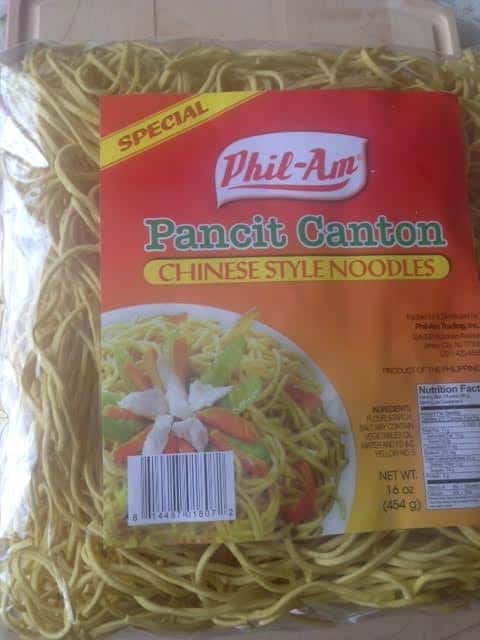 "Pancit Canton are dry Chinese wheat noodles. They are the Philippine adaptation of Chinese noodles. They are dried, yellow strands and are packaged in rectangular blocks. These noodles are made with wheat flour, coconut oil and yellow food color." (From 'The Asian Grandmother's Cookbook by Patricia Tanumihardja)
This Pancit Canton dish fit all the requirements my boys wanted. On any day, it is one of my favorite noodle dishes to cook because it is simple, yet offers an array of flavors we all enjoy. The thick, hefty, wheat Chinese noodles expand and look like lo Mein when cooked. The wholesome yellow noodles are a good backdrop to the savory shrimps, crisp vegetables swirling in a silky slurry of Asian sauces and seasonings . This stir fried noodle dish came together in minutes and it was a festive concoction to behold on the large bandejado (oval platter).
Like all happy events, a Filipino pancit dish is always the centerpiece of birthday dinners for us. Whether we spend the day in a big or small way, birthdays are blessings. And each one is meant to be celebrated with an abundance of good food, family, friends and love.
Pancit Canton - Chinese Noodles Stir-fried with Vegetables and Shrimps
Pancit Canton is a basic stir fry noodle dish which is the Filipino version of Chinese fried noodles cooked in a skillet or wok. This is a versatile entrée that can stand alone for a family meal or can be served alongside other party dishes for a big event. Some versions I have shared on the blog are stir fried with chicken and pork slices. This one I made for my son has vegetables and seafood in tamari sauce and a low sodium soy sauce, which were his preference. This recipe was adapted from a previous AsianInAmericamag.com blog post. Serves 4.
Ingredients
1/2

pound

fresh shrimps

medium or large-sized, peeled and washed, heads removed

juice from 1 large lemon or fresh calamansi juice

from Asian markets, about 1 to 2 Tablespoons lemon or calamansi juice (the Filipino lime)

2

Tablespoons

vegetable oil

4

cloves

garlic

minced

1

large

onion

chopped

1

cup

chopped celery

2

cups

vegetable broth

1

Tablespoon

Tamari sauce

1

large

carrot

peeled and sliced, about 1 cup

1

cup

sliced green beans

2

whole

sayote (chayote), peeled, sliced

peeled, sliced in 1-inch pieces

12

ounces

dried Pancit Canton noodles

or about 3 cups when cooked and expands (from Asian markets)

1

teaspoon

freshly ground black pepper powder

1/8

teaspoon

sesame oil

1/4

cup

water

for slurry

2

Tablespoons

cornstarch

for slurry

1

Tablespoon

soy sauce

for slurry

2

stalks

scallion greens

for garnish

1/4

cup

soy sauce

for side dipping sauce

juice from 1 lemon or 1 Tablespoon fresh calamansi juice

the Filipino lime, from Asian markets, for side dipping sauce lemon or calamansi
Instructions
Prepare the shrimps by peeling and washing. Pre-marinate shrimps in lemon or calamansi juice. Cover and refrigerate for 20 minutes (do not marinate longer than this).

In a large skillet, over medium high heat, add the vegetable oil. Stir fry the garlic, onions, celery .

Add the fresh shrimps  to the skillet.  Cook for 5 minutes .

Add the vegetable broth and tamari sauce. Bring to a boil. This should take about 3 minutes. Lower heat to a slow simmer and stir. Add the carrots and chayote, and cook for 5 minutes. Then add the green beans. Cook for 2 minutes more.

 Add the dried canton noodles. Mix all ingredients well, making sure the broth coats the noodles so it can soften. The broth will seem plenty at first, but as the canton noodles soften and expand, the liquid gets absorbed and diminishes. Season with black pepper powder and sesame oil. Cover and allow the noodles to cook. This should take about 6 minutes  till noodles are soft. Do not overcook or the noodles will get mushy.

In a separate small bowl, mix together the water, low sodium soy sauce and cornstarch. Add this mixture to the broth so it will thicken. Increase heat slightly till the broth comes to a boil and becomes thick in about 3 minutes.

Garnish with chopped scallions.  Serve piping hot.

Serve on the side: a dipping sauce of  low sodium soy sauce combined with the juice of a lemon (or calamansi, the Filipino lime).

Cook's Comments: Pancit Canton is a versatile dish. In addition to shrimps, you can add chicken and pork slices. If available, add other vegetables, tofu or mushrooms desired.

Recipe Notes: Although the photo of the dried noodles package on this post shows the content was 16 ounces, I only used 12 ounces for this recipe, which yielded the right amount of servings for our family of 4.

Ingredient notes: Tamari is a Japanese gluten-free soy sauce made with 100% soy  and contains no wheat. It is just as flavorful as regular salt and when I use it, minimizes the amount of salt needed in a recipe. If not available, use low-sodium or regular soy sauce as a substitute.

Hello, Friends! All the images and content on this blog are COPYRIGHT PROTECTED and owned by my media company Besa-Quirino LLC. This means BY LAW you are NOT allowed to scrape, lift, frame, plagiarize or use my photos and  recipe content I wrote, on your website  without my permission. If you want to republish this recipe or content on another website or news article, please ASK my permission, re-write it in your own words and simply link back to this blog to give proper attribution. It's the legal thing to do. Thank you. Email me at [email protected]
Nutrition
Calories:
116
kcal
|
Carbohydrates:
11
g
|
Protein:
3
g
|
Fat:
7
g
|
Saturated Fat:
6
g
|
Sodium:
1078
mg
|
Potassium:
181
mg
|
Fiber:
1
g
|
Sugar:
3
g
|
Vitamin A:
3065
IU
|
Vitamin C:
5.9
mg
|
Calcium:
27
mg
|
Iron:
0.7
mg
Notes on Nutrition: The nutrition information provided in the recipe links is an estimate and will vary based on cooking methods and specific brands of ingredients used.
Copyright Notice: Hello, Friends! Please DO NOT LIFT OR PLAGIARIZE Asian in America recipes on this blog, my original recipes, stories, photos or videos. All the images and content on this blog are COPYRIGHT PROTECTED and owned by my media company Besa-Quirino LLC by Elizabeth Ann Quirino. This means BY LAW you are NOT allowed to copy, scrape, lift, frame, plagiarize or use my photos, essays, stories and recipe content on your websites, books, films, television shows, videos, without my permission. If you wish to republish this recipe or content on media outlets mentioned above, please ASK MY PERMISSION, or re-write it in your own words and link back to my blog AsianInAmericaMag.com to give proper attribution. It is the legal thing to do. Thank you. Email me at [email protected]