Breaded Tilapia Fish Fillets
As an Amazon Associate and member of other affiliate programs, I earn from qualifying purchases.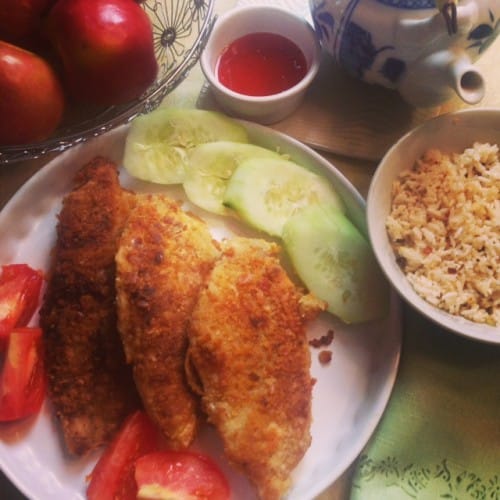 My younger son celebrates his birthday this weekend so I made these Breaded Tilapia Fish Fillets. My son cooks and eats healthy. He runs for the exercise. His food preferences are simple. He enjoys vegetables and seafood. The more vegetables there are, the simpler the seasonings, the better he enjoys them. Both our two sons are adults, living and working far from us. I don't worry about them as much as I used to. They are sensible, fine young men, carving their careers and making the right choices.
When my sons come home to visit, I prepare a huge meal for them. The entrees are their favorites. When they were growing up, it was a challenge to blend into one meal my two sons' vast differences in food tastes. The younger one loved vegetables and fish. The older one preferred bacon and burgers and had to be coaxed to eat his vegetables. In time, I was able to convince the older one to shift his meat preferences and made him love vegetables just like his younger brother. I was consistent in feeding them wholesome, home cooked meals every single day. Family meals together were and still are a way of life for us, at the beginning and end of the day.
But when Lent came around, Fridays were trying, especially for my older son. I had to keep reinforcing our religious practice of abstaining from red meat on Fridays for 6 weeks of Lent. This was how I grew up in the Philippines. Living in America did not change my Filipino ways or religious beliefs. I had to creatively find ways to make meals delightful for my sons and make them forget (especially the older one) that it was a seafood kind of dinner.
The trick was to always find the freshest seafood and vegetables. I cook the fish the minute I come home from the market. Just like this breaded tilapia I made. The freshness of the fillet was apparent more so after it was pan fried. The fish was slightly sweet and the meat was succulent yet stayed whole with every slice. And the refreshing aroma of quality seafood blended well with the citrusy seasonings I added.
After a meal like this, my birthday celebrant son downed it all with a pot of green matcha tea he brewed himself. A fresh fruit was his preference over any slice of birthday cake or sweet desserts.
As I watched my adult sons cook, eat and maintain a healthy lifestyle, I felt a gentle tug to my heartstrings affirming I may have done something right raising them. My heart now smiles and swells with pride. My sons make it a priority to live healthy every single day as they take their place in the adult world.
My job is done. My boys will do just fine.
Happy Birthday, Constante! Live, love and be well always.
Breaded Tilapia Fish Fillets
Breaded fish fillets are a family favorite. Even if prep time for breading the fish takes three steps, it's fairly easy to do. If I can, I use Panko bread crumbs which I get from the Asian markets or major supermarkets. The larger-sized crumbs give a bigger crisp crunch to the fillet. Coating the entire fish fillet in breadcrumbs also makes it easy to handle in the skillet. Serve these breaded tilapia fillets with a tangy sweet sour sauce on the side, a fresh salad of cucumbers and tomatoes and a bowl of steamed rice. This recipe was adapted from Fine Cooking.com.
Ingredients
4

pieces (4 oz. each)

Tilapia fish fillet

1

Tablespoon

calamansi juice (or use lemon)

1

teaspoon

sea salt

1

teaspoon

freshly ground black pepper

1/3

cup

all purpose flour

2

whole

eggs,

beaten

2

cups

Panko bread crumbs

1/4

cup

vegetable oil

whole

lemon, sliced,

for serving

1/2

cup

sweet sour sauce,

for serving (sweet sour sauce in past blog post)

for serving: cucumber-tomato salad

for serving:steamed white or brown rice
Instructions
Pre-season the tilapia fish fillets with lemon or calamansi juice, salt and black pepper powder for about 20 minutes (not longer than this). Cover and refrigerate till ready to cook.

On the counter, line up three medium bowls, each with one of these ingredients for coating: flour, beaten eggs, breadcrumbs.

Take out the fish fillets from the refrigerator. Drain the marinade or any excess liquids. Use a fork or a pair of tongs to hold the fish fillet. Coat the fish with these ingredients by dipping each fish fillet individually into each bowl in this order – first the flour, second the beaten eggs, last the breadcrumbs.

You can choose two ways to cook the fish fillets: pan fry in a skillet, stove top or bake them in the oven.

To pan fry fish : in a large skillet, over medium high heat, add the vegetable oil. After oil is hot enough (but not smoking) in about 2 to 3 minutes, using a cooking spatula, place the breaded fish fillet into the skillet. Lay the fish flat, each one next to the other. Do not overlap the fillets or they will not cook evenly.

Cook each side of the fish fillets for 4 to 5 minutes on each side. Turn them only once. The bread crumbs will turn brown and crisp. If cooking oil gets too hot, lower heat to a medium. The total cooking time for this amount of fish fillets will be about 10 to 12 minutes. Make sure fish is cooked thoroughly. Drain on parchment paper to remove excess oil.

To bake fish: preheat the oven to 350 F. Place the breaded fish fillets in a shallow baking sheet (like a cookie sheet) which will fit all the pieces, lined with parchment paper. Bake tilapia fillets (uncovered) for about 11 to 12 minutes or till bread crumbs are brown.

Serve the breaded tilapia fillets with additional slices of lemon,  sweet sour sauce or bottled chili sauce, a cucumber-tomato salad with a light vinaigrette dressing and a bowl of steamed rice (brown or white).

Cook's comments: I used tilapia fillets for this recipe because they were on sale. On other occasions, I have used catfish fillets, red snapper (lapu-lapu in the Philippines) or even salmon.

Hello, Friends! All the images and content on this blog are COPYRIGHT PROTECTED and owned by my media company Besa-Quirino LLC. This means BY LAW you are NOT allowed to scrape, lift, frame, plagiarize or use my photos and  recipe content I wrote, on your website  without my permission. If you want to republish this recipe or content on another website or news article, please ASK my permission, re-write it in your own words and simply link back to this blog to give proper attribution. It's the legal thing to do. Thank you. Email me at [email protected]
Nutrition
Serving:
100
grams
|
Calories:
314
kcal
|
Carbohydrates:
59
g
|
Protein:
10
g
|
Fat:
3
g
|
Saturated Fat:
1
g
|
Polyunsaturated Fat:
1
g
|
Monounsaturated Fat:
1
g
|
Cholesterol:
4
mg
|
Sodium:
1604
mg
|
Potassium:
142
mg
|
Fiber:
3
g
|
Sugar:
4
g
|
Vitamin A:
5
IU
|
Calcium:
114
mg
|
Iron:
4
mg