Filipino-style Spaghetti with Meatballs
As an Amazon Associate and member of other affiliate programs, I earn from qualifying purchases.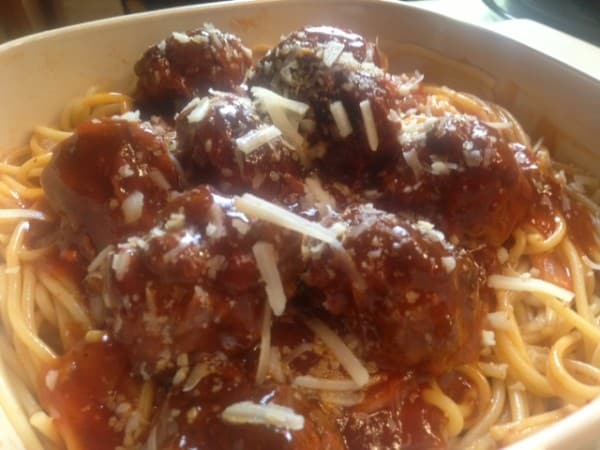 How do you say goodbye to someone who taught you how to cook a basic recipe for Filipino-style Spaghetti with Meatballs ? My cousin, Imelda Besa Chung taught me how to cook spaghetti the Filipino way, with a sweet sauce. I was about 12 then. Mel was 2 years older.
When my cousins from Manila visited us in Tarlac it was always a treat. My mom would cook up special dishes and we would have a big "handa" (a feast) and family reunion. Later, the younger kids like us would retreat to the bedroom my sister and I shared. As pre-teens, we shared stories. I can't forget how Mel (our nickname for Imelda) had a hairbrush constantly in her hand and often brushed her long, dark hair till it shone. I admired and even tried to emulate her '100 hair brush strokes' grooming technique. Yes, she taught me that, too. But that's another story for another time.
When Mel told me she cooked spaghetti, I got excited and eagerly asked her to share the recipe. I got a pad and pen where she scribbled the ingredients.
After my cousins left for Manila, I asked my mom if I could cook spaghetti the way Mel taught me. I wanted to try her recipe right away.
Spaghetti was a novelty for us. In past blog posts I mentioned the strong presence of American influence in our meals. Spaghetti pasta, canned goods, chocolates and coffee purchased from US-PX goods in Pampanga (near Clark Air Force Base), were kept in our pantry but only brought out if we had special guests. These canned goods were some examples.
Mel taught me a very basic sauce base which had canned tomato sauce, Campbell's cream of mushroom soup and don't gasp… American ketchup. Over the years, I kept cooking the same recipe. As I got older, the recipe evolved with my confidence in the kitchen. I added more condiments, more ingredients, more meat. In the process, I omitted the ketchup. The sauce I cooked slowly got thicker, richer and these days even has more natural ingredients. The flavors got more robust, less sweet and more tangy.
One thing remains unchanged. It is the memory of Mel every time I cook spaghetti. A few days ago, together with the rest of our family, we laid Mel to rest. She left us way too soon.
When I got back home, I made these spaghetti with meatballs to honor Mel and what she left behind for us.She was always full of life, optimistic, energetic, very conscious of good health habits, loved her family immensely, was steadfast in her faith. I will miss her reminders to stay healthy, her advice on raising children in America, her infectious laughter and sense of humor.
I cannot say goodbye, Mel. Each time I cook spaghetti for the family, I will think of you. You taught me a basic recipe that helped me so many times when I had to put a quick dish on the table. You didn't know it then when we were kids, but your recipe went a long way to nurture my family through the years. For that, I will always be grateful.
Filipino-style Spaghetti with Meatballs
This is a Spaghetti with Meatballs recipe cooked and flavored the
Filipino way
. What makes it taste the way Filipinos love it is the
sweetness
between the layers. I have explained the presence of sugar in Filipino spaghetti in a
previous blog post.
History, geography and foreign influence has gone into the mix of this beloved pasta dish. This is one of the best comfort meals I serve my family. If I cook the meat sauce ahead of time and freeze it, then I can have a quick meal on busy nights or during impromptu family get-togethers. This is adapted from the original recipe by Imelda Besa Chung and serves 4 to 6.
Equipment
Large saucepan

Large Stockpot
Ingredients
1

pound

ground beef

2

whole

white or yellow onions

chopped, divided, 1 for meatballs, rest for sauce

1/2

cup

breadcrumbs

for meatballs

2

whole

eggs

for meatballs

2

teaspoons

Worcestershire sauce

for meatballs

1

teaspoon

salt

1

teaspoon

ground black pepper

1/4

cup

extra virgin olive oil

4

cloves

garlic

minced

2

cans (8 ounces each)

tomato sauce

1

can (6 ounces)

tomato paste

1

can (28 ounces)

whole tomatoes

1

cup

heavy cream

1

cup

beef broth

4 to 5

Tablespoons

brown sugar

1

teaspoon

salt

1

teaspoon

ground black pepper

1

pound or 16 ounces (454 gm)

spaghetti pasta

cooked according to directions

1

cup

freshly-grated cheese

for sprinkling
Instructions
Prepare the meatballs: Combine the ground beef, egg, breadcrumbs, chopped onions, Worcestershire sauce, salt and black pepper in a large bowl. Blend well. Shape into meatballs about 2-inches in diameter. Refrigerate for at least 30 minutes to one hour to firm up meatballs before cooking. (Or you can store uncooked meatballs in a sealed plastic container, freeze and keep till ready to use).

How to cook meatballs: In a large skillet, over medium high heat, add the cooking oil. After oil is hot enough, in about 2 minutes, add the meatballs, leaving an inch space in between each one. Cook the meat for about 30 minutes for well done meatballs.  When done, drain the excess oil by laying meatballs on parchment paper.

How to cook the spaghetti sauce: Using the same large skillet, over medium high heat, saute the garlic and onions.

Add the tomato sauce, tomato paste and canned whole tomatoes to the skillet. Blend well.

In a separate small bowl, blend the heavy cream with the beef broth. Mix well till there are no lumps. When it is smooth, pour this into the tomato sauce mixture in the skillet.

By then the sauce would have boiled. Lower heat to a slow simmer. Cook for 35 to 40 minutes over a low heat. Stir occasionally so the sauce does not stick to the bottom.

Add the cooked meatballs. Coat the meat with the tomato sauce mixture. Season with salt and pepper.

Lastly, add the sugar. Turn off the heat. Do not cook the spaghetti sauce with sugar or you might burn the sauce.

To cook pasta: Cook spaghetti pasta in a large pot of boiling water with a pinch of salt. Follow package directions and cook for 8 to 10 minutes. Drain pasta when cooked.

To assemble: Arrange the pasta on a large platter. Add a few tablespoons of the sauce on the pasta, making sure to coat the spaghetti with the sauce. Pour the rest of the spaghetti sauce and meatballs over the pasta. Sprinkle the top with freshly grated cheese. Serve hot.

Cook's comments: Sometimes, Filipino spaghetti meat sauce uses a combination of half ground beef and half ground pork.

Hello, Friends! All the images and content here are COPYRIGHT PROTECTED. This means BY LAW you are NOT allowed to use my photos or content on your website  without my permission. If you want to republish this recipe, please re-write it in your own words and simply link back to this blog to give proper attribution. It's the legal thing to do. Thank you.
Nutrition
Serving:
1
g
|
Calories:
942
kcal
|
Carbohydrates:
109
g
|
Protein:
37
g
|
Fat:
39
g
|
Saturated Fat:
11
g
|
Cholesterol:
82
mg
|
Sodium:
1608
mg
|
Potassium:
670
mg
|
Fiber:
5
g
|
Sugar:
16
g
|
Vitamin C:
1
mg
|
Calcium:
91
mg
|
Iron:
5
mg
Notes on Nutrition: The nutrition information provided is an estimate and will vary based on cooking methods and specific brands of ingredients used.
Did you like this recipe? I have more classic recipes inspired by my late mother's cooking in my popular cookbook: My Mother's Philippine Recipes. If you're learning how to cook Filipino food or a fan of Philippine cuisine, buy my cookbooks and books on Amazon.com sold worldwide in paperback and Kindle format.
Hello, Friends! Please DO NOT LIFT OR PLAGIARIZE my original recipe, stories, photos or videos. All the images and content on this blog are COPYRIGHT PROTECTED and owned by my media company Besa-Quirino LLC. This means BY LAW you are NOT allowed to copy, scrape, lift, frame, plagiarize or use my photos, essays, stories and recipe content on your websites, books, films, television shows, videos, without my permission. If you wish to republish this recipe or content on media outlets mentioned above, please ASK MY PERMISSION, or re-write it in your own words and link back to my blog AsianInAmericaMag.com to give proper attribution. It is the legal thing to do. Thank you. Email me at [email protected]