Lumpiang Tinapa: Fried Egg Rolls with Smoked Fish
As an Amazon Associate and member of other affiliate programs, I earn from qualifying purchases.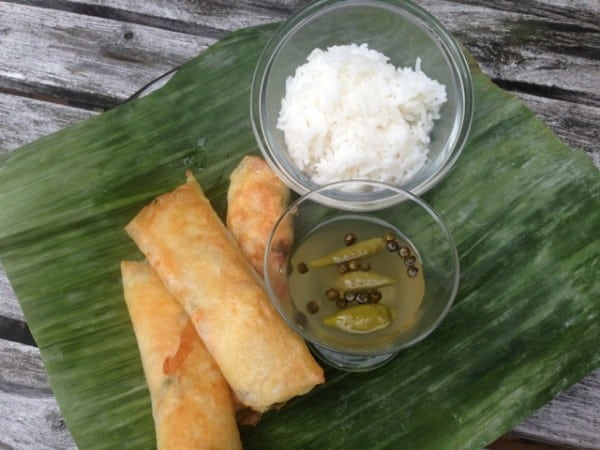 Not everyone likes leftovers especially in our household. To solve that I never tell my family the meal was a rewind from the other night. I just put dinner on the table like these Lumpiang Tinapa – Fried Egg Rolls with Smoked Fish.
On Sundays, there is more time for me to cook. So I cook big Sunday suppers. There is time to make simmering adobo braised in tangy vinegar-garlic sauces, grilled salmon in banana leaves, roasted chicken a la 'lechon manok', char-grilled skewered pork barbecue, vegetable sides and baked desserts. It's always a big spread. And there are always leftovers.
Like the baked salmon from the other night and the tinapang bangus (smoked milkfish) from another weeknight. There was at least half of each left. And so I made these crisp lumpia.
Lumpia (say 'loom-pyah') is the Filipino egg roll. It comes in many forms and fillings. The more popular ones are the pork or vegetable-filled which I have posted on this blog before. This time, it was the salmon's turn to be glorified into scrumptious crunchy pieces.
The filling consisted of flaked fish sautéed with fresh, new vegetables of potatoes, green beans and chick peas (garbanzos). After stuffing the store-bought lumpia (egg roll) wrappers, I shoved them in the freezer for an hour to firm up. This process of chilling does wonders to the crispy outcome of the lumpia.
Once cooked, the long, lean lumpia pieces with thin, crackling wrappers encasing the savory filling was hard to put down. If you dunk an entire lumpia into a side dipping sauce of hot, spicy vinegar flavored with bird's eye chilies (siling labuyo), garlic cloves, black peppercorns you're in for a mind blowing treat.
Make a batch for the weekend or weeknights. Pack some in the lunchboxes. No need to tell the family they're from leftovers. You won't have to. They'll be begging for more by the time the last lumpia is left on the platter.
Lumpiang Tinapa - Fried Egg Rolls with Smoked Fish
Lumpiang Tinapa - Fried Egg Rolls with Smoked Fish are crisp egg rolls filled with flaked smoked milkfish (tinapang bangus),
cooked salmon
, potatoes, green beans, garbanzos or chick peas sautéed in garlic and onions. From our big Sunday suppers, I collect the leftovers, chop them up and make these delightful, crunchy  pan fried egg rolls. Serve with a side dipping sauce of scorching hot, spicy vinegar. These are perfect as appetizers, snacks, sides, main dishes or to pack in lunchboxes. This is an Asian In America recipe. Makes about 18 to 20 lumpia-egg rolls.
Ingredients
1

cup

flaked smoked fish

deboned (from Asian markets or use any smoked fish preferred); cooked smoked milkfish (tinapang bangus)

1

cup

flaked cooked salmon fillet

deboned, cooked

3/4

cup

vegetable oil

divided, use 2 Tablespoons for saute of filling, rest for pan frying egg rolls

2

cloves

garlic,

minced

1

whole

onion,

chopped

1-2

whole

large potato

cut in small cubes, about 1 cup

1

cup

sliced green beans

cut in 1/2 inch pieces. trim edges

1

cup

garbanzos (chick peas)

canned, drain liquid garbanzos

18 to 20

pieces

lumpia (egg roll) wrappers,

from Asian markets

1

whole

egg,

beaten, for egg wash

1/2

cup

water

for egg wash

1

cup

white vinegar,

for side sauce

4

cloves

garlic,

peeled, minced, for side sauce

1

teaspoon

black pepperorns

2

teaspoons

salt

divided, 1 teaspoon for filling, rest for vinegar sauce

2

teaspoons

ground black pepper

divided, 1 teaspoon for filling, the rest for vinegar dipping sauce

2

whole

siling labuyo (bird's eye chilies)

for vinegar side sauce

for serving : steamed white rice
Instructions
Flake the cooked fish into shreds using a fork and knife. Remove any fish bones. Set aside.

Over medium heat, in a large skillet, saute the garlic, onions, potatoes green beans. Cook for about 8 minutes till onions are translucent and potatoes are soft, but not mushy.

Add the flaked fish and garbanzos. Blend ingredients well gently, being careful not to mash the fish or vegetables. Cook for 1 minute more. Turn off heat. Try not to overcook the filling mixture because the lumpia-egg rolls will be pan fried further later on.

Place the fish and vegetables filling in a colander. Drain any excess liquids.

Prepare the store-bought lumpia-egg roll wrappers. If previously frozen, make sure they are thawed. Separate the wrappers and spread on a clean, dry surface.

Blend the beaten egg and water for the egg wash used to seal the wrappers.

Into each lumpia wrapper, place about 2 tablespoons of the fish-vegetables filling. Spread out in a thin, long line.

Using a pastry brush, spread a thin layer of egg wash all around the edges of the lumpia wrapper.

Wrap the lumpia like a thin, slim burrito. Roll it away from you. It should look like a slim cigar. Tuck the edges on the left and the right inside the roll. Press the edges down to seal. Keep the wrapped uncooked egg rolls in a covered plastic container. Refrigerate or freeze for at least one hour before cooking. These lumpia can also be stored in the freezer for several weeks up to a month till you are ready to cook.

How to cook lumpia: In a large skillet, over medium high heat, add the cooking oil. The cooking oil should be hot enough (but not burning), approximately a 350 F temperature before adding the lumpia. If oil is not hot enough, your lumpia-egg rolls will NOT be crisp. Add each lumpia carefully to the hot skillet. Cook each lumpia for about 5 to 6 minutes, turning every 3 minutes for even browning. The lumpia wrapper should have a light brown, golden color. Drain cooked lumpia on parchment paper to remove excess oil. Serve with a spicy vinegar dipping sauce. Serve with rice.

How to make the vinegar dipping sauce. I have posted about how to make the vinegar sauce ahead of time. The recipe and procedure are on

this link here

. For a cupful of spicy vinegar sauce, combine the vinegar, garlic cloves, peppercorns, bird's eye chilies (sili), salt and black pepper in a small bowl. Store in a covered glass container.

Cook's comments: On weekends when I have time, I make a big batch of lumpia and keep them uncooked in the freezer for busy weeknights. To make it even easier to cook later on, I divide the lumpia in various plastic containers, with servings enough for us for each meal. For eg., I keep six pieces in a Ziploc bag for one mealtime.

Recipe tips: This is the base recipe and is very versatile. Feel free to add other vegetables you have available. I have added carrots, green peas,mushrooms, beans, shredded cabbage, tofu, mung bean sprouts, red and green peppers.

Hello, Friends! All the images and content here are COPYRIGHT PROTECTED. This means BY LAW you are NOT allowed to use my photos or content on your website  without my permission. If you want to republish this recipe, please re-write it in your own words and simply link back to this blog to give proper attribution. It's the legal thing to do. Thank you. Email me at  [email protected]
Nutrition
Serving:
1
g
|
Calories:
373
kcal
|
Carbohydrates:
2
g
|
Protein:
1
g
|
Fat:
41
g
|
Saturated Fat:
33
g
|
Cholesterol:
1
mg
|
Sodium:
1167
mg
|
Potassium:
25
mg
|
Fiber:
1
g
|
Sugar:
1
g
|
Vitamin C:
1
mg
|
Calcium:
16
mg
|
Iron:
1
mg
Notes on Nutrition: The nutrition information provided is an estimate and will vary based on cooking methods and specific brands of ingredients used.
Did you like this recipe? I have more classic recipes inspired by my late mother's cooking in my popular cookbook: My Mother's Philippine Recipes. If you're learning how to cook Filipino food or a fan of Philippine cuisine, buy my cookbooks and books on Amazon.com sold worldwide in paperback and Kindle format.
Hello, Friends! Please DO NOT LIFT OR PLAGIARIZE my original recipe, stories, photos or videos. All the images and content on this blog are COPYRIGHT PROTECTED and owned by my media company Besa-Quirino LLC. This means BY LAW you are NOT allowed to copy, scrape, lift, frame, plagiarize or use my photos, essays, stories and recipe content on your websites, books, films, television shows, videos, without my permission. If you wish to republish this recipe or content on media outlets mentioned above, please ASK MY PERMISSION, or re-write it in your own words and link back to my blog AsianInAmericaMag.com to give proper attribution. It is the legal thing to do. Thank you. Email me at [email protected]