How to make Suman Sa Ibus: Sticky Rice Logs & Holiday Cooking in 2 Kitchens
As an Amazon Associate and member of other affiliate programs, I earn from qualifying purchases.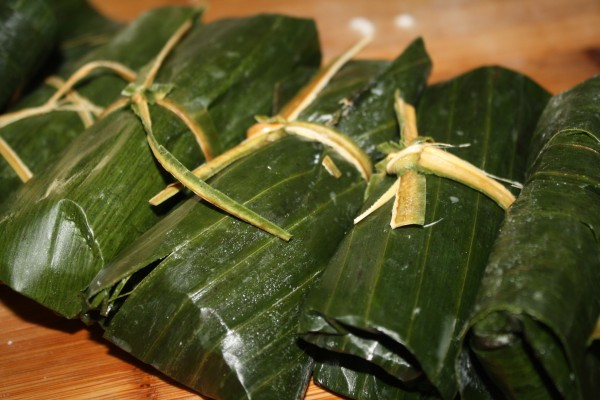 "Looking for help from my Pinoy chefs (or Pinoy-wise chefs). Anyone have a recipe for Suman sa Ibus that goes in banana leaves?" Carlie, my niece in the Midwest, posted on Facebook. My nieces and I enjoy exchanging cooking tips. Carlie is a young housewife/career woman, and a whiz in her own kitchen. She also has a wealth of health and fitness information, plus lots of fond Filipino food memories she enjoyed growing up.
I replied to Carlie's call for Suman sa Ibus (sticky rice logs boiled in banana leaves) and sent her a recipe which had been passed around the family. This was a recipe from our Auntie Tacing. Both Carlie and I miss our dear Auntie Tacing, who's moved back to the Philippines. Auntie made this suman often, along with other "kakanin" (Filipino snacks made of sticky rice and coconut).
SUMAN SA IBUS is a holiday favorite among Filipinos. It translates to "sticky rice logs" because it is made of sticky rice, sugar, coconut milk and shaped like little logs, wrapped in banana leaves. After emails containing the recipe were exchanged, both Carlie and I got to work, in each of our kitchens…simultaneously cooking from the same recipe. Here's what happened. You be the judge. Two different kitchens. One single recipe. But both incredibly super Sumans.
My Suman sa Ibus was simply wrapped and boiled in banana leaves. Then after it was cooked, I unwrapped the banana leaves and dredged the sticky rice log in granulated sugar. Simple, sweet and superb. So filling and flavorful. The banana leaves gave the sticky rice a fragrance that was fresh and delicate.
Over in the Midwest, my niece, Carlie went a step further and added chocolate to her own suman. As you can see from the photo she sent, it's scrumptious and her memories of it all, just as sweet:
"Suman reminds me of cold winters in Cleveland. I remember the sound of the tiny whisk and the frothing hot chocolate – my Auntie Tacing whipped it up, milk still very hot, in a small heatproof measuring cup. She served with the hot chocolate alongside the Suman and the cocoa was both rich and bittersweet. This, of course, was one of my favorite breakfasts – chocolate and rice, how could you go wrong!
While my suman was boiling on the stove, I made my hot chocolate with ¼ cup heavy cream, ¾ cup 1% milk, and two different kinds of chocolate: dutch processed cocoa powder and semi-sweet baking chocolate and I sweetened with 1 tbsp of brown sugar. I'm not sure how much chocolate I used, but enough to give it a deep brown color and a nearly syrup like consistency. Mmmm masarap (delicious)! I was delighted in the first bite – the creamy and dense texture of the Suman against the silky hot chocolate.
Thanks so much for sharing this recipe – I can't wait to try it again because it really was simple and delicious!"
Hugs and kisses,
Carlie "
Though miles apart,and in different kitchens, Carlie and I managed to cook and enjoy the same recipe for Suman. What better way to celebrate the holidays than by cooking together a family favorite?
SUMAN SA IBUS
*A Recipe we both shared from Auntie Tacing, adapted from "Recipes of Philippine Kitchens" by E.D.Perez
1 cup sticky rice
1 and ½ cup coconut milk, canned
1 and ½ teaspoon salt
Banana leaves, enough to wrap approximately 10 sticky rice logs (from Asian groceries, freezer section)
Soak the sticky rice in water overnight. The rice grains should be swollen the following day.
The next day, wash the rice and drain well. Add the salt and coconut milk. Mix well.
Lay out banana leaves flat on the counter. Spread about a tablespoon and a half of the rice mixture, lengthwise, the shape of a log. Wrap the "suman" like you were wrapping a burrito : tuck both sides on the left and right, inwards. Then the side facing you, fold the banana leaf outward, wrapping the rice log. Roll it and tie it with butcher's twine or "string" made from the spine edges of the banana leaf. (See photo)
In a heavy large pot, arrange the "suman" or rice logs at the bottom. Fill the pot with water till it covers the "suman". Cover and boil for 2 hours until it is cooked completely.
Once cooked, allow the suman to cool for a few hours. Serve with white granulated sugar on the side.
COOK'S COMMENTS: Carlie chose to top her "Suman" with chocolate, as you can see from her photo. I am content with mine just sprinkled with sugar. Suman is great served for breakfast or merienda (afternoon snack). Often we like to pair it with "Champorado", a chocolate rice porridge.
My Niece Carlie
Carlie Ringle is a washed up writer, fitness enthusiast and self-diagnosed foodie whose culinary inspirations are rooted in fitness training articles and soulful home-style cooking. Carlie and her husband nest in the Mississippi River Flyway where they enjoy hiking and camping in the Ozarks and romping through the forest with their Vizla pup. Her minimally updated blog can be found at https://www.getfitcarlie.blogspot.com. Or follow her folly on Twitter @GetFitCarlie.