Japanese Castella Sponge Cake
As an Amazon Associate and member of other affiliate programs, I earn from qualifying purchases.
[amazon_link asins='B004K6771U,B00YEYL8T0,B007U256CS,B004T3469U,B0032JRVCG' template='ProductCarousel' store='queensnotcom-20′ marketplace='US' link_id='def257cb-b37c-11e7-a577-a563b397b6dc']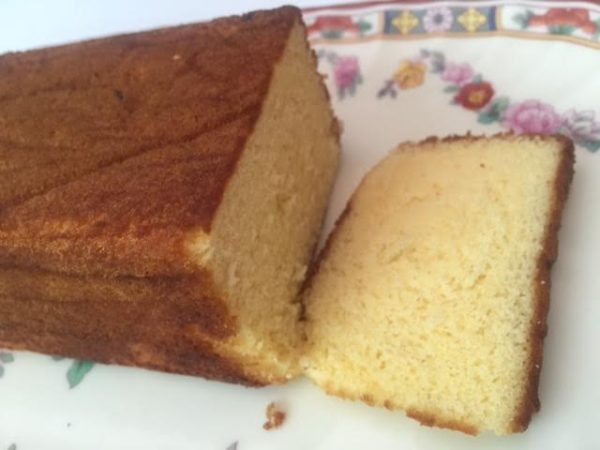 On a sunny, warm June day in Tokyo, Japan our Quirino clan gathered around a monument marker as it was unveiled in historic Hibiya Park. The marker was Japan's gesture of gratitude for the late Philippine President Elpidio Quirino, 6th Philippine President (from 1948 to 1953). Japan was honoring our "lolo" (grandfather) Elpidio for his acts of clemency. In 1953 President Quirino officially pardoned Japan and repatriated hundreds of POW's. He found it in his heart to be merciful in spite of the World War II atrocities especially the massacre of President Quirino's own wife, Alicia and their three small children by the Japanese Imperial Army during the Battle of Manila in February 1945.
And so this is how peace begins. Forgiveness is the answer. Healing starts with forgiving. President Quirino's pardon of the Japanese was an unpopular decision among his constituents, his opposition and other countries. In fact, it was political suicide and caused him his presidency. But the man was a visionary. As a world leader, he knew that Japan would someday emerge as an important global ally.
Generations after, the Quirino grandchildren and great-grandchildren gathered together in Japan to witness what the legacy of President Quirino showed the world. That peace can be achieved with "tolerance, goodwill and love."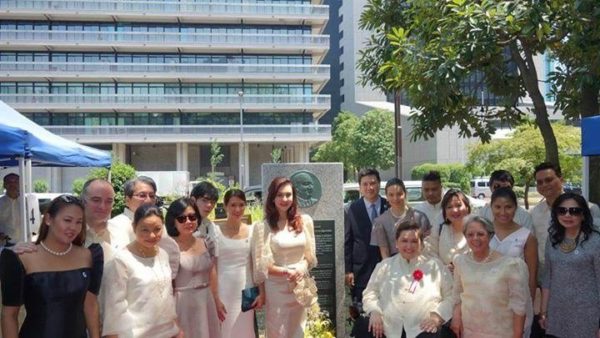 And this is why we were in Japan recently for a whole week. What a week it was. After the Quirino event at Hibiya Park, our family of four stayed on and had a birthday vacation. My son, Tim and I share the same birthday week. Plus it was the American "Father's Day" weekend, so we celebrated.
If you haven't been to Japan yet, it is one of the most beautiful countries to visit in Asia. From the east coast, it is a 15 hour flight non-stop to Tokyo. We landed in Narita airport and took a shuttle service to the luxurious Imperial Hotel, about an hour away.
Every day was a travel adventure for us. In Japan we did all these: we toured world-famous historic sites like Mount Fuji and Kyoto, we shopped in the most modern department stores and we were adventurous eaters.
But one of the most favorite things I was eager to relish in Japan again was the Castella or "kasutera" as the Japanese call it. We bought one loaf cake at a large department store in Ginza and brought it back to our hotel room. This is a simple loaf cake made from eggs, milk and oil, baked then brushed with honey all over and encased in a plastic wrap so the sweetness is absorbed inside.
Japanese desserts are mild and sweetness is understated. The Castella is an example. There is no butter in the loaf cake, yet you savor creaminess in the texture from the milk. The honey is absorbed by the golden brown topping, so every slice is divine.
I loved Japan but I couldn't wait to return to my kitchen in the USA to bake a Castella. I had baked it before after a previous trip. But I wanted to bake it again. It is true that food brings back memories. The creamy slice of castella in my kitchen, in my home, paired with a good cup of piping hot matcha green tea evoked sweet memories of our week in Japan… a week that started with an act of forgiveness and a gesture of peace more than 60 years ago.
More stories about what to do and where to go in Japan coming in my future blog posts. Stay tuned, folks!
Japanese Castella Sponge Cake
Our Japan trip got me hooked on the Castella, a Japanese sponge tea cake, of Portuguese origin. I found a terrific Castella cake recipe in the "Bake Me a Cake" cookbook of Manila-based author, Ginny Roces De Guzman. The author said it's called "kasutera" (drop the 'u' when you say it). Ginny explained in the cookbook how to bake the cake by "foaming the egg yolks over hot water hastens the melting of the sugar and aerates the yolks, which makes the cake rise without any baking powder." It's one of the easiest cakes I've baked. What makes this elegant, delicate Castella so interesting, is that after baking, you make the cake moist by covering the cake in plastic. What a terrific idea, without grease or butter.This Castella cake recipe was inspired by the "Bake Me A Cake" cookbook by Ginny Roces de Guzman (Sketchbooks Inc., Manila, Philippines). Serves four to six.
Equipment
Loaf Pan : 8 inches x 3 inches
Ingredients
5

whole

egg yolks

1/2

cup

granulated sugar

1/4

cup

warm milk

1/4

cup

honey

for cake batter

3/4

cup + 2 Tablespoons

all purpose flour

5

whole

egg whites

1/4

cup

granulated sugar

for the egg whites

2

Tablespoons

honey

for cake topping

1

Tablespoons

warm water

to mix with honey
Instructions
Preheat oven to 350 F degrees. Line the bottom of a loaf pan, measuring 8 inches x 3 inches, with a height of 4 inches with parchment paper.

Combine the egg yolks and sugar in a bowl, that is placed atop another bowl filled with hot water. Using a hand held mixer, beat the egg yolks until very thick, about 5 minutes.

Combine the hot milk and 1/4 cup honey in another bowl. Lower the speed of the mixer and slowly add the milk and honey to the egg yolk mixture.

Sift the flour over the egg yolk mixture and fold in thoroughly.

Beat the egg whites in a clean bowl on medium speed until the bubbles are fine and the whisk forms a pattern. Add the sugar gradually and continue to beat until thick and glossy.

Fold about one third of the egg whites into the egg yolk mixture to lighten it. Fold in the remaining egg whites gently but thoroughly.

Pour the batter into the prepared pan and bake at 350 F for 35 minutes. The center of the cake should spring back when lightly touched. Remove the cake from the oven.

Brush the top of the cake immediately with  honey thinned with warm water.

While still warm, remove the cake carefully from the pan and put it inside a large plastic bag until it cools. The trapped heat in the bag will cause a little condensation to form which will keep the cake moist.

Slice the cake evenly  to serve. Serve the Castella slices unadorned, as is the tradition, with a cup of tea.

PHOTOGRAPHY CREDITS: Many thanks for the following whose photos I used in this blog post -- 1) The President Elpidio Quirino Foundation for the Quirino clan photo at the Hibiya Park Monument; 2) Pauline Quirino Varanal - for our family of 4 photo; 3) Tim Quirino - for the photo of Constante Quirino at the Kyoto temple ; 4) All food and Japan photos by Elizabeth Ann Quirino.
Copyright Notice: Hello, Friends! All the images and content on this blog are COPYRIGHT PROTECTED and owned by my media company Besa-Quirino LLC. This means BY LAW you are NOT allowed to copy, scrape, lift, frame, plagiarize or use my photos and recipe content I wrote, on your website without my permission. If you want to republish this recipe or content on another website or news article, please ASK my permission, re-write it in your own words and simply link back to this blog to give proper attribution. It's the legal thing to do. Thank you. Email me at [email protected]
Be inspired by presidential quotes from a great world leader. Get a copy of "Statesman and Survivor Elpidio Quirino 6th President of the Philippines" by Elizabeth Ann Quirino, Elpidio Pineda Quirino and Constante G. Quirino. Sold on

Amazon. com

.

Click here to buy.
Nutrition
Serving:
1
g
|
Calories:
435
kcal
|
Carbohydrates:
103
g
|
Protein:
6
g
|
Fat:
1
g
|
Saturated Fat:
1
g
|
Cholesterol:
14
mg
|
Sodium:
5
mg
|
Potassium:
66
mg
|
Fiber:
1
g
|
Sugar:
64
g
|
Vitamin A:
18
IU
|
Calcium:
8
mg
|
Iron:
2
mg
Notes on Nutrition: The nutrition information provided is an estimate and will vary based on cooking methods and specific brands of ingredients used.
Did you like this recipe? I have more Filipino Instant Pot recipes in my newest cookbook Instant Filipino Recipes: My Mother's Traditional Philippine Cooking in A Multicooker Pot by Elizabeth Ann Besa-Quirino. Buy my cookbooks and books on Amazon.com sold worldwide in paperback and Kindle format.
Copyright Notice: Hello, Friends! Please DO NOT LIFT OR PLAGIARIZE my original recipe, stories, photos or videos. All the images and content on this blog are COPYRIGHT PROTECTED and owned by my media company Besa-Quirino LLC. This means BY LAW you are NOT allowed to copy, scrape, lift, frame, plagiarize or use my photos, essays, stories and recipe content on your websites, books, films, television shows, videos, without my permission. If you wish to republish this recipe or content on media outlets mentioned above, please ASK MY PERMISSION, or re-write it in your own words and link back to my blog AsianInAmericaMag.com to give proper attribution. It is the legal thing to do. Thank you. Email me at [email protected]
Disclosure: Instant Pot is the brand name of a multi-cooker that cooks in high and low pressure. I was not paid by the Instant Pot company to mention the product or brand nor endorse it. This is not an ad. My views and opinions are my own.