Adobo Beef Burgers
As an Amazon Associate and member of other affiliate programs, I earn from qualifying purchases.
]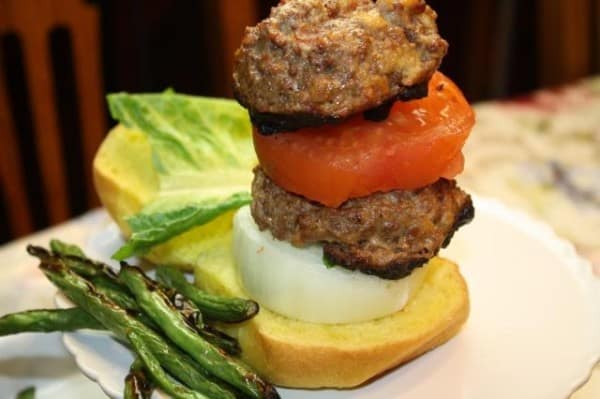 Sometimes you have to leave home to miss it. Especially home cooked meals like these char-grilled Adobo Beef Burgers. We were on a quick 4-day hectic trip to California this past weekend. It was nice but the pace was fast and the traffic on the freeway was maddening. I also was not used to the humid heat anymore like we have in Manila.
We visited with our Auntie Mely who celebrated her 95th birthday; had fun hanging out with family; went to a few business meetings; reunited with a college classmate; visited some restaurants recommended by friends; and most importantly, did a guest TV appearance on "Halo-Halo with Kat Iniba" which aired on the local stations LA18-KSCI and Hawaii KIKU networks.
But being on the road nonstop takes its toll on me. The time zones and restaurant food get my system discombobulated. Even airport food tastes blah after a while. No matter how warm the welcome is from family in other states, there is nothing like coming home to your own bed and your own kitchen. It also hit me that the 4th of July was coming up this weekend. You see, my husband was born on the 4th. He doesn't want me to fuss too much in the kitchen or go to great lengths for him. But I try to make the day special as best as I can. Even our sons help by cooking dishes of their own, too.
For this 4th of July weekend, I am making the easy No-Bake Berry Refrigerator Cake which I shared on my TV guest appearance and was on the blog last week. I'm making a nice, big Macaroni Chicken Salad with Pineapple and Raisins. This was from a previous post and was featured on The Happy Home Cook on PositivelyFilipino.com.
Finally, the centerpiece will be these hefty Adobo Beef Burgers. I grilled these burgers because that was the easiest way to cook these beauties. I've experimented with different adobo burgers and this recipe was pretty superb. While I grilled it on medium high, the familiar adobo aromas of heady garlic mixed with vinegar floated by. It was magical. We poured the chilled beverages and took out the cold salads. There is nothing like the feverish anticipation of waiting for a burger grilling on the rack, salivating at its savory garlic-onion aromas on a fine summer day.
It was good to be home.
Adobo Beef Burgers
These Adobo Beef Burgers have Filipino flavors. I have grilled many burgers over the years we've lived in America. My family loves a good old fashioned burger served with crisp fries on the side. This time I made a Pinoy burger with adobo flavors of garlic and vinegar. I cooked vegetables right next to the patties on the grill to serve as a side. And for an added Filipino touch, stacked the burgers and condiments on a jumbo pan de sal, the Filipino bun. This recipe was inspired by "The Adobo Book" by Nancy Reyes Lumen, from the 'Adoburger' recipe by Ronnie Alejandro in the cookbook (Anvil Publishing, Manila, Philippines). Serves 4.
Ingredients
1

pound

ground beef

lean ground chuck

3

whole

pan de sal buns or dinner rolls

shredded into pieces

1/2

cup

milk

to soak bread

1

whole

onion

chopped

2

teaspoons

minced garlic

2

whole

eggs

4

Tablespoons

thick soy sauce

divided, use 2 Tablespoons for burger patties, 2 T. for glaze while cooking

4

Tablespoons

cider vinegar

divided, use 2 T. for burger patties, 2 T. for glaze

2

teaspoons

ground black pepper

divided, use 1 teaspoon for burger, 1 tsp. for glaze

1

teaspoon

salt

divided, use 1/2 teaspoon for burger, 1/2 t. for glaze

1

cup

seltzer water

for glaze

1

whole

large onion

sliced for garnish

4

large

pan de sal (Filipino buns) or burger buns

for burger sandwich or any type of round buns

1/2

pound

assorted vegetables in season for grilling

(Green beans, asparagus, eggplants, corn)

2

whole

tomatoes

sliced, for garnish

1

whole

cucumber

peeled, seeded, sliced, for garnish

6 to 8

large

fresh lettuce leaves

for garnish
Instructions
In a medium sized bowl, combine the shredded pan de sal (or any bread) and the milk. Mix well till milk is well incorporated and bread has absorbed liquid well. Cover and set aside.

Separately, in a larger bowl, mix together the ground beef and all the ingredients : bread-milk mixture, onions, garlic, eggs, soy sauce, cider vinegar, black pepper, sea salt. Shape into 4-inch sized burger patties. Gently press the middle of the patty with your thumb to create a slight dent in the center. Place patties on a tray. Refrigerate for at least an hour to firm up. Take burger patties out of the ref when ready to grill..

Separately, mix together the ingredients for the adobo glaze : soy sauce, cider vinegar, minced garlic, ground black pepper, seltzer water. Blend well. Cover and chill till ready to use as a glaze or marinade.

Pre-heat the outdoor grill to a high for about 10 minutes with the lid closed (I use a gas outdoor grill). Then lower the heat to a medium. Place the burgers on the middle of the pre-greased rack. Flip burgers only once. Grill the first side about 3 to 4 minutes. Flip and grill the other side of  burgers for 6 to 7 minutes more on medium high to cook well-done. (Note: for medium-rare, grill for about 5 minutes total).

In between, brush the adobo glaze over the burgers while cooking on the grill.

Place the assorted vegetables, peeled and sliced as needed, on the grill to cook for a few minutes while the burgers are nearly done. Drizzle some of the adobo glaze on the vegetables to season them.

Toast the sliced bread buns on the grill for 2 minutes, inner side down on rack. When burgers are ready, stack them up to fill pan de sals (the Filipino bread bun) or any burger bun preferred.  Garnish the burgers with slices of onions, tomatoes, cucumbers. Serve with the grilled vegetables on the side.

Hello, Friends! All the images and content on this blog are COPYRIGHT PROTECTED and owned by my media company Besa-Quirino LLC. This means BY LAW you are NOT allowed to copy, scrape, lift, frame, plagiarize or use my photos and  recipe content I wrote, on your website  without my permission. If you want to republish this recipe or content on another website or news article, please ASK my permission, re-write it in your own words and simply link back to this blog to give proper attribution. It's the legal thing to do. Thank you. Email me at [email protected]
Nutrition
Serving:
1
g
|
Calories:
330
kcal
|
Carbohydrates:
6
g
|
Protein:
21
g
|
Fat:
24
g
|
Saturated Fat:
9
g
|
Cholesterol:
85
mg
|
Sodium:
702
mg
|
Potassium:
586
mg
|
Fiber:
1
g
|
Sugar:
4
g
|
Vitamin A:
805
IU
|
Vitamin C:
12.5
mg
|
Calcium:
74
mg
|
Iron:
2.5
mg
Notes on Nutrition: The nutrition information provided is an estimate and will vary based on cooking methods and specific brands of ingredients used.
Did you like this recipe? I have more classic recipes inspired by my late mother's cooking in my popular cookbook: My Mother's Philippine Recipes. If you're learning how to cook Filipino food or a fan of Philippine cuisine, buy my cookbooks and books on Amazon.com sold worldwide in paperback and Kindle format.
Hello, Friends! Please DO NOT LIFT OR PLAGIARIZE my original recipe, stories, photos or videos. All the images and content on this blog are COPYRIGHT PROTECTED and owned by my media company Besa-Quirino LLC. This means BY LAW you are NOT allowed to copy, scrape, lift, frame, plagiarize or use my photos, essays, stories and recipe content on your websites, books, films, television shows, videos, without my permission. If you wish to republish this recipe or content on media outlets mentioned above, please ASK MY PERMISSION, or re-write it in your own words and link back to my blog AsianInAmericaMag.com to give proper attribution. It is the legal thing to do. Thank you. Email me at [email protected]