Stuffed Button Mushrooms with Chorizos and Cheese
As an Amazon Associate and member of other affiliate programs, I earn from qualifying purchases.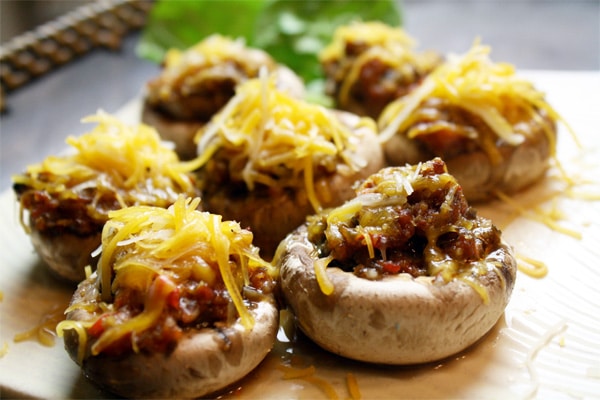 I came back from California renewed and happy. But I needed a quick appetizer– Stuffed Button Mushrooms with Chorizos and Cheese was just the thing to tide us over till I finished cooking dinner. California had been amazing. We packed 4 days with get-togethers, dinners, family parties, meetings and a TV guest appearance on LA18 to do a cooking demo on "Halo Halo with Kat Iniba".
One of the most enjoyable times of my trip was seeing a college classmate I had not seen since graduation. And that's a lifetime, with marriage, kids and life events all thrown in the mix. Why we didn't reconnect in person till now, is hard to explain but easy to believe – life got in the way.
As soon as Carmen flung the door open, she hugged me so tight. It was heartwarming and made me teary-eyed. We sat down to chat. The years simply melted away. We laughed and chatted. We shared stories about our families, children, the Philippines, living in America, old classmates from way back and finally to our present day lives. After a superb Mediterranean meal and good wine, we had dessert back at their place. The evening was not enough. We swore to stay in touch and continue the conversation even if I was back in the east and she was in the west coast.
A lot of times, in order for our spirits to soar, women need these close friendships. Often it is the friendships we made with schoolmates that are the ones that endure. In my case, I am closest to my college classmates. These are the friends who have known and accepted us for who we are. They are the ones who saw us on our worst and best days. We nudged each other, confided our innermost fears and secrets. It was this cradle of friendship where we rested our weary souls and found solace when the sun wasn't shining that day.
Well, that day the sun was shining brightly in sunny California. I have missed Carmen and friendships like this that are warm, true and unconditional. Where you don't have to explain your culture, your nuances and your heavy accent is not an issue; you don't have to keep repeating yourself to be understood. As women, it is these trusted connections that nourish our souls.
When we got back home to New Jersey, I discovered a pack of unopened jumbo button mushrooms I purchased before our trip. The cold refrigerator temperature had kept it fresh. I quickly retrieved an old recipe from my files. Though happy, I was physically worn out from the trip and the flight delays. I needed a quick recipe and the Stuffed Mushrooms with Chorizos and Cheese was perfect. The middle stems of the mushrooms came out quickly. I swiftly chopped the chorizos, mushrooms and peppers. I tossed and mixed them. Then I stuffed the mushrooms and baked them. Before long, the melted cheese aroma filled the air. The stuffed mushrooms looked plump, round and glorious with the cheddar cheese tendrils half falling out and half melted from the center. Just like good, old friendships this tried and tested recipe was easy and has endured through the years.
Stuffed Button Mushrooms with Chorizos and Cheese
These Stuffed Button Mushrooms with Chorizos and Cheese are perfect when you need a fast, superb recipe for appetizers. The finely chopped smokey Spanish chorizos, mushroom stems, cheese and seasonings fill the center of the jumbo button mushrooms. Once baked, these are even harder to resist. Serve these for a party or a family dinner. They are sure to be a hit. This AsianInAmericamag.com recipe first published on QuirkDIY.com  Quirk Books). Serves 2 as an entree, up to 4 as an appetizer or side.
Ingredients
1

package (10 oz.)

jumbo button mushrooms

about 10 to 12 pieces

1

4 oz.

Spanish chorizo (casing removed)

chopped

1

whole

large egg

1/2

cup

chopped red or green bell peppers

seeded, white membrane removed

2

Tablespoons

bread crumbs

regular-flavored

1

Tablespoon

melted butter

1/2

cup

grated cheddar cheese
Instructions
1. Wipe button mushrooms clean with a paper towel. Hold stems firmly and pull out. This will leave the hollow portion in the middle for stuffing.

2. Chop the stems finely into small bits. Combine this with the chopped chorizos, egg, chopped bell pepper, bread crumbs and melted butter. Mix well and place stuffing inside the hollow part of the mushrooms.

3. Sprinkle grated cheese on each mushroom. Place in a pre-greased shallow baking sheet. Bake in a preheated oven of 350 F degrees for 9-10 minutes. Serve piping hot.

Cook's Comments: The Spanish chorizo sausages are typically filled with spicy seasonings and have a robust, smoky, paprika-like and savory flavor. Thus, there is no need to add any more salt, pepper or other spices to the mixture. And if grilling is preferred for this recipe, just cover the aluminum pan with foil and place on top of the grill. Cook on high heat for the same amount of time.

Hello, Friends! All the images and content on this blog are COPYRIGHT PROTECTED and owned by my media company Besa-Quirino LLC. This means BY LAW you are NOT allowed to copy, scrape, lift, frame, plagiarize or use my photos and  recipe content I wrote, on your website  without my permission. If you want to republish this recipe or content on another website or news article, please ASK my permission, re-write it in your own words and simply link back to this blog to give proper attribution. It's the legal thing to do. Thank you. Email me at [email protected]
Nutrition
Serving:
1
g
|
Calories:
153
kcal
|
Carbohydrates:
8
g
|
Protein:
8
g
|
Fat:
10
g
|
Saturated Fat:
6
g
|
Cholesterol:
30
mg
|
Sodium:
249
mg
|
Potassium:
47
mg
|
Fiber:
1
g
|
Sugar:
1
g
|
Vitamin A:
283
IU
|
Calcium:
222
mg
|
Iron:
1
mg
Nutrition Notes: The nutrition information provided is an estimate and will vary based on cooking methods and brands of ingredients used.
Did you like this recipe? I have more classic recipes inspired by my late mother's cooking in my popular cookbook: My Mother's Philippine Recipes. If you're learning how to cook Filipino food or a fan of Philippine cuisine, buy my cookbooks and books on Amazon.com sold worldwide in paperback and Kindle format.
Copyright Notice: Hello, Friends! Please DO NOT LIFT OR PLAGIARIZE my original recipe, stories, photos or videos. All the images and content on this blog are COPYRIGHT PROTECTED and owned by my media company Besa-Quirino LLC. This means BY LAW you are NOT allowed to copy, scrape, lift, frame, plagiarize or use my photos, essays, stories and recipe content on your websites, books, films, television shows, videos, without my permission. If you wish to republish this recipe or content on media outlets mentioned above, please ASK MY PERMISSION, or re-write it in your own words and link back to my blog AsianInAmericaMag.com to give proper attribution. It is the legal thing to do. Thank you. Email me at [email protected]