Grilled Peaches with Greek Yogurt
As an Amazon Associate and member of other affiliate programs, I earn from qualifying purchases.
In our family, food is always at the heart of our lives. We raised our children with the belief that love is shared through food. In turn, the children in our families are now young adults and do their share of cooking when they come home to visit. I am always delighted to see my sons chop, mix and cook every time. So you can imagine how happy I was when my niece, Carlie recreated for me one of her delicious recipes to share on the blog . In tune with our family tradition of sharing food to show our love, here is a great summer treat from my niece , Carlie, her Grilled Peaches and Greek Yogurt.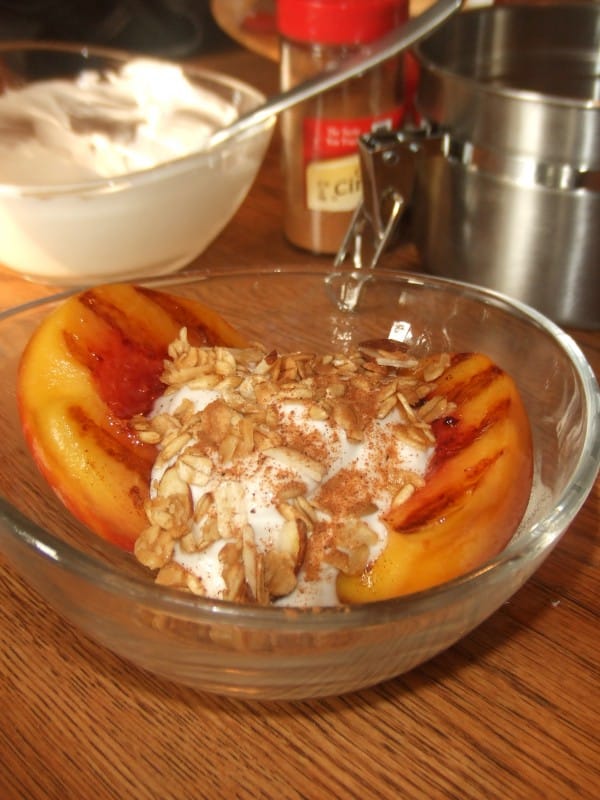 Carlie Ringle said:
My sweet tooth is the downfall to my entire lifestyle. For all the trouble I go through to maintain an athlete's diet, I will never give up desserts – ice cream and baked goods in particular. Summer is an especially dangerous time – who doesn't want a cold treat after working out in the sun? My husband has been lucky enough to avoid this curse, he prefers fresh fruits. But for me, there is always room for dessert.
This recipe is from my southern friend Rebekah. It is inspired by the fruits of summer and the fun of a backyard barbecue. Rebekah grew up in Georgia, so I imagine she'd use the freshest stone peaches around. I've tweaked it for my diet, and though I don't believe in diets I do believe in decisions, and this recipe allows for a lot of delectable decision making. It's too hot where we live to be standing outside tending a grill, so we use an indoor griller/Panini press. I top the whole thing off with my homemade granola, something I keep around my kitchen and make fresh each week but store bought granola or crumbled oatmeal raisin cookies works well here.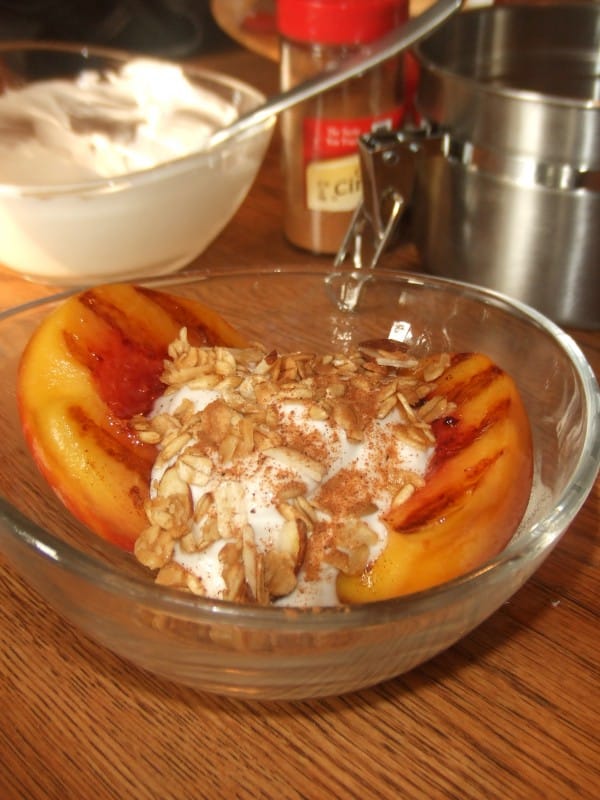 Grilled Peaches and Greek Yogurt (With granola)
Serves 4
You will need:
4 Peaches
Olive oil or butter for brushing
16 oz. Creamy Greek yogurt sweetened with honey
½ cup Granola
Dash of cinnamon
Pre-heat the grill to Medium – High Heat. Wash the peaches thoroughly and pat dry with paper towels.
Slice peaches in half along the seam and remove the pit.
When the grill is hot, brush the cut side of the peaches with a little melted butter or olive oil and place cut side down on the grill.
Grill for 7-10 minutes, until the peaches are caramelized.
Plate (or bowl) the peaches and spoon 4 oz. (about ¼ cup) of Greek Yogurt and sprinkle with granola & a dash of cinnamon.
My Niece Carlie
Carlie Ringle is a washed up writer, fitness enthusiast and self-diagnosed foodie whose culinary inspirations are rooted in fitness training articles and soulful home-style cooking. Carlie and her husband nest in the Mississippi River Flyway where they enjoy hiking and camping in the Ozarks and romping through the forest with their Vizla pup. Her minimally updated blog can be found at https://www.getfitcarlie.blogspot.com. Or follow her folly on Twitter @GetFitCarlie.