FOR MIKEY: Jennie's Creamy Peanut Butter Pie
As an Amazon Associate and member of other affiliate programs, I earn from qualifying purchases.

" Your recipes in your blogs keep the memory of your Mom alive. You just have to keep cooking,writing and sharing…. The recipes are a testament to what your Mom taught you."
These were the most inspiring and encouraging words that Jennifer Perillo,famous cookbook author, told me when I met her at the "Eat,Write,Retreat" conference in D.C.last May. I was touched by how Jennifer very sincerely and generously gave me blogging advice. She was sweet, down to earth, so warm and kind like a dear old friend.
People like Jennifer are rare. She is a famous writer, editor,cookbook author and she has the ability to make you feel like you are the most important person in the room, even if she's just met you for the first time. This is why when I found out through the blogosphere that Jennifer's husband, Mikey passed away suddenly on Sunday, I was shocked. Everyone was just as shocked. Nothing else was important that Monday when the entire food world found out. Even if I had only met Jennifer once, it was a natural instinct for me to try and find out what I could do to help.
As quickly as the news had spread on social networks, Jennie posted a message to all of us on her site. How she found the strength to write this is amazing. She is strong, courageous and on this cloudy day of her life, she has found the time to share a very personal recipe, Mikey's favorite pie, for us all to make today, Friday, and share with our loved ones.
Here's an excerpt from "In Jennie's Kitchen" and the recipe follows. After reading this, make the pie and go hug your family. That's what Jennie would like us all to do today. The recipe she shares is a way to keep the memory of those we love alive in our heart and soul.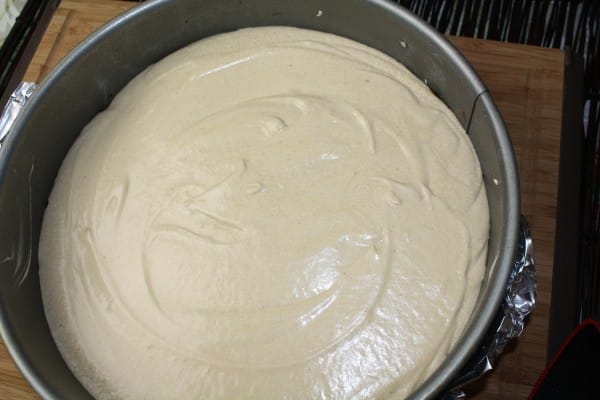 ARTICLE & PHOTO BY JENNIFER PERILLO From "In Jennie's Kitchen" :
(This photo was taken from https://www.injennieskitchen.com)
This is where his wedding ring used to rest.
Nestled on the fourth finger of his left hand is where it belongs. It was supposed to be there for decades to come, but tonight it hangs from my neck.
I took this picture on our last date. He had just come off an insanely busy project at work. We had to cancel a family getaway because work got too busy. When the project delivered, Mikey finally took a much needed day off, having worked nine in a row.
The moment I heard he was taking off, I cleared my work schedule. Deadlines were the least of my priorities. We finally had the chance to walk, hand-in-hand, during daylight hours—the fact that it reached 102ºF didn't matter to me.
I had no idea that three weeks exactly from that last date I'd be gathering with my closest friends and family to say goodbye to him. I'm trying not to think of it as such, and believe in my heart that we will meet again…some day.
As I spend Friday reflecting on the love and life that was gone in an instant, I'd like to invite all of you to celebrate his life too. Mikey loved peanut butter cream pie. I haven't made it in a while, and I've had it on my to-do list for a while now.
I kept telling myself I would make it for him tomorrow. Time has suddenly stood still, though, and I'm waiting to wake up and learn to live a new kind of normal. For those asking what they can do to help my healing process, make a peanut butter pie this Friday and share it with someone you love. Then hug them like there's no tomorrow because today is the only guarantee we can count on.
Creamy Peanut Butter Pie
Serves 10 to 12
8 ounces chocolate cookies
4 tablespoons butter, melted
4 ounces finely chopped chocolate or semi-sweet chocolate chips
1/4 cup chopped peanuts
1 cup heavy cream
8 ounces cream cheese
1 cup creamy-style peanut butter
1 cup confectioner's sugar
1 – 14 ounce can sweetened condensed milk
1 teaspoon vanilla extract
1 teaspoon freshly squeezed lemon juice
Add the cookies to the bowl of a food processor and pulse into fine crumbs. Combine melted butter and cookie crumbs in a small bowl, and stir with a fork to mix well. Press mixture into the bottom and 1-inch up the sides of a 9-inch springform pan.
Melt the chocolate in a double boiler or in the microwave. Pour over bottom of cookie crust and spread to the edges using an off-set spatula. Sprinkle chopped peanuts over the melted chocolate. Place pan in the refrigerator while you prepare the filling.
Pour the heavy cream into a bowl and beat using a stand mixer or hand mixer until stiff peaks form. Transfer to a small bowl and store in refrigerator until ready to use. Place the cream cheese and peanut butter in a deep bowl. Beat on medium speed until light and fluffy. Reduce speed to low and gradually beat in the confectioner's sugar. Add the sweetened condensed milk, vanilla extract and lemon juice. Increase speed to medium and beat until all the ingredients are combined and filling is smooth.
Stir in 1/3 of the whipped cream into the filling mixture (helps lighten the batter, making it easier to fold in the remaining whipped cream). Fold in the remaining whipped cream. Pour the filling into the prepared springform pan. Drizzle the melted chocolate on top, if using, and refrigerate for three hours or overnight before serving.
* For more on Jennnifer Perillo, log on to https://www.injennieskitchen.com