Misua Soup with Meatballs
As an Amazon Associate and member of other affiliate programs, I earn from qualifying purchases.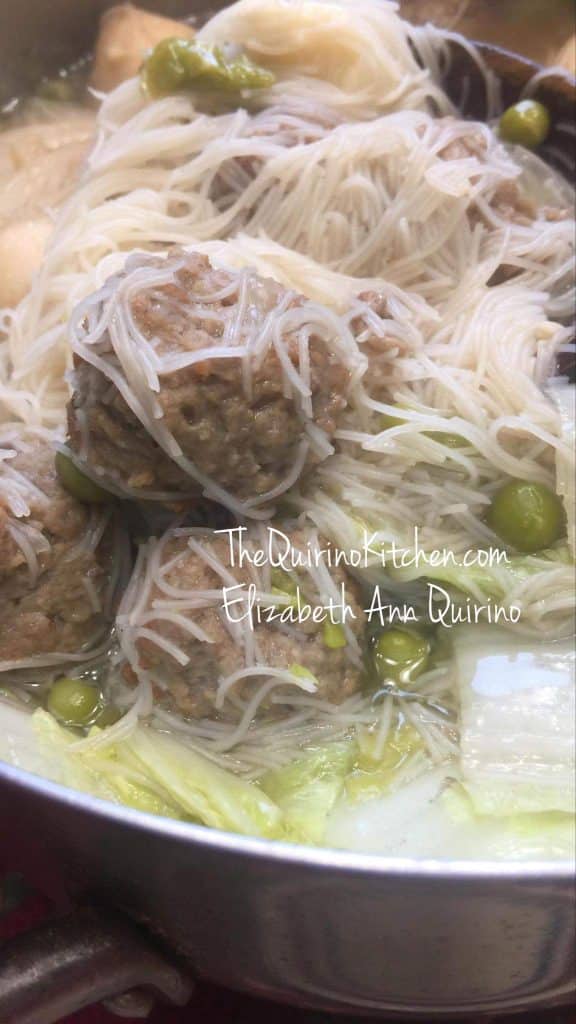 Misua Soup with Meatballs is made with wheat and sometimes called Chinese vermicelli noodles'. This is a classic Filipino soup and easy to make for any night. The noodles' name misua comes from the Chinese word "mee sua", which are very thin opaque noodles, made from wheat flour. Plump pork or beef meatballs are dropped into the clear broth to simmer. In classic Filipino cooking, a good amount of patola (sponge gourd) slices are added to balance the soupy servings with vegetables.
When we were children, I knew misua soup was going to be at the dinner table when I smelled the aroma of garlic and onions sauteed in hot oil in the stockpot and I could hear the hiss of the onions sizzling.
In my recently-published memoir, Every Ounce of Courage, I mentioned how my mother Lulu cooked this soup meal often when we were children, nearly every day. She did so especially because my younger sister was a picky eater. Misua soup was the only thing my little sister ate then. When I became a housewife myself and we came to live in America, I cooked Misua soup, too, for my sons as they were growing up. You start with a good soup stock and mix in the meatballs, noodles, vegetables and a beaten egg towards the end.
Traditionally, Filipinos add patola (sponge gourd or Asian okra) but if not available, substitute with zucchini slices like I did for this recipe. You'll have a fine and healthy meal in a soup that children (and parents, too) will love.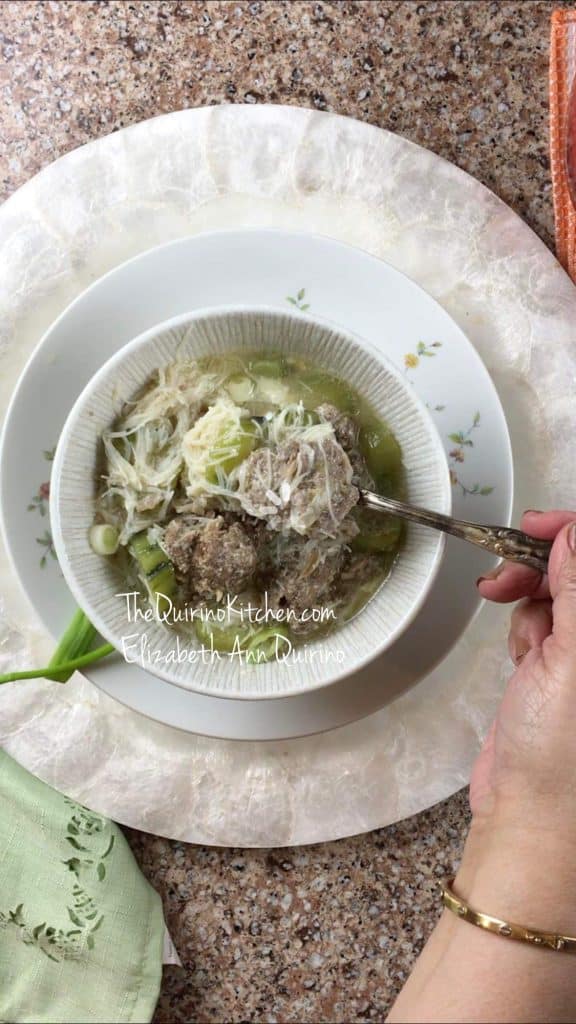 How to make Misua Noodle Soup with Meatballs
First, make sure you have good soup stock. You can make it yourself at home like I shared on a previous recipe here. Or you can use canned soup stock.
Second, make the meatballs mixture and let them sit for a while in the refrigerator to stay firm. This you can do while the soup stock is simmering.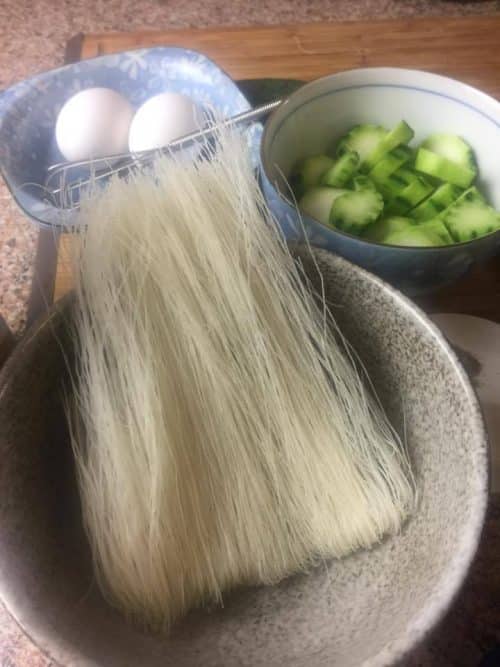 You gather the rest of your ingredients and seasonings, especially your noodles. Misua noodles are like fine vermicelli, thin noodles, with an opaque appearance before and after cooking. Once cooked, they become soft, silky and wrap around the hefty meatballs. I purchase misua noodles at Asian markets or online sources – search for the label Chinese vermicelli noodles.
Substitution: If you do not have the misua noodles, don't panic. I have used cellophane noodles or what Filipinos call sotanghon – but then the soup name may shift to sotanghon noodle soup. For the vegetables, you can substitute patola (sponge gourd) with zucchini, upo (bottle gourd), or sayote (chayote). I also add baby spinach leaves when all these vegetables are absent from my refrigerator.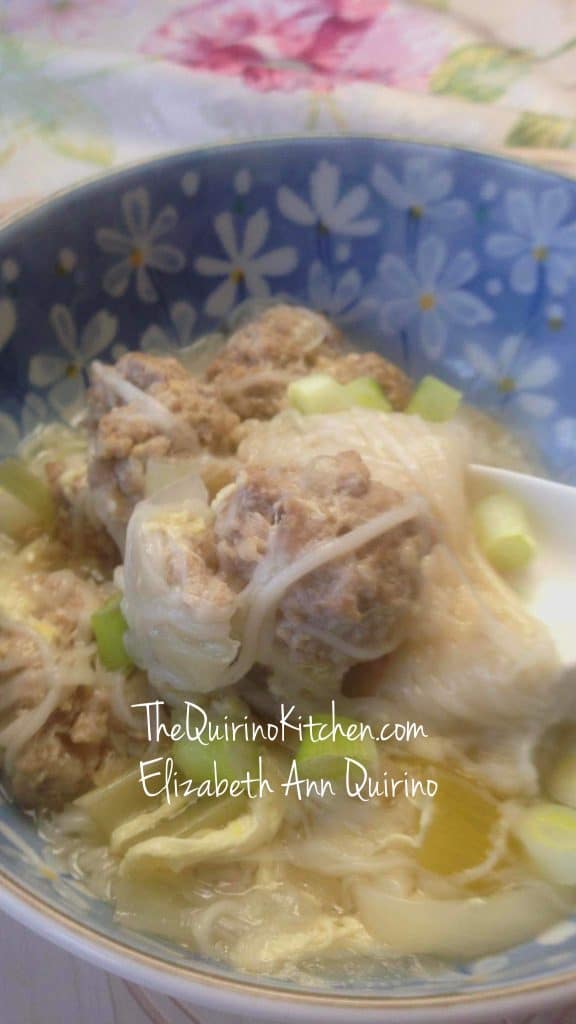 Why is Misua Soup a family favorite?
It is a simple soup with full flavors from a good soup stock. The thick, opaque, thin noodles transform into silky white smooth threads that wrap around the giant globules of meatballs. I flavor this soup meal with garlic, onions, and a tinge of patis (fish sauce). Finally, at the end of cooking, I pour a whole beaten egg into the simmering clear broth. A piping-hot bowl of misua soup with meatballs is sure to appeal to any picky eater.
Misua Soup with Meatballs
Misua Soup with Meatballs is a classic Filipino soup which consists of misua or Chinese vermicelli noodles made of wheat. Hefty pork or beef meatballs are added to the simmering clear broth of soup stock, flavored with garlic, onions, and patis (fish sauce). Slices of patola (sponge gourd) are added to the soup, and at the end of cooking a whole beaten egg is poured. Serve as a starter, a side, or a meal in itself. This was a recipe for The Quirino Kitchen by Elizabeth Ann Quirino.
Equipment
Large stockpot or Dutch oven

soup ladle

chopping board

Mixing bowls
Ingredients
For the meatballs:
1

pound

ground pork or ground beef

1

whole

medium-sized white or yellow onion, chopped; Divided,

half amount for meatballs, rest for broth

2

whole

eggs

1/4

cup

regular breadcrumbs, unflavored

2

Tablespoons

soy sauce

2

Tablespoons

all-purpose flour

1/2

teaspoon

salt

1/2

teaspoon

ground black pepper
For the Misua Noodle Soup
2

Tablespoons

vegetable oil

2

cloves

garlic, minced

1

Tablespoon

patis (fish sauce),

like Red Boat

10

cups

soup stock

4

ounces

dried misua noodles (or Chinese vermicelli noodles),

about 2 cups when cooked

1

whole (250 to 400 g)

patola (sponge gourd); about 1 cup when sliced

or substitute with zucchini slices. Other alternatives are upo slices, and

1/2

teaspoon

salt

1/2

teaspoon

ground black pepper

1

whole

egg, beaten
Instructions
To make the meatballs:
In a large mixing bowl, combine the ground meat, half of a chopped onion, soy sauce, 2 eggs, bread crumbs, flour, salt and black pepper powder.

Mix well. Shape into 1-inch sized meatballs. Refrigerate for about 30 minutes to firm up.
To cook the Misua Soup:
In a large, heavy stock pot of Dutch oven, over medium heat, add the vegetable oil. When oil is hot enough in about 3 minutes, saute the garlic and rest of the onion. Cook for 2 minutes or till onions are transparent.

Add the patis and mix well into the sauteed ingredients.

Pour the soup stock into the mixture. Use homemade stock or store-bought canned soup stock.

TIP: I have a homemade recipe for Soup Stock here.

As the broth is simmering, drop the meatballs, one at a time, into the stock pot.

Cover the stock pot with its lid and continue cooking till meatballs are cooked, about 25 minutes.

When the meatballs are cooked, add the misua noodles. Stir to combine as the noodles start getting soft while it mixes with the soup stock.

It will take about 5 to 7 minutes for the misua noodles to soften and become like long, silky threads around the meatballs.

Peel the patola and slice into 1/8-inch thick circles.

Add the patola slices (or any of the substitutes like zucchini, upo, or sayote slices) to the simmering soup stock. The vegetables take about 7 minutes to soften and cook.

In a small bowl, beat the eggs. Gradually, pour the beaten eggs to the soup stock, all at once, stirring the liquid with a long cooking spoon, for the eggs to distribute evenly and not clump together.

Season the soup with salt and black pepper.

Ladle soup with the meatballs, noodles and vegetables into individual bowls and serve while piping-hot.
Cook's comments:
The misua noodles expand and thicken when cooked. If reheating the soup, add more soup stock or water. When storing the leftovers in the refrigerator, the misua noodles tend to absorb all the liquid.The patola (sponge gourd) is colored green and has a thick, ridged skin on the outside. When peeled and sliced, the insides are light green in color and smooth in texture. The patola is around 12 centimeters long, and large ones can grow up to 60 centimeters. They are seasonal and are not often found at the Asian markets year round. Thus, I substitute with either zucchini, sayote or upo (bottle gourd).To store: Keep leftovers of misua soup with meatballs in covered containers, in the refrigerator. This keeps for about 4 to 5 days. If needed, pour more water (about 1/2 to 1 cup) and heat on the stovetop, in a medium-sized stockpot for about 10 minutes. You can also microwave a serving bowl of the Misua Noodles leftovers on High for about 2 minutes.

This Misua Soup does not keep well in the freezer, so it is not advisable to do so.
Nutrition
Serving:
100
grams
|
Calories:
21
kcal
|
Carbohydrates:
4
g
|
Protein:
1
g
|
Fat:
0.1
g
|
Saturated Fat:
0.02
g
|
Polyunsaturated Fat:
0.04
g
|
Monounsaturated Fat:
0.03
g
|
Cholesterol:
2
mg
|
Sodium:
1085
mg
|
Potassium:
31
mg
|
Fiber:
0.3
g
|
Sugar:
0.2
g
|
Vitamin A:
5
IU
|
Calcium:
5
mg
|
Iron:
0.5
mg
Copyright Notice: Hello, Friends! Please DO NOT LIFT OR PLAGIARIZE The Quirino Kitchen recipes on this blog, my original recipes, stories, photos or videos. All the images and content on this blog are COPYRIGHT PROTECTED and owned by my media company Besa-Quirino LLC by Elizabeth Ann Quirino. This means BY LAW you are NOT allowed to copy, scrape, lift, frame, plagiarize or use my photos, essays, stories and recipe content on your websites, books, films, television shows, videos, without my permission. If you wish to republish this recipe or content on media outlets mentioned above, please ASK MY PERMISSION, or re-write it in your own words and link back to my blog TheQuirinoKitchen.com to give proper attribution. It is the legal thing to do. Thank you. Email me at [email protected]