Ube-Purple Yam Pound Cake with Ube Glaze
As an Amazon Associate and member of other affiliate programs, I earn from qualifying purchases.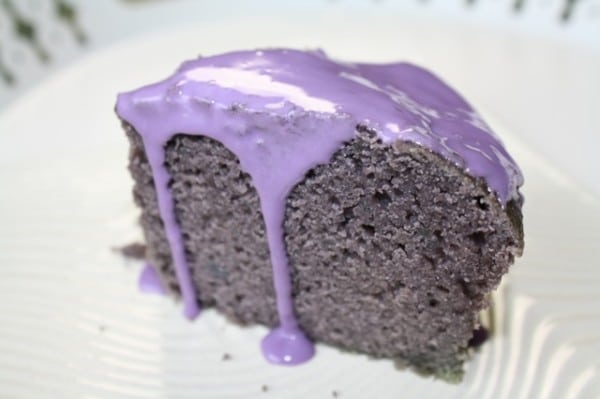 It isn't Christmas if we don't have an ube dessert like this Ube- Purple Yam Pound Cake with Ube Glaze at our holiday table. My family loves purple yam. Its sweet, almond-like flavor in ube halaya (the jam) is enjoyed during the summer in halo-halo, the Filipino icy layered dessert. All year round, we enjoy ube jam or 'halaya', ube pastillas (sweet milk candies), homemade ube ice cream, ube pan de sal, ube-blueberry tarts and even ube short bread cookies.
Ube or purple yam is a tuber that grows on a vine, above ground. In the Philippines, it is a major vegetable crop and an important source of food. It is more abundant in the last months of the year. And this is why during the Christmas holidays, a lot of desserts and snacks in the Philippines are made of ube (purple yam). Purple yam also grows in other Asian countries, South America and Africa. In the USA, it grows in Hawaii.
If you see a purple yam in the Asian markets, you're likely to walk past it. It looks nondescript. The ube or purple yam looks like another large potato, with a dark brown, rough outer skin. When sliced, the insides reveal a light pink flesh, so light you wonder where the dark purple color comes from when cooked.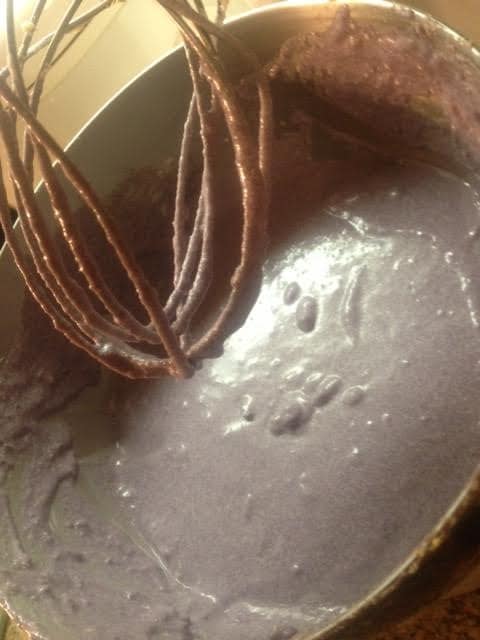 What makes ube special is its sweet floral flavor and fruity aroma. There is nothing quite like it in any other tuber. When cooked with milk or coconut cream, it gains a rich, dairy-like flavor that enhances desserts. Once you taste ube, you'll want it again and again.
This year, I turned to a reliable source to try a new recipe for an ube pound cake. Nancie MacDermott's eighth cookbook "Southern Cakes: Sweet and Irresistible Recipes for Everyday Celebrations" had an amazing Sweet Potato Pound Cake Recipe. Her readers and friends shared their sweet potato cake results on Nancie's Facebook page. I was intrigued. I told Nancie about the wonders of ube (purple yam) and since it had nearly the same texture as sweet potato when boiled, I wanted to try baking it into a pound cake, with her original recipe which used sweet potato.
Well, here is my Ube Pound Cake with an Ube Glaze drizzling downward the rich, moist slice. I could not believe I never tried this before. Filipinos are more familiar with the classic ube chiffon cake, a lighter version of this ube cake. But it is the pound cake texture of this one that got me all excited. I finally found use for the boiled, frozen ube always available in Asian markets year round. In addition to the jam and pies I have made, there's a special place for this ube pound cake at our holiday table this year.
Celebrations start out like this, with recipes shared among friends, then passed around the family, like we do at holiday dinners. May your holiday table be as festive and plentiful as ours. Have a wonderful holiday season, dear friends and readers of my blog!
Ube-Purple Yam Pound Cake with Ube Glaze
This Ube Pound Cake with an Ube Glaze was a new addition to our holiday feast this year. Instead of the usual ube chiffon cake we, Filipinos are used to, I baked a pound cake  using boiled ube (purple yam). This ube pound cake had a heavy, rich texture. Every slice was plump and magnificent, made more magical by the ube glaze cascading down all sides. This recipe was adapted from the "Sweet Potato Cake" of Nancie MacDermott in her cookbook "Southern Cakes". This ube pound cake serves 6 to 8.
Equipment
Round Tube cake pan - 10-inch

Cake Mixer
Ingredients
3 1/2

cups

all-purpose flour

2

teaspoons

baking powder

1/2

teaspoon

salt

1/2

cup

milk

2

teaspoons

McCormick's Ube flavoring

from Asian stores or online sources

1

cup

unsalted butter

softened at room temperature

1

cup

granulated sugar

1

cup

light brown sugar

4

whole

large eggs

2

cups

mashed boiled ube

frozen (from Asian markets)

2 1/2

cups

powdered sugar

for glaze

1/8

cup

milk

for glaze

1

teaspoon

McCormick's Ube Flavored Extract

for glaze

1/2

teaspoon

almond extract

for glaze
Instructions
To prepare the ube: Thaw the frozen ube or purple yam at room temperature. The boiled yam must be mushy and not frozen. Place the frozen ube in a colander, some liquid may melt as it is thawed.

*Note: Do not microwave to defrost. Allow the frozen ube to thaw out naturally. Set ube aside.

To bake the ube cake: Preheat oven at 350 F. Prepare and grease a 10-inch round tube or Bundt cake pan.

In a medium-sized bowl, mix the flour, baking powder and salt. Mix well with a wire whisk. Set aside.

Separately, in a small bowl, mix together the milk and ube flavoring (bottled). Set this aside for use later.

In a large bowl, using a stand mixer, mix the butter and sugars on high speed till combined well.

Add the eggs, one at a time. Beat well after each egg is added.

To the egg and butter mixture, add the mashed ube. Mix this on low speed for 1 to 2 minutes. Make sure the batter is mixed well and the ube is distributed evenly.

Alternately add the flour mixture and the milk-ube flavor mixture into the batter. Begin and end with the flour mixture. Beat for about 5 minutes till the batter has a thick, smooth texture and is colored light lavender.

If cake pan has a removable bottom, place heavy duty aluminum foil underneath the removable bottom so the batter will not spill out while baking.

Pour the cake batter into the round tube cake or Bundt pan. Bale at 350 F for 60 to 75 minutes. Test the cake for doneness by inserting the tip of a sharp knife in the center of the baked cake. If knife comes out clean, cake is done.

When the cake is done, remove from the oven. Cool on counter for about 20 minutes by covering the cake with a cloth towel. When cake has cooled, invert on a cake rack and allow to cool thoroughly.

How to make the ube icing glaze: Using a hand mixer, mix on high the confectioners' or powdered sugar with the milk. Add the ube flavoring and almond extract. Continue beating for 3 minutes more or till ube icing is smooth. Let this icing cool in the refrigerator while the ube cake is on the cake rack.

How to frost the ube cake : Using a clean, sharp knife, carefully run slice a thin layer off the top of the cake to trim and scrape off any dark green cake parts. (Ube cake tends to come out dark green on the top and sides after it is baked). Smoothen the ube icing glaze with a spatula on the top of the cake. Slice and serve. Store this cake in the refrigerator.

Recipe notes: For this recipe I used frozen boiled ube (in the photo above) which can be found in Asian markets. Regular fresh ube (purple yam) is seasonal (November to January), and not always found in the markets here in the USA.

Ingredient notes: I use the McCormick Ube flavoring for this recipe's ube glaze. It adds a light purple color and mild ube flavor. It can be found in Asian markets or online sources like Amazon.

Hello, Friends! Please DO NOT plagiarize, lift, scrape or copy my original recipes. All the images and content here are COPYRIGHT PROTECTED and owned by my media company Besa-Quirino LLC. This means BY LAW you are NOT allowed to use my photos or content on your website, cooking videos, cookbooks, TV programs and media content  without my permission. If you want to republish this recipe or content, please ask my permission, re-write it in your own words and simply link back to this blog to give proper attribution. It's the legal thing to do. Thank you.
Nutrition
Serving:
1
g
|
Calories:
1017
kcal
|
Carbohydrates:
177
g
|
Protein:
9
g
|
Fat:
32
g
|
Saturated Fat:
20
g
|
Cholesterol:
84
mg
|
Sodium:
223
mg
|
Potassium:
304
mg
|
Fiber:
2
g
|
Sugar:
119
g
|
Vitamin A:
978
IU
|
Calcium:
137
mg
|
Iron:
4
mg
Notes on Nutrition: The nutrition information provided is an estimate and will vary based on cooking methods and specific brands of ingredients used.
Did you like this recipe? I have more classic recipes inspired by my late mother's cooking in my popular cookbook: My Mother's Philippine Recipes. If you're learning how to cook Filipino food or a fan of Philippine cuisine, buy my cookbooks and books on Amazon.com sold worldwide in paperback and Kindle format.
Copyright Notice: Hello, Friends! Please DO NOT LIFT OR PLAGIARIZE my original recipe, stories, photos or videos. All the images and content on this blog are COPYRIGHT PROTECTED and owned by my media company Besa-Quirino LLC. This means BY LAW you are NOT allowed to copy, scrape, lift, frame, plagiarize or use my photos, essays, stories and recipe content on your websites, books, films, television shows, videos, without my permission. If you wish to republish this recipe or content on media outlets mentioned above, please ASK MY PERMISSION, or re-write it in your own words and link back to my blog AsianInAmericaMag.com to give proper attribution. It is the legal thing to do. Thank you. Email me at [email protected]