Filipino Pork Sisig
As an Amazon Associate and member of other affiliate programs, I earn from qualifying purchases.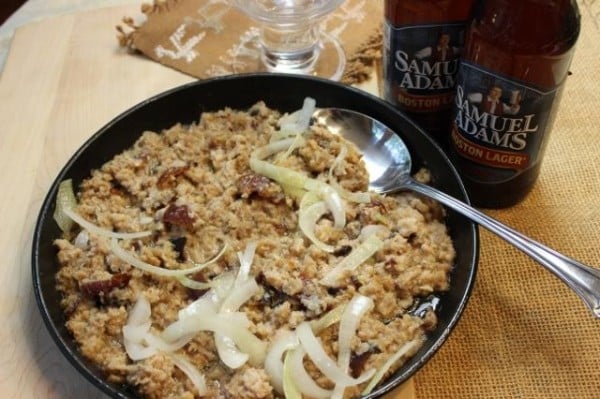 "Why are restaurants in the USA putting an egg on sisig when Pork Sisig is an appetizer and not a breakfast dish?" my sons asked me. If you haven't had it yet, sisig (say "see-sig") is an appetizer of spicy crisp pork bits, chopped fine, served on a sizzling platter. It is bar food that's hard to resist. One thing I am certain is that a pork sisig appetizer when served with chilled beer is sheer nirvana.
"I will forgive you for putting an egg on it if the sisig tastes good," said Poch Jorolan of Everybody's Café and Outereater Tours, based in Pampanga. Poch was reacting to my Instagram post of pork sisig which I had eaten at a trendy hip Asian fusion restaurant in New York. My friend Mr. Jorolan would know, after all, he is from Pampanga, a province north of Manila, where sisig originated from.
"Sisig is that yummy cholesterol-laden Pampango 'pulutan' (appetizer). In Pampanga, sisig is originally a concoction of chopped roasted pig's cheeks and chicken liver, smothered in onions, red hot siling labuyo (bird's eye chilies) and kalamansi, the Filipino lime," chimed in my cabalen (a town mate), Claude Tayag of the restaurant 'Bale Dutung' in Angeles, Pampanga, known as the place Anthony Bourdain visited in the Philippines. My husband and I enjoyed Bale Dutung's sisig when we visited Claude and wife, Mary Ann.
Sisig has a long history according to Claude Tayag's book Food Tour: A Culinary Journey. This pork dish started out as a platter of tart, fresh fruits in its unripened stage – like mangoes, guavas and papaya. The dish has evolved through centuries. Pork Sisig goes back to the year 1732 when records in a Pampanga-Spanish dictionary described it, recounts Claude.
In our own family, in Tarlac where I grew up, my father savored a platter of pork sisig as an appetizer with his favorite Philippine beer, the iconic San Miguel Beer- Pale Pilsen. Dad often enjoyed a round of beers with sisig when his brothers visited. Important family and business decisions were discussed during those "beer and sisig" sessions. Though my dad has passed away since, the tradition of enjoying an appetizer of sizzling sisig with chilled beer is enjoyed to this day by my own husband and our adult sons.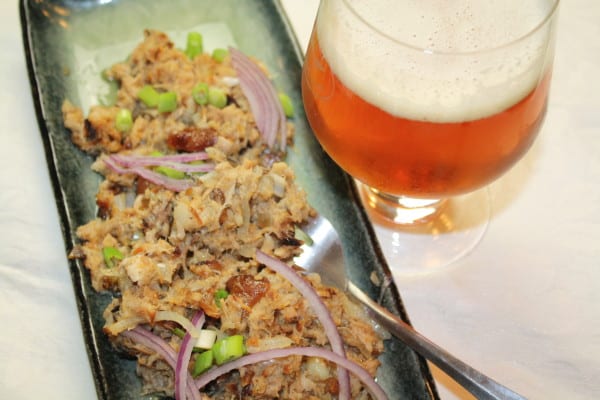 In the last few years, I've seen sisig grow in popularity among Filipino and Asian-fusion restaurants in America. Even non-Filipinos enjoy it with relish, as I've witnessed while sitting next to strangers at newly opened, hip and trendy Filipino and Asian restaurants in New York City. I once asked a total stranger who was diving deep into her sisig with gusto why she liked the dish so much as an entree. Her response: "It's my first time to taste it, my friends suggested it and boy, is it good!" she exclaimed between mouthfuls.
As my friends in far away Pampanga said I will forgive all those who put an egg on any platter of sisig – notwithstanding if it's an appetizer – so long as this favorite pork dish sizzles with the high notes of spiciness, the crackle and crunch, the hint of citrusy-onion flavors to give those bottles of beer served with it a reason for being. And as they say in Pampanga, mangan ta na! (Let's eat!)
Sisig starts with oven-roasting a slab of pork belly to a crisp.
After a few hours of leaving the pork belly to air dry, cut the slab in cubes, then in minced pieces. Marinate a few hours.
Pan fry the finely chopped pork belly in a hot skillet.
My late dad and uncles enjoyed rounds of the iconic Philippine San Miguel Beer with the spicy pork sisig.
Filipino Pork Sisig
Filipino Pork Sisig, a sizzling spicy appetizer is cooked three times. So cook this in stages. My pork sisig appetizer of Pampanga origin, consisted of a slab of pork belly, first pre-boiled in a sweet broth, then oven roasted to a crisp, crackling crunch or what we call "Lechon". After roasting  chop it up. Add a marinade of vinegar, onions, fiery red little birds eye chiles and a sprinkling of "calamansi", the Filipino lime or use lemon juice. Pan-sear to keep the pork morsels crispy and serve with  beer. This recipe was inspired by Chef Claude Tayag's "Sisig" under "Pulutan"/Appetizers from "Kulinarya: A Guidebook to Philippine Cuisine". This recipe serves 2 to 4 as an appetizer. *Note: the authentic Pampango pork sisig does not have an egg served on it.
Ingredients
1

pound

pork belly

whole piece

1

whole

white or yellow onion

chopped

6

cups

water for boiling pork

1

cup

pineapple juice

canned or fresh

1/2

Tablespoon

salt

1/2

Tablespoon

whole black peppercorns

2

Tablespoons

calamansi juice (or lemon juice)

fresh or frozen

1/4

cup

white vinegar

1/2

teaspoon

salt

1

teaspoon

ground black pepper powder

2

cloves

garlic

minced

2 to 3

pieces

siling labuyo (bird's eye chilies)

sliced red bird's eye chilies

1/4

cup

vegetable oil

for pan frying

2

stalks

scallion greens

chopped, for garnish

1

whole

red onion

sliced, for garnish
Instructions
In a stockpot, place water, pineapple juice, salt, peppercorns, garlic and pork belly. Cover  and cook pork stove top, in a large stock pot. Bring to a boil on medium-high heat then lower to heat to a low simmer. Cover and continue to cook till pork is tender, about an hour for a pound of pork.

When cooked and tender, remove the pork from the stockpot. Drain and discard the liquid. Pat dry the pork slab with a paper towel.

Place the pre-boiled pork belly piece on a shallow baking pan or cookie sheet (with a height of one inch) and oven roast till top is crisp.  Cooking time should be 30 minutes for every pound at a preheated oven of 350 F degrees.(This pork belly I had was a pound which  took 30 minutes to roast and the skin on top was crispy).

Once pork is crisp and brown, remove from the oven and let it sit on a the counter, uncovered for an hour or two. Air drying it helps to make the pork even crunchier when served. (Or up to overnight if you want to cook this sisig in stages).

Then chop the pork into tiny small cubes, and further finely mince the pork using a sharp cleaver or large kitchen knife. Place the chopped pork in a non-reactive bowl.

Into the pork pieces, mix in the

calamansi

(or lemon juice), chopped onions, white vinegar, salt, pepper and the red bird's eye chilies. Cover, refrigerate and let the pork absorb the marinade for about one to two hours (or up to overnight if cooking in stages).

Just before serving, heat a medium sized skillet over medium high heat. Add the vegetable oil. When skillet and oil are hot enough after 1 to 2 minutes, add the pork mixture. This will be the third cooking stage. Stir fry the meat around the skillet till it turns brown and gets an added crunch. This should take 2 to 3 minutes.

Serve the sisig hot on a sizzling cast iron skillet or steak platter, garnished with additional chopped red chilies, scallions and sliced red onions. Serve with chilled bottles of beer.

COOK'S COMMENTS:

Chef Claude Tayag

suggested to cut the meat as small as possible. In the original recipe, he used a

Lechon Pig's

head and cheeks for the meat and added chicken livers to thicken the sauce. You can cook this Pork Sisig from Lechon leftovers, after a party. When these pork cuts from lechon are not available, I always use pork belly which makes the dish just as delicious and authentic as the "sisig" I remembered from childhood.

Important: When handling or slicing the red chilies, be careful not to rub your eyes or skin after touching the chili pieces or it will sting you. When I cook this and there are children who will eat the sisig, I lower the spicy level by serving the chilies on the side.

Ingredient availability:

Calamansi,

the Filipino lime is an important flavor to this pork dish. It provides a piercing sweet citrusy flavor and aroma that's lime-like and unforgettable. Here in the States, access to the

Calamansi

is easier in the west coast or warmer states where trees can grow abundantly, like they do in the Philippines. But where I live in the USA east coast, it is available in Chinatown, usually at a steep price. Since I don't have easy access to the fresh

Calamansi,

I buy the

frozen unsweetened concentrate

, from Asian groceries. It is a good substitute and worked well for this Pork Sisig. But if all else fails, reach for fresh lemon juice, which works wonderfully, too.

Hello, Friends! All the images and content on this blog are COPYRIGHT PROTECTED and owned by my media company Besa-Quirino LLC. This means BY LAW you are NOT allowed to copy, scrape, lift, frame, plagiarize or use my photos and  recipe content I wrote, on your website  without my permission. If you want to republish this recipe or content on another website or news article, please ASK my permission, re-write it in your own words and simply link back to this blog to give proper attribution. It's the legal thing to do. Thank you. Email me at [email protected]
Nutrition
Serving:
1
g
|
Calories:
746
kcal
|
Carbohydrates:
9
g
|
Protein:
11
g
|
Fat:
74
g
|
Saturated Fat:
33
g
|
Cholesterol:
82
mg
|
Sodium:
1202
mg
|
Potassium:
320
mg
|
Fiber:
1
g
|
Sugar:
6
g
|
Vitamin A:
60
IU
|
Vitamin C:
7.8
mg
|
Calcium:
26
mg
|
Iron:
1
mg
Notes on Nutrition: The nutrition information is an estimate and will vary based on cooking methods and brands of ingredients used.
Did you like this recipe? I have more classic recipes inspired by my late mother's cooking in my popular cookbook: My Mother's Philippine Recipes. If you're learning how to cook Filipino food or a fan of Philippine cuisine, buy my cookbooks and books on Amazon.com sold worldwide in paperback and Kindle format.