How I made Salza Blanca-Salmon In White Sauce
As an Amazon Associate and member of other affiliate programs, I earn from qualifying purchases.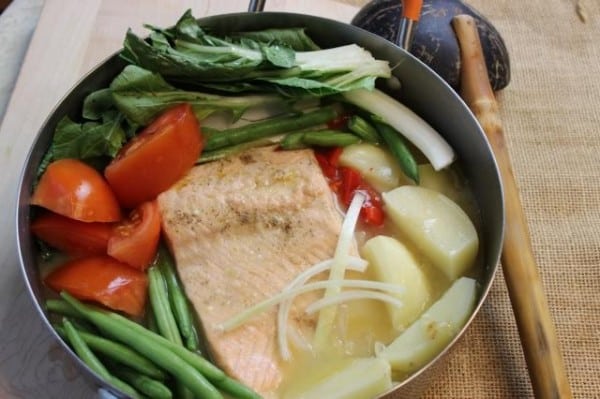 When we watched the October preview show of "Allegiance" the Broadway musical at the Longacre Theatre in New York City, I was reminded of my mom and her stories from World War II. War stories are never light-hearted. Watching the first act of Allegiance had me teary eyed instantly. Just going through the family's first scene, a happy picnic, one had a sense of foreboding that something sad was about to transpire.
The broadway musical "Allegiance" is every family's story. It was about a family during the war – their joys, tears, challenges, sacrifices and the choices they each made. In the end, like most families encounter, beyond courage and strength, forgiveness was needed for love to prevail.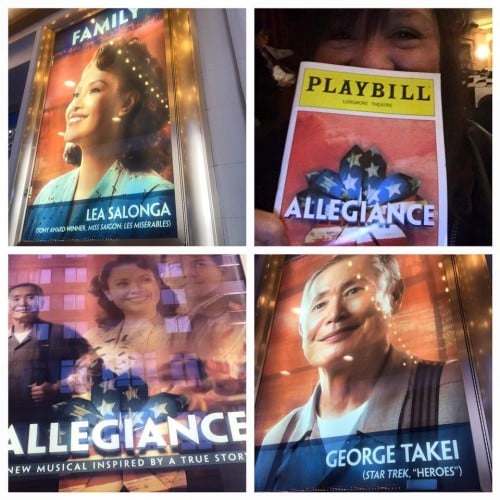 Multi-awarded Filipina Ms. Lea Salonga was phenomenal as an actress, singer and performer. Once in a rare while, the universe gets a gift as wonderful as this award-winning talent. Lea's singing was mesmerizing. No Broadway show review can capture how exceptional Lea is. Lea played the role of Kei in this play.
Actor George Takei was both funny and moving. The actors portrayed characters in a war setting, imprisoned in a concentration camp. The acting was done so well, especially Ms. Salonga, that you forget it's a Broadway play. You, the audience were made to feel you were right there with the characters sharing their pain, frustration, joys and tears. We all learned, in the most difficult times, there is always "gaman".
In the playbill, the authors described "gaman" as endurance with dignity. Throughout the story, the characters were reminded that "gaman" was all that was needed to survive.
When we got home I just had to cook this Salza Blanca, salmon in white sauce, a mainstay at my mom's dinner table, one she cooked often. The tender, moist salmon fillet was simmered in a savory white sauce that started with flour and butter. A mixture of both flour and butter make a white sauce and a thicker gravy. Later, the vegetables were added around the stockpot making the soup meal look like a festive garland.
When I took off the stockpot's cover to check on the fish, the hot vapors from the steam with the gingery aromas gently touched my cheeks. The savory scent of the ginger-garlic-onions sauce base combined with a tad of butter reminded me of my mom. The aromas reminded me of the calm, soothing presence of mom at the end of each day when we got home from school. The simplicity of the soup meal brought out the superb flavors of a fresh 'catch of the day' salmon fillet.
A play like "Allegiance", based on a true story of George Takei made me nostalgic for mom's cooking, for her war stories – never mind if the stories of my uncle at incarceration camps were depressing – they were mom's and our family's stories and no one else could own those poignant memories but me. Allegiance taught me that though life brings you sadness, such events pave the way for happier times, when peace prevails. And the best antidote to all we go through in life is forgiveness and love.
Salza Blanca - Salmon in White Sauce
One of the best dishes of my late mom was Salza Blanca - Salmon in White Sauce which I recreated. My mom cooked this using "lapu-lapu" or red snapper often. It was a simple dish with a white sauce base made from butter and flour. The vegetables used can be those in season. This cooked quickly, simmering slowly on the stove top. This is an AsianInAmericamag recipe. Serves 2 up to 4 if served with rice.
Ingredients
1

pound

boneless salmon fillet

1

Tablespoon

lemon juice

2

large pieces

quartered tomatoes

2

cloves

peeled, minced garlic

1

large

sliced onion

2

stalks

chopped celery

1

piece

seeded, white membrane removed, sliced green or red bell pepper

1

Tablespoon

butter

unsalted

1

Tablespoon

vegetable oil

2

Tablespoons

all purpose flour

5 to 6

cups

organic vegetable broth

2

teaspoons

white wine

2

large

peeled, quartered potatoes

2

cups

stems trimmed, cut in 2-inch long pieces green beans

2

cups

shredded bok choy or Chinese cabbage

or any cabbage preferred

1

teaspoon

sea salt

1

teaspoon

freshly ground black pepper

1

teaspoon

sliced in slivers of 1-inch pieces fresh ginger
Instructions
Marinate fish fillets with lemon juice about 20 minutes before cooking.

In a large stockpot, heat the oil over medium heat. Add the butter and allow to melt.

Saute the garlic, ginger and onions. Then add the celery, tomatoes and green pepper slices.

Add the flour and mix around the vegetables till everything is coated. Slowly add the broth, a little at a time, while blending the liquid in till there is no more trace of flour. Use a large cooking spoon to blend the flour into the liquid till there are no more lumps. Add the potatoes and the rest of the broth.

Into the simmering broth, add the salmon fillet and wine. Season with salt and pepper. Continue cooking for about 18 to 20 minutes more till fish is cooked thoroughly and potatoes are soft.

When the fish is cooked, add the bok choy. It will take about 5 minutes for the bok choy to soften.

Hello, Friends! All the images and content on this blog are COPYRIGHT PROTECTED and owned by my media company Besa-Quirino LLC. This means BY LAW you are NOT allowed to copy, scrape, lift, frame, plagiarize or use my photos and  recipe content I wrote, on your website  without my permission. If you want to republish this recipe or content on another website or news article, please ASK my permission, re-write it in your own words and simply link back to this blog to give proper attribution. It's the legal thing to do. Thank you. Email me at [email protected]
Nutrition
Serving:
100
g
|
Calories:
1511
kcal
|
Carbohydrates:
107
g
|
Protein:
181
g
|
Fat:
35
g
|
Saturated Fat:
11
g
|
Polyunsaturated Fat:
10
g
|
Monounsaturated Fat:
8
g
|
Trans Fat:
1
g
|
Cholesterol:
636
mg
|
Sodium:
2400
mg
|
Potassium:
2794
mg
|
Fiber:
2
g
|
Sugar:
56
g
|
Vitamin A:
1235
IU
|
Vitamin C:
3
mg
|
Calcium:
475
mg
|
Iron:
9
mg