Chinese Sausages with Rice and Vegetables
As an Amazon Associate and member of other affiliate programs, I earn from qualifying purchases.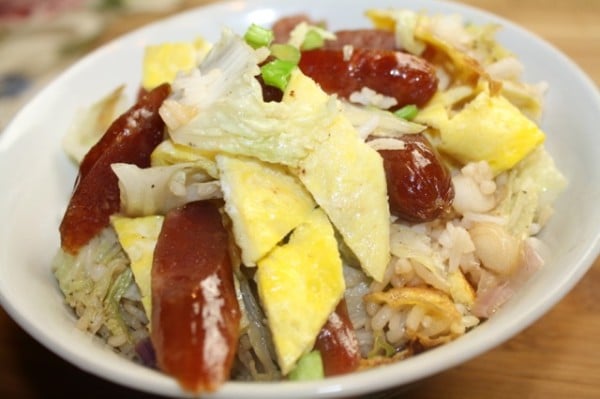 When we were in college, my friends and I often ordered a bandejado (oval platter) of Tsorizong Macau (Chorizong Macau) sliced and sautéed in red onions, after classes at a small eatery behind the university. One order was large enough to go around the table of ten, eaten with bowls of steaming white rice. I can't remember if it was our favorite menu item because of the affordable price or the appeal of the sausages or just because we had the best times sharing the platter around.
Chinese sausages are dried, cured, preserved and made from pork fat. Some of its ingredients are rice wine, rose water and soy sauce. The Cantonese name is 'Lap Cheong', though they are called different names in Asian countries. In Filipino food, slices of Tsorizong Macau were added by my mom to pancit guisado ( noodle dish), stir fried vegetables, rice dishes or in siopao with bola-bola (steamed buns with pork meatballs). Dinner was always special when mom added these shiny sausage slices.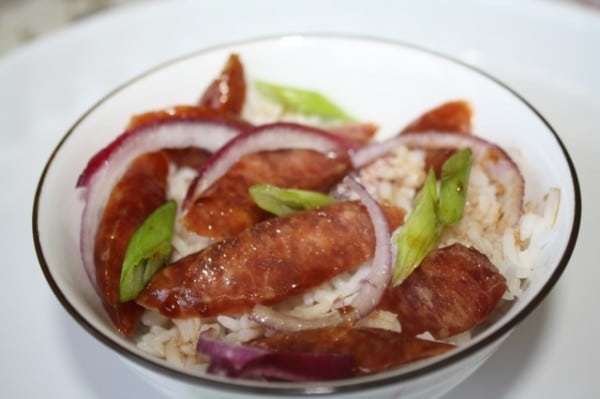 Nowadays, I buy these Chinese sausages in the Asian markets and often they have been a lifesaver to many weeknight meals. When you find it, they are packed in sealed plastics by the frozen or refrigerated aisle. There are many kinds and can confuse you, I admit. I cannot recommend a specific brand because the names vary each time I shop and what I bought last month may likely be replaced by a different brand this month. Buy a small package first. The sausages are preserved, dried and cured. So they keep well in the refrigerator for up to six months. But they are absolutely so divine and so good that there is no need to worry how long the Chinese sausages will keep.
The outer layers are dark reddish in color, with a coarse, tough exterior. The sausages measure about six to seven inches. They are slim and long. Once steamed then sliced, the insides reveal a dark brick red color, a shiny outer glaze and a sweet-savory flavor with a tinge of smokey seasonings. Sometimes if you want the sausages spicy, pick the variety that is labeled with 'red pepper'. The fiery level of the spicy variety is a 9 on a scale of 1 to 10.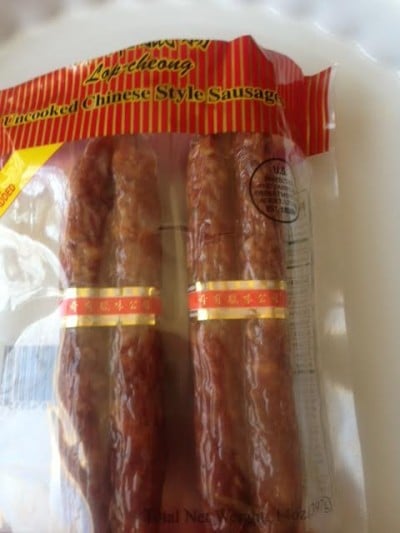 I had been cooking a lot over the holidays, so, I wanted to spend very little time in the kitchen. This was one of those nights. After steaming a bundle of Chinese sausages, I put them aside while I cooked a quick stir fry of rice, vegetables, topped with slivers of scrambled eggs. My husband came home to this fragrant skillet filled with Asian aromas of soy sauce, sesame oil and scallions merging together on the rice grains while the savory sausage slices jostled next to the Napa cabbage shreds.
I dug deep into the rice bowl and took a few spoonfuls. The moist, nearly crisp sweet sausage slices brought me back instantly to our college days when fun and good food were always the best things at the end of a busy day.
Chinese Sausages with Rice and Vegetables
Chinese sausages or 'lap cheong', made with pork, fat, rice wine, soy sauce and seasonings are a favorite ingredient to add to noodles, rice dishes, vegetables or steamed buns. Also known as Tsorizong Macau in the Philippines, its sweet-savory smokey flavors add a special zing to any dish. Eat the slices alone with rice or add it to entrees. Either way it is served, the glistening red sausage slices will be everyone's favorite. This is a recipe by Elizabeth Ann Quirino. Serves 2 to 4.
Equipment
Steamer

Wok or skillet - large, about 12 inches diameter
Ingredients
4 to 6

pieces (3.3 g. each)

Chinese sausages or 'lap cheong' (Tsorizong Macau in the Philippines)

2

Tablespoons

vegetable oil

1

whole

red onion

sliced

2

cloves

garlic

minced

2

Tablespoons

soy sauce

2

Tablespoons

water

to mix with the soy sauce

2

cups

shredded Napa cabbage

3

cups

cooked white rice;

previously refrigerated

2

whole

eggs;

cooked scrambled, sliced in strips

1/8

teaspoon

sesame oil

1/2

teaspoon

sea salt

1

teaspoon

freshly ground black pepper powder

1

stalk

scallions,

chopped for garnish
Instructions
Prepare to steam Chinese sausages. Fill the bottom of a steamer with water. Start boiling the water over high heat. Place a bundle of sausages (about 4 to 6) in a heat-proof plate that fits inside the steamer top layer. Cover and steam sausages over briskly boiling water for 25 to 30 minutes. When done, remove the sausages from the steamer. Slice diagonally and set aside.

In a large skillet or wok over medium high heat, pour the cooking oil. When oil is hot enough sauté the onions and garlic for 1 to 2 minutes. Add the soy sauce plus water. Add the shreds of Napa cabbage and cook for 2 minutes till vegetables are soft.

Add the cooked rice to the skillet filled with vegetables. Mix well so the small amount of soy sauce coats the rice grains. Season with sesame oil, salt and black pepper powder.

Serve the rice topped with slices of scrambled egg and the Chinese sausage slices. Garnish with scallions.

Cook's comments: the Chinese sausages I purchased at the Asian market contained 3 bundles of 4 sausages in each. The total net weight of the entire package was 14 ounces (397 g).

Hello, Friends! All the images and content here are COPYRIGHT PROTECTED and owned by my media company Besa-Quirino LLC. This means BY LAW you are NOT allowed to use my photos or content on your website  without my permission. If you want to republish this recipe or content, please ask my permission, re-write it in your own words and simply link back to this blog to give proper attribution. It's the legal thing to do. Thank you.
Nutrition
Serving:
1
g
|
Calories:
142
kcal
|
Carbohydrates:
2
g
|
Protein:
2
g
|
Fat:
14
g
|
Saturated Fat:
11
g
|
Cholesterol:
4
mg
|
Sodium:
1591
mg
|
Potassium:
38
mg
|
Fiber:
1
g
|
Sugar:
1
g
|
Vitamin A:
60
IU
|
Vitamin C:
2
mg
|
Calcium:
5
mg
|
Iron:
1
mg
Nutrition Notes: The nutrition information is an estimate and will vary based on cooking methods and brands of ingredients used.
Did you like this recipe? I have more classic recipes inspired by my late mother's cooking in my popular cookbook: My Mother's Philippine Recipes. If you're learning how to cook Filipino food or a fan of Philippine cuisine, buy my cookbooks and books on Amazon.com sold worldwide in paperback and Kindle format.
Hello, Friends! Please DO NOT LIFT OR PLAGIARIZE my original recipe, stories, photos or videos. All the images and content on this blog are COPYRIGHT PROTECTED and owned by my media company Besa-Quirino LLC. This means BY LAW you are NOT allowed to copy, scrape, lift, frame, plagiarize or use my photos, essays, stories and recipe content on your websites, books, films, television shows, videos, without my permission. If you wish to republish this recipe or content on media outlets mentioned above, please ASK MY PERMISSION, or re-write it in your own words and link back to my blog AsianInAmericaMag.com to give proper attribution. It is the legal thing to do. Thank you. Email me at [email protected]