Ube – Purple Yam Ice Cream
As an Amazon Associate and member of other affiliate programs, I earn from qualifying purchases.
'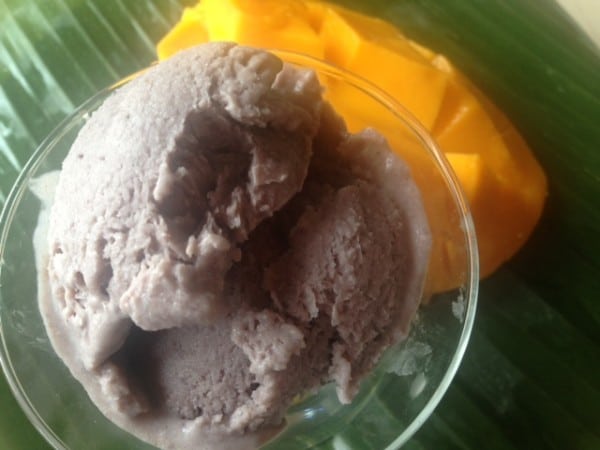 The first thing I ask for as soon as I land in the Philippines is Ube Ice Cream on Halo-Halo. Once, when my plane landed at midnight in Manila I went to the nearest restaurant still open at the late hour to satisfy my Ube Ice Cream longing. Soon as my family and I sat down, I excitedly asked for double scoops of Ube Ice Cream on a glass of Halo-Halo (fruits in syrup served in a parfait glass). I love flying home to the Philippines and Asia. But it's a 20+ hour plane trip from the east coast. After leaving chilly temperatures here in the States and landing in a sultry hot country with temperatures hovering in the high 90's Fahrenheit, then you will long for ice cream soon as you arrive. In my case, I reach for ube, a flavor most Filipinos grew up with.
Ube is purple yam. It is pronounced 'oooh-beh'. I've mentioned before it is a tuber that grows above ground, abundant in the Philippines, Indonesia and other Southeast Asian countries. Ube is in season towards the end of the year, which explains why a lot of holiday sweets, desserts and 'kakanin' (rice-coconut sweet cakes in the Philippines) are made with sweet tasting ube.
My relationship with ube is complex. I can't live without it. It is one of our family 's favorite flavors. It is a starchy ingredient and I use either boiled purple yams or if none are available (especially in the States) I use ube flour.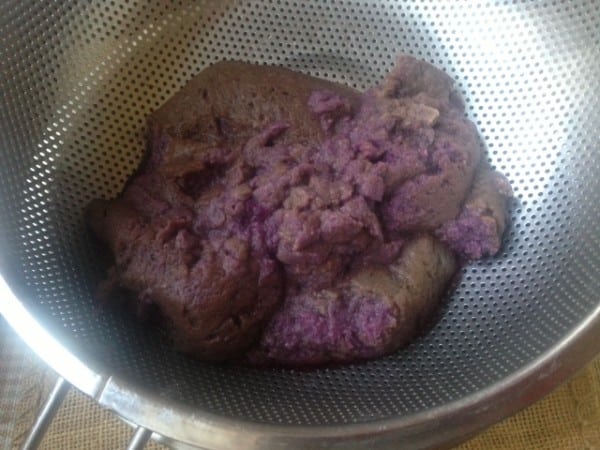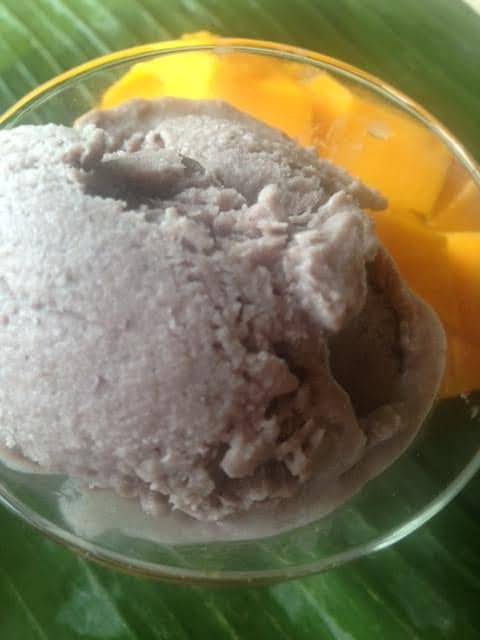 Something magical happens after you have had ube. You get hooked by the sweet, almost almond, nearly hazelnut flavor and get mesmerized by its soft purple color. When you buy ube in the markets, you can easily walk past them because they look like ordinary large sweet yams. They even have the same rough, thick, dark outer skin, but inside the purple yam's flesh has a soft pink tinge.
One thing is for sure. Ube or purple yam has one of the best flavors in the world. And in ice cream it is simply hard to resist. The sweet, creamy dairy-like flavor makes it one of the best, undiscovered flavors in the western world. This is why I got so excited as I was leafing through the ice cream cookbook "Scoop Adventures." Just as I was about to put it down, I found the recipe for 'Ube Ice Cream' at the very end. The author, Lindsay Clendaniel, described in the cookbook that "ube ice cream can be found in shops influenced by Filipino culture, such as Mitchell's in San Francisco." I agree with her when she said that with this recipe we can now make it at home and enjoy it right away.
I happily played with this recipe and added coconut milk with the ingredients. From my experience of baking with ube or purple yam, the added flavor of coconut milk enhances the entire concoction even more. Be adventurous and plunge the scoop into this creamy, dreamy ube ice cream. It will be unforgettable. Trust me, you'll be craving for ube ice cream over and over again after this.
Ube update: Thank you to The Los Angeles Times Food section for the nice mention on Twitter's "Weekend Eats"
Ube- Purple Yam Ice Cream
Ube or Purple Yam ice cream is a favorite of Filipinos. It is made from ube, a tuber, starchy ingredient that grows in Southeast Asian countries. Ube is often added to desserts, cakes, snacks or sweet treats. It has a creamy almond-like flavor and a gentle nearly floral aroma. The purple color of ube makes it one of the most gorgeous ingredients anywhere. This ice cream recipe was adapted from "Scoop Adventures: The Best Ice Cream of the 50 States" by Lindsay Clendaniel.  Recipe makes 1 quart (240 ml).
Ingredients
1 and 1/2

cups (8 oz.)

frozen boiled ube (purple yam)

from Asian supermarkets, in the frozen aisle, where Philippine products

1 and 1/2

cups (355 ml)

whole milk

divided

1

Tablespoon (9 g)

cornstarch

1

cup

heavy cream

3/4

cup

coconut milk (canned)

1/3

cup

granulated sugar

1/3

cup

brown sugar

1/8

teaspoon

salt

1

teaspoon

McCormick Ube Flavoring
Instructions
Prepare the frozen boiled ube or purple yam that is already mashed by thawing at room temperature, yet keeping it slightly chilled.

Drain on a colander to remove excess liquids. Set aside (thaw frozen ube the same day you will mix it in the milk base).

In a small bowl, combine 2 tablespoons of the milk with the cornstarch. Whisk till the cornstarch is blended and there are no more lumps. Set aside.

In a medium saucepan, combine the remaining milk, heavy cream, coconut milk, sugars and salt. Mix well. Over medium high heat, bring this mixture to a boil, then lower heat to simmer until sugar gets dissolved. Do this for 3 minutes.

Take the milk mixture out off the stove top. Slowly whisk in the cornstarch mixture. Return the saucepan to the stove. Cook over medium high heat till the milk mixture thickens in about 1 minute, while continuously stirring. Do not stop stirring or mixture sticks to the bottom of the pan.

Remove the saucepan from the heat. Let the mixture cool by setting the pan on a bowl filled with ice water. Cool for about 20 minutes and whisk mixture every now and then.

Transfer mixture to a container. Cover and refrigerate until chilled for 2 hours or overnight.

After a two hours, combine 1 ½ cups of the chilled ice cream base with the boiled, mashed ube or purple yam and McCormick Ube flavoring.

Use a food processor or a blender to mix. Pulse for about 5 minutes till the purple colored ube incorporates into the milk mixture.

Pour the entire ice cream base into an ice cream maker and churn according to the manufacturer's instructions. When done, transfer ube ice cream to a freezer-safe container. Freeze for at least 4 hours or till firm.

How to make ice cream without an ice cream maker:

This cookbook teaches you techniques for making ice cream even if you do not own a maker. On another note, fellow food writer, experienced baker and

Chef Jenni Field

of

Pastry Chef Online

suggested "Many people without ice cream makers make ice cream anyway. You just pour your cold base in a metal bowl and shove it in the freezer. Whisk it really well, every 30-45 minutes or so as it freezes. I don't think it will be quite as creamy as with a churn, but it's totally doable."

Disclosure

: I was not paid to review this cookbook, nor mention any brands or restaurants in this post.  Scoop Adventures by Lindsay Clendaniel is a great resource for new cooks or those experienced in the kitchen who want to make homemade ice cream. It is available where most books are sold. I have made the Green Tea Ice Cream recipe and it was fantastic. See past blog post

here

.

Hello, Friends! All the images and content here are COPYRIGHT PROTECTED. This means BY LAW you are NOT allowed to use my photos or content on your website  without my permission. If you want to republish this recipe, please re-write it in your own words and simply link back to this blog to give proper attribution. It's the legal thing to do. Thank you. Email me at [email protected]
Nutrition
Serving:
1
g
|
Calories:
408
kcal
|
Carbohydrates:
44
g
|
Protein:
4
g
|
Fat:
25
g
|
Saturated Fat:
15
g
|
Cholesterol:
90
mg
|
Sodium:
139
mg
|
Potassium:
186
mg
|
Sugar:
39
g
|
Vitamin A:
1020
IU
|
Vitamin C:
0.3
mg
|
Calcium:
154
mg
|
Iron:
0.1
mg
Notes on Nutrition: The nutrition information provided is an estimate and will vary based on cooking methods and brands of ingredients used.
Did you like this recipe? I have more classic recipes inspired by my late mother's cooking in my popular cookbook: My Mother's Philippine Recipes. If you're learning how to cook Filipino food or a fan of Philippine cuisine, buy my cookbooks and books on Amazon.com sold worldwide in paperback and Kindle format.
Hello, Friends! Please DO NOT LIFT OR PLAGIARIZE my original recipe, stories, photos or videos. All the images and content on this blog are COPYRIGHT PROTECTED and owned by my media company Besa-Quirino LLC. This means BY LAW you are NOT allowed to copy, scrape, lift, frame, plagiarize or use my photos, essays, stories and recipe content on your websites, books, films, television shows, videos, without my permission. If you wish to republish this recipe or content on media outlets mentioned above, please ASK MY PERMISSION, or re-write it in your own words and link back to my blog AsianInAmericaMag.com to give proper attribution. It is the legal thing to do. Thank you. Email me at [email protected]